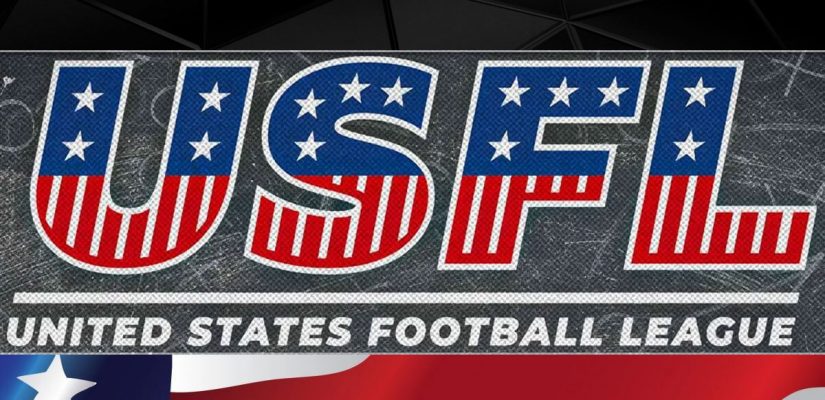 Another year means another fringe football league trying to find footing in the United States. The NFL and college football rule the American sporting landscape. While both are entrenched as football institutions in this country, that hasn't stopped others from trying to glom onto football's incredible popularity in recent years.
Over the past couple of years, we have seen a number of alternative leagues come and go. The XFL made its dramatic return for a second go-round back in early 2020 before the pandemic forced the league to fold earlier than expected. Before that, the Alliance of American Football, which is an absolutely horrendous name, didn't even make it through its inaugural season. Something called Fan-Controlled Football started up last season and will return again this year for a second.
The repeated failures of other leagues haven't prevented people from trying to make spring football a thing. Of course, the regular football offseason is a long one, spanning from February into the late summer and early fall. There is a huge swath of the calendar without football on it.
Considering the incredible TV ratings and attendance numbers the NFL and college football generate on a yearly basis, it's possible there is still an untapped year-round football market in the US. This spring, the United States Football League (USFL) will start back up.
If that name sounds familiar, it's because this isn't the first USFL. The original iteration actually lasted three seasons back in the 1980s before eventually folding operations. Donald Trump was among the luminaries that tried to get the league to compete directly with the NFL, which proved fatal to its chances of survival.
Donald Trump made a bad decision? No way!
The new version of the USFL features eight teams set to play a 10-week schedule starting Saturday, April 16th. The league has ready-made TV partners in Fox and NBC, which could give it a chance to find some success. And, in case you were wondering, you can absolutely find USFL betting odds at your favorite football betting sites.
What Makes the USFL Different?
As you may expect, the USFL isn't just a carbon copy of the NFL or college football.
These secondary leagues have to offer some rule changes or gimmicks in an attempt to drum up some public interest and separate themselves from the competition.
While the USFL won't be competing directly with the NFL again, the league would have a tough time catching on if it was just run-of-the-mill football featuring worse players and teams nobody's ever heard of or cares about.
The original USFL was actually a bit groundbreaking.
Some of its rules would eventually be adopted by the NFL. Instant replay and coaching challenges were chief among them.
The new USFL will give teams the opportunity to grab add three-point PATs. In the NFL and college, of course, you can't score more than two points after a touchdown.
The USFL does offer standard one- and two-point conversions, but teams can also go for three points with one untimed play from the 10-yard line. If they find the end zone on that play, the total value of the touchdown and the PAT will be a whopping nine points.
EXTRA POINTS ?

In the USFL you can go for 1, 2 or 3 points after scoring a touchdown ? pic.twitter.com/vtcmxsmx9H

— USFL (@USFL) March 23, 2022
You can also attempt a typical onside kick in the USFL. However, there's an alternative, too. Instead of trying to recover their own kickoff, the kicking team can also choose to run a single play in a "fourth-and-12" situation from the 33-yard line. If they gain at least 12 yards on this one, untimed play, that team keeps possession.
We saw the NFL try something like this in the Pro Bowl earlier this year, so the NFL will surely be watching to see how this plays out in the USFL this season. The USFL will also automatically stop the game clock following a successful first down conversion in the final two minutes of each half. The league says this will be a good way to add some excitement to last-minute drives before halftime and at the end of games. College football already stops the clock after every first down for the entire game, which leads to excruciatingly long games. The NFL has no such clock stoppage rule, as of yet.
The overtime rules are also unique to the USFL. In OT, each team will get the chance to run one play from their opponent's two-yard line. The team that scores the most touchdowns in a best-of-three format with alternating possessions wins. If the two teams are still tied after three rounds of overtime, the game shifts to a sudden-death format.
Which Teams Are In The USFL?
As mentioned, the USFL will consist of eight teams in its first season. However, none of the teams that existed in the old USFL will return for the new version.
The eight teams are divided into two divisions, North and South.
Each team will play each of its three divisional foes twice, with one game against non-divisional foes, adding up to 10 total games per team.
Here are the teams in the North:
And the South?
As you can see, the vast majority of the teams are based in cities that are already homes to NFL franchises. However, while each team represents a city or state, the entire first season will actually take place in Birmingham, Alabama.
You'll have to find your way to Alabama if you want to catch a live USFL game this year. The playoffs, set to begin in late June, will immediately follow the regular season.
The top two teams in each division will square off against one another on the weekend of June 25th. The USFL Championship Game will take place a week later, featuring the winners. The top-seeded team in the South will take on the No. 2 seed in the North in the first round of the postseason, and vice versa.
USFL Betting Odds
New Orleans Breakers:
+500
New Jersey Generals:
+750
Birmingham Stallions:
+900
There they are, in all of their glory. As you might expect for a brand-new league with a lot of unknowns, all eight teams have pretty similar USFL championship odds. No team is shorter than +425, while no team faces longer odds than +900.
Interestingly enough, the only team with home-field advantage happens to be the team least likely to win the title this season, per the oddsmakers. Tough break, Stallions. Needless to say, there will be a lot of uncertainty in the USFL betting odds, at least to start. Oddsmakers don't know much more about these teams than we do, of course.
All they can do is look at the rosters and the coaching staffs and make educated guesses. The sites will get better about accurately handicapping the teams as the season progresses, but there is certainly an edge to be found in the 2022 USFL betting odds to begin the campaign.
Which team's USFL championship odds are worthy of your wager?
Tampa Bay Bandits (+425)
The Buccaneers won the Super Bowl just two years ago, and Tom Brady recently announced he'll return for another go-round this fall.
The Bandits will try to bring another championship to the city of Tampa, even if they'll actually win it in nearby Birmingham instead. The Bandits are coached by Todd Haley, who gained a well-earned reputation in his NFL days for being a bit of a hothead.
Tampa Bay may also have the USFL's best quarterback in Jordan Ta'amu, who starred at Mississippi State before playing well in the XFL a couple of years ago for the St. Louis Battlehawks.
Championship odds for USFL posted below, and here is each team's QB1

Panthers – Paxton Lynch
Breakers – Kyle Slotter
Bandits – Jordan Ta'Amu
Stars – Bryan Scott (no clue who he is)
Maulers – Kyle Lauletta
Generals – Ben Holmes
Gamblers – Clayton Thorson
Stallions – Alex McGough pic.twitter.com/N597V3til9

— Taking the Points (@TakingThePoint5) April 6, 2022
While Haley is known for running an air-it-out offense, Ta'amu is more of a run-first QB.
Ta'amu should do most of the running given the team's short running back depth chart, while his receiving corps features a couple of recognizable names in Derrick Willies, Derrick Dillon, and Jordan Lasley. Haley and Ta'amu are the reason the Bandits' USFL championship odds are the best in the league.
Frankly, it's hard to argue Tampa Bay shouldn't be the favorite.
Michigan Panthers (+450)
Yes, Jeff Fisher is back. The longtime NFL head coach and popular social media punching bag has come out of retirement to take the job as head coach of the Michigan Panthers. I can't imagine there are many panthers in Michigan, but there probably aren't many in North Carolina, either.
Fisher's offensive coordinator is Eric Marty, a guy that ran Grambling State's offense. Grambling averaged barely over 17 points per game in Marty's most recent season, so that's encouraging. Marty seems to be a run-first type of play-caller, which should make him a nice fit with QB Shea Patterson. You may remember Patterson as the starting quarterback at the University of Michigan in recent years.
Michigan's depth chart also features former NFL flameout Paxton Lynch, but Patterson will begin the year as the QB1. We'll see how well a run-heavy offense will work in this day and age. There's some name value with this team, but I'm not all that enthused by the Panthers' +450 USFL betting odds.
This team has failure written all over it.
New Orleans Breakers (+500)
New Orleans is coached by former North Carolina boss Larry Fedora, which is absolutely an A-grade name. Fedora's recent stint as Baylor's offensive coordinator was a tumultuous one, but he'll try to rejuvenate his career in the USFL with the Breakers.
NOLA will be quarterbacked by Kyle Sloter, who has been a popular player on a variety of NFL practice squads after starting for one season at Northern Colorado. Sloter did put up some impressive numbers playing some preseason games for the Vikings a few years ago, so perhaps he'll shine against lesser competition in this league.
A couple of former NFL receivers, Taywan Taylor and Chad Williams, give Sloter some capable weaponry with which to work. At +500, New Orleans' USFL championship odds might actually be a bit undervalued.
Philadelphia Stars (+600)
Bart Andrus may not be a household name, but he does have some skins on the wall. He won the 2005 NFL Europe World Bowl as the head coach of the Amsterdam Admirals.
He has also coached in the XFL and, more recently, the Spring League. I'll forgive you if you haven't heard of the Spring League before, but there is some continuity with Andrus and his personnel.
Andrus' QB in the Spring League, Bryan Scott, will reprise the role this season for the Stars. He won the Spring League MVP back in 2020, so he has enjoyed some success in Andrus' offense in the past.
RT to welcome our head coach, Bart Andrus! pic.twitter.com/W3R5HvFYqq

— Philadelphia Stars (@USFLStars) January 6, 2022
Philadelphia has also snagged running back Darnell Holland and wideout Jordan Suell from that same Spring League team, too.
With this team featuring a coaching staff and a few key players already familiar with one another, whose to say they can't use that continuity to their advantage? There is no rhyme or reason to the 2022 USFL betting odds at this point.
At +600, Philadelphia looks like a solid flier bet to win it all later this summer.
Pittsburgh Maulers (+600)
It sounds like the Maulers will take a run-first approach, too. Their head coach, Kirby Wilson, was an NFL running back's coach for years.
Their offensive coordinator:
John Tomlinson, comes from D-3 Juniata College, a team that ran the ball on 53 percent of its plays last season. Running, running, and more running. Kyle Lauletta, a former NFL fourth-round pick, brings some pedigree to the QB position for Pittsburgh. Lauletta didn't last too long in the NFL, of course, but he also never got much of a chance. Running back Garrett Groshek should be an every-down back with the potential to put up huge numbers in this offense if Pittsburgh is truly as committed to the run as it seems they'll be.
All things considered, I'm not all that keen on the Maulers' +600 USFL championship odds. I'd much rather bet on Philly at the same number.
Houston Gamblers (+750)
Houston's XFL team produced an NFL quarterback in PJ Walker, so we'll see what the new USFL outfit has for an encore. The Gamblers will be coached by a familiar name in former Texas A&M coach Kevin Sumlin. Sumlin's tenure at Arizona didn't end well at all, but perhaps he can find success in this league representing a city he knows well.
Clayton Thorson will be Houston's QB.
Thorson was a former fifth-round pick of the Eagles, but he flamed out quickly after playing horrendously in some of Philly's preseason games.
The Gamblers also have a tiny running back in the 5'7″ Dayln Dawkins, who may do most of his work on pass-catching downs. None of the Gamblers' wide receivers also weighs more than 200 pounds. This could be a speedy team, but they may be sorely lacking in the physicality department.
United States Football League (USFL), a new professional football league launching in 100 days on April 16, today named their first four head coaches:

Bart Andrus – Philadelphia Stars
Mike Riley –New Jersey Generals
Todd Haley – Tampa Bay Bandits
Kevin Sumlin-HoustonGamblers pic.twitter.com/A46YuHyiRl

— Mark Berman (@MarkBermanFox26) January 6, 2022
Sumlin has a track record as a decent coach, but he'll have his work cut out for him with what looks like one of the league's weakest rosters. I'll pass on the Gamblers' +750 USFL championship odds.
New Jersey Generals (+750)
The Generals will take the field in the USFL's first game when they take on the hometown Birmingham Stallions on Saturday night. According to the USFL betting odds, these should rank among the worst teams in the league, however. New Jersey will be coached by Mike Riley, who spent two different stints as the head coach at Oregon State sandwiched around a few stops around the NFL.
He should be familiar with fringe football leagues after coaching in the XFL and Alliance of American Football in more recent years.
The Generals, unfortunately, used their first-round draft pick on QB Ben Holmes, who was released after suffering an injury. That means De'Andre Johnson, a former Last Chance U star, will take over under center. Johnson wasn't very good in college, so he probably won't be very good in a semi-pro league, either.
Running back Trey Williams should be familiar with Riley after playing for his XFL and AAF teams.
The Generals also have former TCU speedster KaVontae Turpin, who made a name as one of the nation's best kick returners during his college days. It's hard to win in any football league without competent quarterback play, however. The Generals' +750 USFL betting odds may be a bit too optimistic.
Birmingham Stallions (+900)
This team has a good name, and they should generate some local interest with every single game set to take place in Birmingham.
However, that might be all the Stallions have going for them this year. Skip Holtz will take the reins for this team after spending the better part of the last two decades at a few different colleges. The Stallions' offense will lean on QB Alex McGough, who struggled tremendously across a few preseason outings with the Seahawks a couple of years ago. If McGough fails to seize the job, perhaps backup and former Louisiana Tech star J'Mar Davis-Smith will get a look instead. As may be the case with teams like the Gamblers and Generals, the Stallions are going to struggle if they can't get any consistency from the most important position on the field.
Considering how many NFL teams can't seem to find decent quarterbacks, I seriously doubt Birmingham will turn up a couple of hidden gems at the position.
Who Will Win the USFL Title?
Here's hoping the USFL season survives long enough to crown a champion. The XFL and AAF weren't so lucky, but the USFL does have a few things going for it. This league has a number of recognizable faces involved, as well as a couple of high-profile TV partners.
When it comes to the USFL championship odds, this league is wide open. The Bandits, Breakers, and Stars are the three teams that stand out right away. All three seem to have decent, respectable coaches, and enough on-field talent to make a real run at the title.
So, betting on any of the three is perfectly viable.
The Stars' +600 2022 USFL betting odds really stand out, as people may be underrating a team with a QB they may not have heard of. Otherwise, Tampa Bay (+425) and New Orleans (+500) look like the best bets on the board.
I'll rank my favorite USFL championship bets as follows:
New Orleans Breakers:
+500