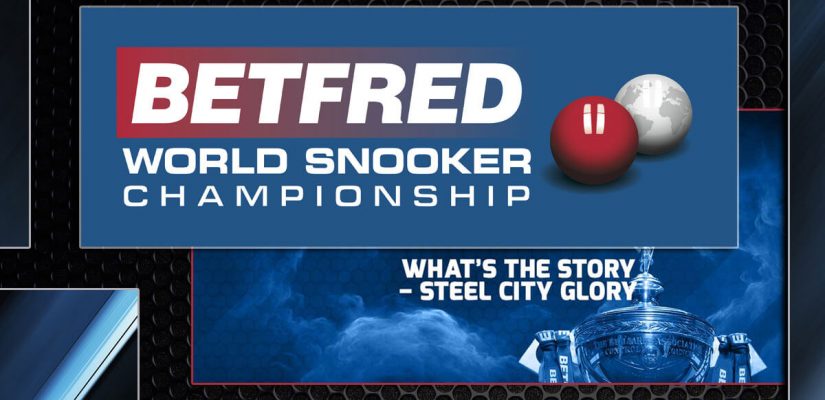 The 2021-22 Triple Crown of Snooker will conclude in Sheffield with the 2022 World Snooker Championship. The World Snooker Championship begins on April 16 and will end on May 2. TheSportsGeek has the best 2022 World Snooker Championship odds for the big tournament.
Are you ready?#ilovesnooker @Betfred pic.twitter.com/mVqGUU9XTD

— World Snooker Tour (@WeAreWST) April 4, 2022
There are three majors on the snooker calendar, with the UK Championship, Masters, and the World Snooker Championship three Triple Crown tournaments.
Ronnie O'Sullivan is looking for his 21st Triple Crown title to add to his record-breaking major championships, but came up short in the UK Championship and Masters.
In an upset at the Uk Championship, Zhao Xintong beat Luca Brecel to win the first major of the 2021-22 season. Xintong and Brecel are fine players, though the UK Championship did not go as expected.
Xintong is ranked No. 7 in the world going into the final Triple Crown event of the season. In this campaign, he will have to beat some steep 2022 World Snooker Championship odds to win two of three majors.
A SEASON TO REMEMBER FOR ROBERTSON?
The more likely scenario is Neil Robertson winning back-to-back Triple Crowns. Robertson has a good chance of beating the Snooker World Championship odds in 2022. He defeated Barry Hawkins for his sixth Triple Crown and second Masters title earlier this year.
Are we in for an upset, or are the 2022 World Snooker Championship odds going to line up accordingly? Find the best Snooker World Championship betting odds and our World Snooker Championship predictions for 2022 below. If you're looking for a betting website for the World Championship, check out our best recommendations.
Snooker World Championship Betting Odds
Neil Robertson is coming off a Masters win at Alexandra Palace, though he hasn't come through in the World Championship since the 2009-10 season.
Since then, Ronnie O'Sullivan has won three World Championships. Mark Selby always likes a trip to the World Championship, as he's won four since Robertson's title.
Selby is the defending World Championship winner, as he held on to beat Shaun Murphy in the final round, 18-15. Anthony McGill took O'Sullivan out in a 13-12 thriller to deny a title defense for The Rocket.
It doesn't come as a surprise that Robertson is atop the 2022 World Championship odds board.

He is in terrific form going into this one and in good shape to make it back-to-back Triple Crowns in early May. Robertson is not unbeatable, but it's going to take near-perfect work from his opponents to bounce him out of this tournament.
Judd Trump and O'Sullivan are two names that could do it at Crucible Theatre.
The following odds are courtesy of BetOnline:
| Odds | Player | Country |
| --- | --- | --- |
| +350 | Neil Robertson | Australia |
| +400 | Judd Trump | England |
| +500 | Ronnie O'Sullivan | England |
| +900 | Mark Selby | England |
| +1000 | John Higgins | England |
| +1400 | Kyren Wilson | England |
| +1600 | Yan Bingtao | China |
| +1600 | Zhao Xintong | China |
| +2500 | Mark Williams | England |
| +2500 | Ding Junhui | China |
| +3300 | Barry Hawkins | England |
| +3300 | Luca Brecel | Belgium |
| +3500 | Mark Allen | England |
| +4000 | Shaun Murphy | England |
2022 World Snooker Championship Predictions
Neil Robertson (+350)
Neil Robertson has not been able to win a second World Championship since the 2009-10 title. That said, Robertson is coming off a Masters win in January and has continued to play in top form since grabbing the sixth Triple Crown of his career.
LOCKED IN AT THE RIGHT TIME
When Robertson is focused and not bothered by outside noise, his game is the best on the WST. Robertson made it look easy over Barry Hawkins with a 10-4 win in the Masters and has been sharp since.
In a rematch against Hawkins in the Players Championship in February, Robertson did almost the same with a 10-5 win to capture another WST title. In that tournament, Robertson had to go through O'Sullivan with a 6-3 win in the second round.
He came close to another notable championship this year in the Welsh Open in March, though Judd Trump had the upper hand with a 5-3 win. Robertson should beat Trump in a rematch if they meet in the World Championship on a good day.
Since that loss, he's been on fire with six wins in seven outings. He won three in a row to sweep through the Tour Championship in his most recent tournament. Robertson won with a 10-9 win over John Higgins.
????

Cambridge-based Neil Robertson has landed his fourth trophy of the season – beating John Higgins 10-9 to retain the Tour Championship

Match report ? https://t.co/7mao8zFsta pic.twitter.com/zZKvqa97N1

— BBC Cambs Sport (@BBCCambsSport) April 4, 2022
O'Sullivan and Robertson met in a highly entertaining 10-9 semifinal round in favor of the Aussie. In the best form of this field, Robertson's Snooker World Championship odds as the betting favourite look accurate.
Judd Trump (+400)
Which Judd Trump are we going to get in the World Championship? Here's a player that was on fire, including a 5-3 win over Neil Robertson before getting tripped up recently.
Trump won ten straight matches and 16 in 17 outings before running into a wall. In a big upset, Trump was well out of form with a 4-0 loss to Ricky Walden in the Gibraltor Open on March 26.
FRESH APPROACH IN THE WORLD CHAMPIONSHIP REQUIRED
He was unable to regain his form in the Tour Championship and was bounced after just one match against Luca Brecel as a heavy favourite. Trump had to exit with a 10-6 loss and left questioning what is going on.
Snooker is as much of a mental sport as there is in the world. When confidence is waning, it can be tough to get it back. Trump hasn't won a Triple Crown in nine tournaments ago at the World Championship in 2019.
Robertson has two major titles and O'Sullivan one since then. Trump can be the best in this tournament, but he had to clear his head after losing to Brecel, or this could be another disappointment.
A better price than +400 on his 2022 World Snooker Championship odds would have been nice. Otherwise, Robertson and O'Sullivan appear more reliable at Crucible Theatre.

Ronnie O'Sullivan (+500)
The Rocket knows Neil Robertson better than anyone, with these two having challenged each other for 17 years. It's a friendly rivalry, and you will find there's a lot of respect here.
O'Sullivan and Robertson will have a semifinal match if they make it that far. They are in the same Crucible draw, so they can't have a championship match in the final round.
The winner of this potential semifinal likely wins the World Championship in 2022. After the thrilling match they had in the Players Championship, there are a lot of snooker fans hoping for another showdown.
MORE DRAMA FROM ROBERTSON AND O'SULLIVAN?
O'Sullivan has lost three in a row versus Robertson, 6-4, 6-3, 10-9. After losing to Robertson in the Players Championship, he won six straight matches before falling to Fan Zhengyi in an upset at the European Masters on February 27.
Fan Zhengyi beat his idol, Ronnie O'Sullivan, to win his first ranking title.

The European Masters champion takes on Chris Wakelin in @Betfred World Championship qualifying at 2.30pm tomorrow! pic.twitter.com/vxomCkxirm

— World Snooker Tour (@WeAreWST) April 9, 2022
Since then he's 4-3 in seven matches, with one of those losses against Robertson in a tight contest, 10-9. It's never wise to discount the 20-time Triple Crown winner. His 2022 World Snooker Championship odds look accurate in my book.
As much as I like O'Sullivan, his Aussie rival is in his head with three straight wins over him. Robertson is the player to beat in the 2022 Snooker World Championship.
2022 World Snooker Championship Odds