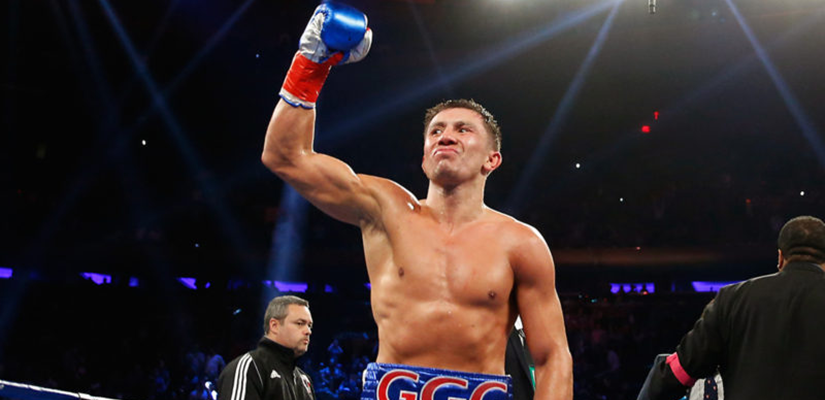 Boxing to MMA? That has to be pretty difficult, right?
Maybe not as hard as you think.
But what about James Toney vs Randy Couture? That didn't go very well at all.
Well, Toney didn't have any prior grappling experience to his UFC debut against one of the greatest grappling-based fighters of all time in Randy Couture. Randy fought the absolute most intelligent fight possible when he immediately attempted and completed an ankle pick takedown keeping himself out of punching range and harm's way.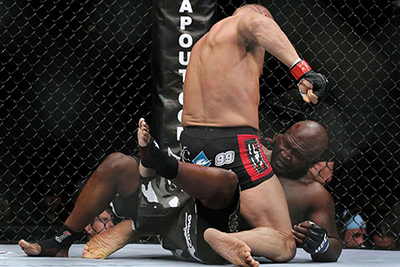 Once the fight was on the ground, the former world champion boxer couldn't swim and luckily for him, Randy showed mercy and finished the fight rather quickly with a rear-naked choke. Rather than taking the route of bludgeoning him to death with knuckles and elbows behind the ear, he gave Toney the opportunity to gentlemanly give up.
With youth on their side and a bit of prior grappling experience, some of today's best boxers could legitimately compete inside the Octagon.
Of course, Floyd Mayweather comes to mind. There are odds out there that have Floyd Mayweather a 5/1 underdog in a potential "rematch" with "The Notorious" Conor McGregor. Conor comes in as a 1/10 favorite, and in my opinion, would have his choice of how he wanted to finish "Money".
The reasons the boxer, once again, would likely fail in their attempt to win inside the cage under MMA rules are the same here with Floyd as they were with James Toney.
He didn't have youth on his side. He fought one of the MMA's top pound-for-pound fighters. He also had no known prior grappling experience, except for that one time at Wrestlemania when he secured a pretty nice rear naked choke on "The Big Show" in the WWE squared circle.
Enough about those old guys.
Are there any young boxers out there, currently in their prime that maybe wrestled or did Brazilian Jiu-Jitsu as a kid?
Yes, there are!
A few guys on this list may surprise you.
The History of Boxing Rules
Before we get into which of today's boxers would stand a chance in an MMA fight, let's dust off the old Encyclopedia Britannica and research the history of boxing's ruleset.
Under the London Prize Rules that were drawn up in 1743, fighters were allowed to do throws above the waist. The clinch and takedowns were a major part of boxing. Some referees today will let fighters work through the clinch and some refs will have none of it.
This ruleset was eventually replaced by the Marquess of Queensbury Rules that are still in place to this day.
This didn't completely change how boxers trained to fight. Even as early as the 1940's, boxers would wrestle as a means of strength and conditioning to prepare for their matches.
Jack Dempsey was one of the first fighters to use a crouched stance while most of his European counterparts were still standing very tall with their heads back. It is believed that wrestling mad a major influence on modern boxing as guys began to duck, slip, bob, weave, and roll more punches instead of pulling away.
Now that we have sneezed away through a history lesson in the dusty old Encyclopedia, let's look at 4 boxers that can and maybe will make good MMA fighters.
4 Boxers That Could Make the Transition to MMA
Terence Crawford
"Bud" is one of the scariest lightweight/welterweight boxing prospects to come along in quite a while. He is one of the reasons, among 300 million others, that Floyd Mayweather chose Conor McGregor for his 50th and "final" boxing match.
He is currently ranked #2 in boxing's pound for pound rankings and is known not only as an ultra-fast technical puncher but a straight dog in the ring.
Did he get that "dog" or gameness from getting pounded in the boxing gym by countless guys day after day?
While this is certainly part of the equation, he is very talented and probably was the hammer more so than the nail in most of his sparring sessions as he progressed into becoming a world champion.
Terrence wrestled in high school. There is just something different about a wrestling room. I've been in the boxing ring with pros, the Muay Thai ring with some of the country's best, and in the cage with UFC fighters.
The wrestling room is still, at times, the most miserable place you could ever imagine. Wrestlers are 9/10 the more mentally tough athlete and if you know anything about fighting, you know that it is more mental than physical.
In MMA, the ability to dictate where the fight takes place is held by the better wrestler. They can take the fight to the ground when they please and defend takedowns as well.
Once Terrence learns some submission and kick defense, he could be a force inside the cage.
Andre Berto
The former challenger to the Floyd Mayweather throne, Andre Berto has had MMA running through his blood forever. His father, Edson Berto has fought MMA in Japan and he even competed at UFC 10.
Andre's brother and sister are also mixed martial arts pros. His brother James is a veteran of over 30 professional fights having competed in Bellator, Strikeforce, and Elite XC. He fought UFC vets KJ Noons and Yves Edwards and even current pro and Brazilian powerhouse Abel Trujillo.
Andre has gone on record admitting that he grew up around more MMA than boxing. He has even said to UFC President Dana White to call him so they could set something up. Any athlete who used to call Ken Shamrock "Uncle Ken", is a fighter I could put money on.
GGG
I almost don't care what kind of fight I'm betting on. If GGG is involved, take my money. He is a ferocious man that, in my not so humble opinion, defeated Canelo Alvarez in their previous bout.
Gennady is from Dagestan. Per capita, this country has to produce the best fighters out of any country in the world. If MMA keeps going the way it is, they may soon own that title outright.
Kids are sent to boarding schools sometimes there just like in America, except some of these schools in Dagestan are MMA academies where children do nothing but eat, sleep and train fighting.
Recently crowned UFC Lightweight champion of the world Khabib Nurmagomedov is another Dagestani standout. Ignoring the fact that they are from the same place for a second, it's pretty safe to say that Khabib is the GGG of MMA.
Both of these guys are what nightmares are made of.
Golovkin wrestled for 7 years as a child. He has been quoted to say "I love Judo. I love Sambo, and I love Jiu Jitsu." I would pay some big bucks just to see him get in the cage.
Vasyl Lomachenko
If you missed Lomachenko's recent fight with Jorge Linares, I'm sorry. It was Vasyl's biggest test yet, and he was even briefly dropped after walking into a right hand from the larger man.
Loma didn't put on the show we are used to seeing as his opponent had a significant power punching advantage. He did, however, still manage a TKO victory from a well-placed liver shot in the 10th round.
It is becoming more widely-known in the boxing community that Loma was taken out of boxing training as a child by his father, and put into dance school. This is obviously a major reason why his footwork inside the ring is head and shoulders above any combat athlete alive.
He has substantial Sambo, Judo, and wrestling experience from his childhood, and has even put out some YouTube videos to prove it. Imagine if he worked with MMA fancy footwork king Dominick Cruz in preparation for his MMA debut. Wait, what if he fought Dominick Cruz in his first MMA contest? The only guy who would be able to keep up with them and referee would be Irish dance superstar Michael Flatley.
In Conclusion
I hope you guys had fun reading this. I really enjoyed learning how close some of these guys are to competing in MMA.
Toney got in there with an all-time great, and if Money were to fight Conor in there it wouldn't be much different.
None of the 4 boxers on my list started out their boxing careers against hall of fame fighters. They would have the opportunity to ease into the strength of their competition just like they did in their successful boxing careers.
Boxing and wrestling are both very good bases for MMA. Many MMA fighters focus almost 100% on these two arts in fights and are very successful. Kicks and knees can leave you out of position in a striking exchange, and a failed submission attempt can be even worse because a fighter would be out of position on the ground.
These guys are already going to have lights out speed, power, and precision in their hands. This is especially true if you take into account the 4 oz gloves they will be wearing.
I really hope at least one of these guys steps into the cage, and it isn't just a one-night thing or a spectacle. Loma is still very young, and I think he has the best chance to be great in both sports.