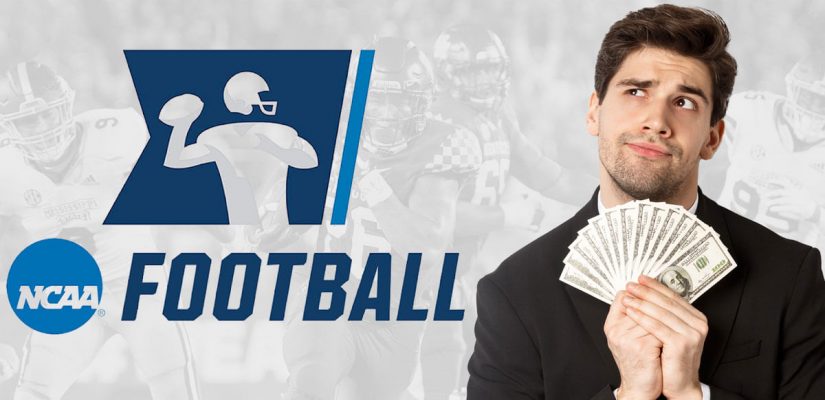 For all its talk of amateurism and integrity (although that's going away now, too), college football teams can be classified – confidently – as the "haves" and "have nots."
In fact, there are even categories to help you make the distinction. The Power 5 conferences (Big 10, Big 12, SEC, ACC, Pac-12) have nearly all the traditional powers. Teams in these conferences have a real shot at the College Football Playoff. The Group of 5 conferences (MAC, AAC, C-USA, Mountain West, Sun Belt) might go undefeated and still fall short.
In this article, I'll go over the differences in betting on the Power 5 games vs. the Group of 5.
1. Power 5 Teams Have Major Roster Turnover
Though they occasionally break through and make it to the league, the NFL is not primarily comprised of players from the MAC and Sun Belt. I wasn't able to find the exact data, but most would probably accept that 80% — if not more – of NFL players played their college ball at Power 5 schools. What does that mean? Each year teams lose key players to the draft, long before they were set to graduate.
Football is a sport that doesn't lend itself well to long careers. The physical toll of high-level Division 1 football – not to mention the pros – makes it such that a non-quarterback is highly unlikely to play after his early 30s. Why do I point this out? To show that if a player believes they can start getting paid to take the field, they'll do it as soon as they possibly can.
The top recruits in the country each season are the most likely candidates to be playing on Sundays in the future. Aside from personal achievements and winning a championship, one of the primary goals of the sport's best college players is to make it through their "amateur" days without suffering a career-threatening injury. As soon as they're eligible, college players are going to be looking to the pros.
While the top schools in the Power 5 conferences are going to have the most future-pros on their roster, even the Arkansas, Tennessee, etc. type schools will typically have a handful of NFL draft picks. Because of the heightened urgency to start making money in the league, players who can make it will rarely stick around for all four years of eligibility.
Especially early on in the season, it's imperative to review the key personnel losses each team has to deal with. A team that went 10-2 the year before may have lost a 2-year starting quarterback, top defensive lineman, and their best receiver from the previous year. That's not to say that they won't have replaced them with capable players, but you don't want to go into it thinking you're betting on the team you saw last year.
College players come and go as quick as they can. Simply put, make sure you know who you're betting on, because the current year's roster is going to look much different than last year.
2. Power 5 Conferences Do Have (Some) Dominant Teams
The worst place to be in the world of college football might be the position of a dominant Group of 5 schools that just can't seem to break through the "glass ceiling" that is their conference. Teams like BYU, Cincinnati, UCF, and plenty of others, have seen firsthand that an undefeated record isn't enough to make it to the playoff.
So what does that mean if you're trying to handicap these games?
In all likelihood, you're going to be staring at some pretty huge point spreads once you reach conference play. Also, if you're a fan of
futures bets
, you might want to consider the odds for one of the dominant Group of 5 teams to go undefeated for the entire season.
The teams who consider themselves worthy of being included in a Power 5 conference (and with today's constant shifting of teams and conferences, they'll probably get their wish sooner than later) have a major incentive to win all the games on their schedule. If there's one thing that's even more important than a shot at the championship, it's proving to the rest of the college football world that you belong in the conversation with the traditional powers.
If you're looking to make some money and have the patience to do wait – would be to put a bet in on some of the top Group of 5 schools to go undefeated. If you're able to get odds of +300 or better (which you should be able to), this might be a good flyer to take on the best Group of 5 teams that particular year.
3. Watch Line Movement on Group of 5 Games
The higher the amount of public action, the more focus it's going to receive from the sportsbook. Games that don't receive a ton of attention are prime for taking reverse line movement into account.
Essentially, reverse line movement is a "counterintuitive" changing of the odds.
If you know how betting markets work, you understand that the goal of a sportsbook is to get as close to 50% of the money on either side of a bet, and then make their profit on the vig. Sportsbooks absolutely do not want a huge percentage of the money on one side of a bet or the other.
Here's an example of reverse line movement in action:
The Patriots are -6.5 against the Jets. In this hypothetical example, most bettors are putting their money on the Patriots. Although 80% of the public action is on New England, the line inexplicably shifts to -6, meaning even more public action is going to come in on the favorite. What gives? In a situation like the one I've laid out, the likely explanation is that the
online sportsbooks
are receiving sharp action on the Jets. This means that they're taking a gamble by trying to get even more public action on the Pats (whom the wise guys don't think will cover). Yes, they place this much trust in sharp money.
The reason that reverse line movement is more apparent in Group of 5 games is that there's simply less action on the board. That means lines are much more susceptible to movement as money comes in. Learn how to read line movement, and you'll have a major advantage when it comes to these types of games.
4. Power 5 Conferences Have the Individual Award Props
If you're someone who likes betting on individual awards – I'm right there with you! The odds are typically outstanding, and it can be fun to have a handful of players you can follow, and root for, during the course of the NCAAF season.
You simply aren't going to find many good options for the Heisman, Dick Butkus, [insert long list of individual awards], within the Group of 5 schools. For that reason alone, I'd recommend spending the majority of your time focusing on the Power 5 schools if you're looking to take advantage of the value presented with these "future props."
Because the odds are so favorable and the results so unpredictable, make sure you're selecting a couple different players as potential winners for these awards.
If you package four Heisman options, for example, and one hits – you'll probably still make a nice chunk of change if your winner is +500 or better.
With all this being said, I would say it's probably not going to be in your best interest to bet a huge amount on these props. Low-risk, high-reward is the name of the game when it comes to these plays.
Conclusion
Though they're technically in the same sport, Group of 5 and Power 5 conferences might as well be the minor leagues and the major leagues.
In the future, it's likely that we'll see some of the better Group of 5 teams make the leap into the upper echelon of college football. But for now they're stuck with counting an 11-0 season as a failure due to the lack of inclusion in the playoff. For bettors, there are also major differences between handicapping the two.
With some practice, you'll learn the nuances of big-time vs. small-time college football, and should be able to use it to your advantage.