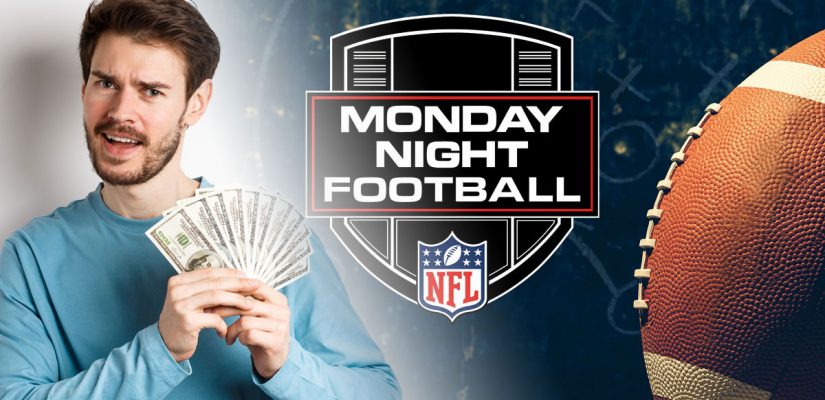 You've made it through the weekend with some money left in your bankroll. Who knows – maybe you've even managed to win a few dollars by making great picks on the Saturday college schedule and Sunday NFL slate of games.
Now Monday night has arrived and it's time to add one more win to your weekend, or maybe try to recoup some of what you lost over the previous 48 hours. Is betting on this game different than the others? I believe it is.
In this article, I'll explain why and how you can take advantage of your opportunity. The 4 factors listed below can be the difference between a winning and losing week.
1. Public Action is Significant
First and foremost, the biggest difference between Monday Night Football and the rest of the NFL games during the weekend is that bettors have an entire day to go back and forth between their potential picks. This can lead to quite a bit of line movement (keep an eye out for reverse line movement).
"But the Sunday night game has all the eyes on it too, right?"
You could make that argument, but there is a percentage of football watchers who are going to simply check out on the Sunday night game after watching football for the past two days.
Monday night is unique in that it's the only game of the day – and the only bet of the day. Generally speaking, fading the public isn't a bad idea. It's become a cliché for sports bettors, but clichés exist because they're true more often than not. The more public action that's on a game, the more reliable the "fade" strategy is when you look at the numbers.
In my opinion, public action shouldn't have an impact on your betting decision unless it's extremely heavy on one side.
If there's 60 percent of the money on one side and 40 percent on the other, that's not really significant enough to use as information to help you make your pick. However, if it's 80-20, I'd highly recommend considering fading the 80 percent.
If there's 60 percent of the money on one side and 40 percent on the other, that's not really significant enough to use as information to help you make your pick. However, if it's 80-20, I'd highly recommend considering fading the 80 percent.
Simply put, the sportsbooks aren't in the business of losing money, and they'll move the line to even out public money unless they're very, very confident that they're in a position to win. If the line stays where it's at despite the massive discrepancy in public money, it's a safe bet to fade the public bias.
2. Be Aware of Preparation Time
Coaching staffs maximize every hour of the week in preparation for their upcoming contest. An extra day, or even an extra week and a day if a team is coming off of a bye, can have a major impact on the outcome.
Any time an organization has additional prep time, it's going to be an advantage.
This isn't just because coaches have more time to implement their game plan and make sure it's well-understood, but it also gives players an extra day to heal. In a world with 24/7 medical attention and constant treatment, one extra day can be the difference between playing at full strength, or being available, but in a limited capacity.
If the player in question is a quarterback, star receiver, or premier defensive player like an edge rusher or shutdown corner, this can have a real impact on the final score.
During your evaluations leading up to placing your bet, look back at each team's schedule to their most recent game. Often times there won't be a difference, but occasionally there will be a significant variance in the amount of time each team has had to prepare. In just about every level of sports, the team with the most time to prepare has a slight edge in being ready for the game.
3. Don't Forget About the Moneyline
The majority of bets placed on NFL games – the vast majority in fact – are going to be via the point spread. It levels the playing field between risk and reward, and is generally a safe way to make sure you aren't throwing away your bankroll. You'll win some, you'll lose some, and hopefully at the end of the day you'll have one more win than loss, and end up with a profit.
No disrespect to the point spread, but if you're overlooking the moneyline underdog play, you might be leaving some money on the table. Monday Night Football is as prime time as prime time gets when it comes to sporting events, and the pressure of having the entire NFL fan base looking at you can sometimes act as a bit of an equalizer.
Some players simply don't perform well in prime time games despite being good-to-very-good when they're in the 1 o'clock or afternoon game time slots. Andy Dalton comes to mind. On the flip side, some players who are in the middle-of-the-pack when it comes to their standing as an NFL QB turn it on when the lights are the brightest. For example, Kirk Cousins.
In the grand scheme of things:
Andy Dalton and Kirk Cousins are most people's definition of average. Cousins has obviously had more team success, but if you match up the stats from the best years of each player's career, they're not going to look much different from one another.
If Kirk Cousins is a +150 underdog on the moneyline in a Monday night game, it's probably a smart move to bet on his team. If Andy Dalton is a -150 favorite in a Monday night game, it's probably in your best interest to bet on the underdog in this scenario.
More than just an evaluation on the players themselves.
These two quarterbacks are meant to represent the philosophy that always has and always will exist in the NFL when it comes to Monday Night Football: some players step up and rise to the occasion, and some players shrink under the spotlight. Knowing which players fall into which category can help you take advantage of the moneyline underdog and the value that comes with being able to win more money than you have to risk.
4. Each Team's Record, but Also the Schedule
When you begin the process of deciding which way you're going to bet, the logical first place to start is each team's record.
With that being said, not all wins and losses are created equal.
Early on in the season – and even up to the halfway point – just knowing a team's record is not going to give you the full picture. A narrow win against a last-place New York Jets (sorry Jets fans, you were the first team that came to mind) looks better on the schedule than a loss to the juggernaut Chiefs.
But everyone knows that sometimes it's more about the performance than the result. Go through the schedule of each team and determine for yourself how much each win and loss is "worth." Sometimes – probably more often than you'd think – you'll find yourself assigning a higher value to a near-win against a good team than a near-loss against a bad team.
If a team is 2-7, they're probably not going to be better than a team who is 6-3. But when teams have comparable records, you can help separate the two by looking at how they've played against quality competition.
Conclusion
Monday Night Football will always have a special place in the hearts of football fans and football bettors. It's the perfect sendoff to the week that was, and there are more than a few handicappers who are thanking their lucky stars that they were able to minimize the damage they suffered the day before.
Primetime games have a way of playing out differently than anticipated.
It might even be appropriate, in this case, to say "expect the unexpected." Stars are born when they perform on the biggest stage, and for NFL players, it doesn't get any bigger (during the regular season, at least) than Monday night.