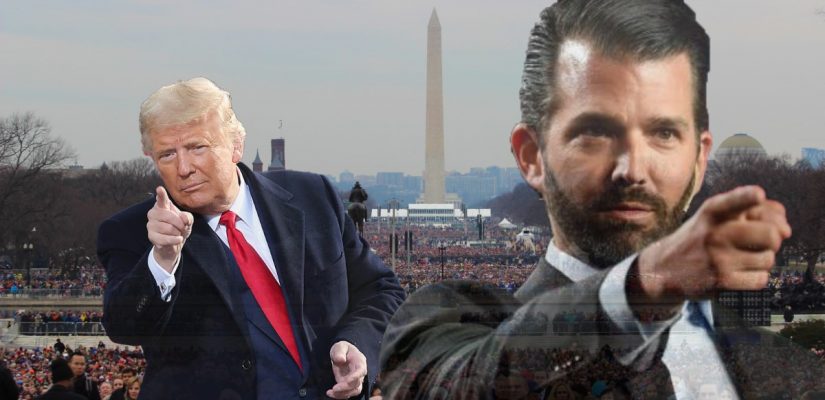 To think I was worried about there being a lack of wagering opportunities in the wake of the 2020 presidential election!
There's still uncertainty around how Donald Trump's exit from office will impact the amount of action offered by top political oddsmakers. Still, Wednesday's Inauguration Day is shaping up to be one of the most exciting betting events for US politics handicappers since Election Day.
Over the past couple of weeks, we've published multiple articles covering betting markets dealing with the Inauguration Day activities and President Trump's final days in the White House.
Well…this is another one!
Previous Inauguration Day / End of Trump's First Term Articles:
Today's post deals with four more political prop bets being offered at MyBookie – this time focused on Donald Trump's (and Donald Trump Jr's) Inauguration Day plans.
Better jump on this action while you can; we may not have too many more chances to wager on the man who, despite his many flaws, is the most significant figure in the history of US politics betting.
(Although, something tells me the end of Donald Trump's presidency doesn't necessarily mean the end of him as a media obsession. More headlines equal more proposition markets – fingers crossed!)
Will Trump be in DC on Inauguration Day?
In Friday's article about Joe Biden's Inauguration Day odds, I wrote the following: "Is there anything better than wagering on an event for which you already know the outcome?"
Trump in DC on Inauguration Day?
Matchup Odds
Yes+170
No-250
At the time, I was talking about Biden taking his oath of office in front of the Capitol, but the statement is just as true here. We already know Donald Trump's itinerary for January 20.
The Hill reported the following on Friday:
"President Trump is expected to depart Washington, D.C., next Wednesday morning, before Joe Biden is inaugurated as the new president, an administration official confirmed Friday.
"Trump has said he will not be in attendance to see his successor sworn in, but aides had previously expected the president to leave the White House a day early for Florida.
"Instead, Trump will leave the morning of the inauguration. He is expected to stop at Joint Base Andrews for a military ceremony, an official said. The plans were first reported by Reuters.
"Leaving before Biden is sworn in will allow Trump to depart on Air Force One since he will still technically be the president. Had Trump waited until after the inauguration, he would have had to request permission from Biden to use the presidential plane."
So, you'd think "No" would be the obvious pick here, right?
Not so fast.
As the excerpt suggests, President Trump will start his day in the White House, vacating the premises in the morning while he still has access to Air Force One.
MyBookie's conditions for the wager are that Trump must be photographed in Washington DC on Inauguration Day.
If the media already knows his plans, do you think there's a chance in hell he will be able to exit the White House for the last time and board Air Force One without anyone capturing the moment? By the time Joe Biden is being sworn in, the footage of Trump leaving will be plastered on every corner of the internet.
Due to the way it's worded, this is a tricky betting line for anyone not paying attention – but we are paying attention!
Donald Trump won't be attending the inauguration, nor will he participate in any other traditional "transfer of power" rituals, but he will wake up in Washington DC. And at some point, he'll have to show himself in public as he exits the District.
At +175 odds, I'd happily wager that someone in the media will be present to record the event. It's the moment much of the press has been awaiting since November 2015.
Will Donald Trump be at Mar-A-Lago on Inauguration Day?
This prop bet has the same rules as the previous one:
Donald Trump must be photographed at Mar-a-Lago for "Yes" to win.
It's a crucial factor because we know the outgoing President intends to end his day at the Palm Beach, Florida club.
Trump at Mar-A-Lago on Inauguration Day?
Matchup Odds
Yes-120
No-120
On Friday, Reuters reported the following:
"Trump will then fly on to Palm Beach, Florida, to begin his post-presidency at his Mar-a-Lago club, the sources told Reuters. He is likely to be in Florida by the time Biden is inaugurated at midday on Wednesday.
"A handful of White House aides plan to work for Trump in Palm Beach as the former real estate tycoon works on retaining his clout in the Republican Party."
We can be confident in the press snapping footage of Trump leaving the White House and Washington DC, but what about the end of his journey?
Even if he's photographed landing in Florida, what are the odds the media will be able to snap pictures of him at the private beach club?
These questions explain why MyBookie has kept the odds on the board after the President's January 20 schedule was made public.
We know where he'll be, but not how accessible he'll be to photographers. While I'm confident that media outlets will want pictures and video of Trump slinking away from the White House, I'm less sure they'll be interested in seeing him arrive at his luxury estate in paradise.
All of that said, I'm still picking "Yes" on Donald Trump appearing at Mar-a-Lago at –120 betting odds.
Here's what I'm thinking:
The mainstream liberal news media isn't the only game in town. MyBookie doesn't specifically limit the publications that must be responsible for sharing the photo.
Newsmax, the pro-Trump conservative outlet expected to partner with the former President on a new media venture, is headquartered in Boca Raton, Florida. If there's any publication with a vested interest in reporting on Trump's post-presidency – especially in a positive light — it's them.

Between its location and motives, Newsmax is the best hope for political bettors picking "Yes." If other outlets end up covering The Donald's arrival at Mar-a-Lago, it'll be an added bonus.

As is always the case when betting on Donald Trump props, we must also consider his immense ego. He's been relatively quiet since the January 6 Capitol Hill riots, but the President isn't going to take lay low and let Joe Biden suck up all the attention for long.

Nor will Trump tolerate being portrayed as a loser – especially when we know he still believes the election was stolen. "45" must be careful about conveying skepticism to the public regarding the election results and Capitol Hill violence while there are lingering legal concerns.

Absent the ability to spew his usual rhetoric, he'll need creative ways to illustrate how he's still a "winner" to the adoring MAGA masses. What better way to do so than allow his future business partners to capture footage of the former President enjoying his return to a life of leisure and luxury?
Admittedly, I'm going out on a bit of limb on this one. But I believe the odds are on the "Yes" bettors' side.
After all, we know for certain that President Trump is traveling to Mar-a-Lago on Wednesday. The only question is whether he'll be photographed at his final destination.
Fortunately, we're talking about the President of the United States – even if he'll technically be the "former President" by the time he reaches Florida. And not just any President, but the most polarizing, headline-making Commander-in-Chief in modern American history.
It's hard to imagine Donald Trump will be safe from photographers anywhere anytime soon.
Will Trump be at Mar-A-Lago?
Number of Times Donald Trump Jr Tweets on January 20?
Here's the most critical detail to remember when wagering on Donald Trump Jr's tweet volume on January 20:
"Retweets do not count towards the wager."
# of Donald Trump Jr Tweets January 20?
Matchup Odds
Over 2.5-150
Under 2.5+110
Analyzing Trump Jr's Twitter profile, the vast majority of the activity on his timeline consists of retweets. He rarely pens more than one or two of his own tweets these days.
On the other hand, Joe Biden's Inauguration Day could be incredibly triggering for the outgoing President's son. To cover the 2.5 tweet totals line, we're counting on Don Jr live-tweeting the ceremony – which is well within the realm of possibility. In the past, he's been more active during significant events such as the two parties' national conventions and the presidential debates.
Trump Jr won't have the same freedom to criticize his father's political rivals he's enjoyed in the past. He could be banned at any moment, securing the under, especially if his Inauguration Day tweets are interpreted as overshadowing or undermining Joe Biden's swearing-in process.
I'm predicting Donald Trump Jr's tweet total falls under 2.5 on Wednesday, for reasons expressed in the next section.
Will Donald Trump Jr Be Suspended from Twitter on January 20?
The main reason I'm betting Donald Trump Jr sends fewer than 2.5 tweets on Inauguration Day is because I think he'll be
banned or suspended from the platform
by the time Biden is taking his oath.
In fact, I'm shocked the President's son hasn't already been included in one of the prior conservative Twitter purges.
Trump Jr Be Suspended from Twitter Jan 20?
Matchup Odds
Yes+155
No-220
He's been relatively vocal about defending his dad against the "inciting violence" charges levied after the Capitol Hill attacks, sharing some controversial information about the protests that day and calling out specific double standards concerning the kinds of language allowed during this Summer's demonstrations versus now.
Here's a range of original tweets and retweets that demonstrate the type of activity I could see resulting in Don Jr's account being banned:
Potentially Ban-Worthy Tweets:
BREAKING: Twitter Insider Secretly Records CEO Jack Dorsey Detailing Agenda For Further Political Censorship
pic.twitter.com/1gAPt9nkJM

— Donald Trump Jr. (@DonaldJTrumpJr) January 14, 2021
Wow, Isn't this the guy that CNN gave a national platform to? I look forward to their coverage of that.
Maybe Tapper can do one of his famous hissy fits on it. I'll wait. https://t.co/3ynMemAxYi

— Donald Trump Jr. (@DonaldJTrumpJr) January 14, 2021
Rep Louie Gohmert R-TX being cancelled by leftist media for inciting violence by literally quoting Nancy Pelosi verbatim is the most 2021 thing ever.

— Donald Trump Jr. (@DonaldJTrumpJr) January 13, 2021
The timing of this obvious news is a bit suspect isn't it? https://t.co/f97MQyNZeb

— Donald Trump Jr. (@DonaldJTrumpJr) January 15, 2021
If these federal law enforcement agencies had prior knowledge that this was a planned attack then POTUS didn't incite anything. If he didn't incite anything then Nancy Pelosi and the Dems used impeachment on yet another sham political witch-hunt. https://t.co/W2BGLIxMKU

— Donald Trump Jr. (@DonaldJTrumpJr) January 14, 2021
"The U.S. govt. has reason to believe that several researchers inside the Wuhan lab became sick in autumn 2019, before the first identified case of the outbreak."

I'm sure that's a TOTAL coincidence ?

The CCP covered it up & the whole world knows it!https://t.co/iENYBbMQt1

— Donald Trump Jr. (@DonaldJTrumpJr) January 17, 2021
Equally Risky Retweets:
Here is anarchist John Sullivan bragging about wearing a MAGA hat to infiltrate Trump supporters pic.twitter.com/2g14Je6tmQ

— Jack Posobiec ?? (@JackPosobiec) January 14, 2021
BREAKING: Per CNN – Investigators believe riot at Capitol was planned and not inspired by President Donald Trump.

But Democrats impeached before they had any information from investigators.

— Carmine Sabia (@CarmineSabia) January 14, 2021
Democrat son-of-a-judge at the Capitol siege teamed up with a pal who carried a Confederate Flag. Not suspect at all.?https://t.co/aXZ7ZwNYuE

— Kyle Becker (@kylenabecker) January 15, 2021
Remember, Washington DC is on high alert this week, with over 20,000 National Guard troops patrolling the area. Government officials are concerned about the possibility of more right-wing violence.
Judging by the social media giant's approach to these threats thus far, they'll probably be extraordinarily cautious in how they police speech related to Biden's inauguration and politics in general.
Any perceived criticisms will be interpreted as undermining the sanctity of US elections and the peaceful transfer of power.
Plus, Big Tech has joined some kind of an alliance with the Democratic Party. They could ban or suspend Donald Trump Jr for making fun of the ceremony or Joe Biden. After all, the theme of Inauguration Day 2021 is supposed to be "American Unity."
I strongly suspect that Twitter plans to limit the remaining few dissenting voices this week, as Washington DC braces for follow-up protests and more.
Part of that will include another wave of bans for conservative and anti-establishment accounts. It's somewhat shocking that Donald Trump Jr's Twitter profile has made it this long; I don't anticipate his luck holding out for much longer.
I'm a huge fan of taking "Yes" for the question of "Will Donald Trump Jr be suspended from Twitter on January 20" at +155 odds!
Will Trump Jr be Suspended from Twitter?