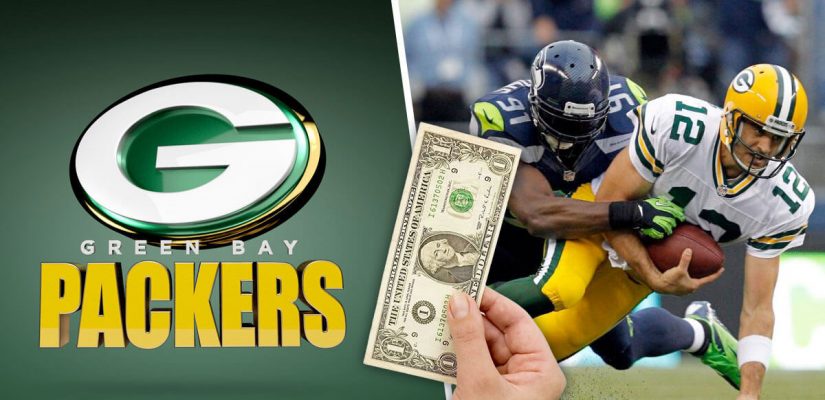 The Green Bay Packers enter 2020 with a 9-win over/under. Doable, but considering the team's success in 2019, the team has more than a few pitfalls which may lead to its third subpar season since 2017.
It started with the 2020 NFL Draft when the entire organization threw longtime quarterback Aaron Rodgers a curveball and selected quarterback Jordan Love as his potential successor.
For a team that was a game away from the Super Bowl, it shocked the league and Rodgers himself.
The Packers lost two of their top linebackers on defense, and their skill position players are nowhere near as deep as they once were. Considering Rodgers' recent production, it is not a good sign.
And while the Packers swept their division rivals in 2019, two of their three rivals are looking to steal the division crown that the Packers are defending.
Here are the four reasons to bet the under at https://www.thesportsgeek.com/sportsbooks/nfl/ NFL sportsbooks on the Green Bay Packers for the 2020 NFL season.
1. Quarterback Conundrum Act II
It seems like Brett Favre-Aaron Rodgers all over again here in 2020. And while it doesn't appear Love will start for the Packers this season or even 2021, one must wonder about the when, not the if.
The NFL landscape remembers Rodgers was vocal in his wish for the Packers to select a skill player in the first round. He preferred a receiver, as he knew they were thin at wideout outside of Davante Adams. What he got instead was a replacement.
Take Note:
Rodgers sat behind Brett Favre for three seasons. When the Packers traded Favre because he was no longer in the team's plans, Rodgers took control in his fourth season and has since put up Hall of Fame numbers.
Talk about history repeating itself! Favre experienced a lean year in 2004, and Rodgers' numbers declined in 2018 and 2019. So, now, here is Rodgers in the same situation. 15 seasons ago, during Rodgers' rookie season, Favre pulled off his worst season as a full-time starter, tossing 29 interceptions.
While Rodgers won't toss as many picks in 2020, one must take into consideration how Rodgers responds on the field. The best-case scenario is that an angry Aaron performs at his best. When the pressure is on, he is even better.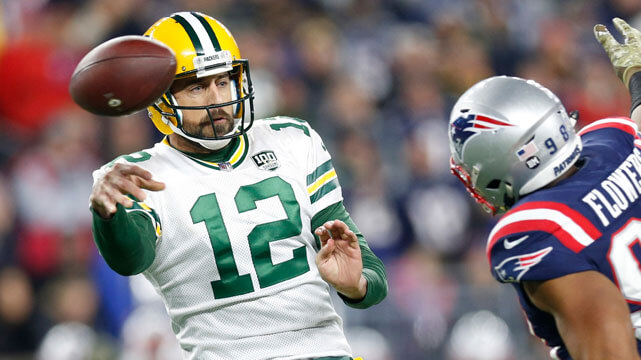 But what if Rodgers comes out and continues to decline in production, as NFL fans have noticed over the past three seasons? Last year, Rodgers' 95.4 passer rating was one of the worst in his entire career.
If his rating dips into the 80s and the Packers don't win games they should win early, 2020 may become a lost season. And for a head coach in his second season to bring on an entirely new quarterback, this situation could get ugly.
It's all up in the air, just like many situations in Green Bay.
But this is a "what if" situation you need to consider before betting on the Packers to surpass their projection. Consider this scenario: Rodgers gets hurt and misses an extended period, which has happened several times in his career.
At that point, will the Jordan Love era begin?
Will Love even be able to adjust to the game, considering the lack of practices and preseason games?
Does Rodgers still have some solid trade value?
Sure, this is all hypothetical, but you must take into consideration that Rodgers has missed extended time because of injury. There's also the factor of his declining numbers.
We're not saying it yet, but a potential rebuild is in store for Green Bay, starting with the passing of the torch at quarterback. But more changes may sweep the Frozen Tundra sooner than later.
HEADING TEXT HERE
Even Rodgers admitted in a recent interview that rookie quarterbacks in today's league start sooner than later.
They don't sit for a year as they did at one time.
2. A Struggling Defense
While it didn't all appear in the numbers game, the Packers defense struggled in 2019. And defensive coordinator Mike Pettine is on the hot seat now that former NFL defensive coordinator Jerry Gray is on board to coach the defensive backs.
First, here are the positives from the defensive unit in 2019:
Ninth in points allowed.
Third in interceptions.
15th in sacks.
Fourth in turnover differential.
These are fantastic numbers for any club.
But things go down the tube when you look at total defense, which ranked 18th in 2019. The passing defense ranked a solid 14th, but the run defense ranked an alarming 23rd.
And in 2020, it isn't getting any better.
In fact, this team may project the worst rushing defense in the league for 2020.
Let's take a closer look. They gashed their linebacking unit in the offseason, losing star linebacker Blake Martinez and key contributor Kyler Fackrell to the New York Giants.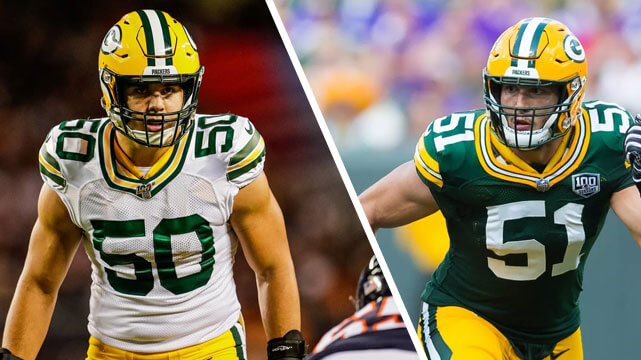 They also lost contributor B.J. Goodson to the Cleveland Browns.
Given the fact there isn't much to get excited about outside of defensive tackle Kenny Clark and end Dean Lowry on the defensive line, expect the rushing defense to struggle again in 2020.
Their replacements in the middle?
Christian Kirksey and Oren Burks. Kirksey missed most of the previous two seasons because of injury. As for Burks, Lindy's Magazine assumes he's probably getting one last chance.
If the unit continues to allow the yards to mount, and they can't come up with the same number of turnovers or game-changing moves in 2020, it could spell the end for current defensive coordinator Mike Pettine in Green Bay.
Teams don't hire a two-time coordinator for nothing, and in doing so, the message to Pettine is clear. He is on the hot seat and it is getting hotter. And his rush defense is already weak.
Please Note:
If the numbers hold steady in the turnover and points allowed region, Pettine remains. But if they fall and the Packers allow scoring, he's out the door and Gray steps in.
Pettine better hope his spectacular edge rushers in Za'Darius and Preston Smith have more than just an encore performance. Ditto for corner, Kevin King.
3. Return of the Purple People Eaters and the Monsters of the Midway
A few pundits penciled the Vikings to win the NFC North in 2020. Some even have Chicago sneaking ahead of Green Bay.
Let's start with the Vikings, whose defense should manhandle a declining Green Bay offense with a declining Rodgers and potential for Jordan Love to take the reins.
Their best pass rusher in Danielle Hunter returns, as does Ifeadi Odenigbo. Together, they logged 21.5 sacks, and the latter was just a rotational player. Their linebacking unit is one of the league's best, with Anthony Barr and Eric Kendricks leading the charge.
While their corners appear weak on paper, each had first-round grades in their respective drafts and two are first-round picks.
If the corners catch on, the Packers are in big trouble, especially since they are depleted at the wide receiver positions. It allows the corners in Minnesota to match up well with the receivers in Green Bay.
And if everything comes together in Minneapolis, the Vikings' defense could improve upon their 14th ranking and even improve upon their top five ranking in points allowed, interceptions, sacks, and turnover differential.
Let's shift gears to the Bears, who are in the same situation with a stellar defense. And while their offense isn't where it needs to be, they too can hold the Packers.
The Bears hit a home run when they signed edge rusher Robert Quinn to pair with the elite Khalil Mack.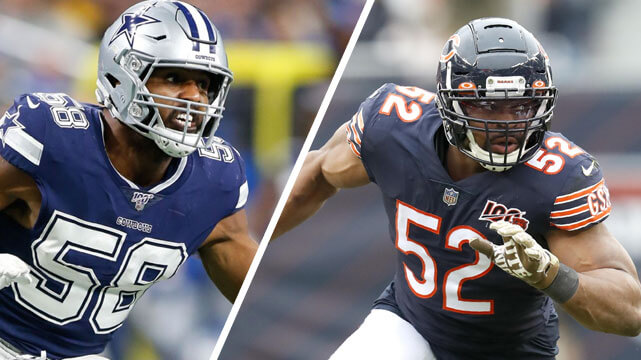 Quinn's presence will turn Mack back into the sack and turnover artist he was in 2018, but so will the returning Akiem Hicks.
With Hicks in the lineup for six games before injuries took their toll, Mack forced 4 fumbles. Without Hicks for 10 games, Mack forced just one. Then, you have Roquan Smith, who logged 100 tackles in 12 games. Expect 2020 to be his breakout season after two seasons of posting numbers that exceed expectations.
Let's now shift gears to how Minnesota and Chicago can beat the Packers with more than just solid defense.
With a weak defensive line, the Vikings and Bears can use a quicker game and a heavier rushing attack to counter outside linebackers Za'Darius and Preston Smith, who combined for 25.5 sacks in 2019.
Expect the Vikings to use this strategy with Dalvin Cook and Alexander Mattison, both of whom carved up defenses in 2019. Cook is the key man in the backfield, while Mattison is one of the better and underrated RB2 players in football.
As for the Bears, look for them to throw across the middle and in the flats to reliable pass catchers Allen Robinson, Tarik Cohen, and the emerging Anthony Miller. Add tightend Jimmy Graham into the mix and the Bears own a solid passing attack in 2020.
But given the fact each player listed are possession receivers, look for the Bears to use the quick passing game to negate the Smiths' pass rush while taking advantage of a weakened inside linebacking unit and defensive line.
4. Skill Position Trouble
As mentioned, Aaron Rodgers wished for the team to upgrade the skill positions. What he got instead was Jordan Love. Their top offensive signee? Devin Funchess, who opted out of the 2020 season, not that the Packers should lose any sleep over losing him, anyway.
The Packers' second-best receiver in 2019 was Allen Lazard. Lazard caught 35 passes for 477 yards and posted 3 touchdowns. While Lazard makes a tremendous third or fourth receiver on any NFL roster, he is in over his head starting opposite Davante Adams. He isn't the second coming of Jordy Nelson or Randall Cobb by any means.
And Devin Funchess is more like the second coming of Braylon Edwards unless he returns in 2021 and takes over. You will find some outrageous betting odds for that one.
Marquez Valdes-Scantling looked like an emerging receiver in the first eight games of 2019 when he hauled in 22 receptions.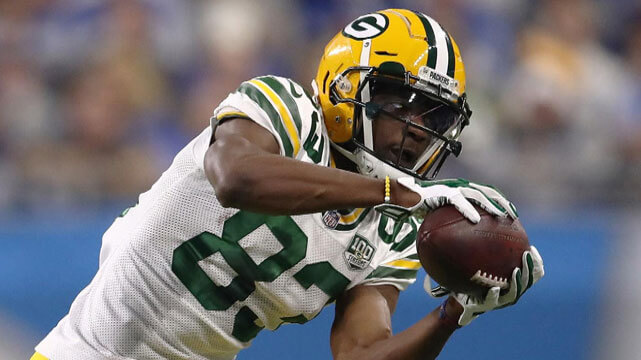 But he had just four the rest of the way. He looks like a deep threat, but it is a disappointment when a player shows promise and tails off.
Tight end Jace Sternberger was the opposite. He played well in the playoffs, but he also struggled to stay healthy during the season, appearing in just six regular season games.
Someone needs to step up, especially as Rodgers ages. And unlike Tom Brady and Drew Brees, Rodgers looks like he is declining with age. This shouldn't come as a tremendous surprise. Brady and Brees had their injuries but remained healthy most of their careers.
Please Note:
The rushing committee looks good, but the Packers must lean on it more often in 2020 if Rodgers' production continues to dip (again, with Aaron Rodgers standards). On top of that, the receiving unit is barren apart from Davante Adams.
The other issue is that Minnesota and Chicago own the manpower to stop the run.
Conclusion
The average fan consensus is that the Packers are favorites to win the NFC North and should surpass their 9-win projection. And they aren't wrong. They are a wise bet for the over, but you shouldn't find it surprising if they falter.
It was a shock to see a single-digit projection, but upon further review of Aaron Rodgers' numbers and his lack of pass catching targets, it is easy to see why.
With Jordan Love waiting behind him, the future may arrive sooner than every Green Bay Packers fan believes. It remains a what-if scenario, but history shows Rodgers has an injury-prone past and his declining production doesn't cross well with a lack of targets.
The Packers are a team who remain a sensible bet for the over. But given the uncertainty and growing threats from within the NFC North, they are also a sensible bet for the under.
What are your thoughts? Let us know in the comments, and tell us if you like Green Bay for the over or under.