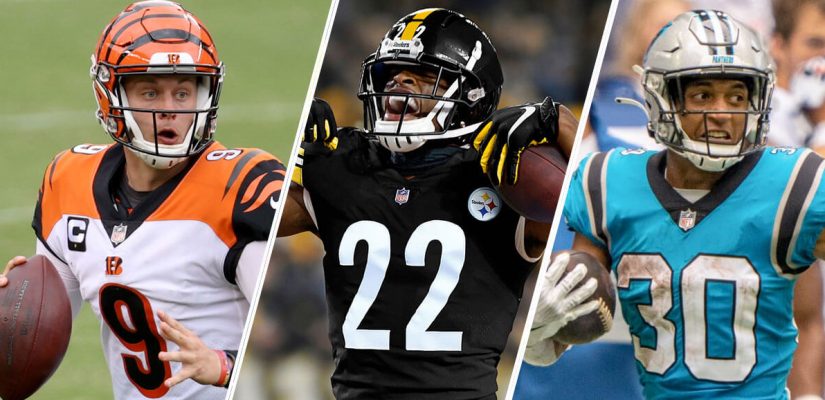 Today, we're talking about young NFL players that will make great player prop bets from now until 2030. Some of the players you will see below are givens.
Others may make you scratch your head a bit.
But you will understand why I've chosen them for this list after you read a little of what I have to say. Below, you will find 3 quarterbacks and 2 running backs, since those are the positions that you will most likely place a props bet.
Are you ready to discover who's hot and may still be hot by the time 2030 rolls around? Let's get started.
1. Joe Burrow
Burrow showed flashes in 2020 as a rookie. But after a 2-7-1 start, he went down with a serious knee injury and never returned.
Most of us probably feared we'd see Burrow end up like David Carr and Tim Couch. A great player that succumbed to injuries and wound up years later in a press box either broadcasting games (Couch), or analyzing players on NFL Network (Carr).
However, Burrow had something to say about it, allowing his play to do the talking. At the time of this writing, he (along with Baker Mayfield) has us living in the NFL Bizarro World with the Browns and Bengals tied atop the AFC North (with the Baltimore Ravens) at 3-1.
.@PFF's highest-rated QB this season: @JoeyB pic.twitter.com/WBvbSXV8Kg

— Cincinnati Bengals (@Bengals) December 20, 2021
The Steelers sit at 1-3, and have dropped their last 4 games against the Browns/Bengals. Bizarro indeed, and don't be surprised if this keeps up for the next decade. The Steelers have been winning for 50 years, spending the majority of that time treating the Browns and Bengals like fodder.
Why Burrow and not Mayfield?
Burrow is the kind of player that can carry a team. Mayfield isn't that type of player. Mayfield will put up average to above-average numbers throughout his career, even if you can call him a franchise quarterback.
If Andy Dalton was still in Cincinnati, the Bengals would not be 3-1. However, if you implement Case Keenum into Cleveland's lineup tomorrow, the Browns are probably every bit as effective given their offensive system and talent on defense.
Burrow will only continue to grow from here on out, and he will be fun to watch barring injury.
2. Najee Harris
Harris is the Steelers' only hope from 2021 until whenever they get a new franchise quarterback. They are 1-3 as I write this, and it's clear that Ben's done. Many of us knew this last season when he and the entire Steelers' organization faltered after a historic 11-0 start. The Steelers are 2-8 since, including the playoffs.
And it's fair to mention that both wins were come-from-behind victories.
Harris has not looked good during the first 4 weeks of his NFL career. So far, he has just 185 yards on 55 carries, averaging just 3.4 yards per attempt. Again, this post is being written in October 2021.
However, Harris does not have a solid offensive line.
The Steelers, however, do not have as much of an identity crisis as many may think. Odds are, Mason Rudolph or Dwayne Haskins will get a chance to be the guy, unless of course if the Steelers wind up picking in the top ten or even the top five and land a quarterback. Either way, Harris, a stud at the University of Alabama, has a golden opportunity to become the focal point of the team's offense.
RT to #ProBowlVote for Najeeeeeeee#ProBowlVote + @ohthatsNajee22#ProBowlVote + @ohthatsNajee22#ProBowlVote + @ohthatsNajee22 pic.twitter.com/jcsHUCl4Jx

— Pittsburgh Steelers (@steelers) December 4, 2021
Odds are, this will occur sooner than later. Perhaps as early as 2021 if the team solves its offensive line woes. Whether they go with a rookie quarterback starting in 2022, or if they go with one of their own, they will rely on Harris to take them out of the unfamiliar AFC North cellar they find themselves in. And given Harris's Derrick Henry-like build, he can easily turn into the league's best back for years to come.
3. Chuba Hubbard 
When injuries once again started plaguing star running back Christian McCaffrey early in the 2021 season, the Panthers turned to Hubbard, who had an up and down collegiate career.
But boy, was he up at times.
Hubbard looked good in Week 3 against the Houston Texans and had a solid but unspectacular outing against the Cowboys. Some may give them the Tony Pollard or Alexander Mattison label – a good running back stuck as an RB2 because of the star RB1 in front of him.
CHUBA MAKES IT HAPPEN!

?: FOX pic.twitter.com/ze4QJmrMDE

— Carolina Panthers (@Panthers) December 12, 2021
However, Hubbard may likely wind up taking the reins as the permanent RB1 in Carolina if McCaffrey continues to struggle with injuries. The latter played in just 3 games in 2020, slowed all season long because of injuries. And at the time of this writing, he's also showing similar signs.
Or, the Panthers can continue with McCaffrey and will ship Hubbard to a running back-needy team. Regardless of the case, expect Hubbard, like Harris in the above section, to become a prominent fixture at running back for an NFL team.
And in doing so, he will become an outstanding NFL player prop bet for a while. Especially if he spends his first couple of seasons behind McCaffrey, which will only prolong the tread on his tires.
4. Josh Allen
Okay, Josh Allen is one of those quarterbacks where you're just iffy to place a prop bet on given his serious accuracy issues. Something he has always struggled with. Despite this, he played at a near-MVP level in 2020 with 37 touchdown passes.
However, Allen continued to struggle with his accuracy over the first week of the 2021 season in a stunning loss to the Pittsburgh Steelers. Following the game, some thought his 2020 campaign could be an outlier.
Then the Bills beat the Miami Dolphins 35-0, the Washington Team 43-21, and the Houston Texans 40-0, scoring a total of 118 points and 39.3 points per game in that span.
QB1. ?#GoBills | #BillsMafia pic.twitter.com/ZdZPn2wOhl

— Buffalo Bills (@BuffaloBills) December 19, 2021
Allen completed just 51 percent of his passes in the Miami outing, but turned around and completed nearly 75 percent against Washington and 69 percent against Houston. Goodbye outlier, hello MVP frontrunner. Or at least close to.
The Bills are a young football team with a dynamic offense and a defense that posted 2 shutouts in the first 4 weeks of the 2021 season. Josh Allen has solidified himself as the franchise player and given the longevity at quarterback these days, expect repeat outings year after year until at least 2030.
Player prop-wise, Allen is definitely your guy more often than not. He will have his accuracy issues as he has shown in each of his first three and even here in his fourth season. But he has also shown the ability to put up gaudy numbers week in and week out.
5. Kyler Murray
If there's one quarterback out there playing better than any other, it's Kyler Murray. Many, two seasons ago, would have placed Lamar Jackson here in this ultimate spot.
But as Jackson has shown time and again, he's not an accurate quarterback, or at least consistently. Jackson is a scramble-first quarterback, and they're gimmicky in the NFL.
Murray has similar traits to Jackson. He's fast and he makes a lot of plays with his legs.
Murray is a pocket passer that happens to have the ability to run like a running back when necessary. He's got the pocket presence of Tom Brady, and Jackson's scrambling ability, but he prefers the pocket because it's where he carves up opposing defenses.
And when they take away his favorite throwing lanes, he'll just take it upfield himself. You can't stop a quarterback like this. And it shouldn't surprise us if Murray annually finds himself in the running for League MVP. If you drop back into coverage, he will run on you. If you pressure him, he has a high enough football IQ to get rid of the ball quickly.
Prop-wise, Murray is a solid bet. Especially in total yardage, because of his ability to make things happen regardless of the situation. Odds are, he's giving oddsmakers headaches. In 2020 he showed flashes. In 2021, he's busy entering the league's elite.
Kyler Murray reached 60+ passing TD and 20+ rushing TD faster than any player in NFL history.@K1 x #ProBowlVote pic.twitter.com/HBY2eMaWoP

— Arizona Cardinals (@AZCardinals) December 10, 2021
And given the way he sounds in press conferences, he's rarely happy with his performance. Always expecting more of himself. He's not talking about switching numbers after winning a Super Bowl.
Nor is he talking about getting not one but two numbers retired.
A guy with Murray's ability has the right to do this, but he won't. He's quiet. He's humble. He lets his play do the talking. And he will remain a top player prop bet like Patrick Mahomes, Russell Wilson, and Aaron Rodgers have become.
Conclusion
Speaking of Mahomes, you may ask why I didn't include him. Mahomes is in Year 4 of his reign of greatness in the NFL – Year 5 overall but he sat during his rookie season.
I also thought about putting Justin Herbert here, and he just missed the cut. However, Herbert broke out in 2020, so there was no need. Burrow and Murray are breaking out in 2021. And while Allen did breakout in 2020 like Herbert, he still had more to prove because of his accuracy issues.
Hubbard and Harris have yet to breakout, but they have immense potential to play in this league for a long time. Especially given their current situations.