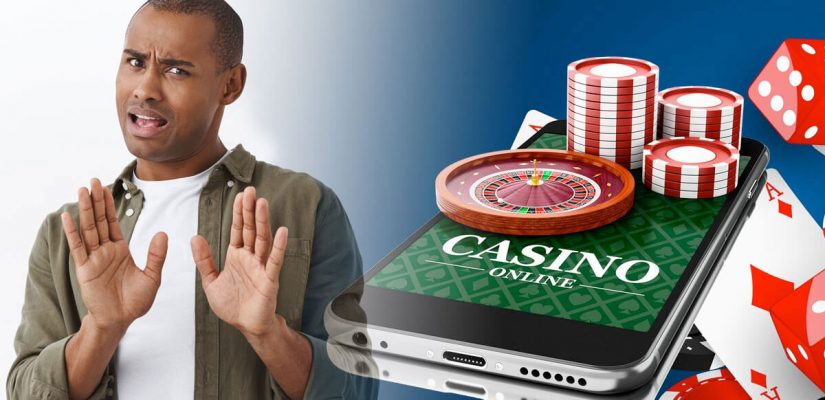 I've used 100's of casino bonuses over the years, but over the past few years, I've almost completely stopped using casino bonuses.
But I finally figured out that most mobile ad online casino bonuses don't help me win. I know that bonuses look like a good deal, but once you learn how they work, you find that most of them are the opposite of a good deal.
This post includes five reasons why you might want to skip online and mobile casino bonuses and what to do instead of looking for another big bonus offer.
1. Delayed Cash Out
I've been around online gambling from the beginning. I remember when only a couple of online casinos were available, and many people were worried about how trustworthy the casinos were.
I waited a few years before making my first deposit at an online casino.
And there have been a few bad apples in the online casino world, but players have been treated fairly for the most part.
I started with a little bit of history because I remember the first time I cashed out of an online casino. Before Neteller was being used in the US, I used a credit card to make a deposit, and when I cashed out, I had to wait for a check to be delivered. It seemed like the check took forever to arrive, and I was worried my bank wouldn't cash it. Everything worked out fine, but I didn't like to wait for the money. When Neteller was available in the US, it was easy to make fast deposits and withdrawals. But the powers that be messed that up by basically banning the service in the US.
Most online casinos offer ways to get your winnings fairly fast today. Still, when you use online and mobile casino bonuses, the terms usually have specific language about what you have to do before you get your cash out.
The minimum you usually have to do is clear the bonus, which I cover in the next section. And some casinos delay cash-out requests even longer. I don't like not having access to my money, so I rarely use mobile and online casino bonuses because they tend to lock up my deposits for too long.
And even when I don't plan to use a bonus, when I start playing at a new casino, I only deposit a small amount and request a withdrawal after playing a short time to test how long it takes to get back my money.
2. Big Clearing Requirements
Mobile and online casino bonuses have certain things you have to do to clear the bonus. The casinos almost always let you play with the bonus from the start, so you're not unlocking the bonus like some poker rooms and sportsbooks run bonuses.
Because the casinos let you gamble with the bonus from the start, the clearing requirements are really just a way to control when you can cash out. Even though the terms are presented as clearing the bonus, it's just a way for the casinos to keep your money on deposit longer. The longer the casino keeps your money on deposit, the more likely you are to gamble and lose the money.
When you get a bonus, you agree to follow the terms, which include how much you have to bet to clear the bonus. Most of the time, you have to read the terms closely to see how much you have to bet before you can cash out. The amount you have to bet is a multiple of the bonus or a multiple of the bonus plus your deposit.
The terms might say you have to bet 40 times the total of your deposit and bonus. So if you deposit $400 and get a $400 bonus, you have to bet a total of $32,000 before you can cash out. The good news is that you can make bets of any size, and the casino tracks how much you've bet in total. You can bet $1 per hand or spin 32,000 times, or $10 per hand or spin 3,200 times, or any combination that adds up to a total risk of $32,000.
It can take a long time to meet the clearing requirements for bonuses. So if you don't want you money tied up for a long time, you should skip the bonuses.
3. Restricted and Banned Games
When you're looking at mobile and online casino bonuses, do you know which games you're allowed to play when you look at the bonus? Unfortunately, in most cases, unless you read the terms, you have no idea what games you can play and what games are banned.
The worst thing you can do is assume that a bonus can be used to play any game. Never accept a bonus until after you read the terms to see if you can even use the bonus to play what you want to play.
Here's what can happen if you accept a bonus, and the bonus can't be used to play what you want to play. You make a deposit and get the bonus and start playing the game you want to play. You play long enough to clear the bonus, but then you find out that the game you're playing is banned for bonus use.
You can't cash out because you haven't cleared the bonus
When you try to clear the bonus playing an approved game, you lose all of your money. Another problem is that some games are restricted. Sometimes you can play certain games, but they only count 10% towards clearing the bonus.
If you're playing a game that only counts 10% toward clearing the bonus, you have to bet $320,000 instead of $32,000 in the example in the last section. Common games that are banned for some bonuses and restricted for other bonuses include blackjack and video poker.
4. Bonuses Rarely Help You Win
Casinos present bonuses like the bonus is free money and can help you win. But bonuses aren't free money, and they rarely help you win.
In fact, the way most bonuses are set up, the bonus helps the casino win.
Casino games have a house edge which wins a small percentage of each bet, on average, for the casino.
Therefore, the more you bet, the more the casino makes.
Bonuses have terms dictating how much you have to bet before you clear the bonus. In the example above, you have to bet $32,000 in total. So if you're playing a casino game with a 5% house edge, you're expected loss is $1,600 before you clear the bonus.
Do you notice the problem with this? You only start with $800, and you're expected loss is $1,600. So you're more than likely going to run out of money before coming close to clearing the bonus.
Instead of a bonus helping you win, it usually just helps the casino win.
5. Better Options
You're almost always better off skipping the bonus and looking for the games that give you the highest return. Unfortunately, online and mobile casinos aren't set up to lose money, so the best option for most gamblers is to figure out how to limit their losses.
The restricted or banned games for most bonuses are also the best games to play. For example, many blackjack and video poker games have a low house edge, so they give you the best chance to win. And you don't have to worry about your money being tied up in the casino waiting to clear a bonus.
If you like to play poker, you can get a bonus at some online poker rooms. Unlike casino bonuses, when you get a poker bonus, you unlock it as you play. And unlike casino games, if you're a good poker player, you can win as you're unlocking the bonus in the poker room.
Conclusion
The truth is that I still use an online casino bonus every once in a while. But it's so hard to find good ones that I usually skip them. Unless a bonus is perfect, I know I'm better off playing without it.
If you play certain online and mobile casino games, like progressive slot machines, bonuses might make sense for you. But you're better off skipping the online and mobile bonuses if you play other games.
Instead of looking for a bonus, focus on finding the online and mobile games that have the best odds and give you the best chance to win. Winning is more important than any bonus you can get.