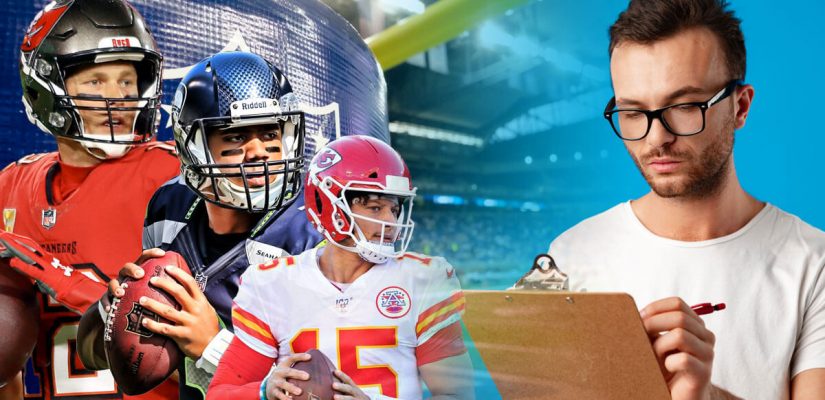 The only way to handicap NFL games correctly is to start with quarterback play. Until you learn how to evaluate the quarterback position, you don't have much chance to be profitable betting on NFL games.
There are plenty of statistical ways to evaluate quarterbacks. In fact, there are so many quarterback stats available that the problem might be figuring out which stats to ignore.
I've put together a list of five ways you can improve your evaluations of NFL quarterbacks in this post. Of course, these aren't the only five things you need, but if you're not using them, you're making a mistake.
1. Average Yards per Attempt
Average yards per attempt is a quick way to compare quarterbacks in the NFL, and it's listed in most statistical lines available online. But it's also not a one size fits all comparison. In other words, you can use average yards per attempt as one of several ways to evaluate quarterback play.
Matthew Stafford currently has an average yards per attempt of 8.2, Tom Brady has 7.3, and Patrick Mahomes has 7.4. But if you had to pick a quarterback to win a big game, Stafford would be the third of the three to pick.
Joe Burrow currently has an 8.9 for comparison. And if you've been handicapping games this season, you know that Burrow has grown into a quarterback who almost always gives his team a chance to win. But does his 8.9 mean he's a better overall quarterback than Brady or Mahomes?
I know it seems like I introduced average yards per attempt as an important statistic to track and then introduced questions about how important it is. It's still an important metric that I use when evaluating quarterback play, but it's not the only metric I use.
The point I'm making is that there isn't a single statistical metric you can use when you evaluate quarterbacks in the NFL. So if you're looking for an easy way to evaluate quarterbacks, you should either accept the fact that it takes a lot of work or stop betting on NFL games.
2. Completion Percentage by Down
While average yards per attempt is an easy stat to find, tracking completion percentage by down takes a little more work. You can easily find overall completion percentage numbers, but I like to break the numbers down for each quarterback by down. The first thing I look at is first down completion percentage.
Quarterbacks who have a high completion percentage on first down throws keep their teams in front of the sticks. Even a short completion of five or six yards puts the team in a strong position to get a first down.
Second down completion percentage is important, but it's the least important of the four downs. Third down completion percentage is probably the most important down because most third down completions result in first downs. Therefore, the quarterback in each game that has a higher third down completion percentage gives his team the best chance to win. Fourth down completion percentage is a tricky stat to use.
You want to bet on a quarterback who can convert on fourth down. But the best quarterbacks rarely get into fourth down situations because they do a good job on the other downs getting first downs.
I use overall completion percentage and do a close study of completion percentage by down for every quarterback I evaluate. I use a simple spreadsheet to track the statistics, and the spreadsheet lets me quickly sort the stats for each quarterback and game.
3. Turnover Percentage
Turnovers are the worst thing quarterbacks can do. Not only does a turnover stop an opportunity to score, but it also gives the other team the ball in better field position than a punt. If you want to be a profitable NFL handicapper, you have to understand the importance of field position.
It makes sense that the team that starts closer to the other team's end zone has a better chance to score.
But a team that starts 20 yards or more closer to the other end zone has a much higher chance of scoring. Quarterbacks can turn the ball over two ways.
Most handicappers focus on interceptions and ignore fumbles. Quarterback fumbles are difficult to predict because the quarterback has to be hit to fumble in most cases.
You can do some predictions based on how often the defense pressures and sacks quarterbacks are, but it is not an exact science.
I use a simple statistic to evaluate quarterbacks and turnovers.
I simply divide the total number of interceptions and fumbles by the number of total pass attempts for each quarterback. Using the turnover percentage this way is an easy way to compare how well quarterbacks protect the ball.
Notice that I use fumbles instead of lost fumbles.
You can do it either way, but any time a player puts the ball on the ground, it's in danger of being a turnover. On the other hand, if a player doesn't fumble, the defense has no chance of getting the ball, so I treat every fumble as a bad play.
Just like the other stats listed in this post, turnover percentage isn't more important than everything else. Turnover percentage is important, but it has to be used in combination with other stats. Often the best quarterbacks turn the ball over at a fairly high rate, but they also play well enough in other areas to keep their team in games with a chance to win late.
4. Running to Keep Drives Alive
Almost every NFL quarterback is looking to pass first, and many try never to run. When a quarterback runs, he's likely to get hit, and getting hit too often is how these guys get hurt. But there are always a few quarterbacks who run a lot and change the way that defenses have to play against them.
But a quarterback doesn't have to run a lot to keep drives alive. And every time a quarterback runs for a first down it hurts the defense a great deal.
When the defense gets the offense into a third down situation, the defense is usually focused on stopping a pass for first down yardage so they can get off the field. However, when the defense covers all of the available receivers and still gives up a first down it can take the air out of the defense.
You should compare the rushing statistics for quarterbacks when you handicap NFL games, but you have to watch the players in as many game situations as possible to see how effective each player is in extending drives by running.
Some of the best quarterbacks rarely run, but they almost always pick up a first down when they do. But the only way to evaluate running to keep a drive alive is to see it.
5. Effectiveness by Quarter
The final evaluation method I recommend for NFL quarterbacks is to break down their play by quarter. Of course, every play and quarter is important, but the quarterbacks who perform the best in the first and fourth quarters tend to lead their teams to the most wins.
A quarterback who performs above average in the first quarter gives his team the best chance to play with an early lead. He also keeps the game close even when the other team is playing well offensively.
Quarterbacks who elevate their game in the fourth quarter and in overtime, win more games. And some quarterbacks really shine late in games, while others tend to fade as the game progresses.
As I look at the performance by quarter for each quarterback, I get a feel for how each player is going to influence the game early and late.
Of course, the statistics are the main thing I use when doing this, but I also watch enough games to be able to make adjustments based on what I see.
A quarterback might only convert 55% of his passes late in games, but he still is able to get first downs and score points when his team really needs him. On the other hand, another quarterback might complete 60% of his late passes but throws too many short passes and turns the ball over too much.
Conclusion
It's basically impossible to win betting on NFL games unless you correctly evaluate the quarterback position. But it takes a lot of experience to learn how to do a good job evaluating quarterbacks at the top level.
I've learned that the five evaluation methods listed in this post help when handicapping NFL games. For example, turnovers are the worst thing a quarterback can do, and extending drives can kill a defense. So if you just focus on these two things, your handicapping is going to improve.
It's also important to learn which quarterbacks play better late in games and which quarterbacks fold under pressure. So use the five evaluation methods in this post every time you handicap NFL games.