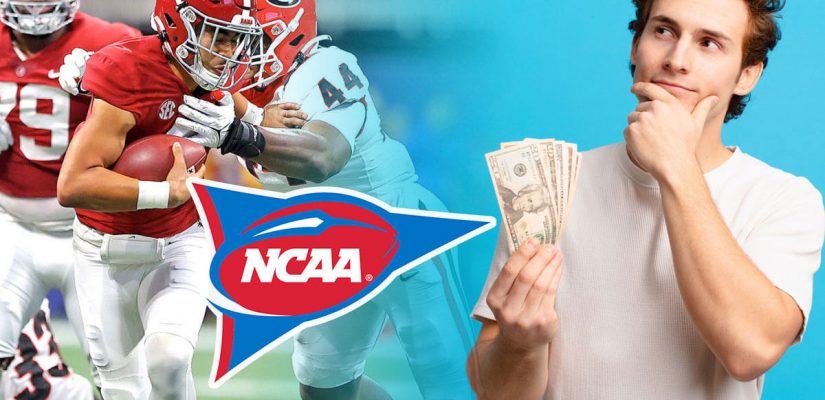 Winning college football gamblers usually use a model or betting system that helps them make bets on the right teams. But it's difficult to create a winning system.
I'm sharing a system I've used for many years to help me find the right NCAA football games and teams to bet on. It's a fairly simple system, and as you learn how it works and use it, you can add your own tweaks to the system to improve it.
If you're just getting started betting on college football, use this easy system. It might still take a little time for you to start winning, but this system will get you started n the right foot.
1. Use Point Spreads
You can use many different bet types when betting on college football, including point spreads, moneylines, and the over under. Of course, eventually, you're going to look for value on every type of wager, but the goal of this post is to give you a system to help you win as a new NCAA football gambler.
The first step of the system is to use point spreads. Sometimes it looks easier to pick a winner using the moneyline, but there's a lot of danger in making moneyline bets until you have a lot of experience. A moneyline bet on a favorite team costs a lot of money when you compare it to how much you can win, so a single mistake can cost you a great deal of money.
When you make a point spread bet, you can make it at 11 to 10 or 110 to 100. So while you still have to risk more than you can win, you only have to risk a small percentage more than you can win. Not only does this reduce your overall risk, but it also means that you don't have to be right as often as you have to be right betting on the moneyline.
Beginning college football gamblers tend to bet on the favorite.
But in this system, you're going to focus on the teams that are getting points. When you make a wager and get points, you win when your pick wins the game, or when they lose by fewer points than you get when you make the wager.
2. Teams at Home
The second step in this system is to focus on teams playing at home. The home team has a better chance of winning statistically, and home teams almost always play better than when they're on the road.
These two things eliminate a lot of games on the schedule every week.
So when you only look at the games where the home team is getting points on the point spread, you only have a small number of games to evaluate.
When you only have a small number of games to evaluate, it makes your job easier. And it allows you to spend more time handicapping each game.
Notice that this system doesn't stop after the first two steps. You can't bet on every home team that gets points and make a profit. But you're going to find a game or two every week that you can make a profit on from this small group of teams.
Combine what you learned in the first two sections with the rest of the system in the following sections, and you're going to have a profitable NCAA football betting system.
3. Who's Getting Points?
It might sound a little funny to title this section as who's getting points. However, in the first two sections, we narrowed down your possible wagers to home teams that are getting points.
So the first answer that comes to mind is that the home team is getting the points.
But now is where you start digging a little deeper and learn how to identify the home teams getting points that have the best chance to win or cover the spread.
You need to look at how each team you're considering placing a wager on has performed in previous games. And not only do you need to evaluate their past performance on the field, but you also have to evaluate how the team performed against the spread in previous games.
I'm looking for home teams getting points that have a history of covering the spread or being able to play close to the spread. What I don't want to see is a team that has a history of missing the spread by a large margin.
4. The Best Quarterback
Quarterback play is the most important thing to evaluate whenever you're handicapping football games.
The position is the most important at every level, including the NCAA and the NFL. The college football team with the better quarterback wins more often than the other team.
The problem is that most college football teams who have a better quarterback are favored, especially when they play at home.
Every step of this college football betting model narrows your wager options down. I'm going to cover more about this in the sixth section in this post, but this is a good thing. You don't want to find a dozen games that might show value. Instead, you want to find one or two games that do offer value.
Most of the games you bet on using this system will have quarterbacks with similar overall talent levels. But if you can identify the team that has a slightly better quarterback, it can trigger the right circumstances for a bet.
5. Can the Defense Get Off the Field?
Now it's time to evaluate the defense for each team. The main question you need to answer is can the home team's defense play well enough to get off the field a high percentage of the time.
What I mean by getting off the field is by either forcing a punt or turnover. I evaluate defenses in college football to determine the percentage of drives that end in points and the percentage of drives that don't end in points.
I use these numbers for both defenses in the game I'm evaluating. And I do the same comparison for each offense in the game. When I find a home team getting points that does a better job getting off the field on defense and a better job than their opponent creating scoring drives, I know I have a team that offers value.
I mentioned that in most games:
You bet on the quarterback play is going to be similar. The same is true for the defenses. You're not going to find games where the home defense is clearly dominant because if the defense is dominant, the team is going to be favored.
But when you can find a team that has a quarterback and defense that gives them an even chance to win a game, you're making a value bet on them because you're getting points.
6. The Perfect Storm or Quality over Quantity
The truth is that using this system, you might not find a game every week to bet on. But some weeks, you can find two or three games that give you value.
I know that it might seem like an impossible system to use with all of the qualifications you have to use with this system.
But winning NCAA football bettors focus on finding the games that offer the most value and don't try to bet on a lot of games. You're looking for a quality bet instead of a number of wagers.
When you use this system to find a team to place a bet on, you're taking advantage of a profitable situation. For example, you can make more money betting on 20 games a season than betting on 200 games if you pick the right games.
Using this system to find the right games gives you the best chance to win. Look for the perfect storm every week of the NCAA football season and ignore everything else.
Conclusion
When you're trying to figure out how to win betting on NCAA football games, remember that it's more important to find one or two games that offer value than trying to bet on as many games as possible.
When you use the six step system, you have a good chance to find a game or two each week that offers value. And when you find value you're going to make a profit. Don't make the mistake most college football gamblers make and bet on too many games.
The more games you bet on, the closer you come to getting average results. And average results in the sports betting world is losing.