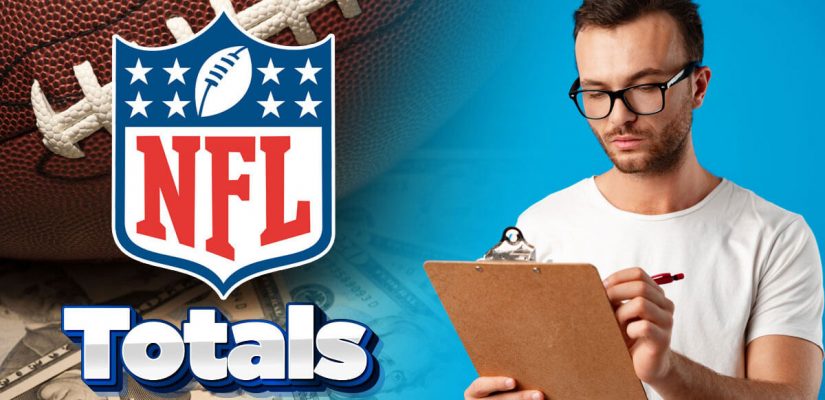 Totals betting is growing in popularity, in part because of increased access to legal sports betting spreading across the country.
These "over/under" bets don't involve the overall winner of a game.
But whether the total number of points both teams score is more or less than a number set by the book.
You need to know some key offensive and defensive stats to make an informed NFL game totals bet. But you also need to understand some deep trends that exist in the sport relative to point-scoring, and some factors involved in setting the lines that can influence how you wager.
This post shares six steps to help bettors analyze their pro football game totals bets.
Step 1. Understand NFL Key Numbers
It's important to know how many points NFL teams are scoring on average if you want to successfully analyze a game total line. The key numbers in the NFL give us a lot of insight into how to bet on the NFL over/under.
A game total of 41 is by far the most common result.
Just about 4% of all NFL games end with a total of 41 points. Since the next most-common result is 40 points (at 3.75%), it's probably better to say that a total of between 40 and 42 points is the most common game total. Almost 10% of all NFL games end in that point range.
What about uncommon point totals?
Going back to the 2015 season, the least-common totals were 60-61 points (just 1.87% of all NFL games) and 56-59 points (just about 2.5% of all games). Interestingly, a low point total (31) is among the least common, representing just 1.2% of all final scores.
Comparing a book's game total to these all-important league averages can help you sort the value bets from the ones best left to the betting public.
Step 2. Consider the Context of the Game
Context is king when considering a game totals wager in the NFL.
You can't approach a playoff game the same way you'd bet on a regular-season non-divisional game.
Things like home-field advantage, weather, and stakes all affect the ways oddsmakers set lines, the way the public bets and the way teams play on the field.
A late-season contest between two divisional rivals will likely incur an inflated game total from the book and some increased betting from the public. You have to consider bets in that context differently from a game total issued for a preseason game or for the Super Bowl.
You should also look into long-term trends for game totals since some teams tend more toward over or under results. For example, Packers games have gone over 60.4% of the time over the past ten seasons, a win-rate high enough to overcome the increased juice on minus money bets. The Bengals have the opposite trend going, with unders winning 60.7% of the time since 2012.
Step 3. Create a Picture of Each Offense
Ask yourself, "What does this offense need to do to put up a lot of points?" Then ask yourself if the game presents those conditions or not.
Looking at your answers to these questions on both sides of the ball can help you make an informed game totals bet. If I'm considering a game involving Aaron Rodgers and the Green Bay Packers, I know that these days their main weapon is Rodgers-Adams.
It's a potent enough offensive pairing that it can absolutely put up numbers without much support from the rest of the offense.
If either of the two athletes involved in that pairing (Aaron Rodgers or Davante Adams) is in any way inhibited, I know that limits the potential for the Packers to put up big numbers. Go back to Week 1 of the 2021 season, when the Packers put up 3 points against the Saints, for a perfect example of this.
Any time you can hold Rodgers to 133 yards on 28 passes with two INTs, you're going to get an under result. Take away Rodgers's O-line, and he's as vulnerable as any starting QB in the league. By the way, Rodgers went on to throw just two more INTs in that entire season, to give you a sense of how oddball a result this was. Bettors who knew the impact of losing David Bakhtiari weren't at all surprised.
Step 4. Look at Over/Under Trends
Look at recent game totals trends for both teams. Putting those two trends together creates a powerful potion for predicting overall game total performance when they meet up.
Consider how a team's totals have been coming in recently.
Have they turned in a bunch of over or under performances in their past half-dozen games? Is there any reason to think this trend won't continue? Maybe an injury or roster shift or the presence of a dynamic player on the opposing team has shifted the team's odds a little bit.
A good example of the power of looking at O/U trends comes from the 2022 AFC South divisional playoff game. The O/U was 47.5. How'd it turn out? The Bengals and Titans put up just 35 points for a strong under win. Bettors who'd been tracking the over/under trends for these two teams weren't at all surprised, and hopefully pocketed a nice piece of change. Before this game, the Bengals had 4 of 6 under results, and the Titans had just one over in their past five games. In fact, the Titans went under in almost every home game they played this season.
The Titans' offense needed a big day from the recently-returned Derrick Henry. They got 62 yards on 20 carries. The 3.1-yard average for Henry on 20 touches kept the total low. Ryan Tannehill's three INTs sealed the deal and likely helped keep the game total down as well.
Step 5. Give Weight to Series and Last Time Out Results
In the NFL, all possible matchups occur at least once every four years.
When it comes to teams in your own conference, you see them at least once every three years.
That means every team has played every other team somewhat recently. This gives a lot of weight to recent performances when it comes to analyzing a potential game totals result.
Series and Last Time Out results have more weight in games involving divisional opponents since teams in the same division play each other twice each regular season. Still, you can usually consider Last Time Out and Series results during the postseason or against less-common opponents provided the history is recent enough to be meaningful.
You may find your own microtrends along this line. In the 2021-2022 season, playoff teams coming off a bye week produced results far under their averages, which resulted in a lot of under results. Looking for and taking advantage of trends like that comes from paying attention to things like Last Time Out performance while analyzing NFL game totals.
Step 6. Consider the Value in the Line Itself
When two unpopular teams with losing records face-off, game totals no longer represent reality. This isn't the only such situation, either. When two popular teams with winning records face-off, game totals are similarly goofy. Why does this happen?
Oddsmakers don't set their numbers based on actual mathematical likelihoods. A huge part of the way lines are set has to do with manipulating numbers to push bettors' funds around and balance the book.
In the case of two popular teams with winning records, oddsmakers often pump up the game total, knowing that the betting public is always going to back winners and bet on overs. When two small-market teams that aren't having much recent success play one another, the opposite effect happens, and game totals are often deflated to draw in more bets.
You can't just consider the two teams playing on the field when analyzing an NFL game totals bet.
You also have to consider if there's value in the line as presented at your favorite NFL betting site. Your best strategy to avoid inflated or deflated lines is to set your own game total and only bet when you find a valuable difference between your total and the line available.
Conclusion
Game totals bets are among the most straightforward in sports betting, but they remain a mystery to lots of football bettors who might be able to leverage their experience and knowledge into a successful betting strategy.
Now that teams are playing seventeen games in the regular season, sports bettors are going to have to adjust their strategies, their bankrolls, and the way they think about the games they bet on. For game totals bettors, an additional regular-season game is a great thing, because it just means more data available for those late-season bets, and more contests between teams to create series history.
The six steps outlined above are just the beginning. The more you learn about the league, and the guys who play in it, the more you'll know in terms of analyzing game totals in NFL contests. All those Bengals examples hopefully got you hyped for this weekend! May the odds be in your favor!