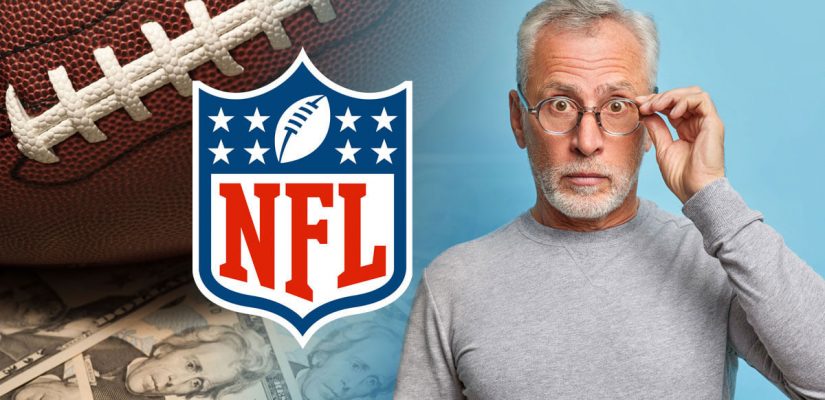 The old saying says that if you don't change anything, how can you expect to get different results? So if you're not making money gambling on NFL games, it's time to make some changes.
But how do you know what changes to start with? As I was learning how to make a profit handicapping NF games, I kept track of the changes I made.
This post includes seven important changes I made that helped me make a profit. Of course, these aren't the only seven changes I made, but these are important ones.
1. Stop Betting on Props
Here's the only thing you need to know about prop bets. NFL prop bets are one of the most profitable wager types offered by top online sportsbooks.
The exact numbers vary from sportsbook to sportsbook:
Not every sportsbook provides the numbers, but compared to the amount of money bet on every type of bet, props almost always rank either at the top or near the top in profit percentage.
In other words, gamblers lose a higher percentage of money compared to the amount they bet on prop bets than almost any other type of bet.
If you didn't know anything else about prop bets, this information is enough to tell you why you should stop making them. But if you simply look at the available prop bets and see what you have to pay and what you can win, you can see why prop bets are bad.
Why would you make a bet with vig on something that you can't possibly handicap, like which team is going to win the opening coin toss?
2. Stop Betting on Road Teams
Experienced NFL gamblers who make a consistent profit sometimes bet on road teams. But you have no business betting on road teams in the NFL until you figure out how to make a profit finding value on home teams.
NFL teams play better at home than on the road.
Look at the statistics for any season in the NFL, and you see this is true. It's extremely rare for an NFL team to win as many road games as they win home games, and even if they do, it's usually a dominant team who wins most of their games overall.
Focus on finding home teams that offer value for as long as it takes to make a consistent profit. Only after you establish a long record of profit betting on home teams should you start looking for the rare value available on a road team.
3. Stop Using Parlay Wagers
I haven't made an NFL parlay wager for over 30 years. As soon as I ran the numbers on what a parlay pays versus what I can win making a bet and rolling the win over and betting on a second game, I never made another parlay wager.
The odds are stacked against you every time you make a bet with a sportsbook.
And when you make a parlay wager, the odds are still stacked against you, and the payouts are less than you can get betting on games separately.
Parlay bets are just another way for the sportsbooks to make more money. However, if you can learn to handicap NFL games profitably, you're going to make more money betting individual games than betting parlays. I suppose it's ok if you want to bet $1 or $2 on an eight or nine team parlay for fun from time to time.
I'd rather buy a lottery ticket and have a chance to win some real money than throw my money away on a parlay wager.
4. Never Bet on the First Line You See
I used to have to place my bets with a local bookie, so I only had one choice. I had to accept the line he offered, so I had to see if there was any value on either side of the line.
But now I have accounts at many different sportsbooks:
So I can shop for the best line once I finish handicapping my NFL games. And I can't count the number of times I found a line that was ½ point or a full point better than the first line I found.
And many times, the extra ½ point or full point was enough to turn a loss into a push or a push to a win.
Considering how much a single loss turned into a push can change your return shows why it's so important to shop lines and never take the first line you see until it proves to be the best line available.
If you bet on four games at $220 to win $200 and win two games and lose two games, you lose $40 on the day.
But if one of the two losses is a push because you got a better line, you win $180 on the day.
So that's a swing of $220 because a loss was changed to a push.
5. Early Lines or Late Lines?
NFL betting lines are usually released on Mondays for games the following week. So games that are played on Thursday nights, Sundays, and the following Monday Night are released on Monday before the Thursday games.
Some NFL gamblers specialize in finding value on early lines as soon as the lines are released every week. And there are some values that can be found on early lines. But it's a risky game to play, and in my experience, I get bit by early lines just as often as I get good value.
I handicap games during the week, make adjustments as news comes in, and make most of my wagers just a few minutes before kickoff. If I see good value on Wednesday or Thursday and think the public might push the line against me, I'll go ahead and make a few bets, but there's still plenty of value late in the week.
And sometimes the public pushes a line my way, so I might even double up on a game, betting on Thursday and again on Sunday in the right situation. Overall, I recommend betting on late lines until you win consistently with handicapping.
Then, when you get more experience and a proven track record, you can look for value on early lines.
6. Be Careful of Betting on the Favorite
I bet on favorites in the NFL, but most of the bets I make are on underdogs. Of course, I still only make a wager when my handicapping shows value, but most of the value I find in the NFL is on the underdog.
Underdogs give me two ways to win as far as I'm concerned.
Sometimes they play better than the books expect and win the game, and sometimes they lose the game but still cover the spread. Of course, this only happens when I do a good job handicapping the game, but I've been finding value on underdogs for decades.
When I bet on a favorite, it's always when they're playing at home. A road favorite is the most dangerous point spread to bet in the NFL.
I stopped doing it many years ago.
You can find value on favorites in the NFL, but be careful betting too many favorites until you have a strong system in place to pick winners.
7. Stop Ignoring Splits
It took me several years to completely understand the power of splits in NFL handicapping, but once I started using them in every game, my results quickly got better.
You have to track every team in the NFL using home and road splits, day and night splits, weather splits, and number of days between games splits. I know some of these don't come into play every week, but you need to find every bit of value through information that you can.
Of course, home and road splits are the most important, and if you're using overall stats instead of home and road splits, you're losing some games that you can win. Effective NFL handicappers always use relevant splits.
Conclusion
If you're ready to make a few changes to help you win more NFL wagers, start using the seven suggestions in this post.
It's a good idea to change things one at a time so you can track your results, but you can put multiple recommendations from this post in play at the same time. Continue making adjustments and tracking your results until you find the magical formula that leads to profits.
Sometimes you need to add something to your formula, and sometimes you need to eliminate something. The best way to get started is with the seven changes in this post.