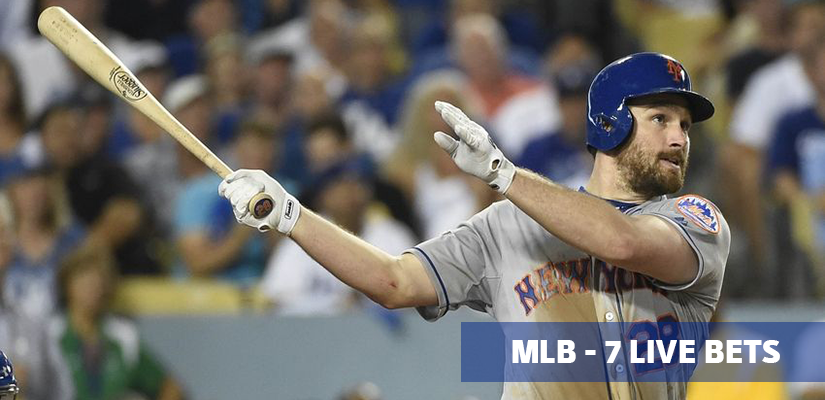 Major League Baseball betting traditionally involves standard wagers like the moneyline, run line, and totals (a.k.a. over/under). And many baseball bettors still enjoy making these options.
But another type of betting that's become popular with MLB fans is in-game wagering. Also called live betting, this style of gambling allows you to place wagers in the middle of a contest.
Baseball is perfect for in-game betting because the action is slow enough to where you can really think about live wagers before placing them. Furthermore, this is just a great way to spice up MLB action.
Another advantage is that you can make live bets cheaply. Some online sportsbooks let you make live bets for as little as a dollar.
If you're new to in-game wagering and wanting to get started, keep reading as I discuss 7 live bets you can make. I'll also cover strategy for how you can turn profits with each of these wagers.
1 – First Team to a Specific Number of Runs
One of my favorite bets is one that involves wagering on which team will reach a specific number of runs first.
You can bet on a team to reach 1, 2, 3, 4, 5, 6, or 7 runs before their opponent. Sports betting sites also offer an option to wager on neither team reaching X number of runs.
The fun thing about this bet is that you have so many options to choose from. And these wagers can be quite profitable if you know the teams and personnel involved.
The first thing you want to look at is the starting pitchers and their tendencies. A pitcher that gives up two runs early and buckles down later makes the opposing team a good candidate to reach anywhere from 1-3 runs first.
In contrast, some pitchers are good early in the game but tire in the middle innings. These make the opponent a good candidate to reach anywhere from 4-7 runs first.
Another key aspect to consider is the quality of the team's bullpen. A starting pitcher can play well by holding opposing batters to less than two runs in six innings.
But if their bullpen is terrible, then the opposing team still has a chance to reach one of the higher run totals first.
Of course, you also have to look at the hitters. Some batting orders are good at producing runs in the early innings, making them reliable candidates to quickly reach a lower run total.
2 – A Hit on the Next At Bat Live Bet
One of the easiest MLB in-game bets is whether a team will get a hit in their next at-bat. This is a simple scenario where you either wager on "yes" or "no."
As you may know, the average batter gets a hit on less than three out of every 10 at-bats. Baseball Reference shows that the league batting average was just .255 in 2017.
This being the case, you stand to win more often by betting against a team getting a hit in their next plate appearance. You'll also notice that the odds of a hit are lower when the bottom of the lineup (7-8-9) is coming up.
This bet is fun to make since you can turn long odds into big profits. Of course, you can't just continue betting these long odds and expect to keep making money.
Like any live wager, you want to consider different factors before betting either yes or no. One key aspect that you should focus on is a batter's history against a specific pitcher.
You might be getting +400 odds on "yes," because the eighth batter is going against an ace pitcher. But if this hitter has had incredible success against the pitcher, then the bet may be offering more value.
You should do research on how each batter has fared against a starting pitcher before the game. This will allow you to quickly place an at-bat live wager that's offering value.
3- Total Hits Live Bet
A total hits bet involves wagering on how many combined hits two teams will produce in the game. This wager is offered in over/under format, where you either bet over or under the given total.
Total hits in the remaining game
Milwaukee Brewers (o) 8.5 hits
Cincinnati Reds (u) 8.5 hits
Baseball Reference shows that the average number of hits in an MLB game is 8.69. Of course, a sportsbook's over/under on this bet will vary based on the batting lineups, pitchers, and bullpens involved.
This is another bet where you can research how certain players do against a pitcher. The opposing starting pitcher may be an All-Star, yet have struggled against the particular team they're facing.
Another way to approach this bet is by looking for a game where two staff aces are going against each other. This would normally indicate that it'll be a low scoring game, hence you'll get strong odds on the under.
But these types of games can also produce more runs towards the later innings, when the pitchers tire and the bullpen comes in.
If both pitchers are on fire, then the game could go into extra innings and provide more at-bats for the teams to score.
4 – Win Margin Live Bet
This in-game bet is just like it sounds in that you're wagering on how many runs the winning team wins by. Common options include betting on the winning team to triumph by 1, 2, 3, or 4+ runs.
Win margins bets often become available when one team jumps out to a quick 2-0 or 3-0 lead. These wagers are really interesting when the underdog claims a quick lead, which calls on you to guess if they'll build the lead or the favorite will make a comeback.
I usually avoid any situation that involves betting on a team to win by 3 or more runs. Given that most baseball games are close affairs, there's too much unpredictability involved in guessing a blowout.
A better proposition is to look for two teams that are close in the standings and win with pitching and defense. You can make a fairly accurate win margin bet of 1-2 runs in these situations.
5 – Outcome of Next At Bat Live Bet
Anybody who wants to get lots of action on MLB games will be at home with betting on the outcome of the next at-bat.
The problem with next-at-bat wagers is that the majority of online sportsbooks don't offer them. But the larger sites like Pinnacle and Bovada to do have at-bat lives for bigger MLB contests.
Here's an example of the options you can choose with at-bat live bets:
You can see that every available outcome is offered in these types of lines. It's fun to make several cheap bets on the outcome of at-bats during the game.
The only problem is that it's tough to make these wagers when you have so many outcomes to choose from. But then again, you can make lots of money on these bets when you know a multitude of factors.
I suggest honing your focus on a handful of batters and the opposing starting pitcher. Knowing the stats inside and out for a few batters, and their history against a pitcher gives you the expertise to make informed wagers.
Thoroughly knowing the pitcher also helps you place solid live bets on the outcome of the next at-bat.
You should know whether the opposing starter tends to produce ground balls, fly balls, and strikeouts. It's also important to check their history against the batters you've chosen to focus on.
Live wagers on the outcome of the next at-bat are also offered in simpler formats. The simplified version sees you bet on the result being an out or any on-base play (i.e. hit, walk, or hit by pitch).
Betting on the batter getting on base or producing an out sounds like an attractive prospect. But also keep in mind that the vigorish is usually higher on these wagers too.
Sportsbooks know that they can extract more value from the simplified version of at-bat wagers, because casual fans will still be interested. I suggest focusing on outcome bets with all the different possibilities due to the lower vig.
6 – Pitches in Next Half Inning Live Bet
This is another totals-style wager, where the sportsbook provides an over/under on the total pitch count. You either wager over or under the given line.
The half-inning designation simply means that you're betting on how many pitches a hurler will need to make it through an inning.
MLB.com shows that the best pitchers finish a half inning with fewer than 15 pitches. Of course, other hurlers will need more pitches than this to get through an inning.
Those who struggle with a location in the strike zone will take longer to end the inning. Therefore, you certainly want to look at a pitcher's average pitches per inning (P/IP) before making such a bet.
You also want to check for advanced statistics on how many pitches the opposing batting lineup forces. Some teams are great at making contact and fouling balls off, thus making the pitcher work harder to get outs.
7 – Strikeouts in Next Half Inning Live Bet
Another pitching related live bet is based on how many strikeouts will be featured in the next half inning. All possible totals are offered with this live wager, including 0, 1, 2, and 3 strikeouts.
You need to pick the exact number of strikeouts to win your bet. Any other total results in a loss.
Sportsbooks can also present this bet as an over/under. For example, the over/under on strikeouts for the next half inning could be 1.5.
You stand to make more money betting the over, because pitchers don't commonly strike out two or three batters in an inning.
But betting the over can be profitable when you have a great fastball pitcher going against the bottom of a lineup. This is especially true in the National League, where pitchers must bat.
Of course, the betting odds usually reflect a strikeout pitcher facing the bottom of an order.
Therefore, a sneaky play is to look for relievers with a high strikeout count and high ERA. You may get more value from their strikeout ability due to the higher ERA.
Conclusion
Live MLB wagering opens up a whole new world to baseball bettors. In fact, the possibilities are almost endless when considering all the different types of in-game bets you can make at larger sportsbooks.
Wagering on the outcome of the next at-bat gives you a wealth of opportunities. This is especially the case when you can bet on the outcome being anything from a single to a fly ball out.
Another intriguing live wager is the win margin. This bet provides an in-game opportunity to guess how many runs a team will win by.
Casual bettors will appreciate simple bets like if a team will get a hit in their next at-bat. You can simply guess yes or no and quickly see whether your wager pays off.
A number of other in-game MLB bets are based on totals. These include betting the over/under on total hits in a game, pitches in the next half inning, and strikeouts in the next half inning.
The one thing that I urge you to do with any type of live bet is perform research beforehand. I also recommend focusing on 2-3 specific types of wagers so that you develop expertise.
Discipline and research are the keys to becoming a good live MLB bettor.