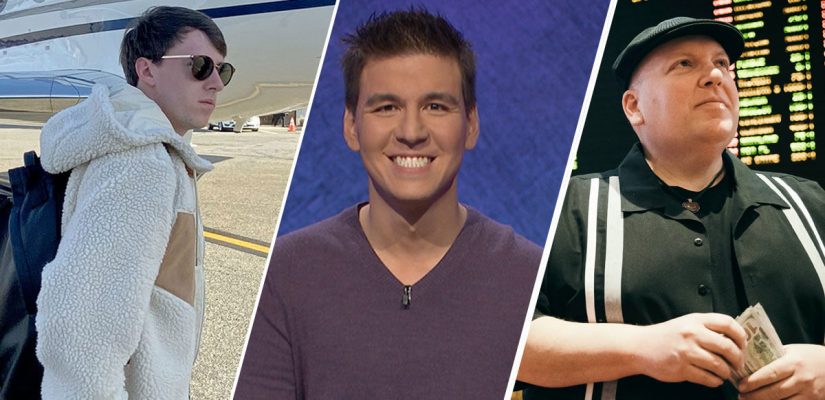 Gambling on sporting events has been around for thousands of years. But even with such a long, complicated history, handicapping major sports has only come into the public view somewhat recently.
Today, there's a culture around sports betting that has never existed in the past. With everything out in the open, I think it's time we start paying attention to the history of this multi-billion-dollar industry, and the players who have paved the way.
In this article I'll go over 10 names – from the famous to the infamous to the unsung heroes – who you should know if you consider yourself a sports bettor.
1. Charles McNeil
If you asked the random FanDuel or DraftKings user (of which there are now a significant amount nationwide) about their opinion of Charles K. McNeil, in all likelihood you'd be met with a blank stare. Is he an author? A coach? A college professor?
He is the man who we have to thank for our interest in a game between the best team in the league and the worst team in the league.
The one who created a world in which a 40-point blowout could feel like a game that came "down to the wire." Of course, I'm talking about the inventor of the point spread!
During the 1940s, McNeil had his own sports betting operation going in the Chicago area.
As the bookie, he realized there had to be a way to make every game worth considering in terms of gambling. Needless to say, his revolutionary method of handicapping both professional and college sporting events changed the sports world forever. Somewhere in Canton – the location of the NFL's Hall of Fame – he deserves a special mention for his contribution to the sport.
2. Ben "Parlay" Patz
What happens when a young kid makes more than a million dollars by handicapping sports? Unfortunately, that's usually not the recipe for a good outcome.
A fervent sports bettor since the age of 18, took the parlay bet to the next level in 2019. In fewer than two months, he managed to hit parlays with more than a dozen legs, which, needless to say, paid out big time. His fame within the world of sports betting grew, and so did his intensity.
After a banner year in 2019, 2020 wasn't quite as rosy. After a series of big losses (hey, 10-leg parlays don't happen on a regular basis), he was charged with making threats on the lives of both college and professional athletes.
Like, a lot of threats…more than 300 to be exact.
Patz turned himself in after the contents of the messages – mostly sent via social media – were revealed to the authorities. He is still in the midst of the legal process in 2021, so it should be interesting to see how this one plays out.
3. James Holzhauer
"Wait, haven't I heard that name before?" If you're a fan of the TV game show Jeopardy, there's a good chance you have! Holzhauer made his name as one of the longest-running (and highest-earning) contestants in the iconic game show's history, but he's also one of the leading names in the legal sports wagering industry.
Starting in 2019, he began taking an instrumental role in moving the legislation forward when it comes to legalized sports betting. His main point is that betting on sports is just another form of data analytics, much like day trading stocks.
Obviously his work has yielded results as dozens of states have legalized sports betting within their borders.
He's made millions during his career as a handicapper and Jeopardy contestant, but he's not slowing down any time soon. If you're a fan of TV game shows, sports betting, or both, James Holzhauer is a name worth following now and in the future.
4. Bill Krackomberger
When you explore the world of sports betting at a high level, you wouldn't expect to find many wholesome personalities.
In that respect, Bill "Krackman" Krackomberger is a welcome surprise.
One of the most recognizable faces in the Las Vegas sports betting scene, he has been making money for himself, and others, for more than 20 years.
Once PASPA was repealed in 2020, he's been bringing his business nationwide. He know has an app – KrackWins – which helps you make better picks in your own betting strategy.
So why did I start off by saying KrackMan is a wholesome personality?
One of the main tenets of his gambling life is reminding gamblers that they need to put their family obligations, including financial responsibilities, ahead of gambling. He also focuses extensively on how to manage a bankroll and maintain financial security. He focuses on having a realistic approach to betting, and provides sound advice for bettors of all bankrolls and experience.
If you were someone who was looking for an idol or role model in an area where these are few and far between, Bill Krackomberger might just be your guy.
5. Floyd "Money(line)" Mayweather
Now it's not exactly a revelation to say that Floyd Mayweather is a big time gambler. That fact has been pretty well-documented over the years.
The reason I included him on this list:
Because I found his strategy to be interesting, and different, when compared to the other names on this list. Whereas most sports bettors use things like probability and statistics to evaluate the value of a certain bet, Mayweather has largely stuck to betting on the favorites.
He's a moneyline man through and through, regularly betting up to a million dollars are more on 1/10 favorites.
Congratulations to every athlete on this list ! pic.twitter.com/FzqpE7sFxa

— Floyd Mayweather (@FloydMayweather) December 24, 2019
Meaning he's regularly putting up 10 times more money than he stands to gain. Still, if you had the capital to make a significant amount of money on a bet that's almost a "sure thing," it would be hard to resist the temptation.
Even if Mayweather's strategy is something that very few others can model, it's worked out alright for him.
With a net worth in the hundreds of millions, it's hard to imagine anyone telling him how he should be doing things when it comes to his money.
6. Tim Donaghy
If you've over the age of 25, there's no excuse not to know this one already. However, if you're new to the world of sports betting or grew up after the scandal had already blown over, you might not know about the infamous NBA referee Tim Donaghy.
I won't go into major detail in regard to his story, because a quick Google search of his name can tell you all you need to know. Suffice to say that when it comes to the most disgraced names in all of sports history, Donaghy is certainly in the top 100.
7. Pete Rose
Tim Donaghy might be the most notable referee associated with gambling, but Pete Rose is without question the most recognized name in the modern era when we think of gambling while being involved with the games themselves.
Throughout his tenure as a player and manager for the Reds, he was accused of, and later admitted to, betting on Reds games, as well as other teams from around the league.
Now, that sounds like a damning statement except for one thing – he claims he never bet against his team, so the integrity of the games were never impacted.
Now that might sound suspicious, but Rose is an all-time competitor.
He's in the 1% of athletes where it actually seems believable that he bet tens of thousands of dollars on his team to win, night after night. Unfortunately, it's kept him out of Cooperstown, but his name lives on in the hearts and minds of baseball fans.
Conclusion
Now that's a history lesson that's worthy of some attention. The next time you're talking to your betting buddies, impress them with your knowledge of the biggest personalities that have contributed to making handicapping what it is today.
Who wouldn't be interested in learning about how the point spread came to be?
Moving forward, it's only logical to expect to see more names added to the list of sports betting's Mount Rushmore, but in the meantime it's enough just to understand how we got here.