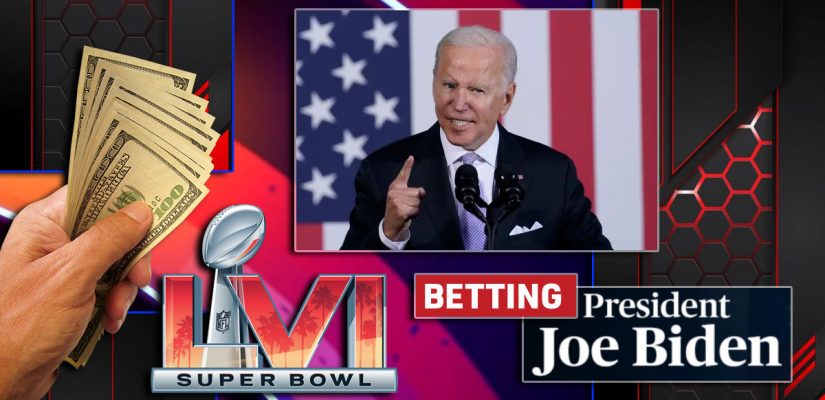 It's the week of Super Bowl LVI, which means we're searching for the most exciting prop bets to share with our readers between now and the opening kickoff.
Some of the most compelling props are the crossover markets, where oddsmakers compare stats and outcomes from Sunday's Big Game to other sports and current events. One type of crossover bet we discovered — and
wrote about extensively last year
– is a fascinating combination of
political betting
and Super Bowl props.
Thanks to the oddsmakers at BetOnline, we have nine more Joe Biden Super Bowl bets to share in 2022.
Many of the wagers focus on the President's annual Super Bowl interview. Biden will sit down with Lester Holt this year during NBC's pregame show. We can wager on the length of the interview, what will be said, and Joe Biden's pick to win the game. There are also two totals lines dealing with Biden's approval/disapproval ratings.
If you love politics – and political handicapping — but also want to participate in the most thrilling sports betting weekend of the year, these nine Joe Biden Super Bowl props will be right up your alley.
Biden Approval on Feb 14th?
American Odds
Matchup

Odds

Over 41.5%

-140

Under 41.5%

+100
The first Biden prop is an Over-Under bet on the President's popularity poll numbers on Super Bowl Sunday. Oddsmakers set the line at 41.5%, using FiveThirtyEight's average approval rating.
President Biden's approval rating sits at 41.3%, 0.2 points under the point total three days before the game. Nevertheless, the Over is a slight favorite at –140 — the Under is an even money bet.
Recent trends in Joe Biden's average approval rating:
Biden's approval rating has hovered between 43 and 41-percent for the past month.
His average was above the line total as recently as February 5, when it reached 41.7%.

That number sagged to 41.2% on February 7.
Biden's approval settled at 41.3% — its current level — two days later.
We can expect Biden's FiveThirtyEight average to be updated at least two more times before Sunday. We don't know how many approval polls will be added to the average or to what degree they might impact the current rating.
Could Biden see another slight boost between now and Sunday?
Or will the average continue to follow the overarching long-term trend that's seen Joe Biden's popularity steadily decline since August? That was the last time his approval rating was above 50 points.
The President doesn't have much to show for his first year.
It is yet another example of the President and Democratic Party leaders abandoning campaign promises after pushback from corporatists within the party. The same thing happened with the filibuster, expanding Medicare, voting rights, and COVID response.
Speaking of the pandemic:
Democrats are scrambling to reverse COVID mandates and return to normalcy after years of aggressively pursuing the opposite. With the midterms fast approaching, polling shows that voters are done with lockdowns, masks, and virtual schools. The same suburban parents who elected Joe Biden are turning on him – they want their children back in the classroom.
Considering all of this, I don't see many reasons to expect President Biden's approval rating to improve by even a fraction of a point. After another week of public failure, it's hard to see his popularity going anywhere but south.
PLACE YOUR BETS NOW!
What Will Joe Biden Say First in Interview?
American Odds
Matchup

Odds

Burrow

-120

Stafford

-120
Joe Biden will sit down with NBC Nightly News anchor Lester Holt for an interview airing during Sunday's Super Bowl pregame show. The interview will be recorded in Virginia on Thursday; excerpts will be shown on that evening's Nightly News and Friday morning's Today show.
The excerpts will provide insight into the discussion topics and tone of the interview.
Do the clips show Holt asking challenging questions? Is there mention of the Biden administration's first year in office?
Or does the President appear to be discussing more lighthearted issues like family and football?
Will the plan be to uplift or scare viewers? It's probably the latter if any excerpts touch on tensions between Russia and Ukraine, climate change, or lingering pandemic problems.
Will it be a challenging interrogation about the Biden administration's disappointing first year?
As for the two quarterbacks' last names, and which one the President will say first – it's a toss-up. I highly doubt Biden knows a single thing about either of them. I'm not sure he knows what year it is anymore. If Holt asks about the Rams and Bengals, he's liable to get an answer back about Ken Anderson or Woody Strode.
Any questions about the Super Bowl teams and their players have already been submitted to The White House. Biden staffers will formulate the President's responses with maximum likability in mind.
Everything is measured and considered.
I think President Biden will talk about Matt Stafford first. The advisors will feed their 79-year-old boss a tidbit about the Rams QB finally getting a chance to shine in the playoffs after all those years in Detroit. Of course, he won't say anything negative about the Lions because Michigan is a battleground state.
PLACE YOUR BETS NOW!
Length of Joe Biden SB Interview?
American Odds
Matchup

Odds

Over 11 Minutes

-120

Under 11 Minutes

-120
We can also wager on the length of the President's pregame interview. Last year's sit down with Norah O'Donnell was recorded at The White House and ran for 12 minutes and 45 seconds. Much of the discussion centered around COVID. Over the last half, they discussed the administration's agenda and broke the news that the $15 minimum wage wouldn't happen.
Biden may not want to talk about specific policies after failing to deliver on so many promises this year.
They will also spend less time on the pandemic since it's a losing issue.
Polling shows that a substantial percentage of Americans are unhappy with Democrats' handling of COVID. Part of the Democrats base want schools reopened, and mandates ended.
A smaller but vocal contingency is invested in the pandemic continuing. Many of these voters have turned their enthusiastic adherence to safety regulations into a central piece of their identities. They're the group most afraid of the virus and most insistent upon stricter vaccine mandates, mask usage, and at-home schooling. They'll be furious when the Biden administration throws in the towel on pandemic measures and accepts COVID as endemic. This group will see the President as dooming thousands more to die over money and politics.
So, President Biden cannot explore many substantive issues in detail without damaging his approval ratings further. I'm predicting the interview is heavily edited, light on policy, and condensed to fewer than 11 minutes.
PLACE YOUR BETS NOW!
Number of Biden Tweets During SB Game
American Odds
Matchup

Odds

Over 1.5 Tweets

-250

Under 1.5 Tweets

+170
According to the rules posted to BetOnline, tweets from the @POTUS and @JoeBiden accounts count towards Joe Biden's tweet total. The duration of the bet runs from kickoff until the final whistle.
The @POTUS account usually makes 8-10 tweets per day. Most occur between 2 and 4 hours apart. The @JoeBiden account is roughly half as active.
Based on the spacing of the President's tweets, it's unlikely that both usernames will be active during the game. We know Joe Biden doesn't know how to use Twitter, so things are only posted as part of his staff's social media strategy. It's not like when Donald Trump was President and always a threat to fire off string-of-consciousness rants about any topic under the sun.
I'd recommend taking the Under at +170. If the President's accounts tweet something about Sunday's interview, they'll do so before the opening kickoff. I don't see them commenting on the Super Bowl action or half-time show.
PLACE YOUR BETS NOW!
Which City/State Will Biden Mention First?
American Odds
Matchup

Odds

Cincinatti

+150

Los Angeles

+200

Ohio

+260

California

+450
This wager asks which of the cities and states represented by the two Super Bowl teams will be uttered first. The two city names have better odds of being said first than Ohio or California. I'm looking at this wager through a political lens:
The Democrats own California in every election, no matter what.
Ohio is a swing state that Trump won by 10 points in 2020.
Los Angeles is associated with many of the qualities Americans dislike most about Democrats and coastal liberals in general. It's also a place of extreme income inequality.
Cincinnati is in Hamilton County, which Biden won by 16 points in 2020.
If I'm looking at this as cynically as possible, I think the President will make it a point to mention Cincinnati or Ohio first – with an edge to the city. It's an opportunity to shout out a blue city in a red state Democrats will hope to gain ground in by 2024.
Which Team Will Biden Pick to Win the Game?
American Odds
Matchup

Odds

Cincinatti Bengals

-120

Los Angeles Rams

-120
Presidents never pick a team to win in these Super Bowl interviews. Biden – or any president, for that matter — would only answer if one of the teams was from his home state. Delaware doesn't have an NFL franchise. He won't want to alienate either fanbase, so he'll refuse to pick and say he's just rooting for a great game in the spirit of good sportsmanship.
PLACE YOUR BETS NOW!
Which Will Be Higher?
American Odds
Matchup

Odds

Biden Disapproval Rating

-140

Super Bowl LVI Total Points

+100
Once again, BetOnline uses FiveThirtyEight's average disapproval rating for Joe Biden on February 14.
As of Wednesday, February 9, the President's disapproval rating is 52.6%. It's been – and has remained — above 50% since October 21, 2021. The all-time high was 53.9% on January 25, 2022.
The point total for the Super Bowl is set at 48.5.
Football oddsmakers are typically pretty accurate with their scoring projections. We can assume Biden's disapproval rating will be at least 52 percent – probably higher.
Do you think the Bengals and Rams can cover the point total by at least four points?
Biden's disapproval rating is the more intelligent bet, even at –140 odds.

Which Will Biden Say First in the Interview?
| | | | |
| --- | --- | --- | --- |
| Word/Phrase | Odds | Word/Phrase | Odds |
| Ukraine | +200 | Moonshot | +550 |
| Jobs | +200 | Child Care | +1000 |
| Economy | +200 | Climate Change | +1400 |
Here we have another "what will Joe Biden say first" wager. This time the list of words or terms is related to political topics. The President will want to paint his first year in office in as positive a light as possible.
If he addresses political weak spots like the economy:
He'll focus on misleading jobs numbers or economic figures that don't reflect what American's are experiencing on the ground. I think President Biden will steer the conversation towards Ukraine or climate change. Both are issues without clear deliverable short-term solutions – which means the administration gets points for merely raising awareness or making bold statements. The Biden administration is at its best when it doesn't have to produce.
You can't go wrong with betting "Ukraine" or "Jobs" at +200. However, "climate change" offers the most value at a whopping +1400. Climate change is a hot topic these days. It feels like a subject for later in the interview, but it is well worth a shot at that price.