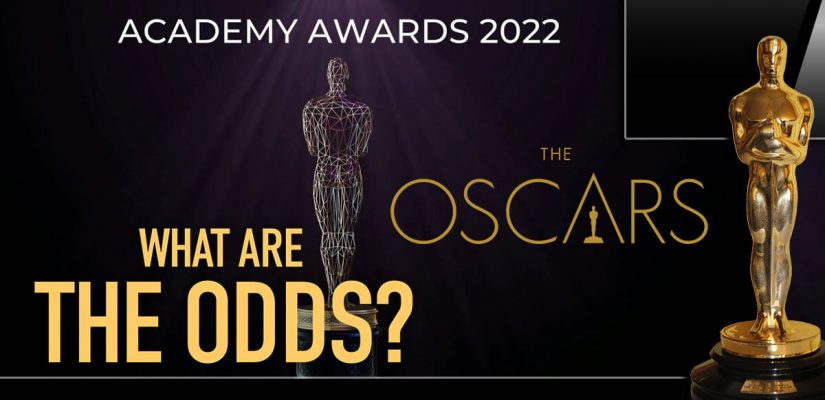 Is it Sunday yet? Nothing against the BAFTAs, Critics Choice Awards, or Golden Globes, but those secondary awards shows feel like the undercard bouts ahead of a heavyweight championship boxing match. The main event arrives on Sunday night when the 94th Academy Awards will go down.
This year's event will return to the Dolby Theater in Hollywood, which is a welcome sight after last year's strange, Covid-induced semi-virtual event. Everything will once again take place in person this year, so it'll look a lot more like the Oscars of years past.
The 2022 Academy Awards should make for compelling TV. While we do have a few clear-cut frontrunners, the 2022 Academy Awards odds indicate we should also have a few tight races when it comes to the night's major honors.
entertainment betting sites
are constantly updating their odds in anticipation of Oscar Sunday. You still have plenty of time to get those Oscars bets placed before the show airs at 8 pm ET on March 27th.
How should you be betting the 2022 Academy Awards?
Note: All Academy Awards betting odds 2022 via BetOnline.ag.
2022 Academy Awards Odds for Best Supporting Actor
Tony Kotsur (CODA):
-1000
Kodi Smit-McPhee (The Power of the Dog): 
+300
Ciaran Hinds (Belfast): 
+2000
Jesse Plemons (The Power of the Dog): 
+3300
JK Simmons (Being the Ricardos): 
+5000
We've got a few recognizable names in the Best Supporting Actor field, though both are long shots. Jesse Plemons, of Breaking Bad and Friday Night Lights fame, checks in at +3300 to win the Oscar for Best Supporting Actor for his portrayal of George Burbank in The Power of the Dog. This movie is going to take home some hardware on Sunday night, but Plemons isn't all that likely to take home this individual honor.
Ditto for JK Simmons, a former Oscar winner.
Simmons, who won the Oscar in this very category back in 2015 for Whiplash, is listed at +5000 to repeat in 2022. In Being the Ricardos, Simmons plays William Frawley, one of the co-stars in I Love Lucy. Getting a former Oscar winner with +5000 Academy Awards odds is certainly appealing, but his odds are long for a reason.
If you have AppleTV, highly recommend CODA. It's a classic Hollywood film, remixed and reinvented. And Tony Kotsur is a joy. https://t.co/K3SW8f2UDz

— Omar Wasow (@owasow) February 16, 2022
The heavy, heavy favorite in this category is Tony Kotsur. The 53-year-old Arizona native is hardly a Hollywood heavy-hitter, but that's about to change. Kotsur has already won Best Supporting Actor awards this year for CODA at the BAFTAs, Critics Choice Awards, SAG Awards, and a few others.
Kotsur also earned a Golden Globes nomination in this category, but lost at the hands of The Power of the Dog's Kodi Smit-McPhee.
Smit-McPhee is probably your best bet if you're looking for value. His +300 Academy Awards odds in this category offer some upside, but it's hard to bet against Kotsur given the way the previous awards shows have shaken out. At this point, anybody but Kotsur taking home this Oscar would be quite a surprise.
Best Supporting Actress Academy Awards Betting Odds 2022
Ariana DeBose (West Side Story):
-2500
Kirsten Dunst (The Power of the Dog): 
+600
Aunjanue Ellis (King Richard):
+1400
Jessie Buckley (The Lost Daughter): 
+2500
Judi Dench (Belfast):
+2500
The Best Supporting Actress field also features a former Oscar winner in Judi Dench. The veteran star won Best Supporting Actress back in 1996 for Shakespeare in Love. Thus far, it's still her only Oscar win despite eight total nominations.
Five of those nominations are in the Best Actress category, though she's still in search of her first win.
Based on the 2022 Academy Awards odds, she's going to have to wait at least another year to add another Oscar to her mantle. Dench is the most recognizable name in Belfast, but she has the longest odds of any of the five contenders for this award.
look at where you are ❤️@ArianaDeBose pic.twitter.com/8rb8FUn0jL

— keri ? (@bwayroses) March 24, 2022
As of now, Ariana DeBose of West Side Story looks like a near-lock. The 31-year-old has starred in a number of big-time musicals over the years, including Hairspray, Hamilton, Les Miserables, and Summer: The Donna Summer Musical. DeBose broke through and earned a Tony Award nomination for Summer back in 2018 for Best Featured Actress in a Musical.
So, she's clearly in her element doing the whole song-and-dance routine. West Side Story racked up seven Oscar nominations this year, and the Academy Awards odds say its best hopes of actually winning one lie with DeBose in the Best Supporting Actress category.
DeBose won this award at the BAFTAs, SAGs, and Golden Globes. She'll add an Oscar to her ledger on Sunday night. There isn't much value in these -2500 Academy Awards odds, but DeBose is the only candidate with a realistic shot at winning it.
Best Director 2022 Academy Awards Odds
Jane Campion (The Power of the Dog): 
-4000
Kenneth Branagh (Belfast): 
+1200
Paul Thomas Anderson (Licorice Pizza): 
+1600
Steven Spielberg (West Side Story): 
+2000
Ryusuke Hamaguchi (Drive My Car): 
+2800
Once again, we have a category with very little drama. This award is Jane Campion's to lose. With her nomination earlier this year, the New Zealand native became the first woman in history to have been nominated for the Academy Award in the Best Director category at least twice.
She earned a nomination back in 1994 for The Piano, but ultimately lost to Steven Spielberg and Schindler's List.  With Spielberg in the field again this year, Campion will have a great opportunity at exacting some revenge for her previous defeat.
Campion won Best Director at the BAFTAs, Critics Choice Awards, Golden Globes, and Directors Guild of America Awards. Her acceptance speech at the Critics Choice Awards wasn't all that smooth, but here's hoping she'll be better prepared this time around.
Director Jane Campion has apologized to tennis stars Venus and Serena Williams, calling a comment she made during her acceptance speech at the Critics Choice Awards "thoughtless" https://t.co/asTp3zprPl

— CNN (@CNN) March 15, 2022
Kenneth Branagh has eight Oscar nominations under his belt across a variety of categories. He pulled the rare feat of earning nominations in both Best Director and Best Actor at the 1990 Oscars for Henry V. 
Branagh has yet to win one, however, and the +1200 Academy Awards odds for this year's Best Director trophy indicate he's not likely to do so this year, either.
I don't see much need to filibuster any further. Campion will win Best Director, and you can argue her odds should be even more favorable than -4000.
Academy Awards Odds for Best Actor
Will Smith (King Richard): 
-900
Benedict Cumberbatch (The Power of the Dog): 
+450
Andrew Garfield (Tick, Tick…Boom!): 
+1200
Denzel Washington (The Tragedy of Macbeth): 
+4000
Javier Bardem (Being the Ricardos): 
+5000
Over the course of the week, Will Smith's Academy Awards odds for Best Actor have gotten even better. Smith opened the week at -800 to win his first acting Oscar for his portrayal of Richard Williams in King Richard. Now, BetOnline has Smith as an even heavier -900 favorite to take home the hardware.
Smith has won just about every other Best Actor award under the sun this awards season. He's already got the newly-minted BAFTA, Critics Choice Award, Golden Globe, and SAG at home.
Smith will be looking to add an Oscar to his résumé for the first time this year. He picked up his third and fourth nominations, including his third in the Best Actor field. Smith fell in 2002 for Ali and again in 2007 for The Pursuit of Happiness. 
Smith dedicated his speech to Venus and Serena Williams, as well as Aunjanue Ellis, his costar in "King Richard"https://t.co/VpNTvdfMeA

— theGrio.com (@theGrio) March 16, 2022
Benedict Cumberbatch is Smith's only real competition at +450 Academy Awards odds for Best Actor. Cumberbatch has drawn rave reviews as hard-nosed rancher Phil Burbank in The Power of the Dog. 
His loss to Smith in this category at the BAFTAs was a bit of a surprise. The London native went into that show as a minus-money favorite, yet BAFTA voters denied their native son in his quest for the trophy.
If you want a more detailed breakdown of the full Best Actor 2022 Academy Awards odds, click here.
Long story short: Will Smith will finally win an Oscar this year.
Academy Awards Betting Odds 2022 for Best Actress
Jessica Chastain (The Eyes of Tammy Faye): 
-200
Nicole Kidman (Being the Ricardos): 
+425
Olivia Colman (The Lost Daughter): 
+450
Kristen Stewart (Spencer): 
+1000
Penelope Cruz (Parallel Mothers): 
+1000
Unlike most of the other categories at this year's Oscars, the Best Actress field is pretty wide-open. We have seen a few different actresses take home Best Actress honors at the various other awards shows so far this year.
Jessica Chastain, the current odds-on favorite at the Oscars, wasn't even nominated in this category at the BAFTAs. However, she did win Best Actress at the SAGs and Critics Choice Awards. This is Chastain's third Oscar nomination and second in the Best Actress category. She's still looking for her first win, and she's a good bet to get it at -200.
Nicole Kidman (+425) won the Golden Globe for her portrayal of Lucille Ball in Being the Ricardos. Kidman is the most decorated actress in this year's field with five Oscar nominations and one win. However, that lone victory came way back in 2002 for The Hours.
Golden Globes: Best Actress – Drama nominees

•Kristen Stewart (Spencer)
•Lady Gaga (House of Gucci)
•Nicole Kidman (Being the Ricardos)
•Olivia Colman (The Lost Daughter)
• Jessica Chastain (The Eyes of Tammy Faye) pic.twitter.com/Rq3efGgHSn

— Film Updates (@FilmUpdates) December 13, 2021
Olivia Colman (+450) is the most recent Oscar winner of the five-person field. She lifted the Best Actress Oscar in 2018 for The Favourite. This is her third nomination in the last four years, as well. Colman lost for best Supporting Actress just last year for The Father. 
Kristen Stewart (+1000) was the favorite when Academy Awards betting odds for 2022 first opened last year, but she has since slumped to the back of the pack. Both she and Penelope Cruz (+1000) are the only Oscar nominees for their respective films at this year's show.
Chastain is a good value at -200 to win an Oscar for the first time. However, taking a shot on Kidman (+425) or Colman (+450) at their plus-money odds makes plenty of sense, as well.
2022 Academy Awards Odds for Best Picture
The Power of the Dog:
-125
All eyes will be on Best Picture. This is the only award among the major categories that has two frontrunners set to go toe-to-toe. The Power of the Dog has been favored for this award for quite some time, but CODA is making a strong, late push to pull the upset.
Both movies are listed at minus money Academy Awards odds, as of Thursday afternoon.
Belfast was originally viewed as The Power of the Dog's most worthy adversary, but Kenneth Branagh's piece is now way down at +1400 to win Best Picture. King Richard, West Side Story, Dune, and Drive My Car are all at +1400 or longer, as well.
I really liked The Power of The Dog. pic.twitter.com/EgklFjVrlv

— No Shauna, Only Zuul (@shaunasmullen) March 18, 2022
The Power of the Dog, which led all films with 12 Oscar nominations, won Best Picture at the BAFTAs, Critics Choice Awards, and Golden Globes. CODA took the top honor at the SAG Awards in surprising fashion.
That victory essentially put CODA on everybody's radar as a legitimate threat to win in the same category at the Academy Awards. In the end, it all comes down to personal preference. You're not dumb to bet one way or the other here.
Given the way the current Academy Awards Best Picture odds shake out, CODA looks like the slightly better value at -110 than The Power of the Dog does at -125.