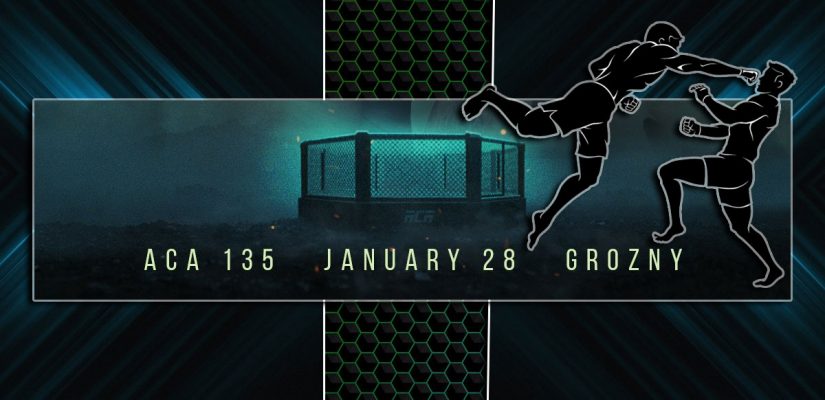 Another Absolute Championship Akhmat fight card goes down this Friday, January 28th, 2022. We've assembled our top betting picks for all nine fights.
This ACA card is free from prop bets:
So we'll look closely at the fighters stats and recent bouts to select the best Moneyline. The last ACA with betting odds was ACA 132, where we
predicted the outcome
of five out of eight fights.
We hope to stay well above 60% for ACA 135!
Magomedrasul Gasanov vs Abdul-Rakhman Dzhanaev
Our main event is between Gasanov, the #63 world ranked middleweight, and Dzhanaev, the #5 Russian middleweight. Their gyms, Krepost and Berkut Fight Club, are known rivals and evenly matched gyms with heavy representation in ACA and ABA.
Betting Odds for Gasanov vs Dzhanaev
| | |
| --- | --- |
| Bet Available at Betonline.ag | Odds and Payout per Dollar Wager |
| Gasanov Moneyline | -275, $0.36 |
| Dzhanaev Moneyline | +220, $2.20 |
Gasonov's last bout against Nikola Dipchikov earned him the title. He opened at -200 and moved to -270, winning the fight April 2021 via Referee Stoppage in round 2.
Dzhanaev has never had odds recorded for any bout. This is his first title attempt and first five round fight.
Gasonov's Winning Streak
For the last twelve bouts, Gasonov has defeated everyone the ACA and Berkut Young Eagles throw at him. This winning streak ranges back to 2016 after two losses in Full Fight and Fight Nights Global.
In twelve fights, he's achieved only one stoppage.
Can Dzhanaev Go Five Rounds?
This is Abdul-Rakhman Dzhanaev's first title bout, and each of his last three bouts have gone to decision. In one fight, he nearly lost a split decision to Artem Frolov. Artem lost a decision to Gasonov in 2020, simply because he couldn't keep Gasanov's pace.
One of my main concerns for Dzhanaev is his cardio, and the likelihood of Gasonov winning rounds four and five.
Who's got more knockout power?
I think Dzhanaev wins a stand up battle. He's scored five career knockouts while the champion has scored none. Dzahanaev's Muay Thai centered style comes from Musa Shihabov, the coach at Berkut Fight Club.
Fight Analysis: Gasanov vs Babkin
Babkin was a fighter that was supposed to knock Gasanov out. He's got solid striking, and took center stage against Gasanov.
Gasonov fought patiently, staying on the outside of Babkin's range. He scored his first takedown off his first attempt at 1:44 into the fight.
He played a similar game in the second and third rounds.
I'm confident in Gasanov's patience. Expect a similar fight with Dzhanaev; a long wait on the outside of his range and a sudden takedown attempt after being lulled to sleep.
Middleweight Championship ACA Betting Pick
Our ACA betting pick is Gasanov at -275. He's the superior grappler, has more experience, and can nearly recreate Dzhanaev's loss to Ibragim Magomedov in 2019, except with better ground control.
Abdul-Rakhman Dudaev vs Rustam Kerimov
Dudaev has an extraordinary amount of experience for such a young fighter. He's the underdog against Kerimov, the #65 Bantamweight world wide from DagFigther. Kerimov is undefeated at 15-0.
? ACA 135 face to face of the co-main event: Aburakhman Dudaev vs. Rustam Kerimov. pic.twitter.com/KyAXOGnLFU

— ACA MMA (@ACA_League) January 27, 2022
2021 looks to be ACA most popular year to date.
Betting Odds for Dudaev vs Rustam Kerimov
| | |
| --- | --- |
| Bet Available at Betonline.ag | Odds and Payout per Dollar Wager |
| Dudaev Moneyline | +220, $2.20 |
| Kerimov Moneyline | -280, $0.36 |
As expected, Kerimov is the favorite. He's defeated several journeymen, with each of his last five opponents having over twenty fights.
Kerimov holds six stoppages across fifteen fights, including a string of three knockouts in his last seven. Dudaev has more finishes, but his six career losses are concerning. He's been beaten in 18% of his bouts.
Fight Analysis: Daniel Oliveira
Both fighters faced Oliveira, with Kerimov winning in his last fight via unanimous decision, and Dudaev losing on the receiving end of a brutal flying knee. Dudaev wasn't winning the fight before he was KO'd. Oliveira outshined Dudaev in every category, including winning a takedown and nearly taking Dudaev's back in round one, and taking it in the second and ground streaking Dudaev, softening him up for the flying knee finish.
Can Dudaev's Grappling handle Kerimov?
Kerimov has solid takedowns, probably the best in the bantamweight division world wide. He moves a bit like Petr Yan, preferring to stand over opponents for ground striking. He knocked out Tural Ragimov in 22 seconds after catching a kick and tripping him.
Kerimov uses leg kicks to penetration step into position.
Kerimov is a tough case because he uses takedowns to land strikes, not to hold or control. He keeps his attempts low effort and fluid. In short, Dudaev won't spend long on his back, or else he'll end up finished by Kerimov's heavy style of ground striking.
ACA Betting Pick
Dudaev is a talented fighter, but he's going to be another notch in the belt of Kerimov on his rise to the UFC or ONE FC. Our ACA betting pick is Rustam Kerimov at -280.
Rasul Albaskhanov vs Alexsandro Praia
Both of these flyweights are 1-1 of their last two. Albaskhanov has spent more time fighting for ACA, while Praia is a Brazilian fighter who fought for ACA in his last bout as well, with wins ranging back to 2013 in Brazil.
Betting Odds for
| | |
| --- | --- |
| Bet Available at Betonline.ag | Odds and Payout per Dollar Wager |
| Albaskhanov Moneyline | +190, $1.90 |
| Praia Moneyline | -240, $0.42 |
Praia is a rising star, and Albaskhanov has had some tough fights and unfortunate match ups so early in his career.
Albaskhanov is 11-5, with losses to the UFC's Askar Askarov, the undefeated 14-0 Azamat Kerefov, and WEC and Bellator veteran Anthony Leone. Does Albaskhanov deserve his underdog status?
Does Alexsandro Praia Have Stopping Power?
Outside of his last two bouts, the Renovacao team fighter has five wins via stoppage or knockout. While the quality of these fighters may be in question, he finished Matheus da Silva, a Jungle Fight veteran.
In his last bout for ACA, much of his power was negated by good takedown work from the DagFighter Evloev.
After the second round, Praia's striking had Evloev tentative on the takedown, and struggling to set anything up over Praia. His jab and his head movement were surprising to me considering his level and experience.
What should Albaskhanov's Gameplan Be?
Albaskhanov is coming off  a loss to the undefeated Kerefov for the ACA flyweight title. He was patient and explosive against the champ, but ultimately to no avail. Praia is the superior striker, but Albaskhanov could catch him with something.
Albaskhanov's takedowns rival Evloev (Praia's last opponent) and he should put Praia on his back early.
Kerefov finished him with an anaconda choke. I think Albaskhanov can work to takedown Praia, and avoid the striking exchange to the best of his abilities.
Final ACA Betting Pick
I see Praia scoring another win in the ACA. He showed that if you're going to take him down, holding him isn't the right option. Praia has laser sharp striking, and Albaskhanov's still developing a cohesive kickboxing game.
Our betting pick is Alexsandro Praia at -240.
Igor Zhirkov vs Shamil Shakhbulatov
This bantamweight matchup is one of the closest on the card. Both fighters are coming off losses and a string of decisions. Both fighters have knockout power but are inconsistent in the ring.
Betting Odds for
| | |
| --- | --- |
| Bet Available at Betonline.ag | Odds and Payout per Dollar Wager |
| Zhirkov Moneyline | -105, $0.95 |
| Shakhbulatov Moneyline | -125, $0.80 |
At 12-5 and 12-4, these two fighters are at similar stages of their careers.
Neither of them have any betting odds history, and the only way to judge this fight is by analyzing fight tape.
Fight Analysis: Igor Zhirkov vs Rodrigo Praia
In Zhirkov's last fight, he fought the other Praia brother Rodrigo. Praia's striking is good quality, and his kicking specifically gave Zhirkov trouble.
Zhirkov comes stepping into the majority of his combinations, eventually pressing Praia to the cage with a bodylock.
Praia was able to avoid the takedown for the majority of the fight, winning the first and third rounds. Zhrikov could have easily won this fight with just a bit more aggression. He had trouble finding range, and landed fewer strikes while standing against the lankier fighter.
Fight Analysis: Shakhbulatov vs Oleg Borisov
Shakhbulatov represents Akhmat fight club, and shares its long, singular striking style. Oleg is mostly a striker and Judo fighter.
Shakhbulatov landed some quality strikes early, with Oleg surviving to win the split decision.
Shakhbulatov's tall stance will struggle against Zhirkov's grappling, but if Praia had too long of a reach for Zhirkov, then Shakhbulatov will pick him apart.
Final ACA Betting Pick
Expect Shakhbulatov to win a long decision victory or flash knockout, with spurts of Zhirkov winning a grappling exchange. Our ACA betting pick is Shamil Shakhbulatov at -125.
Murad Kalamov vs Tomas Deak
Kalamov is another Berkut FC fighter, going up against the Slovakian Deak, the #7 Eastern European Bantamweight who is yet to fight for a world ranked organization. Deak lost two of his last three fights, while Kalamov is on a three fight winning streak, going 8-2 over his last ten fights.
Betting Odds for
| | |
| --- | --- |
| Bet Available at Betonline.ag | Odds and Payout per Dollar Wager |
| Kalamov Moneyline | -325, $0.31 |
| Deak Moneyline | +250, $2.50 |
Kalamov is the favorite and for good reason. His last two wins featuring betting odds were at -700 and -200. His last loss was to Oleg Borisov at +140, where he was knocked out by the Judo black belt.
Deak was the underdog in his last fight at ACA 128, coming in at +175 against Israfilov and winning via third round submission. Kalamov is a big step up in competition for Deak, who spent time fighting at flyweight and is small for the bantamweight division.
ACA Final Betting Pick
I see Kalamov taking home the win. He has better submission work, which seems to be Deak's only hope outside of winning a close decision. Deak should hope to exploit Kalamov's chin, which is in question, given his two knockout losses.
Kalamov rarely loses, and ACA title contenders and Petr Yan are the only people to do it so far.
Our ACA betting pick is Kalamov at -325. I may look to Parlay with an EFC bout, like the Ray Borg fight going the distance.
Azamat Pshukov vs Lenar Suleymanov
This bout pits some of the best flyweights in Russia head to head. Pshukov is #18 and Lenar is #24. Both fighters have a future fight for title contention in ACA.
Betting Odds for Pshukov vs Suleymanov
| | |
| --- | --- |
| Bet Available at Betonline.ag | Odds and Payout per Dollar Wager |
| Pshukov Moneyline | -240, $0.42 |
| Suleymanov Moneyline | +190, $1.90 |
Pshukov is the favorite for good reason. He has knockout power and wins via submission or knockout across 60% of all fights.
Suleymanov is a rising flyweight, but has been rocked in multiple bouts. His chin is in question after some early career knockout losses and a recent fight where he was knocked down by a Bjj fighter with little kickboxing pedigree.
Carlos Eduardo vs Adlan Ibragimov
In the only light heavyweight bout of the evening, we see Brazil vs Russia.
Betting Odds for Eduardo vs Ibragimov
| | |
| --- | --- |
| Bet Available at Betonline.ag | Odds and Payout per Dollar Wager |
| Eduardo Moneyline | +400, $4.00 |
| Ibragimov Moneyline | -600, $0.17 |
Eduardo has lost four fights straight for ACA against tough fighters. The 5-1 Adlan Ibragimov may not look like much, but he does have submission skill.
I see Eduardo making a comeback. I'll be placing a tentative wager on this bout, lower than I would if I were just a bit more confident in this four to one bet.
Our ACA betting pick is Carlos Eduardo at +400. Don't parlay this bout.
Bekbolot Abdylda Uulu vs Zamir Aripshev
Uulu is a last minute replacement for Magomedov, who pulled out of the fight with Covid.
Betting Odds for Uulu vs Aripshev
| | |
| --- | --- |
| Bet Available at Betonline.ag | Odds and Payout per Dollar Wager |
| Uulu Moneyline | NA |
| Aripshev Moneyline | -225 (vs Magomedov) |
There is no betting line yet, but it looks like a very easy win for Zamir. Expect him to dominate this last minute replacement fighter, assuming odds are released by fight time.
Denis Silva vs Ayndi Atabaev
The opening fight of the evening features a popular Brazilian lightweight and the #36 Russian lightweight overall, Silva.
Betting Odds for Silva vs Atabaev
| | |
| --- | --- |
| Bet Available at Betonline.ag | Odds and Payout per Dollar Wager |
| Silva Moneyline | -300, $0.33 |
| Atabaev Moneyline | +240, $2.40 |
This is supposed to be a set up fight for Silva, facing off against the 3-4 Atabaev. Silva is coming off two losses, and the ACA is giving him an opportunity to turn it around. Bet Silva at -300.
ACA 135 Wrap Up
If you're still new to sports betting, check out our MMA guide. With ACA fights, I rarely parlay two inside the same card. Rather, I'll look for my most confident fight across multiple smaller cards from ACA, EFC and Bellator. Build a ticket that has range across events, and don't hinge on knowing every fighter in a small pool of competitors.