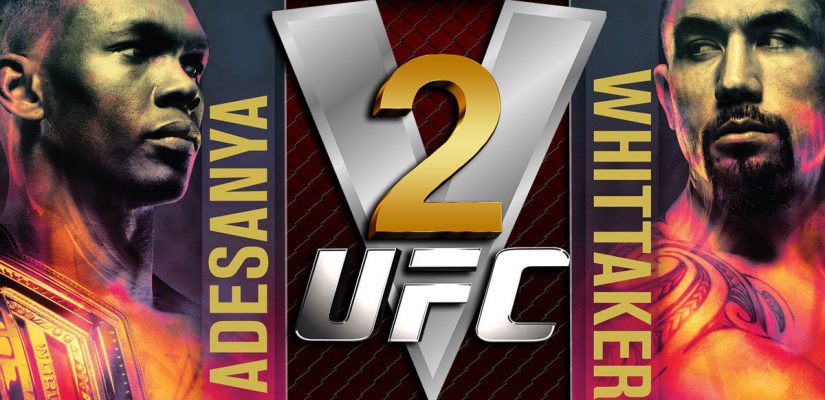 Israel Adesanya vs. Robert Whittaker 2 is bound to deliver in every which way. That is perhaps the biggest reason why no one's talking about this particular fight all that much — we know what we're in for. It's not necessarily a rematch anyone was clamoring for — primarily because of the way in which the first fight panned out — but it's still mighty intriguing and is by all means worthy of our undivided attention!
These two need no introduction.
They're giants whose reputation precedes them. The only difference — and it's a big one — is that Israel seems to be a generational talent. A prodigy, if you will, the kind of athlete that comes once every decade or so. And boy has he left a mark!
In the short four years he's been with the UFC, Israel has gone from being a promising contender (and, according to many, a one-dimensional striker with a penchant for the theatrical) to the number three pound-for-pound fighter in the world and one of the most revered (not to mention feared) individuals who've ever stepped foot inside the octagon.
And, frankly, it feels like he hasn't even peaked yet — and he'll be the first to say it, too. At thirty-two years of age he's no spring chicken, and yet you'd never be able to tell based on his swagger and brazenness, his energy and zest. He has no equal, and it's not like others haven't tried to emulate his style and approach. But you can't learn these things over time or pick them up in some way; you're either born with such talents or you spend your whole life trying to attain them (in vain, of course).
With each new outing, we get a better glimpse at the inner machinations of his mind and his ever-evolving skillset. And we're never left indifferent, no matter whom he's up against. Well, he did have a few "stinkers," there's no denying it, but he's a master tactician — why would put himself in harm's way for no good reason? For whose benefit would he be doing it?
Millions of dollars are at stake, so it's hard to blame him for, say, not running headfirst into Yoel Romero.
Time for the rematch ? #UFC271 pic.twitter.com/Wmxcl7GMVx

— ESPN MMA (@espnmma) December 12, 2021
He's never going to do more than what's necessary to retain his belt. If his opponent wants to dilly-dally for twenty-five minutes he's more than willing to oblige and do the same. If, however, he's up against someone who can truly push him to his limits — like Whittaker, Gastelum, perhaps even Costa — then it's like he kicks things into overdrive and starts pulling off moves no one thought were even possible. His angles, his precision, the ferocity with which he pounces and springs into action, all of this conflates into performances that leave us in a state of awe.
So don't let the lack of hype confuse you:
We all
know
we're in for an
absolute barnburner
. This is the kind of fight that needs no marketing; it markets itself. A good old-fashioned brawl, one that is void of any superfluous bells and whistles. No smoke and mirrors, no fake animosity, no throwing of chairs at buses or empty threats: just two martial artists "going at it."
Fights like these are why we all love MMA; those artificially created, drama-filled clashes might seem enticing at first glance, but there's no real substance — they become boring far too quickly. Plus, most of us are jaded with that whole shtick. Nowadays everyone's trying to stir stuff up and create long-lasting rivalries out of thin air. If they can conjure up a trilogy then all the better!
Conflict sells best, it seems, and it's a lot easier to market, too.
You're not gonna find that here, and we're glad beyond measure for that being the case. Still, this isn't necessarily an "open and shut" kind of match-up — there are layers to this rematch, and they warrant a mention.
Adesanya vs. Whittaker 2 | What's At Stake?
Quite a lot, actually. This is Adesanya's shot at making a statement and officially cleaning out the division. There's no one else to challenge him. Jared Cannonier and Derek Brunson will duke it out to see who's next in line, but they're not exactly hype-inducing contenders.
It'll be mighty hard to generate any semblance of hype given their… middling resumes. Neither fighter has accomplished much overall and while they're undeniably talented and capable, they're still nowhere near dangerous enough to truly pose a threat to Adesanya.
Whittaker is his last true test, but he, too, had dropped the ball the last time he had faced the "Stylebender." It took the defending champ a little over ten minutes to get the job done, and it was about as decisive as it gets.
Will anything be different this time around? It very well could, in all fairness. Two and a half years have passed since the last time these two had shared the octagon, and both fighters have grown tremendously in the meantime.
To get to this point:

Whittaker had to go through Darren Till, Jared Cannonier, and Kelvin Gastelum — 13 five-minute rounds in total. A grueling number, no doubt, made all the more taxing when combined with his back-to-back wars with Yoel Romero. Adesanya was ever so slightly more active with four fights — three title defenses and one short-lived (but still impressive) "excursion" in the light heavyweight division.
Both men fought through adversity in the interim, and both have grown from it. Whittaker had a lot of time to reflect on his past mistakes and the way in which he fought against Adesanya — an ego-driven attempt at taking down a far superior striker, one who's as elusive as a shadow.
"I think [Adesanya] even mentioned it – that my ego was something that affected me. As much as I don't want to acknowledge my opponent for insight, my ego probably was a big thing, was a big part of why my head space wasn't where it should've been for that fight, why I was letting the debate between Australia and New Zealand get to me, why I was letting all these little things get to me. It showed. The results of that showed in the way I was behaving, in the way I put the fight together and the way I was fighting in the moment. I've acknowledged all of that and you can see obviously I've come to terms with all of that and I'm a different fighter now than I was then," said Whittaker in a recent interview with MMA Junkie.
And while all of that sounds nice, one simply has to wonder: will it be enough? Will a different game plan result in him getting his hand raised against one of the best fighters who've ever entered the octagon? Whittaker is a legend in his own right, there's no denying it, but the things Adesanya has been able to do — and the ways in which he was able to embarrass and outclass his opponents — have left a lasting impression.
Momentum always plays a key part.
It informs and generates confidence. And, well, Adesanya has it in spades. He's earned it, too, through sweat and blood. Whittaker's position is far less enviable. He can talk about his mistakes all he wants, but unless he can do a better job at avoiding Israel's counters — and all his other dangerous tools and weapons — the outcome isn't going to change.
He'll probably employ his wrestling a bit more this time around, but the days of Israel getting taken down are now a thing of the past. Still, a more varied game plan will surely benefit the former champion.
Adesanya vs. Whittaker 2 | A Total Reset
We're not going to pretend that the first fight didn't matter. It absolutely did, and its outcome surely still lingers in Whittaker's mind. He's not used to losing like that (or losing in general).
So we have to wonder: will his past failure affect his performance?
Will it light a fire beneath him or, conversely, gnaw at his conscience and, in doing so, cloud his judgment and hinder his ability to perform?
If he has truly learned from his mistakes then he might stand a chance. By no means is Adesanya infallible although, in all fairness, he sure does seem like it whenever he gets "in the zone." He can often echo much of what made Anderson Silva so darn great, so it should really come as no surprise that he currently enjoys a very similar aura — one of invincibility.
The onus is on Whittaker to perform. He'll have to throw everything but the kitchen sink at Adesanya, and even then he's not guaranteed to get his hand raised. So many have tried, and almost just as many have failed in their attempt at taking the "Stylebender" down — both literally and figuratively.
How can one bet against Adesanya at this point, after all that he's achieved? He has basically bulldozed through all of his opposition and he made it look easy, too. The counter left hook in his first fight against Whittaker is a move his peers simply cannot replicate — and there's a whole lot more where that came from. How does one tackle and approach such a behemoth, one with a seemingly endless bag of tricks and an arsenal of "weapons" that's about as varied and versatile as it gets?
The defending champion is the heavy favorite in this one (hardly a surprise), but Whittaker can and will make it as competitive as humanly possible — it'll be a grueling war of attrition. He's not expected to win, but by no means should he be counted out.