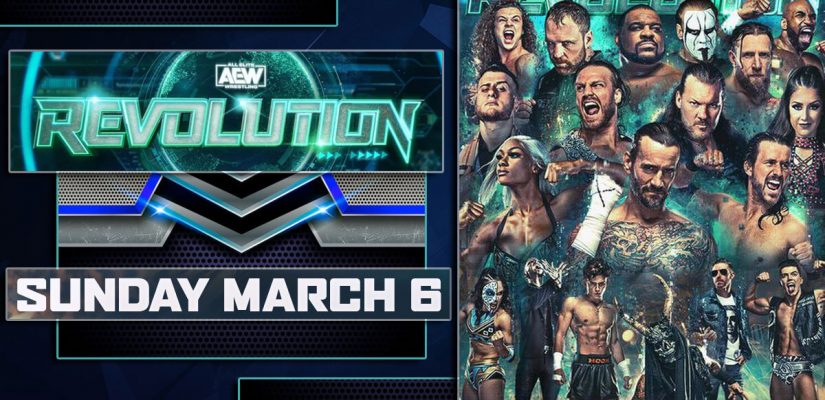 The third annual AEW Revolution takes place this Sunday, March 6, at the Addition Financial Arena in Orlando, Florida. It's one of All Elite Wrestling's "big four" pay-per-view events – along with All Out, Full Gear, and Double or Nothing — and boasts a loaded card worthy of the title.
Almost every title in the company is on the line, except for the AEW TNT Championship. A four-way ladder match to determine the number-one contender to that belt – owned by Sammy Guevara – is scheduled instead.
"Really, this is perhaps the best card we've ever assembled," said Tony Khan, hyping up the Revolution card. "We've hit our stride with our PPV offerings recently and you can see that with what we tried to deliver to our fans in 2021. We want to continue to give our fans excellent quality when they sit down to watch AEW. We can't just deliver one big show then be satisfied. We have to keep moving forward."

"At Revolution, with the names involved, I think you're going to see an excellent wrestling show. I'm very confident that the talent will deliver in the ring," he added. "But it's also important that we use the show to build what we want to do for the rest of the year."

"This is going to be a show where some storylines end, but you're also going to see new storylines emerge. We've built into this show so well in recent weeks, and you'll see the hard work pay off at Revolution."
Superstars like CM Punk, MJF, Eddie Kingston, Chris Jericho, Bryan Danielson, and Jon Moxley will compete to further compelling ongoing storylines or end dramatic blood feuds. The dog collar match between CM Punk and MJF might be the most highly anticipated showdown of the weekend.
AEW World Championship Match – "Hangman" Adam Page (C) vs. Adam Cole
American Odds
Matchup

Odds

Hangman Page

-500

Adam Cole

+300
"Hangman" Adam Page is a heavy –500 favorite to retain his title against Adam Cole. It's a fair betting line for what's felt like an interim filler angle for the world champ. The two former Bullet Club allies only began feuding on February 9, after Page's successful title defense over Lance Archer in a Texas Death Match.
It appears that this angle will be used to set up storylines for the next pay-per-view. Hangman is realigning with the Young Bucks, setting up a futures trio's match – and potential feud – against Cole and reDRagon (Kyle O'Reilly and Bobby Fish), who have reformed NXT's Undisputed Era in AEW.
AEW Women's World Championship Match – Britt Baker (C) vs. Thunder Rosa
American Odds
Matchup

Odds

Thunder Rosa

-250

Britt Baker

+170
MyBookie's oddsmakers feel a title change coming! Dr. Britt Baker DMD's AEW Women's Championship reign has run its course, and it's time for new blood at the top spot in the women's division. Thunder Rosa has always been the heir apparent – especially since defeating Baker in their highly acclaimed unsanctioned lights-out match on March 17, 2021.
However, for those looking for Britt Baker to retain, something interesting happened on Wednesday's go-home episode of AEW Dynamite. In a tag match that saw Thunder Rosa and Mercedes Martinez take on Britt Baker and Jamie Hayter, Rosa pinned the champion cleanly for the win. This rarely happens right before the same challenger beats the champ.
Still, Rosa is correctly priced as a –250 favorite.
AEW Dog Collar Match – CM Punk vs. MJF
American Odds
Matchup

Odds

CM Punk

-325

MJF

+225
What promises to be one of the most memorable matches at Revolution is CM Punk versus MJF in a dog collar match. It should be the blow-off match to a feud that began on November 17 of last year.
Dog collar matches have historically been used to prevent heel opponents from running away from their comeuppance and give the babyface a big payoff. Maxwell Jacob Friedman, the young heel in the angle, gave Punk his first AEW loss on February 2, in front of his hometown in Chicago. One might expect the CM Punk to even the score this weekend. Whether that happens at Revolution remains to be seen.
Oddsmakers are certainly anticipating a CM Punk victory at –325 odds.
However, this could be an opportunity to grab an excellent payout on the underdog. AEW may have MJF win by cheating once again, keeping this feud alive for a bit longer. If Punk does triumph, I suspect we'll finally see Wardlow turn on MJF, setting up his monster babyface run.
AEW Singles Match – Bryan Danielson vs. Jon Moxley
American Odds
Matchup

Odds

Bryan Danielson

-120

Jon Moxley

-120
The match between Jon Moxley and Bryan Danielson could genuinely go either way. It's hard to imagine either one of them being beaten cleanly.
This contest seems to be setting up a potential partnership between the two. Danielson has offered to join forces and run AEW together, to which Moxley insisted they bleed together before he answers.
The fans reacted positively to a possible faction featuring Moxley, Danielson, and younger talent like Daniel Garcia, Lee Moriarty, and Wheeler Yuta. Tony Khan usually listens to what the fans want, so the outcome of this match will likely be whatever is required to further that storyline.
Unfortunately, I'm not sure who needs to win to make that happen.
I'm leaning towards Danielson coming out on top of a long, bloody contest. Moxley will begrudgingly respect his opponent for the fight and the two will begin to form their stable.
AEW Singles Match – Eddie Kingston vs. Chris Jericho
American Odds
Matchup

Odds

Eddie Kingston

-250

Chris Jericho

+170
Chris Jericho versus Eddie Kingston kicked off when the latter began turning his friends Santana and Ortiz against the Inner Circle, their former stable. He's repeatedly encouraged Proud and Powerful to leave the group, which he claims only exists to prop up Jericho at everyone else's expense. Chris Jericho has returned with some pointed words for Eddie Kingston, accusing the indie legend of always failing to win "the big one."
Kingston is the rightful favorite at –250.
He's a fan favorite that's continually built-up tremendous storylines, only to lose at the PPV events. This is where AEW and Tony Khan finally let Eddie triumph over a legendary foe.
AEW Women's TBS Championship – Jade Cargill (C) vs. Tay Conti
American Odds
Matchup

Odds

Jade Cargill

-650

Tay Conti

+400
Jade Cargill is AEW Revolution's heaviest betting favorite – and rightfully so. The TBS Champion is a future superstar in the making. It will be another year before Tony Khan books her to lose.
This is just another opportunity for Cargill to look dominant against a well respected member of the women's roster.