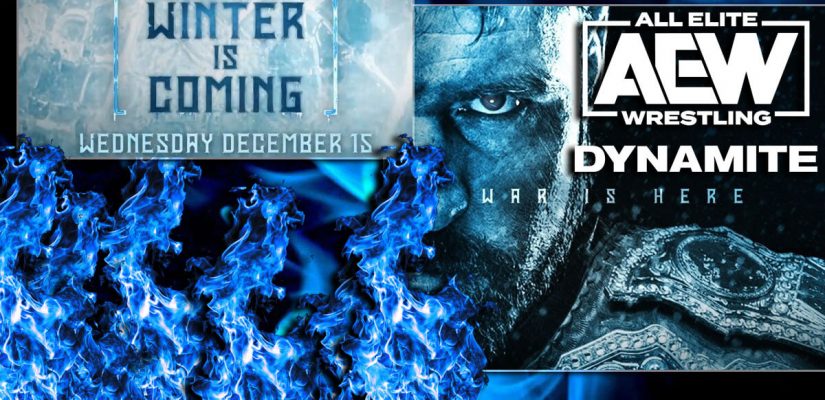 This Wednesday (Dec 15), at 8 PM ET/5 PM PT, All Elite Wrestling presents the second installment of "Winter is Coming" live on TNT from the Curtis Culwell Center in Garland, Texas.
Scheduled at the start of Winter Solstice, the annual show is a special edition of AEW's weekly television program Dynamite. Despite airing for free in the flagship weekly program's usual time slot, "Winter is Coming" is booked like a major pay-per-view event.
Last year's production featured the stunning debut of former WCW legend Sting and a historic title change when Kenny Omega defeated Jon Moxley for the AEW World Championship – ushering in the Belt Collector era and setting the table for the promotion's most transformative year.
Following in the footsteps of that game-changing show – and subsequent blockbuster talent acquisitions — "Winter is Coming" 2021 might be one of the most highly anticipated episodes in Dynamite history.
Despite a series of huge signings this year, the free-agent market is still flooded with intriguing, high-profile prospects (thanks to WWE releasing 80 wrestlers in the past 12 months, failing to sign several others to contract extensions, and Ring of Honor shutting down operations for the foreseeable future).
Tony Khan likes to end the year with a bang, so the excitement over Wednesday's broadcast is palpable.
Expect "Winter is Coming" to be another pivotal moment for All Elite Wrestling, featuring thrilling debuts, established angles progressing, and "Hangman" Adam Page's first title defense against Bryan Danielson — the company's most prestigious free agent signing to date.
We are just days away from one of the biggest nights of the year. #WinterIsComing to #AEWDynamite THIS WEDNESDAY Live on TNT:
–#AEW World Title: @theAdamPage v @bryandanielson
-Dynamite Diamond Final: @The_MJF v @lucha_angel1
–@SerenaDeeb v @shidahikaru
–@RealWardlow v @MattSydal pic.twitter.com/M5irP8btBZ

— All Elite Wrestling (@AEW) December 11, 2021
Right now, there are four matches scheduled for this Wednesday's event. Luckily, you can wager on them at BetOnline, one of the most trusted providers of pro wrestling betting odds.
Matt Sydal (+550) v Wardlow (-1250)
MJF (-625) v Dante Martin (+350)
Hikaru Shida (-500) v Serena Deeb (+300)
"Hangman" Adam Page (-345) v Bryan Danielson (+225)
Looking at the betting lines, the oddsmakers have little doubt concerning any of the show's outcomes. The favorites are all very heavily favored.
Is it possible that one or more matches will end in shocking upset?
AEW can be relatively predictable when it comes to booking decisions, especially when there are larger, overarching storylines in play. Still, when it comes to unique cards like "Winter is Coming," upsets due to outside factors are always possible.
Maybe a new rival sabotages the betting favorite to kick off a new angle for 2022, or a freshly signed talent makes their debut by interfering in a match.
Khan's promotion doesn't lean on screwy finishes as aggressively as WWE, but they're an effective tool to advance angles and generate heat if used sparingly. It's a possibility worth keeping in mind in our search for hidden betting value on this card.
After the four matches, we'll consider other surprises AEW may have in store for fans on Wednesday night. After all, "Winter is Coming!"
AEW Singles Match – Matt Sydal (+550) v Wardlow (-1250)
Wardlow gets the honor of being "Winter is Coming"'s most unequivocal favorite. In line with his –1250 betting odds, try not to blink once they ring the bell for this singles match; you might miss the finish.
This one will not last long.
However, don't mistake this for a typical Wardlow squash match. There's a reason it's taking up space on such a prestigious card. I suspect this segment will advance the angle between MJF and his hired muscle after they've teased an eventual split on multiple occasions.
This match was scheduled at the last minute following Matt Sydal and Wardlow's eliminations in last Wednesday's Dynamite Diamond Ring battle royale.
Sydal was taken out early as a non-factor, just as he'll be a non-factor at "Winter is Coming."
This segment is all about Wardlow, who spent most of the battle royale keeping MJF safe and shielded in the corner. Occasionally, the Long Island native would scurry out from behind his bodyguard to cheap shot a downed opponent, much to the delight of his hometown crowd.
"This segment is all about Wardlow.."
After a brief breakdown in the game plan, Lio Rush and Lee Johnson tried to lift Wardlow over the top rope, each grabbing a leg. As they all struggled for position, MJF scrambled to his feet and gave the entangled trio of men the shove they needed to tumble outside the ring, eliminated.
MJF exploded in celebration before recognizing Wardlow's visible frustration and disappointment. It wasn't the first time the hired enforcer has let slip signs of resentment and anger towards his "salt of the Earth" boss.
At some point, Wardlow will turn on MJF, becoming a huge babyface in the process. I don't think he'll fully cross that line at "Winter is Coming," but the angle will progress to its next phase.
Either way, I expect Wardlow to decimate Matt Sydal — maybe as an expression of his rage towards MJF, that's beginning to boil up to the surface.
Dynamite Diamond Ring Finals – MJF (-625) v Dante Martin (+350)
Two-time Dynamite Diamond Ring battle royale winner MJF puts his beloved pinky ring on the line Wednesday versus Dante Martin. It'll be his third time in this tournament's final match, having defeated Adam Page and Orange Cassidy, respectively, in previous editions.
Since obtaining the piece of jewelry, Maxwell has routinely used the diamond ring to load his punches and knockout opponents while the ref isn't looking.
It's almost impossible to imagine his character without his ultimate tool to win. Nobody embodies using a diamond pinky ring to cheat unsuspecting opponents more than MJF. It just fits.
However, I'm not entirely sold on Dante Martin losing.
His storyline has been all over the place recently.
Every other week he's turning on one ally and joining forces with another. Last Wednesday, he double-crossed Team Taz during the battle royale after seemingly abandoning Lio Rush to join the group one week prior. Now, he's assumedly back with Lio, but I'm not sure this angle is that cut and dry.
Redditors have pointed out that every wrestler Malakai Black has hit with the black mist is gradually becoming chaotic and unpredictable.
Perhaps Dante takes another sizable step towards the dark side during the Dynamite Diamond Ring final. Meanwhile, MJF may have loyalty issues of his own after betraying Wardlow.
While I expect MJF to win his third Dynamite Diamond Ring, I can see a scenario in which his actions from last week backfire, resulting in a massive betting upset in favor of Dante Martin. Maybe someone interferes on the young high-flier's behalf, only for Wardlow to watch idly.
It's not the likeliest outcome, but at +350, the potential payout is worth taking a slight chance on the underdog.
AEW Singles Match – Hikaru Shida (-500) v Serena Deeb (+300)
AEW has continually found ratings success with their women's matches, and this one will feature two of the division's finest workers. Hikaru Shida versus Serena Deeb promises to be a grueling back-and-forth affair that continues through multiple commercial breaks.
It's also the rubber match after Shida and Deeb split their prior two engagements.
In October, Serena Deeb faced the former AEW Women's World Champion in what was presented as a coronation for Shida, who was to become the first woman to win 50 matches in the company.

Deeb grew increasingly desperate throughout the match, ultimately resorting to dirty tactics to injure Shida's knee and secure a submission victory. Afterward, the former NWA Women's Champ solidified her heel turn by assaulting Hikaru Shida with the trophy initially intended to reward her achievement.

The two met again in the first round of the TBS tournament. Deeb once again focused her attack on Hikaru Shida's knee. She also attempted to use Shida's 50-win trophy to bludgeon its owner, only to be caught in the act by her target and referee Aubrey Edwards. Hikaru resisted the temptation to use the object in retaliation and went on to overcome Deeb's blatant heel work, getting the pin after a series of reversals.
Shida advanced to face Nyla Rose in the next round of the TBS tournament. During the match, Deeb sat in the first row and watched until Hikaru appeared to have the contest won. Serena then jumped the barricade and chop-blocked Shida's injured knee, allowing Rose to recover and capitalize.
Eliminated from the tournament, the former AEW Women's Champion turned her sights on Serena Deeb. Now they'll resolve their feud with a classic grudge match.
Based on how this story has been laid out, I'd be shocked if Shida lost at "Winter is Coming."
Serena Deeb is a tremendous worker, but Hikaru is a pillar of the AEW women's division. The 35-year-old veteran will make the beloved ex-champ as sympathetic a babyface as imaginable before finally taking the pin.
AEW World Championship Match – "Hangman" Adam Page (-345) v Bryan Danielson (+225)
What should be the most obvious outcome of the night is somehow the most confusing.
AEW spent two years breaking down the Hangman character and slowly building him back up for his ultimate redemption at Full Gear.
Page finally realized his potential and defeated Kenny Omega to become the AEW World Champion; it's nearly impossible to imagine Page immediately losing the title in his first defense.
At the same time, it's way too soon to put a loss on Bryan Danielson, who is arguably AEW's most important new signing (along with CM Punk). Danielson is in the best shape of his life, presented as an absolute killer, and is turning in some of the best work of his career week after week.
I don't think they've done all this character development just to feed him to Hangman for his first defense.
Tony Khan must find a way for this match to end without Bryan Danielson suffering a visible loss Adam Page relinquishing his title.
Khan won't book a time-limit draw because that's the finish he used to escape from this exact same predicament when Bryan challenged then-champion Kenny Omega at Arthur Ashe Stadium. He can't reuse it so soon.
That makes this title bout a prime contender for interference.
If AEW has any new signings debuting at "Winter is Coming," they'll be making their debut in the latter half of this match.
As for betting, remember there's a difference between "who wins the match" and "who leaves with the title."
The clever play here is to take the underdog at a better payout and hope Danielson is announced the winner by disqualification, meaning the title does not change hands.
Maybe a new signee makes their debut by interrupting the match and promptly beats down the challenger in full view of the referee. That sure seems like AEW's best option considering the circumstances.
At +225, it's our best bet too.
Any New Signings / Surprise Debuts at "Winter is Coming"?
Last week, I wrote an article about two former members of the NXT roster letting their contracts expire without signing an extension. As of Friday, December 10, Kyle O'Reilly and Johnny Gargano are two of the most coveted free agents in professional wrestling.
O'Reilly is expected to reunite with Adam Cole and Bobby Fish in AEW very soon.
Gargano's timeline is a bit foggier. That said, he'd make a perfect opponent for Bryan Danielson – one that could distract him from the title picture while Hangman built up his record as champion.
Of course, we've only scratched the surface of potential surprise debuts.
Another intriguing possibility is Windham Rotunda (formerly Bray Wyatt), who would fit perfectly into Malakai Black's growing House of Black stable.
Jeff Hardy was recently fired from WWE and could be reunited with his brother Matt.
Then there are numerous former Ring of Honor employees who could debut in AEW soon.
We know the Briscoes — the ROH tag-team champions – are starting a program with FTR, so they're a safe bet.
Jonathan Gresham is another sure thing.
On this subject, Tony Khan urges patience.
"I'm more than aware that there's a number of free agents out there, wrestlers I admire too, but I've got to say that you just have to keep watching over these next few weeks and not just 'Winter is Coming.'"
It sounds like the next batch of free-agent signings can be expected to appear in waves.
"Winter is Coming" is just the beginning!