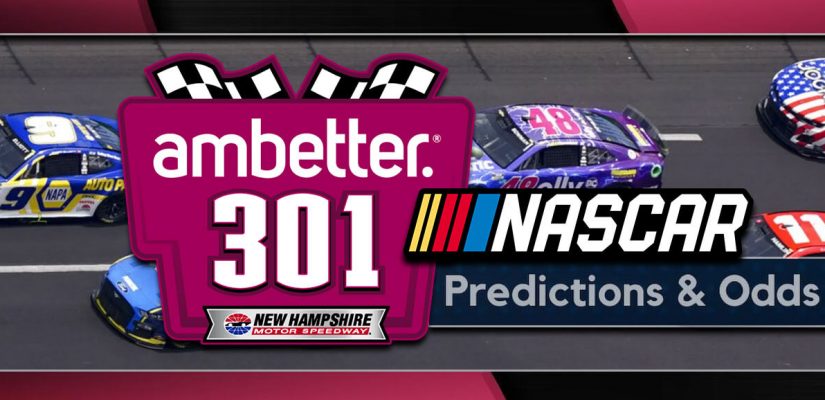 The NASCAR Cup Series is at New Hampshire Motor Speedway for some old-school racing in Loudon. New Hampshire is a 1.058-mile track, which is the perfect sweet spot for stock car racing in my book. It just misses out on being a true short track, but shares some characteristics.
Rain began to fall six laps into last year's race at New Hampshire, taking out race leader Kyle Busch, Martin Truex Jr., Alex Bowman and Denny Hamlin.

Luckily the weather's looking great for this weekend's #NASCAR action in the Granite State. pic.twitter.com/7eyhHV7Kr9

— NASCAR on NBC (@NASCARonNBC) July 13, 2022
TheSportsGeek has the best Ambetter 301 odds available online. We are going through the Ambetter 301 betting odds and looking for the top NASCAR picks for this Sunday. It was a tough finish to accept last week at Atlanta Motor Speedway.
CHASE ELLIOTT EXTENDS HIS LEAD
Chase Elliott found a win to take the checkered flag in the Quaker State 400 last week. He led 96 laps and had the best car again. Elliott was consistently finishing in the top-10 through the first stretch of the season and now he's consistently winning.
If you had Ross Chastain, as I did, it was tough to watch him have a good race only to just miss out in P2. Top-5 bettors win with Chastain, though. Chastain is 3rd in the Cup Series standings at 634 points, while Elliott leads with 684 points over Ryan Blaney.
✨ 2022 … so far ✨ pic.twitter.com/y8FnsTjYul

— NASCAR (@NASCAR) July 15, 2022
Chastain is just three points behind Blaney going into Loudon.

Who is going to beat the Ambetter 301 odds this weekend? According to the oddsmakers at Bovada, there are three co-favorites to win the race. There isn't a clear consensus. Let's get into the Ambetter 301 odds in closer detail and look for winning Loudon NASCAR picks.
Looking for a NASCAR sportsbook? Check out our top picks for NASCAR betting sites.
Ambetter 301 Betting Odds
Ryan Blaney, Joey Logano, and Kyle Busch have the same Ambetter 301 odds at +700. Elliott is not seeing as much love at this track, as he's +900 to win, behind Denny Hamlin and Martin Truex Jr. at +850.
Support for Kyle Larson winning a race has fallen off, as he's +1200 to win at New Hampshire Motor Speedway. That said, Larson is still a contender to win the Cup Series at +650, only behind Elliott.
When the Cup Series playoffs begin, anything could happen and Larson could be in his best form by then. I just don't see value at +650.
There are eight drivers that have +1000 odds or less to win the Ambetter 301. Again, this isn't a race where the oddsmakers or public are agreeing on who the favorite should be in Loudon. That's fine as there is typically more value in this case.
Ambetter 301 Odds Courtesy of Bovada:
| Odds | Driver | Team |
| --- | --- | --- |
| +700 | Joey Logano | Team Penske |
| +700 | Kyle Busch | Joe Gibbs Racing |
| +700 | Ryan Blaney | Team Penske |
| +850 | Denny Hamlin | Joe Gibbs Racing |
| +850 | Martin Truex Jr. | Joe Gibbs Racing |
| +900 | Chase Elliott | Hendrick Motorsports |
| +1000 | Christopher Bell | Joe Gibbs Racing |
| +1000 | Ross Chastain | Tracking Racing Team |
| +1200 | Kyle Larson | Hendrick Motorsports |
| +1400 | Kevin Harvick | Stewart-Haas Racing |
| +1800 | William Byron | Hendrick Motorsports |
| +2000 | Tyler Reddick | Richard Childress Racing |
| +2500 | Aric Almirola | Stewart-Haas Racing |
| +2500 | Chase Briscoe | Stewart-Haas Racing |
Ambetter 301 Predictions
Ross Chastain (+1000)
Ross Chastain just missed out last week after he and his team put together a solid race. Despite the loss, Chastain could have won, and that's true for several other races this year. He has a knack for fighting his way through the field.
When I say fighting, it's pretty well true. Chastain isn't shy about getting physical on the racetrack.

You could say that Chastain was a big fan of Dale Earnhardt Sr. growing up. There isn't a driver to compare to Earnhardt Sr., but Chastain sure is doing a lot to replicate his aggressive driving style.
Different era and he's the Intimidator, but Earnhardt Sr. was able to get away with it. Chastain is rubbing people the wrong way.
Chastain doesn't care what other drivers or people think. He's not going to settle down and turn into a conservative driver. It's working for him with 10 top-5 finishes and 2 wins.
He's the only driver with double-digit top-5 performances. Chastain struggled in his first two races at New Hampshire, but figured it out last year to finish P8.
Chastain has been in the top-5 in five straight races and continues to drive with confidence. He has to be considered with his NASCAR Ambetter 301 odds at +1000 or better.
Ambetter 301 Odds
---
Kevin Harvick (+1400)
Kevin Harvick is one of the most accomplished drivers at New Hampshire Motor Speedway. Especially recently, as the 46-year-old Harvick won back-to-back in 2018 and 2019.
Harvick ran well again last year in Loudon. He hasn't ranked among the top drivers for more than five years, but Harvick is thriving at New Hampshire.
He didn't win last year, but Harvick led the most laps. Since 2013, Harvick has finished in the top-5 in eight races. He was P6 last year, so that was another solid run.
Harvick has three wins on this track since 2016.

The #4 Ford has quietly been running pretty well recently as well. Harvick has finished in the top-12 in four straight races, and now he's at his favorite track.
ANOTHER SOLID RUN AT NEW HAMPSHIRE?
All signs point to Harvick being involved on Sunday. The Ambetter 301 odds board has Harvick at +1400 to win. I'm not sure about nine other drivers having a better chance than Harvick.
It's hard not to have Harvick high on your shortlist at these odds. He is catching good value and worth a bet for this Cup Series race on Sunday.