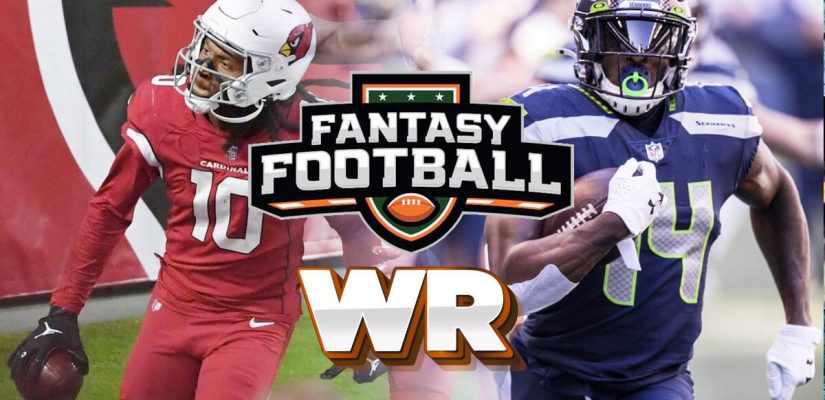 The NFL is still a pass-heavy league, even though running backs often score huge numbers of fantasy points. Picking WRs is tough since that position produces the most varied point results.
The league's top WRs are likely to have just as many boom games as busts.
This post collects all my thoughts on how to select WRs in DFS cash games and tournaments.
Wide Receiver Trends
Here are four DFS WR trends to consider. These four facts have a big impact on my overall WR strategy in daily fantasy football:
Lower-salary receivers often score as much as the big boys. If you're looking to save money, go for cheaper receivers over other positions.
Receivers have a higher fantasy points ceiling than running backs. Not only do RBs get injured more frequently, but they're also overvalued by owners and have a more limited scoring range.
Good receivers aren't affected by good defenses. Wide receivers on good offenses perform well pretty much regardless of the quality of the defense they face. The league's elite WRs often overperform against elite defenses. When considering your roster, fade a powerful defense against a big-name receiver.
Average WRs score more points than average RBs. Every year, more WRs average 8 or more points per game than RBs, by a significant margin. It's true that elite RBs often score more than elite WRs, but the middle of the receiver pack is more valuable than the middle of the running back corps.
Most DFS winners follow the traditional WR strategy. Most successful DFS owners roster one mega-popular WR and one or two sub-10% ownership guys. Few tournament winners buy all the way up or all the way down at all three standard WR spots.
The Flex Position – WR or RB?
I think there are times when you should flex a receiver and times you should flex a running back. Obviously, if you can get a backup running back looking at 25 touches on the cheap, and you think he's set to go off for big numbers, you should probably go that way. I don't think it's fair to say "you should always go WR" or "you should always go RB."
I know, not a very satisfying answer, but hear me out.
You should almost always flex the WR position. Receiver outcomes are higher than running backs, particularly in full PPR scoring leagues. It's much harder to find a valuable low-cost RB than it is to find an affordable WR that goes off unexpectedly. Finally, if you flex the WR position, you have more opportunities for game stacking.
Go look at the rosters of the big-money tournaments, you'll see the field of winners flexing the WR almost 60% of the time.
Part of the problem is that DFS owners overvalue the RB at the flex position.
Running backs just don't go off in spikes the way WRs do, under most scoring systems, and with an RB in the flex, you cut yourself off from other strategic options that can lead to long-term cash game and GPP success.
DFS Cash Game WR Strategy
In a cash game, we don't necessarily need the league's star receiver. We just need a guy that gets a lot of touches.
The name of the game in cash game receivers is to look at players' floors rather than their ceilings. Winning in a cash game just means being better than half the field. When picking WRS for DFS, you want to focus on volume rather than efficiency. If you're using standard PPR scoring (as with DraftKings), you'll need to pick guys getting lots of targets, almost regardless of past efficiency.
Some problems with this strategy. Depending too much purely on target numbers won't really work over the long-term, since depth charts at this position shift as much as any in the pro game. Playtime goes up and down, QBs have their own trends and tendencies, and as coach strategies develop, player targets can move around quite a bit.
One way around this problem is to limit your past performance research to just the past four games. That does mean that you have to wait until about the fifth or sixth week for this strategy to be useful, but the correlation between a WR's performance in his last four starts and his performance in the very next game is as strong as it's ever going to be.
When you're picking WRs for a cash game, use recent trends (ideally four weeks' worth) to project player volume.
Another solid strategy for identifying worthwhile receivers for your roster is to look for receivers playing as home favorites. When compared to fantasy points earned by receivers playing for home dogs and away teams, fantasy totals by receivers favored at home are significantly higher.
A receiver favored at home is more than twice as likely to score at least 15 fantasy points relative to receivers in other contexts. He's more than three times as likely to go off for 30 or more points relative to a receiver playing as a home dog.
DFS Tournament WR Strategy
You have to approach your WR strategy differently in GPPs than in cash games.
Wide receivers are generally harder to project due to variance in scoring. I touched on this in the last section. Your wide receiver can indeed win or lose the week for you, and it's also true that most of us are pretty bad at projecting WR points. That includes projections by professionals and tout services.
The good news is, this works both ways.
You're just as likely to see a spike in points from a cheap player as you are to get big points from a known name. There's tournament play value in looking for lower rostered WRs who offer the same upside as the league's most popular (and most expensive) receivers.
Up and down performances at this position are the norm – rather than bang our heads into the wall trying to outsmart the system, we can adjust by embracing the variation in points. Good tournament WR strategy means finding a diamond in the rough, a low rostered player who gets 10 catches for 145 yards and two TDs.
The most valuable stat when looking for these spike performers is targets, plain and simple.
Don't worry about the numbers of receptions or receiving yards, as these are just functions of the initial target by the QB. According to people smarter than me, there's a better than 25% correlation between targets and DFS points for wide receivers. That's more than double the correlation between fantasy points and the ever-popular yards/target stat.
Wide Receiver/Running Back Stacking
Rostering a QB/WR combo makes sense on its face.
If you expect a receiver to go off, surely the guy sending him the ball is going to earn big points, too. Typically, you want to avoid stacking a WR with his RB, with the logic being that teams generally go off in the air or on the ground but not both.
I find a lot of value in a QB/WR/RB stack, in the right context, and usually only in tournament play. The idea behind the triple stack is to mitigate risk, even if the idea seems extremely risky at the outset. The idea is this – a hot QB/WR combo puts up two or three passing TDs early, so the team turns to the RB for clock control and to protect their hot pair.
Another benefit of the three-way stack – unique roster creation. Find a QB that throws to his RB as often as his second- or third-string WR, and not only do you have a unique roster, you have a ton of fantasy points with a contrarian play.
In some specific situations, stacking a WR with a team defense can lead to a big week.
You're looking for a WR that puts up big numbers and is involved in special teams. By stacking this receiver (think of a guy like Tyler Lockett) with his QB and team defense, you're giving yourself more ways to score than just taking Lockett on his own.
Conclusion
In my opinion, picking receivers is the toughest job in DFS football. The inclusion of the WR at the flex position makes your picks even tougher.
The research required to identify potential boom weeks isn't particularly tough, so long as you follow the game, league news, roster changes, and injury reports.
There's lots of value in the WR position, maybe too much for some DFS owners. Keeping to a simple DFS strategy, as outlined above, will make your job a lot easier.