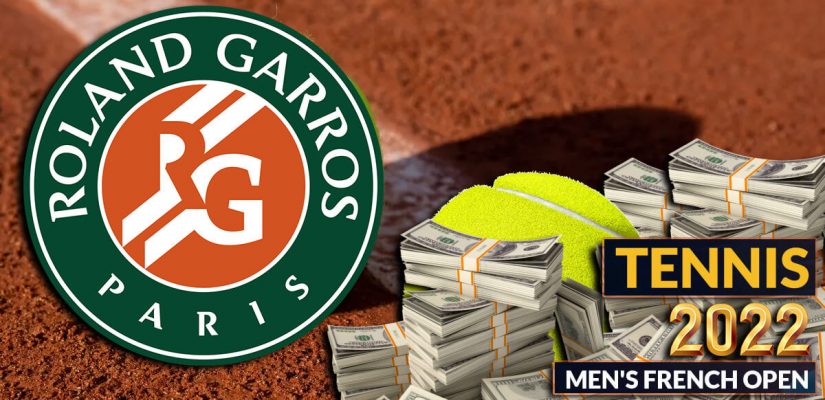 The second Grand Slam of 2022 is quickly approaching in Paris from May 22 to June 5. The French Open is on a clay surface, the only Grand Slam on clay. It provides a different element than a traditional hard court. Qualifying for the French Open is underway, and TheSportsGeek has the latest ATP French Open odds online.
ATP French Open Betting Odds
French Open odds can be found at the best
French Open betting sites
online. We recommend looking at our link to find a French Open sportsbook that works best for you.
Our team has thoroughly researched and used all of the online sportsbooks that we suggest to ensure the best experience.
Finding the best odds for the French Open is going to require some line shopping, but Bovada typically offers the best tennis betting odds. If you haven't looked at the ATP French Open odds board yet, it's not going to be too surprising who is at the top for the men.
In the first Grand Slam this year, Rafael Nadal fought back from a two-set hole to win the match in five sets over Daniil Medvedev, 2-6, 6-7, 6-4, 6-4, 7-5. Nadal was the sixth seed in the tournament and wasn't a top pick to win the Australian Open.
You will find Rafael Nadal on the French Open odds board. That said, Rafa is dealing with injuries and is not going to be close to 100%. He's going to attempt to give it a go and try to tough it out. After the Italian Open, it was questionable whether Nadal was going to enter the French Open.
Let's delve into the 2022 French Open odds and our French Open predictions for this Grand Slam on the clay in Paris.
Odds For ATP French Open
There is no surprise that Novak Djokovic is the favorite to win the French Open in 2022. He's coming off an Italian Open title and is in his best form of the year at the moment.
Djokovic shook off a loss to Carlos Alcaraz in the Madrid Open in Spain to win the Italian Open over Stefanos Tsitsipas. Alcaraz did not participate in the Italian Open after winning in Spain.
Keep in mind that Alcaraz is only a 19-year-old, and he's already beating the top-ranked player in the world. Alcaraz is young and will be a major threat for years to come and appears like the next best thing in tennis.
Simply, @alcarazcarlos03! @atptour | @ATPTour_ES | #MMOPEN pic.twitter.com/ANKOrUStUO

— #MMOPEN (@MutuaMadridOpen) May 9, 2022
So, this comes as no surprise that Alcaraz is the second favorite in the French Open behind Djokovic. He's already playing beyond his years going into Paris. In the future, expect Alcaraz to be the betting favorite in many French Open tournaments and Grand Slams.
Nadal having the third-best odds to win the French Open was slightly surprising. He is not completely healthy, but again, this is a clay tournament, and we know how good Nadal is in the French Open, so kind of not surprised at the same time.
Rafa has won 13 French Open titles. This guy loves coming to Paris and will attract money on his French Open odds regardless of his injury status.

| Odds | Player | Country |
| --- | --- | --- |
| +175 | Novak Djokovic | Serbia |
| +200 | Carlos Alcaraz Garfia | Spain |
| +275 | Rafael Nadal | Spain |
| +700 | Stefanos Tsitsipas | Greece |
| +1800 | Alexander Zverev | Germany |
| +1800 | Casper Ruud | Norway |
| +2500 | Daniil Medvedev | Russia |
| +2000 | Dominic Thiem | Austria |
| +2500 | Jannik Sinner | Italy |
| +3300 | Andrey Rublev | Russia |
| +4000 | Alejandro Davidovic Fokina | Spain |
| +5000 | Diego Schwartzman | Argentina |
| +5000 | Felix Auger Aliassime | Canada |
| +5000 | Hubert Hurkacz | Poland |
2022 ATP French Open Betting Predictions
Novak Djokovic (+160)
We can describe Novak Djokovic and Carlos Alcaraz as co-favorites to win the French Open. Alcaraz isn't that far away from Djokovic at +175 odds. If Rafael Nadal was healthy, he'd likely be right there as well.
Djokovic has won the French Open twice in his career. He is the defending French Open champion after capturing the 2021 title five years after Djokovic won his first.

The Serb has gotten progressively better on the clay in his career. It's clear that Djokovic has worked on his craft on the clay, and the results have followed. The Italian Open that he just won is a clay tournament.
😘🏆@DjokerNole | @InteBNLdItalia | #IBI22 pic.twitter.com/yfOQaTW2Sw

— ATP Tour (@atptour) May 15, 2022
The same goes for the Madrid Open, where he went to the final in a loss against Alcaraz. This year he's 8-2 on the clay heading into Roland Garros. Djokovic has won 18 sets to 7 losses.
Can He Be Stopped In Paris?
He toppled the field at the Italian Open in impressive fashion. Djokovic didn't need a third set, as he went a perfect 10-0. This is the best time of year for Djokovic to find his form, just before the French Open and into Wimbledon in the summer.
We could have a rematch between Alcaraz and Djokovic in the final in Paris. Alcaraz won on the clay over Djokovic in the Madrid Open, with a 6-7, 7-5, 7-6 win. He played great tennis before the win, so this wasn't a huge surprise.
Alcaraz is well on his way to being a household name in tennis. That being said, Djokovic admitted that he made a couple of mistakes. When Djokovic notes mistakes, he is the best on the ATP Tour at cleaning them up for next time.
That's what he did in Rome at the Italian Open, and if he has to see Alcaraz in the final at Roland Garros, Djokovic should be prepared and patch up what he did wrong in Spain. Djokovic's ATP French Open odds to win at +175 look like good value.
Djokovic ATP French Open Odds