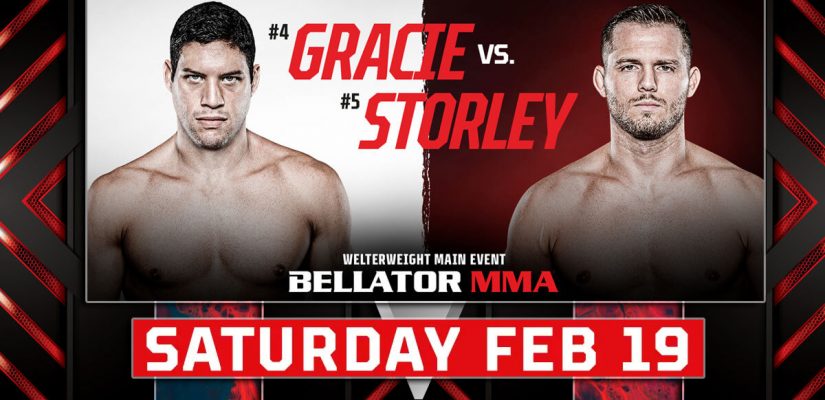 We've looked over Bellator 274 and assembled our top MMA betting picks. We've looked over the entire thirteen fight card, and boiled it down to our top two bets, our four runners up, and three bets that you'll be better off skipping. Bellator 274 airs on February 19th, 2022 and is headlined by the return of Neiman Gracie against Logan Storley. 
Neiman Gracie vs Logan Storley
Our first betting pick is the main event. Logan is the underdog for the first time since his fight with Amosov in 2020, the only loss of his career. Neiman has lost to two other high level Bellator fighters, going 2-2 for his last four. 
Oddsmakers seem to think that Storely can be submitted by Neiman, but that's a long shot for a fighter that has dominated on the ground fight after fight. 
Tale of the Tape for Gracie vs Storley
| | | |
| --- | --- | --- |
| Fighter | Neiman Gracie | Logan 'The Storm' Storley |
| Age | 33 | 29 |
| Height | 6'0'' | 5'9'' |
| Reach/Stance | 74'' Orthodox  | 71''  |
| Record | 11-2 | 12-1 |
| Submissions/TKO   | 9/1 | 0/8 |
| Fighter Training Camp | Renzo Gracie Academy | Sanford MMA |
Gracie is the bigger fighter, but Storley has a slight youth advantage. Storely's wrestling style should play right into the hands of Gracie's submission game, but people often forget how good Sanford MMA is for preparing for opponent's' gameplans. 
Gracie has nine submission finishes, while Logan has eight TKO finishes, each on the ground from top position.
Both fighters will be volleying for top, so wrestling should be a huge factor. Storley could also decide to fight a stand up battle, following the footsteps of Rory MacDonald and simply not letting Gracie get to the ground at all. 
Fighter Camp Comparison
Sanford MMA is the former home to Kumaru Usman and the current mma camp of Derek Brunson and Rory MacDonald. Storley gets the pleasure of working directly with one of the fighters to beat Gracie just years ago. 
Renzo Gracie Academy is one of the best places for submission grapplers to learn to fight, however they've produced few if any top ten in the world fighters for MMA in the past decade. Sanford MMA is the better training environment. 
Betting Odds and Odds History for Gracie vs Storley 
| | |
| --- | --- |
| Bet Available at Betonline.ag | Odds   |
| Gracie Money Line | -175 |
| Storely Money Line | +150 |
| Over 4 ½ Rounds | -105 |
| Under 4 ½ Rounds  | -125 |
Storley is a heavy favorite in most fights. Coming in at -500 over Buckley was a rare low, ranging from -714 to -1650 in his Bellator wins. 
Gracie has been the underdog only once at +185 in his loss to MacDonald. He's been the favorite ranging from -120 in his loss to Jason Jackson, to -1250 in his win over Javier Torres. 
Prop betting Analysis
If Gracie wins, the under is the right prop. Storely could finish the fight via TKO or win a decision. Five of Storley's last seven fights went the distance, however these were majority three round bouts. 
Given that the under is such an obvious win for Gracie, I'd consider betting the Under 4 ½ Rounds prop if you're a Gracie fan. It protects you against any upsets, and pays out better than his moneyline. 
Fight Prediction and Breakdown for
Storley's wrestling is next to none in Bellator. His loss to Asamov via decision tells me that there is a low likelihood of a Gracie submission. Asamov's submission work is every bit as good as Gracie's if not less risky overall. 
Gracie's losses have been to athletic powerhouses with good conditioning. Gracie gets one shot at finishing the choke, and it seems like if the fighter can survive, they take the win.
Neiman's kickboxing is improved, and he's able to throw high kicks and risk getting taken down, but Storely isn't going to offer the room to work submissions if he finds top position. 
I see an upset victory for Logan Storley at +150, a $1.50 return per dollar wagered. Expect him to win the takedown early and frustrate Neiman with good top position. 
PLACE YOUR BETS NOW!
Georgi Karakhanyan vs Adam Piccolotti
'Insane' Georgi is just that, a forward moving, go for broke submission fighter with knockout power. He faces off against Piccolotti, who's spent the majority of his career in Bellator and despite multiple setbacks, is still looking for Bellator 155 pound title contention. 
Both fighters are submission centered with power in the ground strikes. 
Tale of the Tape for Karakhanyan vs Piccolotti
| | | |
| --- | --- | --- |
| Fighter | Georgi Karakhanyan | Adam Piccolotti |
| Age | 36 | 33 |
| Height | 5'8'' | 5'11'' |
| Reach | 67" | 71'' |
| Record | 31-12-1, 1 NC | 12-4 |
| Submissions/TKO   | 7/4 | 6/2 |
| Fighter Training Camp | OG Training Center Millennia MMA | AKA, Raul Castillo MA |
Georgi is the older and more experienced fighter, but Adam has both the reach and height advantage. Karakhanyan has also seen more miles. He's been TKO'd three times in his career, compared to Piccolotti, who's only lost in Bellator via decision and choke to Yamauchi in 2017. 
Fighter Camp Comparison
Piccolotti trains with Raul Castillo, a fight camp that has produced multiple moderate fighters over the years, but is yet to send an athlete to the highest levels. He recently moved to AKA for this camp, working with the best grapplers in the world including Khabib and DC. 
Georgi opened his own gym, the OGTC.
His fight camp must have been difficult, considering he's running his own gym alongside managing a camp with no clear head coach. 
Piccolotti has a big training advantage. 
Betting Odds and Odds History for Karakhanyan vs Piccolotti
| | |
| --- | --- |
| Bet Available at Betonline.ag | Odds   |
| KarakhanyanMoney Line | +270 |
| Piccolotti Money Line | -330 |
| Over 2 ½ Rounds | -205 |
| Under 2 ½ Rounds  | +165 |
Piccolli lost several stints as the favorite to Sidney Outlaw at -140 and Yamauchi at -110. He also lost to Benson Henderosn at +300. Piccolotti defeated Terry, Banks and Rickesl from -165 to -400. 
Georgi lost his last outing to Saul Rogers at +106 and upset Bryce Logan as a +125.
He also lost as the underdog to Jury, McKee and Sanchez ranging from +200 to +650. When oddsmakers say Georgi's the underdog, he upsets about 15% of the time. 
Prop betting Analysis
Georgi saw three decisions in his last three fights, indicating his pace is slowing from a breakneck early career. Piccolotti saw the same three decisions and one finish over his last four bouts. However, Georgi is nowhere near the athleticism of most of Piccolotti's opponents who take him to decision. If I were forced to choose, I'd bet the Over 2 ½ Rounds prop with low confidence. 
Fight Prediction and Breakdown for
Georgi is an aging fighter who runs his own program. He's suffered injuries, and has no head coach. I can't see him bringing new tools to the ring.
Meanwhile, Piccolotti is training with the best in the world.
He would have out grappled Georgi with ease, as shown against the Iowa wrestler Carrington Banks,  but with AKA at his side I see Piccolotti quickly finding the Bellator top five. Bet Adam Piccolotti Money line at  -330 for a $0.30 return on your dollar wager. 
PLACE YOUR BETS NOW!
Six High Quality Bets for Bellator 274
After you've placed your wager for our most confident Bellator 274 bets, consider these as secondary options. 
Nick Browne +150 vs Mandel Nallo -175
This preliminary bout shows Nallo, an up and coming Tristar gym fighter who just bounced back from his first loss. He was finished by Killys Mota via leg kicks, but has since come back with improved striking, racking up the TKOs in his last three wins. 
He faces Nick Browne, who's a submission centered fighter with high level grappling and moderate wrestling.
Brownes only loss is to John Gunther, a fantastic grappler who beat him in a decision. I see a similar bout for Nallo. His defensive grappling is high level, and the striking exchanges will go to Nallo with ease.
Bet the Mandel Nallo money line at -175 for a $0.57 return per dollar wagered. 
Aviv Gozali -301 vs Bobby King +251
Gozali is 6-0, finishing each opponent via first round submission, including two leg lock wins. Bobby King is a 38 year old submission fighter who's supposed to be the first person to take Gozali to a decision. 
Gozali is a master of the new wave of BJJ entering into organizations like ONE FC. I see Gozali's performances as a peak at what's to come. I do think Gozali will find the right defensive wrestler and either lose or change strategy- but Bobby King is not that guy. 
? We're playing all of the @Aviv_Gozali hits! Which is your favorite?

He's back in action THIS Saturday, Feb. 19th to take on @BobbyKingMMA at #Bellator274. The Prelims are LIVE and FREE on the Bellator MMA YouTube channel. pic.twitter.com/Ln0aDGMwz5

— BellatorMMA (@BellatorMMA) February 17, 2022
Looking over these finishes, you can see why Aviv Gozali money line at -301 is our betting pick, paying out $0.33 per dollar wagered. This could have easily been a top confidence bet.
Corey Samuels +300 vs Justin Montalvo -400
Samuels has finished his last two opponents but fumbled his 2018 and 2019 bouts by knockout and submission. Montalvo is an East coast fighter at Longo Weidman MMA and his pro career has been nothing but striking clinics.
He's knocked out three fighters and recently saw a decision with the experienced Jacob Bohn.
I don't see a 100% chance of Montalvo winning, but I do see this fight ending. Montalvo was knocked out in his amature career, and the under 1 ½ Rounds prop sits at -115. 
Our betting pick is the under, paying out $0.87. Both fighters have aggressive styles, and either man could drop early. 
Orlando Mendoz +260 vs Jonathan Di Lorenzo -310
Orlando is a good striker, but struggles against grapplers as shown in his pro debut loss. He knocked out two of his amatuer opponents, and now faces Di Lorenzo, yet another high quality grappler. 
Di Lorenzo has high quality grappling that Orlando isn't quite ready for. While the knockout is a possibility from Mendoz, I'm betting the Johnathan Di Lorenzo money line at -310. We should see another grappling clinic from an experienced BJJ artist. 
Which Bellator 274 Fights Should You Study Before Placing a Bet?
Cody herbert vs Jordan Newman
This fight is between a big -800 favorite in Newman because he's a quality high school wrestler. Herbert is a boxer and I wouldn't put it past him to land the big shot. There is very little tape on either fighter, and I find these overhyped odds to be trouble. I'd bet the underdog in Newman for the huge return, keeping my ticket light. 
DeAnna Bennett vs Justine Kish
Both women are high level flyweights, ranking at #44 and #51 in the world. I think this is going to be a great fight that could go either way. Kish lost her last two when I was almost sure should win. Bennett is 1-2 over her last three after an Invicta FC reality show, and there's no telling how she'll evolve or fade after that experience. 
Andrey Koreshkov vs Chance Rencountre
This co main event features a grappler with flashy striking in Koreshkov and an Alliance MMA wrestler in chance. Chance doesn't like to get hit, plain and simple.
Koreshkov will either connect, shifting the tide of the fight, or Chance will run right through him.
Even after watching the tape, I can't make sense of how they'll match up. I'm looking forward to this bout, but I'm also staying away from any big bets. I'll put a small bet on Koreshkov for the added excitement. 
Bellator 274 Wrap Up
That's it for Bellator 274. Do you like this kind of tiered betting system? If so let us know in the comments, and while you're at it sign up for some of our betting strategy updates and latest popular blogs. 
PLACE YOUR BETS NOW!