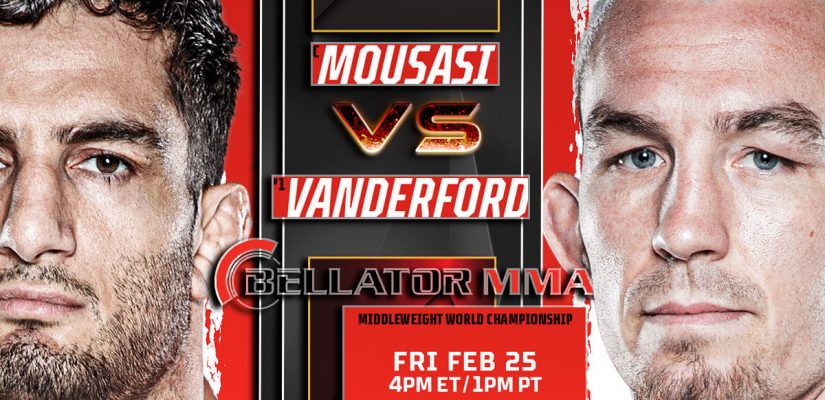 For our Bellator 275 betting preview, we cover each of the thirteen fights, taking a close look at the available bets, odds history and fight tape for each fighter. We've assembled our top MMA betting picks and an analysis of the prop bets. 
This Friday, February 25th, 2022 in Dublin, Ireland, place your bets for Bellator 275. The world Middleweight Title is on the line, as is the women's and men's featherweight title contention. 
We'll kick it off with the main event, and work our way down to the prelims. 
Gregard Mousasi vs Austin Vanderford Odds and Betting Pick
| | |
| --- | --- |
| Bet Available at Betonline.ag | Odds   |
| Mousasi Money Line | -240 |
| Vanderford Money Line | +190 |
| Over 4 ½ Rounds | +100 |
| Under 4 ½ Rounds  | -130 |
Our main event of the evening is a five round fight for the Middleweight title. Mousasi is #19 in the world, but in my opinion he is one of the top five Middleweights alive. He faces Austin Vanderford, the undefeated fighter from Gracie Barra Portland. Austin has submitted various Bellator fighters as well as finishing DWCS contender Angelo Trevino in the second round. 
Betting Odds History of Mousasi vs Vanderford
Vanderford is the underdog for the first time in his career, ranging back to DWCS in 2018. He's been the favorite from -110 to -556 over his last five fights. Mousasi's last loss was to the now retired Rafael Lovato Jr., who's win over Mousasi at +380 retired the champion. Mousasi has won his last two fights at -162 and -360. His last loss before Lovato Jr was Uriah Hall in 2015, where Mousasi was a -560 favorite and was definitely winning prior to the sudden spinning back kick knockout.
Despite the two upsets, Mousasi's record is 11-2 over his last thirteen fights. Vanderford's record shows little ability against this level of opponent's and has mostly been carried to the title. 
Austin Vanderford Pro Grappling History
Austin has lost two pro grappling matches in recent years. One to Checco and one to Jake Shields. Shields is tiny compared to Mousasi. Mousasi fought at light-heavyweight while Shields fought at welterweight. 
These losses point to the fact that the right athlete will outwork Vanderford, privy to the majority of his attacks and arm triangle setups. I don't see Mousasi in the bottom position for long, and he will win the stand up exchanges. Any weaknesses in his grappling will show through against the champion. 
? @Mousasi_MMA and @AustinV170MMA battle it out for the Middleweight World Championship.#Bellator275 is LIVE on @SHOSports and @BBCThree at a special time ??

?? 4pm ET / 1pm PT
?? 9pm GMT ?? pic.twitter.com/riuoWZJjNs

— BellatorMMA (@BellatorMMA) February 24, 2022
Vanderford is noticeably smaller than Mousasi, and this will play a role in a grappling centered match up.
Fight Tape for Vanderford vs Mousasi
Vanderford will need to show up as well rounded as possible to take the win over Mousasi. 
Vanderford vs De Jesus
De Jesus catches a combination after Vanderfords first takedown defense. In his second attempt, De Jesus nearly finished a leg lock submission. This opening round was scrambling and flailing. De Jesus fell prey to winging overhand strikes because of fear of the takedown in a way Mousasi will not. 
Vanderford controls the second round with ease, but De Jesus is noticeably small for the weight class. Vanderford wins the bout on conditioning alone, not superior grappling. 
Mousasi vs Salter, Lovato Jr. 
Mousasi's fight with Salter showed some weaknesses in his wrestling, but not in his ground defense. Mousasi uses advanced cage techniques to reverse Salter and land a flurry of punches in the second round. The Salter victory was also a conditioning centered win. 
The Lovato Jr. fight should give Vanderford a path to victory against Mousasi. Lovato takes top position early and ensures the takedowns aren't against the fence. Mousasi survives the first two rounds, makes the third competitive, and wins rounds four and five. Lovato wins a Majority decision, meaning one judge thought the fight was a draw. 
Final Betting Pick for Mousasi vs Vanderford
I think Mousasi will defeat Vanderford but just barely. The young Vanderford will win grappling exchanges, but each of them will be against the cage where Mousasi can win. Mousasi's ground striking and stand up are far superior, and only Mousasi really has the capacity for a winning exchange on the feet. I could see a long decision win or  knockout from Mousasi, betting his -240 money line for a $0.42 return per dollar wagered. 
PLACE YOUR BETS NOW!
Leah McCourt vs Sinead Kavanagh Odds and Betting Pick
| | |
| --- | --- |
| Bet Available at Betonline.ag | Odds   |
| McCourt Money Line | +110 |
| Kavanagh Money Line | -140 |
| Over 2 ½ Rounds | -175 |
| Under 2 ½ Rounds  | +145 |
Kavanaugh fights out of SBG Ireland and has lost three of her last five fights. Her loss to Janay Harding, a 3-3 fighter whom she was supposed to finish with ease, was the most frustrating. This is Sinead's first bout since her November 2021 fight with Cyborg where she was finished with a crushing right hook. It's a bit too early to have a fighter back after a knockout like that, just under over 100 days.
McCourt is an SBG Charlestown fighter on a six fight winning streak. She's only lost once as a pro, and has defeated fighters like the UFC's Manon Fiorot and recently submitted Janay Harding, the fighter who beat Kavanaugh. 
McCourt is the underdog, but I fear it's only due to the hype train surrounding Kavanagh and not her actual difference in skill. 
Betting Odds History for McCourt vs Kavanagh
Kavanagh was a major underdog against Cyborg at +1800, but upset Olga Rubin at +185. She's lost as the favorite to Arlene Blencowe at -110 and Leslie Smith at -200. 
McCourt has been the favorite in all three of her fights with betting odds, ranging from -118 to -700. 
McCourt's first time as an underdog is narrow. So narrow that she opened as a -200 favorite, but dropped fight week. Kavanaugh has faced several tougher opponents, but overall they've fought at the same level. 
I'll let god do it instead pic.twitter.com/jwp85sVM2j

— Leah McCourt (@leahmccourtmma) February 20, 2022
McCourt is lanky, and will have a small reach advantage over the striker. Kavanagh's takedown defense will be tested in every exchange.
Prop Betting for McCourt vs Kavanagh
McCourt will look for early submissions and takedowns. Her conditioning will need to be top notch to keep a high pace on Kavanagh. Her training methodology is impressive, and clearly built by a professional team. 
Sinead has only been stopped twice, and she's never been submitted. She's also never fought this level of submission specialist. 
McCourt doesn't force the finish. Rather, she grinds down opponent's with chipping ground strikes and a high pressure clench. I expect the Over, but Kavanagh has the kind of striking that can put someone out in a flash. Skip the prop bets. 
McCourt vs Kavanaugh Betting Pick
Tentatively, I see McCourt coming out on top. She's the superior grappler, and seems like her heart is in it. Kavanaugh is coming off a crushing defeat, and I don't think she's taken the proper downtime to reassess her game and fix the holes that Cyborg capitalized on. 
McCourt is not the right opponent after a knockout loss. She could still be on shaky legs, and her conditioning has never been what McCourt's always is. Bet Leah McCourt at +110, a double your money return on a rising star. 
PLACE YOUR BETS NOW!
Claran Clarke vs Abou Tounkara Odds and Betting Pick
| | |
| --- | --- |
| Bet Available at Betonline.ag | Odds   |
| Clarke Money Line | -415 |
| Tounkara Money Line | +315 |
| Over 2 ½ Rounds | +100 |
| Under 2 ½ Rounds  | -130 |
Undefeated SBG fighter Ciaran Clarke has two submission finishes on record, with all fights taking place in the Bellator promotion. In his amatuer career, he fought the best up and comers in the 155 pound division, including a loss to Magomed Magomedov, now a UFC contender. 
Abou Tounkara is a French fighter with two TKO losses and no amatuer career. He trains at Atch Academy alongside Gregory Babene and Cheick Kone. 
Prop Betting for Clarke vs Tounkara
Tounkara's two losses have been in the very first round. He's knocked out six opponents before the 2:30 of the second round, while all of Clarke's fights have gone well into the third round or have gone to decision. Depending on who's dictating the pace, we'll see two completely different types of fights. 
If Tounkara can defend the takedown well, expect a short night. If Clarke is pushing him to the fence early, bet the Over. For this reason, we're steering clear of any prop bets. 
Abou Tounkara's Takedown Defense
Abou has been lucky enough to face off with multiple fighters willing to strike with him. I see Clarke shooting early, but unfortunately we don't have live betting on this bout. In his bout with Sertao, it's Abou that goes for the clench and takedown in the first round, and it's the same story against Crol. About's wrestling is better than his record would have you believe. 
Bellator 275 Betting Pick
Abou is better than the oddsmakers give him credit for. He's an athlete, and looks to outweigh Clarke significantly. Clarke still goes for bailout submissions early, and losing position against Abou and his ground bodylock could cost a round. This fight could go either way, and I'm betting the Over 2 ½ Rounds at +100. I expect a decision win and a close fight. 
Khasan Magomedsharipov vs Jose Sanchez Odds and Betting Pick
| | |
| --- | --- |
| Bet Available at Betonline.ag | Odds   |
| Magomedsharipov Money Line | -1200 |
| Sanchez Money Line | +650 |
| Over 1 ½ Rounds | +120 |
| Under 1 ½ Rounds  | -150 |
Sanchez is no pushover at 11-1. He's also one weight class bigger than Khasan, who's moving up from featherweight at 6-0. Khasan is the brother of famous UFC fighter Zabit Mogmedsharipov, one of the most dynamic strikers in history. The dagestani fighter replicates much of his brother's flashy striking and top tier submission work. 
Sanches fights out of Taz Lanzarote in Spain and the majority of his wins are submissions and decisions over local fighters with little international pedigree. 
Betting Pick for Mogomedsharipov vs Sanchez
This fight is the most lopsided on the card. Magomedsharipov is set to be a contender in Bellator or UFC with ease. He's racked up five finishes over six fights, with four of them coming in the first round, all over less than three years of active professional fight time. 
I'm tentative to bet the under, but I'll either be parlaying an easy win with Mogmedsharipov's money line, or taking the Under 1 ½ Rounds for a slightly risky bet on a likely first round submission. 
PLACE YOUR BETS NOW!
Jornel Lugo vs Brian Moore Odds and Betting Pick
| | |
| --- | --- |
| Bet Available at Betonline.ag | Odds   |
| Lugo Money Line | -500 |
| Moore Money Line | +375 |
| Over 2 ½ Rounds | -200 |
| Under 2 ½ Rounds  | +160 |
Moore is another SBG Ireland fighter. His 14-8 record is riddled with decision losses and unfortunate run-ins with fighters like AJ McKee Jr. In Moore's last six fights, he's displayed submission skill in a guillotine win, a knockout and several decision wins and losses. Moores odds range from +900 against Aj McKee to -105 over Winski. In his last six fights he's offered up no upset victories. 
Lugo is a strong favorite, and has never been defeated at 7-0. This isn't his closest odds on record, winning against Keith Lee at -157. Journal is a Combat Club grappler with good striking skills. Combat Club is no SBG, but it is an up and coming Florida school with several undefeated athletes, like now 4-0 pro Brandon Carroll. 
Fight Tape for Lugo vs Moore at Bellator 275
Lugo plays a long southpaw striking system. It's a bit unorthodox, but I can see Moore getting frustrated with the in and out movement. 
Lugo vs Romulos
Romulos takes Lugo down, and struggles to do any damage to the lanky fighter. This win is a split decision, and easily the toughest fight of his career. Lugo starts to use his range in the second round, picking his opponent apart without grappling despite that being his strong suit. Lugo is a fighter willing to fight with a winning strategy, something I like to see when I bet on a fighter who's just getting started. 
Moore vs McKee
McKee has the same reach advantage as Lugo. He's also a submission fighter by nature. Moore is up against a redemption fight in Lugo. McKee won early takedowns and frantic striking exchanges. Moore's takedown defense is good here, but it causes him to lose striking exchanges. 
Betting Pick and Prop bet Analysis
Given that AJ couldn't submit Moore until the end of the third round, it would be a miracle if Lugo could do it early. Lugo also has inferior wrestling to AJ. Moore is a forward moving bantamweight, but the Over looks like the right prop. Our betting pick is Jornel Lugo at -500. It's a safe enough bet that I will consider a Parlay on some of my top favorites through this weekend's MMA events.  
PLACE YOUR BETS NOW!
Brett Johns vs Khurshed Kakhorov  Odds and Betting Pick
| | |
| --- | --- |
| Bet Available at Betonline.ag | Odds   |
| Johns Money Line | -235 |
| Kakhorov Money Line | +195 |
| Over 2 ½ Rounds | -180 |
| Under 2 ½ Rounds  | +150 |
Johns is a promising 17-3 fighter from Shore MMA. He fought in the UFC going 5-2 before being released and attempting a Bellator run. He lost his Bellator debut to Danny Sabatello via decision, and now takes what is supposed to be a step down to face the untested Kakhorov. 
Khurshed Kakhorov is 8-0, taking out three undefeated pros along the way. He's finished six fighters via TKO and the only question is, how's his grappling?
Kakhorov's BJJ Training
Kakhorov trains at Allstars in the Netherlands as well as UFD in Germany.. He's a professional kickboxer, but it's unclear how strong of a grappler he is. Many of his opponents have left his grappling untested, and Johns should have no trouble exploiting a submission weaknesses in Kakhorov's game. 
Prop Betting and Betting Pick for Johns vs Kakhorov
The under is +150 despite both fighters being finishers. There is some chance that we see a decision because of Johns grinding out a grappling match against Kakhorov, but it's doubtful to me. Johns should win the fight with his submission work. Kakhorov is the kind of striker to finish most opponents late, with five of his six finishes coming in the second and third rounds. 
Still, Johns is the highest level fighter Kakhorov has faced. He should make short work of a fighter that hasn't seen this level of talent before. Our betting pick is Brett Johns at -235, a $0.43 payout per dollar wager.
PLACE YOUR BETS NOW! 
Davy Gallon vs Charlie Leary Odds and Betting Pick
| | |
| --- | --- |
| Bet Available at Betonline.ag | Odds   |
| Leary Money Line | +120 |
| Gallon Money Line | -150 |
| Over 2 ½ Rounds | -180 |
| Under 2 ½ Rounds  | +150 |
I'm amazed at how experienced Leary is. His fight record ranges back to 2010, making him one of the original stars of the British circuit. Leary is 4-4 in his last eight bouts, with a 17-11-1 record overall. 
Gallon is the favorite, coming off a win over former UFC fighter Ross Pearson. He is 2-2 over his last four fights, but has finishing power and submission skills. He has a first round heel hook win, and his last four wins are finishes in the first, second, third and fourth rounds. He's a well rounded fighter, but could have a bit of an issue with his chin. 
Fight Tape for Leary vs Gallon
Both fighters are willing to grapple and strike. We should expecta dynamic fight, despite Leary being 39, the oldest fighter on the card. 
Leary vs Scatizzi, Crosbie
Leary's third round KO of Scatizzi came after surviving a grappling onslaught. Leary beat the younger athlete with savvy, not conditioning. 
His win over Crosbie was more of a kickboxing match early, and an aggressive one. Crosbie scores a left hook that drops Leary early in the first round. The doctor stopped the bout due to a cut on Crosbie, but he seemed fine. It's surprising to me how quickly Britain's commissions will stop a fight, keep that in mind for future betting. 
Gallon vs Pearson
Gallon nearly scores a first round heel hook. Clearly, Gallon's leg lock game is an ongoing threat that he's developing. Gallon is losing this fight. Pearson lands short strikes from the top to finish out a boring fight overall. The third round rolling thunder kick was amazing, and came off a leg lock sweep. Leary needs to be ready for everything in this fight. 
Our Bellator 275 betting pick is Davy Gallon at -150. He's not the better striker, but he's more dangerous in a variety of positions, and will likely finish the 39 year old fighter.
PLACE YOUR BETS NOW!
Stephanie Page vs Danni McCormack Odds and Betting Pick
| | |
| --- | --- |
| Bet Available at Betonline.ag | Odds   |
| Page Money Line | +110 |
| McCormack Money Line | -140 |
| Over 2 ½ Rounds | -270 |
| Under 2 ½ Rounds  | +210 |
McCromack is an undefeated strawweight at 5-0. Yet another SBG fighter, she's finished two of her professional opponents, and has another two amatuer knockouts. 
Page is a french kickboxer on a two fight skid. She has one professional finish, and will look to defend the takedown early against McCormack, who tends to grapple in the opening moments of the fight. 
This is both fighters first time with betting odds for any bout that wasn't canceled. 
Over/Under Prop Betting for Page vs McCormack
The over is a strong favorite. The underdog Page is tough to finish, but has been armbarred once in 2013. Such a long fighting career means that she's had plenty of time to develop those defensive skills. 
McCormack is more of a ground striker than submission specialist. I would wager that this is going to be a long, grinding fight, but I'm not confident enough to bet against the McCormack money line. 
Bellator 275 Betting Pick
McCormack looks good, and looks to carry the torch of Irish MMA to the highest levels. 
https://www.youtube.com/watch?v=UY_C5PXYiwQ
Page has a small following and no notable BJJ instruction. It's a long shot that can survive the grappling of McCormack. Our final betting pick is the Danni McCormack money line at -140. The fight looks close on paper because McCormack has losses to good strikers in her amatuer career, but that was five years ago, on the road, in the home court of her opponents.
PLACE YOUR BETS NOW!
Darragh Kelly vs Junior Morgan Odds and Betting Pick
| | |
| --- | --- |
| Bet Available at Betonline.ag | Odds   |
| Morgan Money Line | +275 |
| Kelly Money Line | -350 |
| Over 1 ½ Rounds | -155 |
| Under 1 ½ Rounds  | +125 |
Kelly is down from -525 in his first canceled Bellator showing with Junior in November 2021. Junior is up from +525 to +280. Their Bellator 270 fight was canceled due to injury. 
Morgan is undefeated as a professional, with two finishes and a DQ win over three fighters with losing records. 
Kelly is another SBG fighter He was an undefeated amatuer champion, finishing all nine opponents by a mix of submissions and TKOs. This is Kelly's pro debut. 
Morgan is thirteen years the elder of Kelly, and had three amatuer losses to mid quality fighters. 
Fight Tape for Kelly vs Morgan
Kelly is clearly the better fighter, but can Morgan land a lucky shot, or drag out a split decision?
Kelly vs Gallagher
Kelly doesn't dominate this fight. He gets put in various bad decisions. Kelly wins the amatuer Clan Wars title in this fight. It's a back and forth battle, with Darragh willing to give up position for submission opportunities. Kelly wins the fight with conditioning, taking the second and third rounds with ease. The ground strike finish was brutal work, and a lot of energy to use in the third round. 
Morgan vs Sweeney
Morgan wins the FCC contract with this bout. He lands an early cross that wobbles Sweeney, but invites a huge takedown right after. Morgan plays good BJJ, but loses the round. Morgan is losing the second round against the cage, with Sweeney's pressure slowly wearing on Morgan. Sweeney takes several illegal knees to the groin, creating some space. Sweeney takes a decision win. 
MMA Betting Pick 
Our final betting pick is Darragh Kelly at -350. He could get the early finish but I believe the Over 1 ½ Rounds prop bet is more likely. Kelly will need some time to wear down the conditioning of the older fighter. Junior is crafty, so don't count on the Under. Kelly's experience with fighters his level is a competitive fight where he gives up early rounds to win late ones. 
PLACE YOUR BETS NOW!
Vladimir Tokov vs Daniele Scatizzi Odds and Betting Pick
| | |
| --- | --- |
| Bet Available at Betonline.ag | Odds   |
| Tokov Money Line | -400 |
| Scatizzi Money Line | +300 |
| Over 2 ½ Rounds | -225 |
| Under 2 ½ Rounds  | +185 |
Scatizzi is an SBG Ireland lightweight who's ranked #1 in Italy. It's unclear when he joined SBG,  and he's also ranked at Welterweight in several countries. Scatizzi is 3-3 over his last six, losing twice by decisions and being knocked out by 13-8-1 Charlie Leary. 
Tokov is another fighter from Stary Oskol. He's currently 5-1 with his only loss coming by way of Chris Gonzalez, then 4-0. Tokov has been out for a year and a half. 
Tokov vs Gonzalez
This fight was a split decision with Tokov staying active throughout, winning ground and standing exchanges. Gonzales lost to Goiti Yamauchi two fights later, but still maintains a 7-1 record with three finishes. Tokov was the better fighter in multiple regards, including striking defense and grappling. 
Scatizzi vs Leary, Al Selawe
Scatizzi wins the grappling exchanges, both with technique but also strength. He clearly cuts big weight to make 155 pounds. Scatizzi is a grappling centered fighter in this fight, but Tokov is clearly the superior technical grappler. 
Leary loses the whole fight then crumples Scatizzi with a right hand late in the fight. Scatizzi was still fighting back, and I would consider this an early stoppage. 
Against Al Selawe, Scatizzi towered over his opponent. He needs his size advantage to win grappling exchanges, but this is why he faded late against Leary. He ended up in the bottom position against Selawe in the third round as well. 
MMA Betting Pick Scatizzi vs Tokov
Our betting pick is Daniele Scatizzi at +300. Scatizzi is a good fighter with a good team. SBG will develop him into the right type of fighter to see the top level. Scatizzi is unrefined, but very athletic. Tokov was small when he fought Gonzales. Now, with two years off, ring rust will play a factor. Scatizzi is inconsistent, but that doesn't mean he isn't the better fighter. Tokov has lost his only tough test to date, don't expect him to finish a high quality fighter with ease. 
Gokhan Saricam vs Kirill Sidelnikov Odds and Betting Pick
| | |
| --- | --- |
| Bet Available at Betonline.ag | Odds   |
| Saricam Money Line | -280 |
| Sidelnikov Money Line | +220 |
| Over 1 ½ Rounds | +130 |
| Under 1 ½ Rounds  | -160 |
This is the only heavyweight fight of the evening, with both fighters sporting finishing power. 
Saricam is the favorite as he was against Charlie Milner in his Bellator 270 showing, a drop from his -550 odds. Sidelinikov sees his second time as the underdog in his career after going up against Chris "Beastboy" Barnett at +100 in 2016. He upset Barnett with a split decision. 
Last Five Fights
Sidelnikov has far more ring experience than Saricam with 19 fights. Over his last five, he's been finished twice by undefeated prospects. His last two fights were a decision win over the undefeated Domingos Barros (now 6-1) and a knockout of Rab Truesdale. This puts him at 3-2 over his last five. 
Saricam's only loss is to the gigantic and undefeated Steve Mowry via submission. His other four fights were all finished due to ground strikes in the first and second round, however his opponent quality is mostly questionable outside of Mowry and Milner. 
Allstars Gym, KKS Sparta vs Alexander Nevsky's Stary Oskol
Allstars is a gym in the Netherlands where Saricam has been training. It's a high quality school with several BJJ blackbelts, but they've produced no high level fighters. KKS crosstrains with the great Alistair Overeem as well as other notables. 
Stary Oskol is Fedor's gym, and it's where Kirill gets the name 'Baby Fedor.' 
While I see Stary as the better program overall, I like to see a fighter cross training and would say that Saricam's work at various gyms evens the playing field. 
Bellator 274 Betting Pick
Saricam is on the rise, but Sidelnikov has the experience. This is why I'm betting the Over 1 ½ Rounds prop. We just have to make it to 2:30 of round two to pay out, and Stary Oskol fighters are smart. Sidelnikov will happily take it to the third round just to see if Saricam fades. His preferred method of winning is rushing in, but after an opening exchange, I could see these two going the distance even if they don't want to. Too much power, not enough cardio. Bet the Over at +130, a double your money payout, wagering that Sidelnikov is too crafty to fight the fight Saricam would like.  
PLACE YOUR BETS NOW!
Nathan Kelly vs Scott Pedersen Odds and Betting Pick
| | |
| --- | --- |
| Bet Available at Betonline.ag | Odds   |
| Kelly Money Line | -325 |
| Pedersen Money Line | +250 |
| Over 2 ½ Rounds | +100 |
| Under 2 ½ Rounds  | -130 |
Pedersen was an amatuer champion but is now 1-2 as a professional. He fights out of Shore MMA in Whales where there are dozens of fighters, but none above the Cage Warriors level of competition. 
Nathan Kelly is yet another SBG fighter, and is on a three fight winning streak with three finishes. 
Kelly is supposed to be a side step for Pederson, who's lost to undefeated prospect Matthew Elliott and undefeated pro Nik Bagley of GBTT. However, Kelly is better than his record would tell you. He's a black belt in BJJ under Kyuzo, a school in Britain. He seems to cross train with that school regularly, perhaps even more so than his alleged main camp at SBG. 
Fight Tape for Kelly vs Pedersen
Pedersen has far more amatuer experience, racking up some twenty fights. Kelly has amatuer boxing experience, going silver in IMBAA and plenty of BJJ competition experience. 
Kelly vs Lopez, Politylo 
Kelly smashes Lopez with a nine second KO, landing a cross off the inside leg kick. Beautiful work. The fight with Politylo showed some weaknesses in Kelly's game or perhaps a propensity for a flat night. 
Politylo's pressure put Kelly on the backfoot, both in grappling and striking. Using body locks and counter wrestling, Kelly recovers like a pro. Each round, Politylo lands a knockdown strike and Kelly manages to recover. 
Pedersen vs Lewis, Elliott
Pedersen looks like the smaller man in the fight with Lewis, but a small mistake gives up the back and Pedersen uses superior BJJ to capitalize. He catches a choke after a few minutes. 
Elliots striking and grappling is more aggressive. It leads me to believe that neither man is particularly forward moving, and that the Over 2 ½ Rounds prop could be a good bet, at least better than the Under, despite finishes from both men. 
Bellator 275 Betting Pick
Nathan Kelly is the more conditioned fighter, who will be stronger in submission situations. I don't see Pedersen winning in striking exchanges, and both fighters are a bit too slow paced to do anything but counter fight for the finish. Bet Kelly at -325, a $0.31 return per dollar wagered. 
PLACE YOUR BETS NOW!
Jamie Hay vs Lee Hammond Odds and Betting Pick
| | |
| --- | --- |
| Bet Available at Betonline.ag | Odds   |
| Hay Money Line | +550 |
| Hammond Money Line | -900 |
| Over 1 ½ Rounds | -145 |
| Under 1 ½ Rounds  | +115 |
Hammond is as high as -1000 on some betting sites, though he opened at only -130. Neither fighter has any betting history. 
Hammond comes from an extensive amatuer career where he racked up eleven submission finishes and one knockout. His first win was over the 4-0 professional prospect Ionut Brostic out of Titans Barlad in Romania. Ionut has a 75% finishing rate among wins. 
Jamie Hay appears to be the older of the two at 36, with one report of Hammond being 26 this year. He has two finishes over pro opponent's with losing records, and compiled a 2-1 amatuer career with two finishes. 
Which Team is a Better Bet, SBG Ireland or Rio Grappling Club Manchester, Team Quannum?
Hammond trains out of SBG, original home of Connor McGregor and current home to several fighters on this card as well as the recently defeated Johnny Walker. SBG is world class, but something is happening at that camp that is withholding fighters from reaching the highest levels. Perhaps too much sparring or issues with their striking defensive coaching. 
RBC Manchester is coached by Jamie Hay, so he's running his own fight camp on this one. It's clear he spent more time at Team Quannum, where he is also the BJJ coach, for this bout. Both RBC Manchester and Quannum are still figuring out who they are, and haven't produced any fighters at Bellator level. 
Fight Tape and Bellator 275 Betting Pick
For this MMA betting pick, we did our best to seek out quality fight footage for both Hay and Hammond. Luckily, amatuer fights were redily available online or our expert breakdown. 
Hay vs Walsh, Paterson
Walsh explodes out of the corner and gets Hay's back inside the first minute of the amatuer three minute round. Little bits of ground striking lead to a first round armbar loss for Hay. If Hammond can pressure Hay early, I think he lacks the athleticism to keep that pace. 
Hay's fight with Peterson was his professional debut, where he catches a standing knee and elbow combination that puts Peterson to sleep. 
Hammond vs Brostic
Hammond looks talented, landing several leg kicks and a question mark kick early. His striking is laser sharp, but his chin is up and on the center line. This points to the Under 1 ½ Rounds being a strong bet.
Bellator 275 Betting Pick
Almost all of their finishes have been in the first round. Hammond had amatuer fights at decision, but mostly going the distance with high level wrestlers. Our betting pick is the Under 1 ½ Rounds prop. It pays far more than a Hammond money line, but in truth I think Hay is in this fight with a lucky strike, as SBG's striking defense is notoriously poor at this point. 
PLACE YOUR BETS NOW!
Bellator 275 Betting Pick Wrap Up
That's it for Bellator 275. If you liked this show and you're looking for more, check out our coverage of the seven MMA shows happening through the weekend, including UAE MMA and Fury FC. 
Bellator has had some serious upsets of late, like the Young Jon Jones (-800) falling to the Big Tuna (+700.) All that means is that the talent pool is rising faster than oddsmakers can keep up. Be on the lookout for big upsets and don't be afraid of the under in U.K. based fights.