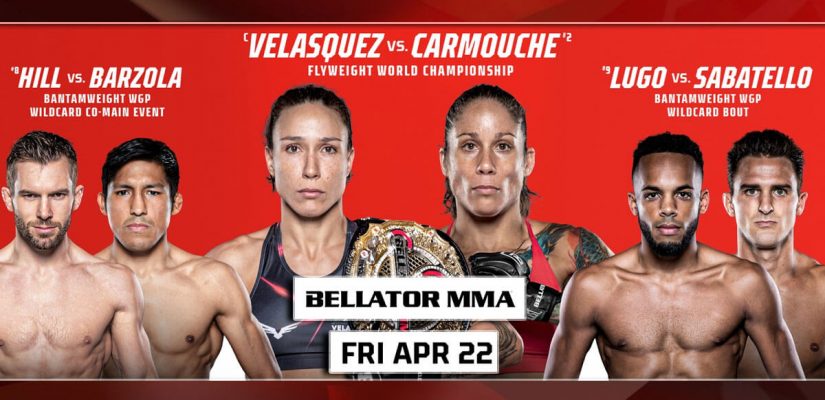 The first of two Bellator events for the weekend is on Friday, April 22nd, 2022. We've assembled the Bellator 278 odds and stats for all ten fights. Under each bout you'll see our top betting predictions. Bellator 278 has no current prop bets, so we'll be focused on selecting the winning money line for each bout.
The Bellator Women's Flyweight Championship belt is on the line, and we'll see the return of top prospects Jornel Lugo and a Christian Edwards.
The former UFC athlete Erik Perez is making his Bellator debut, and the card is stacked with some of the most exciting stand up fighters in the promotion. The 'bet now' buttons take you to Bovada, one of our top ranked MMA betting sites. 
Top Bellator 278 Picks 
Scroll for an expert breakdown of each fight pick, or trust our judgment and bet on the fighters listed here: 
Main Event Pick – Julianna Velasquez:
-250
Co Main Pick – Nikita Mikhailov:
+125
Upset of the Night – Christian Edwards:
+125
Parlay Pick – Tofiq Masyev:
-1600
Bellator 278 Odds and Predictions for Valesquez vs Carmouche 
| | | |
| --- | --- | --- |
| Fighter | Juliana Valesquez  | Liz Carmouche  |
| Money Line  | -250 | +185 |
| Age | 35 | 38 |
| Height | 5'6'' | 5'6'' |
| Record | 12-0 | 16-7 |
| Submissions/TKO   | 1/4 | 2/4 |
| Fighter Training Camp | Team Nogueira  | Team Hurricane Awesome  |
Carmouche is a former UFC fighter that's gone 3-0 in Bellator over the last two years. She's finished two opponent's, including a knockout of the 10-1 (now 10-1-1) phenom Kana Wantabe in the very first round. Carmouche is head and shoulders above most of the Bellator competition and has proved it with relative ease. She hasn't fought since last June, and while age is a factor, she's still one of the best flyweights in the game.
Valasquez has a background in Olympic Judo and her undefeated MMA record includes fighters like the previously undefeated Ilima-Lei Macfarlane and new UFC fighter Na Liang. Recently, Valesquez has struggled, winning her last bout by split decision and four of her last five by close decision. Velasquez is the current champion, and she's defended the belt one time. 
Betting Odds History
Velasquez has been the favorite in all bouts, ranging from -185 to -556. As a -250, she's close to the same odds as her -227 bout with kristina Williams.
She won the fight by knockout in 2019.
Carmouche was a +775 in her last loss to Valentina Shevchenko in UFC, 2019. Her last three fights have had her as the favorite ranging -220 to -580. In the UFC, her losses to Alexis Davis came as the favorite in both bouts at -125 and -184. She was the underdog in her losses to Meisha Tate and Rousy at +170 and +750 respectively.
Liz won upset victories over Chookagian at +145, Jan Finney at +100 and Lauren Murphy at +100 for a total of three career upsets. This would be the biggest upset win of her career, but it's clear who has the higher pedigree of opponents overall. Carmouche was fighting up one or two divisions most of her career and this is one of the longest streaks she's had at her preferred weight division. 
Velasquez vs Carmouche Prediction and MMA Breakdown
Carmouche is a talented striker and grappler who's UFC stats show an average 2.57 takedowns per fight. Against Valesquez, I think she'll be far more focused on striking and avoiding the ground game for the majority of the bout. Velasquez has grown into a sprawl and  brawl striker in her own right, with counter wrestling earning her wins over Na Liang. Velasquez cuts significant weight to make flyweight, and fights larger fighters like Rousey and Tate. Carmouche has produced a game that's more centered on grappling over her last three, and I think that's going to be exhausting against Velasquez. Our betting pick is the champ, Juliana Velasquez at -250.
PLACE YOUR BETS NOW!
Bellator 278 Odds and Predictions for Barzola vs Mikhailov 
| | | |
| --- | --- | --- |
| Fighter | Enrique 'El Fuerte' Barzola  | Nikita Mikhailov  |
| Money Line  | -165 | +125 |
| Age | 32 | 23 |
| Height | 5'7'' | 5'8'' |
| Record | 17-5-2 | 9-1 |
| Submissions/TKO   | 4/5 | 1/2 |
| Fighter Training Camp | American Kickboxing Academy  | Stary Oskol  |
Barzola was a contestant on TUF, and this is his second fight after leaving the UFC. He destroyed Darrion Caldwell by knockout in the third round in January, 2022. His last five at the UFC went 2-2-1, with all ten official UFC appearances ending by decision, though he had exhibition finishes on Ultimate Fighter.
A big problem for Barzola was size, as he fought at featherweight in UFC but was able to negotiate a contract at 135 for Bellator. He scores an average 4.2 takedowns per fight, and generally struggles with wrestlers on his level.
 
Nikita is from the same gym as Fedor Emilianenko. He's on a five fight winning streak which includes a Majority Decision win over Mukhamed Eminov, then 13-0 prospect and now AMC Fights Champion. His one record loss is to a Russian submission fighter named Aleksandr Podlesniy. Bellator 278 betting odds reflect that Enrique's level of competition has been far higher overall. 
Betting Odds History
Barzola was the underdog in four UFC appearances, going 2-2 for upsets over Gutierrez at +175 and Gabriel Benitez at +115. He lost as the favorite to Kevin Aguilar at -125. Nikita only has Bellator fights on his betting history, and has been the favorite in his other two showings at -833 and -300. 
Barzola vs Mikhailov Fight Prediction
Barzol'a grappling is his bread and butter. His style shifts from hands down, karate stance fighting with very active footwork, to hands high pressure fighting. His bout with Yahya was a mix of stand up fighting and creative submission work, but Yahya's striking defense was less than desirable, squinting and closing his eyes mid exchange. Nikita is a lanky and aggressive striker. His takedowns need work, and even at lower levels he's struggled to finish singles and doubles but thrives using trips against the cage.
Nikita's looked great in Bellator, and I think his striking acumen is going to put him over Barzola. Barzola's struggle at 145 was reached, and Mikhailov has a length advantage that will play a big role in Friday's co-Main event. Our Bellator 278 Betting pick is Nikita Mikhailov at +125, a $1.25 return per dollar wagered, nearly 2.5 times your money!
PLACE YOUR BETS NOW!
Bellator 278 Odds and Predictions for Lugo vs Sabatello 
| | | |
| --- | --- | --- |
| Fighter | Jornel 'A1' Lugo  | Danny 'The Italian Gangster' Sabatello  |
| Money Line  | +225 | -310 |
| Age | 26 | 29 |
| Height | 5'9'' | 5'10'' |
| Record | 8-0 | 11-1 |
| Submissions/TKO   | 2/1 | 4/3 |
| Fighter Training Camp | Combat Club  | American Top Team |
Lugo comes in as the undefeated underdog in this lightweight match up. He's been with Bellator since 2019, and has been active since 2016 as an amateur. Sabatello has been fighting since 2018, mainly for Titan FC where he defeated Da'Mon Blackshear. His dominant win over Brett Johns put him on a short list of top Bellator talent. Jornel has fought two undefeated fighters, and more recently Bellator's 14-9 Brian Moore. The competition contrast is stark, and this is Lugo's toughest test to date by a long shot. 
Betting Odds History
Lugo has been the favorite for his entire undefeated career, ranging from -265 to -1200. Sabatello was the underdog against John at +220, and the favorite in all other bouts ranging from -245 to -565. He lost to Irwin Rivera with no betting odds available. 
Bellator 278 Betting Prediction and Fight Breakdown
Lugo fought in late February, putting him only 40 days out from a decision win. He wasn't unscathed in the bout, and I worry for his overall level of recovery. He looked great against Keith Lee, but again, Sabatello is head and shoulders above Lee in terms of BJJ. 
Sabatello showed more patient striking and use of feints in the Blackshear fight. He has a better understanding of distance and shootboxing. From a strictly fight tape perspective, Sabatello is far better. Blackshear was a D1 wrestler and couldn't stay off his back against Sabatello. Our betting pick is the favorite in Sabatello, set to give Lugo his first loss at -310, a $29 per $100 wagered return. 
PLACE YOUR BETS NOW!
Bellator 278 Odds and Predictions for Edwards vs Neal 
| | | |
| --- | --- | --- |
| Fighter | Christian 'Pain' Edwards | Grant 'The Truth' Neal  |
| Money Line  | +125 | -165 |
| Age | 23 | 26 |
| Height | 6'5'' | 5'11'' |
| Record | 5-1 | 6-1 |
| Submissions/TKO   | 1/2 | 3/1 |
| Fighter Training Camp | Jackson-Wink | Genesis Training Academy  |
Both fighters were undefeated coming off upset losses. Edwards was knocked cold by the Big Tuna, Ben Parrish after we called him a sure thing and our top parlay pick. Grant Neal was finished by Alex Polizzi, a fighter who's only loss was to Julius Anglickas at Bellator 251. Both fighters are going to be bringing the heat to get back on the winning path. Jackson-Wink has been performing well this year, breaking Jon Dodoson's losing streak and winning six of their last seven showings at big shows. Genesis training center is home to UFC athletes like Chris Camozzi and Nate Marquardt, though I believe Edwards has an advantage in training environment. 
Betting Odds History
Edwards was a -900 in his loss to Ben Parrish. He was a -200 and -400 in two Bellator showings previously. Neal was the favorite in a loss against Polizzi at -160, and has ranged from -286 to -909 over his last four. The Bellator betting odds favore Neal because of his last performance, but I think Big Tuna gets a lack of respect, dropping Edwards betting odds significantly. 
Bellator 278 Prediction for Edwards vs Neal
The first thing to consider is the size difference. Neal is a stocky 205 pound fighter and his last weigh in was at 204.1 pounds, indicating he may have an easier time cutting but give up a bit of size to Edwards. Edwards has been a wrecking ball, but his aggressive style of kickboxing left him open to a big cross-hook combination for a first round win. It wasn't a fluke, Big Tuna is dangerous and should be respected. It's important to see that Tuna is allegedly six foot, but showed up taller and lankier than Edwards. Neal is the smaller fighter, and his grappling style doesn't play well against Edwards, who's an accomplished submission fighter. I see Neal looking to exhaust Edwards, and running into a litany of strikes and near submission attempts. Our bet is on Edwards, the larger fighter with a better style match up to take home the win. For Bellator 278 betting, pick Edwards at +125 for a $125 payout per $100 wagered. 
PLACE YOUR BETS NOW!
Bellator 278 Odds and Predictions for Muro vs Andrews 
| | | |
| --- | --- | --- |
| Fighter | Manny 'The Dragon' Muro | Nate 'The Snake' Andrews  |
| Money Line  | +255 | -360 |
| Age | 35 | 38 |
| Height | 5'10'' | 5'11'' |
| Record | 12-7 | 16-4 |
| Submissions/TKO   | 2/1 | 10/4 |
| Fighter Training Camp | American Elite MMA  | New England Combat, Tri-Force MMA  |
This is a rematch. This fight first took place in 2016, where Andrews won via submission in the third round. Over their last five, Muro has done slightly better. His 3-2 record includes two wins in Bellator, most notably a split decision win over Nick Newell. Andrews has struggled, losing twice to Chris Wade and once to Saad Awad. He defeated Bryce Logan by choke in the second, and won a decision over the machine that is Rashid Magomedov in 2019's PFL season. 
Despite his recent stumble against top opponents, Andrews is a shoe in for victory. He has nearly five times as many fight finishes, has defeated tougher fighters overall, and has made more improvement to his game in the six years since he first faced Muro. Pick Andrews at -360, a $28 per $100 wager payout. 
PLACE YOUR BETS NOW!
Bellator 278 Odds and Predictions for Zane vs Musayev
| | | |
| --- | --- | --- |
| Fighter | Zach 'God's Warrior' Zane | Tofiq Masyev  |
| Money Line  | +750 | -1600 |
| Age | 32 | 32 |
| Height | 5'10'' | 5'10'' |
| Record | 15-11 | 18-4 |
| Submissions/TKO   | 11/4 | 1/10 |
| Fighter Training Camp | Black House MMA  | Orion Fight Club  |
According to the odds, this is the most one sided bout on the card. Tofiq has only lost one fight inside his last ten, losing three times early on in his career in 2014 as a young 24 year old pro. His recent win over Patricky Pitbull at RIZIN in 2019 is one of the biggest on his record. He's coming off a loss when he returns to the cage in June 2021. 
RIZIN Lightweight GP champion Tofiq Musayev makes his Bellator debut on April 22.pic.twitter.com/kOGRRyPY59

— Cerebral Vigilante (@Delisketo) April 19, 2022
Zach Zane is a submission specialist that has lost his last two fights, and has been finished in his last four losses (including a bare knuckle MMA bout.) His last two wins haven't been over notable athletes and his chances of submitting Tofiq seem slim. Tofiq's only submission loss is to a top tier grappler who's beaten some of the best BJJ players in pro jiu jitsu. Tofiq was the Rizin lightweight champion for a reason, and his striking power is unmatched by the majority of fighters. Bet Tofiq Masyev at -1600 in a parlay for a better payout!
PLACE YOUR BETS NOW! 
Bellator 278 Odds and Predictions for Perez vs Hamilton 
| | | |
| --- | --- | --- |
| Fighter | Erik 'Goyito' Perez | Cee Jay Hamilton 'The Autobot'  |
| Money Line  | -325 | +235 |
| Age | 32 | 35 |
| Height | 5'8'' | 5'6'' |
| Record | 20-8 | 15-9 |
| Submissions/TKO   | 3/3 | 3/3 |
| Fighter Training Camp | Alliance MMA  | Contemporary MMA  |
This is Erik's fourth Bellator showing after going 1-2 for the organization. He also went 2-0 for Combate after leaving the UFC in 2016 on a three fight winning streak. The level of competition these two have faced is very different, with Perez facing off against many of the top Bantamweights at the UFC level, and Cee Jay fumbling against mid level fighters like Jimmy Flick. His last two losses have been to Bellator's best bantamweights, Magomed Magomedov and Matheus Mattos. However turning things around after a year off and two losses at 35 years old isn't easy. I see Perez as a stronger favorite in this bout. Autobot has also lost to Jordan Espinosa, a current team mate of Perez who no doubt helped to develop the game plan for this fight. 
PLACE YOUR BETS NOW!
Bellator 278 Odds and Predictions for Almeida vs Franco 
| | | |
| --- | --- | --- |
| Fighter | Weber 'The Silverback' Almeida  | Fabricio Franco  |
| Money Line  | -385 | +270 |
| Age | 34 | 27 |
| Height | 5'7'' | 5'9'' |
| Record | 5-1 | 8-4. 1NC |
| Submissions/TKO   | 0/4 | 0/4 |
| Fighter Training Camp | XGym  | MMA MASTERS  |
This battle between strikers seems to have a clear winner. Almeida has only ever lost by decision, coming up short in his last fight. However, Franco only has one loss over his last eight fights. His seven fight winning streak included mostly unheard of fighters, but he defeated 9-3 Filipe Masoni in a big upset in 2019. His last loss by decision was due to some quality grappling. Both fighters have a wild style and a focus on stand up techniques, with big kicks and haymaker attacks. I don't think Weber has as big of an advantage as the oddsmakers think. I see a fight that could end from either fighter. For that, I'm picking Fabricio Franco at +270, but my advice is to bet lightly on this upset. 
PLACE YOUR BETS NOW!
Bellator 278 Odds and Predictions for Cooper vs Perry 
| | | |
| --- | --- | --- |
| Fighter | Makoa 'Koa' Cooper | Blake Perry  |
| Money Line  | -900 | +500 |
| Age | 21 | 27 |
| Height | 5'9 | 6'3'' |
| Record | 1-0 | Debut (5-3 amatuer)  |
| Submissions/TKO   | 0/1 | (4/0 amatuer)  |
| Fighter Training Camp | Lion of Judah | United MMA Hawaii, Various |
Cooper is a big favorite, with a 2-0 amatuer record finishing all fights to date by TKO. Perry is on a five fight winning streak. He went 1-3 for his first four fights, but comes in the much larger man in both height and reach. Makoa looks good in the cage and clearly has power in his hands, but this fight may be the first test of his grappling. Perry is a quality submission fighter, who's going to look to hang on Cooper in the takedown early. But after a look at Perry's fights, I'm less convinced he has the chin to survive Cooper's onslaught. We pick Makoa Cooper at -900. 
PLACE YOUR BETS NOW!
Bellator 278 Odds and Predictions for Schiro vs Hao 
| | | |
| --- | --- | --- |
| Fighter | Dante Schiro  | Scotty Hao  |
| Money Line  | -650 | +390 |
| Age | 28 | NA |
| Height | 6'1'' | 5'11'' |
| Record | 8-3 | 5-3 |
| Fighter Training Camp | Chosen Few  | Average Joe's MMA |
Hao has lost to multiple Bellator athletes, most recently to Keoni Diggs, 7-0 Bellator prospect. Schiro went to a split decision with Logan Storley in his last fight, a fight I had him winning on the scorecard. He's finished in all wins, knocking out opponents or submitting them in the first round. Hao has a dangerous submission game but is coming up short in the striking category. Schiro will win the fight standing and possibly find a stalemate in grappling positions. Bet Dante Schiro at -650 for $15 per $100 wagered. This is a good choice for a parlay as well. 
PLACE YOUR BETS NOW!