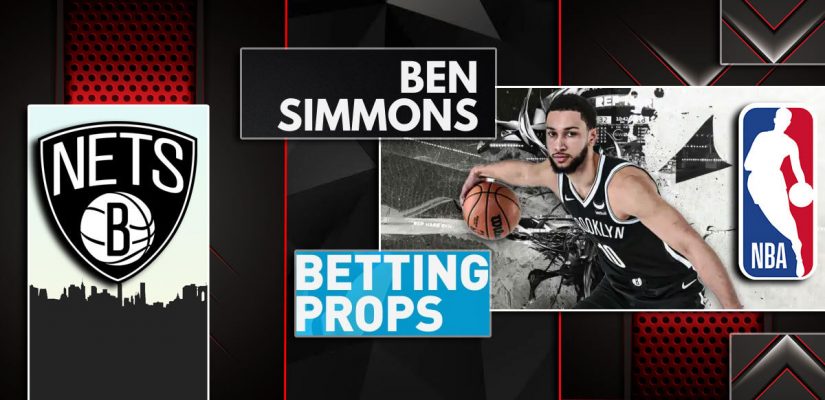 The return of Ben Simmons to NBA play could be happening sooner rather than later in what would be his first action for his new team in Brooklyn. After sitting out the 2021-22 NBA season so far, many fans are speculating as to what kind of player they'll see when he returns.
You can speculate for real money at top gambling sites by making prop bets tied to his comeback. There are few players in the NBA who are quite as intriguing as Simmons, the Australia native and former #1 pick in the NBA Draft.
On the one hand, he possesses mesmerizing talent as a ball-handler and distributor for his size (he's listed at 6'11") and as a shutdown defender. But on the other hand, Simmons has struggled so much with his shot that he literally seemed afraid to shoot when he last suited up.
Ben Simmons says the Nets are going to be scary ? pic.twitter.com/YzKBv7DhMO

— SportsCenter (@SportsCenter) February 15, 2022
Those playoff games in Philly seemed to do irreparable damage to his relationship with the team, and he showed no inclination that he wanted to return and play for the Sixers. There were also concerns about mental health issues affecting him in the wake of the end of last season. It all added up to a mystery that no one was really able to solve.
A trade to the Brooklyn Nets might just unravel that mystery.
There are now reports that Simmons might be ready to suit up in weeks to help fuel the Nets playoff run. And you can wager on those attempts thanks to a series of Simmons-centric prop bets being included at BetOnline, one of the
finest basketball gambling sites
.
We're going to take a look at those wagers and try to give you a good idea of where the best values are and what we think your picks should be. To do that, we'll also try to put into perspective where exactly Simmons fits in with his new team. It should be a fascinating experiment, and, if you play your bets right, it could be a lucrative one for you.
How Ben Simmons Fits In With The Nets
First of all, there is no guarantee that Simmons will be ready to play anytime soon. The most recent reporting has him coming back in "weeks," but that is by no means a sure thing. If we take that report at face value, however, we can start to envision what Simmons will look like on his new squad.
The other difficult part of that is that no team in the league has been more difficult to pin down in terms of their lineup from night to night than the Nets. They had originally imagined the Big 3 of James Harden, Kevin Durant, and Kyrie Irving carrying them to the promised land. But injuries and Irving's vaccine reluctance prevented that from every really happening.
At the moment, Durant is sidelined, possibly for a few more weeks or more, with an ankle injury suffered in the midst of what was a brilliant season for the veteran. And Irving is still only allowed to play in road games because he hasn't been vaccinated for COVID. But assuming the Nets ever get back to full strength and Simmons is there to play, the lineup should look something like this:
LaMarcus Aldridge, Patty Mills, Cam Thomas, Goran Dragic
All of that is dependent on health, of course (Harris is also out with injuries.) That lineup might not really come to fruition until the playoffs, but that's all that really matters to Coach Steve Nash anyway (although better seeding would help, as the Nets recent slump without Harden and Durant has dropped them to 8th in the East, which would put them in the dreaded play-in round.) If it does come together, they're going to be a tough out, especially if Simmons does what he can.
However, since the bets we're going to profile all have to do with Simmons regular season performance, we have to speculate that several of those guys will be missing time. And that could put Ben into a big-time usage role right off the bat when he returns. He could actually have the ball in his hands a ton, especially in those games where Durant and Irving aren't available.
In other words, the stage is set for Simmons to really thrive in terms of his statistics, with great shooters all around to help with his assists and a definite need on this tam for rebounding help. Will it also mean he takes on more of a shooting load? Let's explore all of that through the lens of these Ben Simmons prop bets.
Top Prop Bets on Ben Simmons NBA Return
Ben Simmons 3 Pointers Made in Regular Season
The bugaboo of Simmons career has been his inability (or refusal, if you want to look at it that way) to launch from 3-point range. In four years of his career, Simmons has made a grand total of 5 shots from downtown in 34 attempts. He went Oh-fer in his first two seasons, hit a pair two years ago and then revved it up for a grand total of 3 three-pointers in the 2020-21 regular season.
We know that Simmons has been working out on his own to prepare for this season far away from the prying eyes of the media. And we can also guess that he might be extremely motivated to prove some doubters wrong after how he's been bashed in the media and even by his former 76er teammates. If ever there was going to be a year when he came out and showed people he could finally get over this hump, it would be this one.
But remember there are only 23 games left in the regular season. Even with an optimistic return of, say, two weeks from now, you'd still be looking at only 17 games to get the three 3-pointers needed to make the over, which would be way ahead of any previous pace he's kept in the past. To go with the over, you have to make the leap of faith that Simmons is going to be an essentially different player who willingly drifts out to the arc and takes open 3s.
We think that the value of the over is awful tempting. There is more confidence in the rate stats bets because they won't be affected by how many games Simmons plays. But we just think the return-on-investment on the over here makes it the wiser value choice.
Ben Simmons Free Throw % in Playoffs
Over 56 FT Percentage:
-120
Under 56 FT Percentage:
-120
Ben Simmons Free Throw % in Playoffs
Over 61 FT Percentage:
-105
Under 61 FT Percentage:
-135
We thought we'd lump these two together because they're both tied into Simmons' ability (or lack thereof) to shoot from the charity stripe. It's an area that he's never been able to quite figure out, although it wasn't until the 2021 postseason when things really crashed and burned. Up to that point, Simmons had been a career 59.7% shooter from the stripe, although he had muscled his rate over 60 percent in each of his last two regular seasons.
Then came those playoffs, when he hit just 25 of 73 free throws in series against Washington and Atlanta for a disastrous percentage of 34.2. His misses in key games against the Hawks certainly hurt the Sixers in a playoff series that went seven games. Many speculated that his reluctance to shoot from even point blank in Game 7 was based on his worries about having to shoot key free throws.
Again, we have no idea how Simmons is progressing. That goes for both the mechanics of shooting the ball (although, truth be told, his form has always looked decent) and the mental side of knocking down free throws. That makes these two bets perhaps the riskiest of all in terms of trying to project.
We think that the under for both is probably the wise move. In terms of the regular season, we're worried that simple rust from being away so long will only exacerbate his free throw difficulties. And expecting him to bump his playoff percentage up over 20 points is too steep to climb.
Ben Simmons Points Per Game in Regular Season
Simmons' unselfishness has always been one of his finest characteristics and perhaps his greatest weakness all at once. On the one hand, it's refreshing to see a superstar who is all about finding shots for his teammates. Yet he also hurts his team when he's passing up shots that, based on his ability, he shouldn't hesitate to bury.
We're not expecting Simmons to be a willing jump shooter right off the bat in Brooklyn, if ever. And there could be a time when he first comes back when he defers to those around him as a player on a new team. But for the remainder of the regular season, on a team whose two go-to scorers should both be out for at least half the remaining games, Ben might be called on as a scorer much more often.
Look for him to be a post-up option on smaller defenders and a driving option if teams try to guard him with a big. And with the Nets pushing the pace, Simmons should get his share of fast break finishes, an area where he has always excelled. We can see him scoring more than the 14.3 he averaged his final season in Philly, where he deferred to Joel Embiid and Tobias Harris.
We think that Simmons is going to be needed as more of an offensive threat. If he has added a more confident jumper, he'll hit that number above with no sweat. But even if he hasn't, he should have enough opportunities to score easy hoops that will get him to the over.
Ben Simmons Rebounds Per Game in Regular Season
The way that the Nets are structured, the opportunity should be there for Simmons to be active on the boards. And that's always an area where he's thrived, as he's been a willing and effective rebounder since Day One. Simmons' career average is 8.1 rebounds per contest, although he did bottom out at 7.2, a career-low, last regular season.
In Philly, his main competitor for rebounds was Embiid, who generally stayed parked close to the basket on defense against opposing screen-and-rolls. But the Nets play much more of a switching defense with young, spry big men like Nic Claxton and Day'Ron Sharpe. Only when LaMarcus Aldridge is in the game might they have a defender who doesn't stray far from the lane.
That means that Simmons should be in a great spot for rebounding numbers right from the start. And that might be his best way to get comfortable with the game again is to concentrate on the boards. All that takes is effort, and that's never been something that Ben has been shy about expending.
If we were talking about confidence levels, ours would definitely be highest here. Once Simmons returns, he should definitely hit the ground running in terms of his rebounding. And he should make the over with room to spare.
Ben Simmons Assists Per Game in Regular Season
For all the think pieces and sports talk commentary about his game, there has never been any doubt about his ability as a passer. When he came into the league, the Magic Johnson comparisons were everywhere. Simmons hasn't lived up to those in terms of his ability to be a playoff leader, but he certainly has been an A-plus passer.
The only thing that might possibly derail Simmons in terms of hitting the standard set by this bet is his minutes. It's conceivable that Brooklyn will work him back in slowly for a game or two. But considering their precarious playoff position and the need to get themselves out of the play-in mess, they can't afford to be too conservative.
Simmons' lowest career assist total was the 6.9 he posted last year with Philly, a number which still would have given him the order. Even before the Nets get back to full strength, he'll have shooters like Mills, Thomas and Aldridge all lined up waiting for his passes. And if he pumps up the Nets' pace as he is expected to do, that means even more assist opportunities.
There is a reason that the odds are pretty heavily swayed towards the over here. You won't get a ton of value out of this one. But the over is definitely the right pick considering what Simmons brings to the table.
Conclusion
For the most part, we're pretty bullish about what Ben Simmons can do in his new basketball home in Brooklyn. This is a team that needs him to be a centerpiece pretty much from the moment he steps on the floor.
It would be different if Irving and Durant were going to be on the floor with him at all times, but that's not the case. We're a little more concerned about him getting to the over with any wagers at top sports gambling sites that are tied to his shooting.
And no one knows exactly if he'll have any lasting effects from his fallout with the 76ers. But one thing that's for sure is that he'll have the attention of bettors everywhere as he makes his way back.