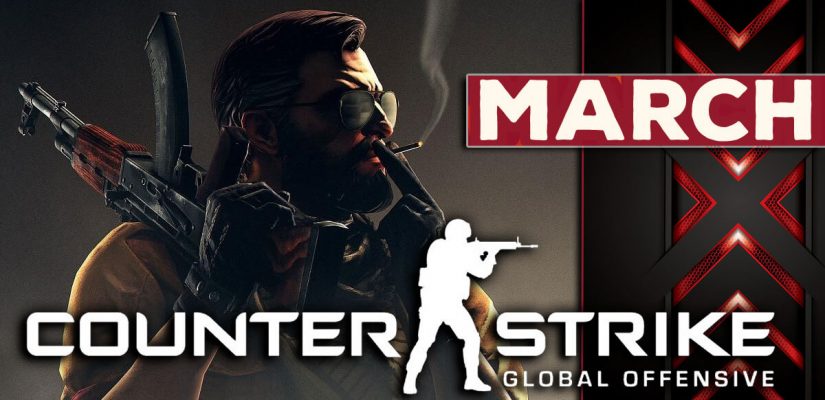 There's plenty of stuff to bet on over the next couple of weeks. Even though we're just coming off a massive event in Poland, the CSGO scene is ready for another splendid occasion. True, there's still a bit of waiting left, but it will come soon enough. Lots of smaller events are either ongoing or will start relatively soon too, so you have nothing to worry about in terms of CSGO betting in March 2022!
Relive the #IEM Katowice 2022 Final! ?

Check out the recap of the full recap here! ⤵️https://t.co/7whZ5h8tud

— ESL Counter-Strike (@ESLCS) March 1, 2022
CSGO Betting in March | What to Expect
Which events are we talking about, you may ask… Well, ESL Pro League Season 15 is definitely the first one that comes to mind. But, as mentioned earlier, there are numerous other events worth mentioning. They're much smaller than ESL Pro League, but still worth checking out and potentially even betting on.
ESL Pro League Season 15
First things first – let's talk about the biggest CSGO event in March 2022 – the fifteenth season of ESL Pro League!
Format
The event starts off on March 9th with the group stage. The group stage will feature four groups with six teams in each.
All matches will be bo3 and all teams will play each of their group opponents once. Group winners will advance straight to the quarterfinals while second and third-placed teams will go through too… but from the ro12. As for the playoffs, we're looking at a single-elimination bracket with bo3s as the starting point. The grand finals, however, will be played as a best-of-five to further spice things up for the last remaining contestants.
Remember, there's $823,000 on the line here, so you can rest assured these teams will give their best in Cologne!
Primary Title Contenders
Who are the primary title contenders? Are NaVI in the equation now that they've gone through another mediocre event? Are Faze Clan now the main favorites following their outstanding title run in Poland?
No matter what other people might say, Natus VIncere are still the most dangerous team out there.
They're followed closely by G2 and Gambit, two of their biggest challengers and the likeliest teams that will keep on giving NaVI a run for their money all year long.
Pinnacle Cup III
Pinnacle Cup III, not to be mistaken with Pinnacle Winter Series #3, starts on March 14th and brings forth 32 teams ready to battle it out against each other for a total $100,000 in prize pool money. The thing with these Pinnacle Cups is the good old winner takes all rule. Well, not just the winner but the runner-up too.
You see, typically, esports tournaments distribute the prize pool in a way so that all teams get a share. Here, only the top two teams will get something from the event. There's $100,000 in the total prize pool, $80,000 of which goes to the winning team, and the remaining $20,000 goes to the runner-up.
What about the participating teams? Well, AGO and MAD Lions stand as the primary contenders, though the likes of Sharks Esports and Young Ninjas are not to be taken for granted either. If you're a fan of tier B CSGO and you've been following some of these teams for a while, then Pinnacle CUP III is the ideal event for your March CSGO betting adventures.
Pinnacle Winter Series #3
The third Pinnacle Winter Series has started just two days ago. More precisely, it has started on February 28th and will run through March 16th. This contest will feature 28 teams across Europe and CIS, all battling for the biggest share of the $84,000 in prize money. The winning team will get just short of 50%; $40,000 to be more precise.
But, in addition to the money:
The winning team will also get a direct spot on the next LAN Sweet LAN in Belgrade. It's a much bigger event with more serious teams and a significantly bigger prize pool ($250,000).
As for Pinnacle Winter Series #3, the regional Swiss Stage is all wrapped up with the Main Swiss Stage just about to start. The playoffs will follow right up, with a single-elimination bracket packed with bo3 matches from start all the way to the finish. That's right, Pinnacle Winter Series #3 is a great way to eliminate your cravings for CSGO betting in March 2022.
HCG Masters Season 1
Here's a smaller event that you've probably never heard about before. HCG Masters is the name and it is organized by Hardcore Gaming. It started way back in early February and is set to last through March 10th. There are still lots of matches to go, so make yourself comfortable, check out some of the previous results and test your luck with this one.
The interesting thing about this event is the fact that it has a splendid prize pool despite the fact it's a fairly small event. 180,000€ is the number here, 60,000€ of which are dedicated to the winning team. That's roughly $200,000 in total and around $66,000 for the winners.
The playoffs are just about to start but we still don't know a third of the playoffs teams. We're talking about direct invitees here and they are likely to be announced within the next 48 hours.
Elisa Invitational Winter
Last but not least, Elisa Invitational Winter. Another Elisa Esports' event that's going to be featuring 29 (yep, I know, a weird number) teams in a fight for $100,000 in prize money. The winning team will take half of it, $50,000, which isn't a small pool considering this is a lesser-known online event featuring tier B teams.
There are several notable contestants, though.
ENCE and Entropiq are the heavy favorites, but the likes of Dignitas and Sprout will be fancying their chances too. The playoffs have started late last month, with just eight teams left in the competition. If you're looking for some CSGO betting fun outside of the top ten, then Elisa Invitational Winter ought to be right up your alley!
All things considered, there certainly won't be a lack of proper CSGO events this month. If you're up for some good old CSGO betting in March 2022, you'll be happy to know there are lots of competitions to bet on. As mentioned earlier, ESL Pro League Season 15 is definitely the biggest one.
As such, it will certainly have the deepest coverage.
But, a handful of smaller events will be present too, so the variety won't be lacking!