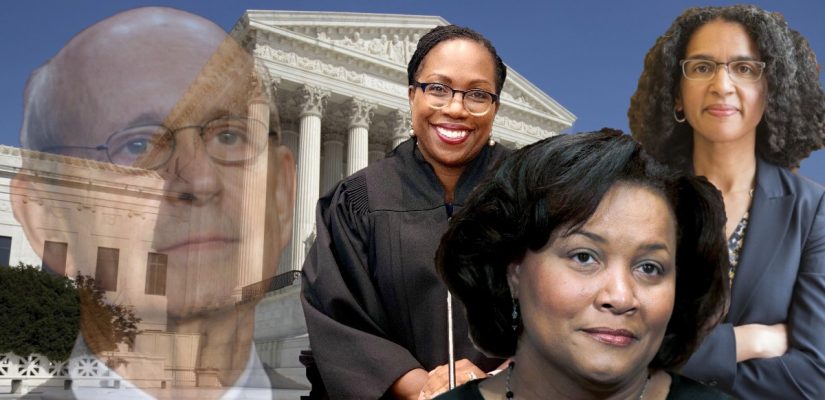 In late January, Justice Stephen Breyer announced plans to retire from the Supreme Court at the end of the current term. The 83-year-old is one of only three liberal justices remaining after Donald Trump was given three vacancies to fill. Joe Biden has promised to name his nominee before the end of February.
Political betting sites are now offering action on the next Justice nominated to the Supreme Court. The wager is decided when Biden's pick is confirmed via a majority vote in the Senate.
We'll take a look at the White House's top candidates, the political games attached to this process, and other factors that will decide Justice Breyer's successor.
| | | | |
| --- | --- | --- | --- |
| SCOTUS Justice | Odds | SCOTUS Justice | Odds |
| Ketanji Brown Jackson | -160 | Eunice Lee | +10000 |
| J Michelle Childs | +150 | Tiffany Cunningham | +10000 |
| Leondra Kruger | +700 | Michelle Obama | +15000 |
| Wilhelmina Wright | +4500 | Stacey Abrams | +25000 |
| Candace Jackson-Akiwumi | +4500 | Oprah Winfrey | +50000 |
| Kamala Harris | +6600 | Meghan Markle | +50000 |
| Sherrilyn Ifill | +6600 | Maxine Waters | +50000 |
Timing is Everything
Breyer's days were numbered once Joe Biden won the White House, and Democrats secured Congressional majorities. The Democratic Party cannot afford another Ruth Bader Ginsberg situation.
Not with forecasts showing a massive "red tsunami" on the horizon for the 2022 midterms and 2024 general elections. The GOP is expected to own two comfortable majorities in Congress, meaning they'll have the numbers to block Biden's appointments.
The retirement announcement came at the last possible moment, giving the Democrats just enough time to complete the nomination process – with a bit of wiggle room for unexpected setbacks.
Political Battles / Negotiations
President Biden also needed Breyer's Supreme Court seat in order to deliver on a campaign promise.
So far, the administration has failed to fulfill a single progressive agenda item and has abandoned most of them publicly. Meanwhile, COVID restrictions, inflation, and supply chain logjams are proving to be major negatives for Democrats in the polls.
The White House doesn't have many tools left in the drawer. Filling Breyer's seat is a way to give Biden a "win;" a promise delivered that the party can treat as an accomplishment. Much will be made of the President's vow to select the first African American woman to sit on the Supreme Court.
Republicans will attack the quota as racist and sexist and complain about "affirmative action." GOP Senators will hammer talking points about how candidates should be chosen based on values and achievements, not identity.
Democrats will reply that plenty of African American women are beyond qualified for the position, and assuming Biden's parameters will somehow result in a lesser pool of candidates is racist. They will also point out that it wasn't considered unconstitutional when Ronald Reagan committed to confirming the first woman to the Supreme Court.
It's important to remember that neither side cares about these arguments.
Republicans know that the Democrats have the votes they need to confirm a Justice. Objections over Biden's candidates are merely opportunities to sound off on cultural issues and campaign for the midterms.
Democrats must convince the small progressive caucus of the party to support the pick without delaying the process. They'll want a nominee with leftist leanings on economic issues, free speech, challenging big business, and climate change.
Meanwhile, Republicans will plaster the airwaves with threats of "far left communism" taking over the judicial branch.
Any candidate who will satisfy progressives won't have the support of conservative Sens. Manchin and Sinema.
Party leaders will pick a candidate who satisfies corporatist Democrats and conservatives and whip the progressives in line as always.
Potential dissenters will be harshly punished for disrupting this brief opportunity to secure the seat long-term.
Any challenges made along ideological class-based lines will be shot down as selfish attempts to put politics ahead of a crucial moment in civil rights history – the first African American woman nominated to the Supreme Court.
If the leftists are willing to use their leverage and disrupt the nomination process, we'll see establishment Republicans offering to cross party lines.
GOP leadership has already signaled a willingness to compromise on some social issues, as long as the Justice is a pro-capital, pro-big business statist.
Conservative's 6-3 advantage means they can afford to lose a vote on polarizing social issues like abortion and trans rights.
Sen. Ben Ray's Stroke
We must also consider the effect that Democratic Senator Ben Ray's stroke may have on the nomination process.
The Senate is split evenly between parties at 50-50. President Biden can't delay the confirmation past the midterms, but if Ray isn't medically able to attend the vote, Democrats no longer have a majority.
This gives Republicans more leverage to negotiate for more input on the nominee. If Democrats don't fold, GOP Senators will block all Biden appointees and keep the seat vacant for the 2024 general election.
Republicans will give Biden his nomination, but Ray's absence further guarantees the Justice will have a proven track record of supporting corporate and financial interests. A few conservatives will push back on constitutional issues, gun rights, and free speech vs. Big Tech censorship, but not enough to stop the moderate Republicans from making a deal.
Where'd They Clerk?
Retiring Supreme Court Justices are often given input in choosing their successors. They tend to favor former members of their staff – who share legal ideologies and will continue the exiting Justice's legacy from their seat. When researching prospective nominees, pay close attention to where they clerked after law school.
Recently, we've seen party leaders reward Justices who play ball and step down at politically convenient times. After Justice Kennedy agreed to retire in 2018, the Trump administration filled two subsequent vacancies with former Kennedy clerks: Brett Kavanaugh and Neil Gorsuch. His influence lives on.
It's no coincidence that the name at the top of the betting odds once clerked for Breyer and maintained close relations with the Justice: Ketanji Brown Jackson – United States Circuit Judge for the US Court of Appeals for the DC Circuit.
J Michelle Childs +150
Interesting Betting Opportunities
The Biden administration has yet to release preferred candidates' names, but the vetting process is underway, and influential figures within the Democratic Party are giving public endorsements. The oddsmakers at BetOnline posted lines for prospective nominees identified as top choices by sources close to the process.
You can find serious value on the board focusing on what are assumed to be the Biden administration's second, third, or fourth options. The winning pick will offer a nice payout if the Democrats pass on Ketanji Brown Jackson.
Leondra Kruger +700
Leondra Kruger stands out as a brilliant bet. At +700, you can pick a 45-year-old (must be young to ensure a long tenure) Justice of the Supreme Court of California with ties to the Obama Administration. Kruger has degrees from Harvard and Yale and clerked for US Supreme Court Justice John Paul Stevens.
+700 is an absurd value for a judge who meets every criterion. It's also worth noting that Stephen Breyer's seat has traditionally belonged to a Jewish justice. Before Breyer, it was held by Benjamin Cardozo, Felix Frankfurter, Arthur Goldberg, and Abe Fortas. Joe Biden put this tradition in jeopardy by promising to nominate an African American woman.
Leondra Kruger is the one candidate who is both a woman of color and Jewish. Kruger is the perfect fit if the Biden administration wants to respect the seat's legacy and fulfill their campaign promise simultaneously.
J Michelle Childs +150
Kruger offers the most betting value, but J Michelle Childs, a district judge of the United States District Court for the District of South Carolina, is my favorite pick to be nominated.
At +150, the oddsmakers see Childs as Ketanji Brown Jackson's main competition for the appointment.
J Michelle Childs has two things working in her favor:
Rep. Jim Clyburn's endorsement.
Support from at least two Republicans: Tim Scott and Lindsey Graham.
Rep. Clyburn has proven himself one of the Democratic Party's most powerful voices in recent years.
The House majority whip representing South Carolina single-handedly saved Joe Biden's presidential candidacy during the 2020 primaries.
After abysmal showings in the first three states, the former Vice President appeared dead in the water.
Clyburn's endorsement delivered South Carolina and created the perception that Biden was the choice of Black voters.
The rest of the field dropped out of the race to get behind Biden (and prevent Bernie Sanders from winning), and the rest is history.
The Joe Biden presidency doesn't happen without Jim Clyburn. So, his public endorsement of J Michelle Childs may carry extra weight with the administration.
Clyburn is also one of the most corporate-friendly economically conservative Democrats in the House. It's no mistake that his endorsee was a management-side labor lawyer. She'll defend the status quo on behalf of business interests at the expense of workers and unions.
The same qualities that earned Rep. Jim Clyburn's endorsement are responsible for Childs's support amongst Republican Senators. Those extra GOP votes could be the difference-maker in the selection process.
Suppose Bernie Sanders and his allies take advantage of the Democrats' non-existent majority and threaten to withhold their votes. We may see establishment liberals use Childs to call their bluff in that case.
Rather than make concessions to what Clyburn calls the "radical left-wing," the Biden administration will reach across the aisle. With GOP leaders like Sen. Lindsey Graham in her corner, J Michelle Childs's Republican support will more than offset progressive "No" votes.
Kamala Harris +6600
Shortly after Justice Breyer's retirement announcement, some political pundits began floating the possibility of Biden nominating Vice President Kamala Harris to fill the vacancy.
The Supreme Court seemed like the perfect final landing spot for a politician who's continued to climb the ranks of the Democratic Party despite an unprecedented lack of popularity.
Harris's 2020 presidential campaign flamed out before the first primary despite the backing of Hillary Clinton's former team and DNC leadership.
She was tapped as Biden's VP pick even after being rejected by Democratic voters.
They didn't even care that the Senator represented California, a deep blue state, and would bring no value to their electoral college map.
Of course, Kamala Harris would receive a lifetime appointment to one of the most prestigious and influential positions in the US government!
Her approval ratings as Vice President are historically low, making the prospects of a Harris 2024 ticket as Biden's predecessor increasingly unlikely.
If the President doesn't seek re-election and Kamala can't win a primary, appointments are the only option. Kamala Harris will either be a judicial nominee or work within the Democratic Party.
The problem with nominating Kamala Harris for Breyer's seat is that she'd have to vacate the Vice Presidency, costing the party their tie-breaking vote in the Senate. Republicans would delay the vote to confirm her replacement, allowing them to deadlock the chamber and wait out the rest of Biden's term.
Plus, nominating Kamala Harris would negate any potential benefit the President stands to gain for appointing the first African American woman to the Supreme Court. The Biden administration is counting on this nomination as a political "win" — a campaign promise delivered. They also need it to increase support among minority voters.
Joe Biden and Democratic Party leaders will choose a nominee with minimal baggage and whose confirmation will be as smooth and bipartisan as possible.
That's not Vice President Kamala Harris. But hey — that's why the bet pays so well!