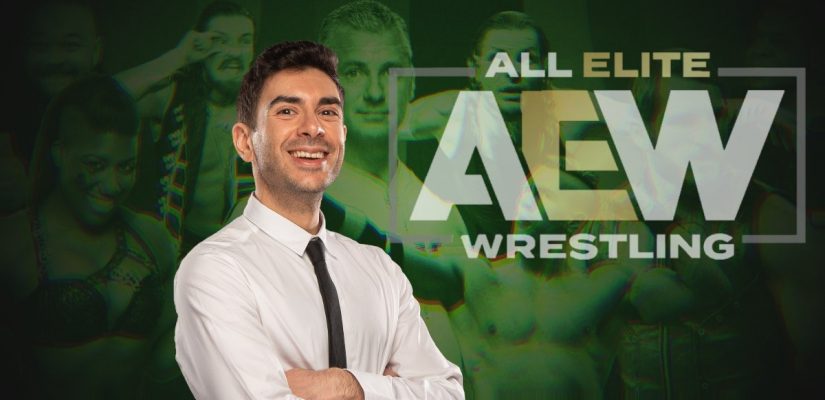 Tonight's AEW Dynamite will answer a mystery that's driven the members of online professional wrestling communities wild all week.
It started on Friday when Tony Khan sent out a series of tweets hyping up a new signee for the promotion, walking through the "forbidden door" on Wednesday.
Now, the debuting talent is scheduled to wrestle Isiah Kassidy – the winner qualifies for a subsequent ladder match.
"As referenced on #AEWRampage, I have a surprise: on #AEWDynamite Live on @TBSNetwork a top wrestler will walk through the Forbidden Door this Wednesday and debut in @AEW. More info to come. Thank you to everyone who joined us for a great Rampage tonight! See you Wednesday on TBS!"
"The Forbidden Door can be opened for anyone from any wrestling promotion in the world, whether or not it's a company @AEW is on good terms with, even if it's someone from a company that's open for business. They're also welcome to slam the door in the face of their prior company."
"The big announcement for Wednesday's Dynamite that we referenced on #AEWRampage (a free agent debut) and the person walking through the Forbidden Door are one and the same. They're walking in the door, signing a contract, and then slamming the door shut Wednesday on #AEWDynamite!"
Seizing upon the excitement of the moment, top pro wrestling betting sites have posted odds on Wednesday's big free-agent signing.
Keith Lee is the favorite to appear, but names like Jeff Hardy, Will Ospreay, and even Shane McMahon have generated plenty of speculation as well.
| | | | |
| --- | --- | --- | --- |
| AEW's Big Free Agent Signing | Odds | AEW's Big Free Agent Signing | Odds |
| Keith Lee | +110 | Johnny Gargano | +400 |
| Karrion Kross | +130 | Kenta | +450 |
| Josh Alexander | +150 | Jay White | +500 |
| Bray Wyatt | +200 | Toni Storm | +500 |
| Will Ospreay | +200 | Athena | +600 |
| Jeff Hardy | +250 | Mustafa Ali | +800 |
| Samoa Joe | +300 | Shane McMahon | +1500 |
The "Forbidden Door"
#AEWDynamite is LIVE TOMORROW 8/7c on TBS!
• #AEW World Title Texas Deathmatch @theadampage vs. @lancehoyt
• We'll hear from @The_MJF
• @IsiahKassidy vs. #AEW's New Free Agent Signee in a qualifier for the Face of the Revolution ladder match
• #InnerCircle Team Meeting pic.twitter.com/oIdUSf873g

— All Elite Wrestling (@AEW) February 8, 2022
At the heart of all the confusion regarding to whom Tony Khan refers is the AEW president's use of the term "forbidden door." Historically, that phrase was used to describe talent from other promotions appearing on AEW broadcasts for co-promotional angles – usually, the wrestlers are from NJPW.
It isn't very clear because, in the following tweet, Khan reiterates that the signee is a free agent. Those two things would appear to be mutually exclusive – unless the young billionaire owner has something truly shocking up his sleeve.
Many commentators believe Tony misused the "forbidden door" label and tried to readjust expectations for the announcement in the follow-up tweets about it being a free agent.
There's the line in which he says the mystery wrestler is "walking in the door, signing a contract, and then slamming the door shut Wednesday on #AEWDynamite!"
I don't think he'd talk like that about signing talent away from any company but WWE.
Are they slamming the door on the possibility of returning to their current promotion?
These lines support that possibility:
"The Forbidden Door can be opened for anyone from any wrestling promotion in the world, whether or not it's a company @AEW is on good terms with, even if it's someone from a company that's open for business."
WWE executive Nick Khan has referred to Vince McMahon's promotion as being "open for business" in the past –
and they're direct competitors; nobody is on worse terms with AEW than WWE. The former recently shared talent with Impact, NJPW, Ring of Honor, and GCW.
Keith Lee +110
Kieth Lee is the favorite at +110. His 90-day non-compete contract with WWE recently expired, making him a free agent. If Tony Khan misused "forbidden door," Lee makes the most sense. His time with McMahon's company was a disappointment, so maybe he's "slamming the door" on that chapter of his career and starting over.
Having spoken to numerous AEW talent which none know who the surprise is, but AEW talent is unanimously speculating it is Keith Lee.

-Fightful

More at: https://t.co/NozyhxXBb8 pic.twitter.com/z7ILDBe0O7

— Macho Beard™ (@Machobeard4life) February 7, 2022
"I know they've been talking to Keith Lee; I know that they were pretty close with Keith Lee if it's not already a done deal. It probably is a done deal. I don't know that 'officially', but that's kind of been the word going around," Dave Meltzer said on Wrestling Observer Radio.
The hype Tony Khan is encouraging tells me the signing is a bigger surprise than Keith Lee. "Limitless" will debut in AEW soon – but that's not who will shock audiences on Dynamite. However, Khan could include a surprise debut alongside another more expected one — the way he did with Bryan Danielson and Adam Cole.
Jeff Hardy +250
My guess is that the new signee is Jeff Hardy.
In storyline, Andrade El Idolo has begun moving in on Matt Hardy's faction, opening the door for the exiled leader to team with his brother. I don't think it's a coincidence that the new roster member is wrestling Hardy Family Office's, Isiah Kassidy.
Matt could step in to stop his stablemates from interfering in the match or beating down Jeff, the rest of HFO goes with Andrade, and AEW has a legendary tag team freed up to have dream matches with the Young Bucks, ReDragon, FTR, and the Lucha Brothers.
Last music shows before I return to my main stage…or in my main stage?The professional wrestling ring!?❤️?! pic.twitter.com/7qo50WSH3g

— #BrotherNero DELETED (@JEFFHARDYBRAND) February 8, 2022
Early Arrival
Detractors online say it can't be Jeff Hardy because it hasn't been 90 days since he was released from WWE. They claim he cannot legally sign anywhere before March 9.
That's why Tony Khan is using the term "forbidden door" and repeatedly promising to deliver the unexpected. AEW has a smarky ("smart mark") audience. They don't just watch the weekly shows; they follow the behind-the-scenes developments and business workings of pro wrestling.
The only way to fully swerve this audience is to introduce a performer who's supposed to be unavailable.
How might Tony Khan get around the non-compete issue?
I suspect Jeff Hardy was released from his contract as a consolation from WWE.
McMahon's company fired Jeff for refusing to go to rehab after the wrestler left a house show match early to mingle and take photos with fans sitting ringside. They also gave him a drug test.
The test came back clean after Hardy had already been fired for refusing rehab. His lawyers forced the WWE to release the drug screening results to clear their client's name. Realizing they screwed up and could be sued for "wrongful termination," WWE tried re-signing Jeff and offered to put him in the Hall of Fame.
Hardy refused.
I believe he agreed not to sue his former employer in exchange for a quiet early release.
Tony Khan keeps his promise and delivers a shocking debut;
the definition of "forbidden door" maintains its meaning;
and the Isiah Kassidy match gets Matt away from the HFO, puts Jeff Hardy in a major ladder match, and sets up Hardy Boys vs. Private Party for the next PPV.