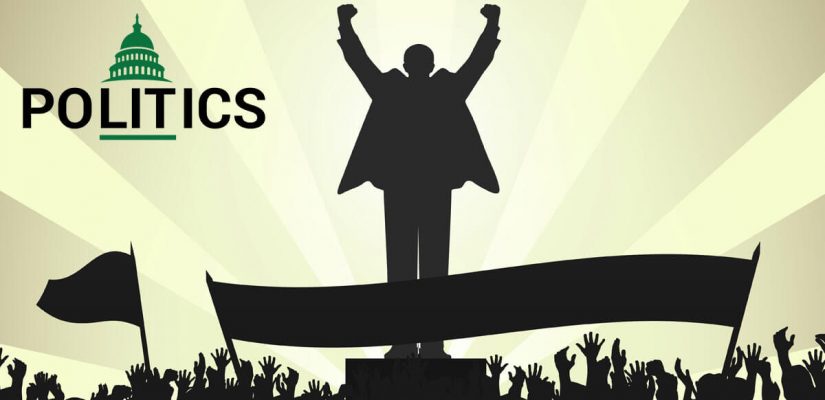 This November should be a real doozy.
Beyond the various crises ravaging the United States – of which I'm tired of writing about – both major political parties have set the stage for an absolute mess this Fall. The Biden and Trump campaigns have done their part to plant the seeds of doubt — regarding the legitimacy of November's election process — in their respective supporters' minds.
For months the groundwork has been laid: "the other side is going to cheat or won't accept losing."
So, regardless of the outcome, half of the electorate is destined to be up in arms – hopefully not literally. It also means that neither candidate is likely to accept defeat and concede to the other on, or anywhere near, Election Night.
Then there's the issue of voting in the middle of a pandemic. Haggling over how ballots will cast and counted is a conflict that promises to make the 2000 "War of the Hanging Chads" look like child's play.
Handicapping the various outcomes keeps me coming back to the same question:
When will 2020 Presidential Election Bets be Resolved?
The Top Political Betting Sites

Laying the Groundwork for Distrust
Questioning the legitimacy of the country's elections is nothing new for US politics in the Donald Trump era.
In 2016, it was the Republican outsider who first raised concerns that he'd be cheated out of an electoral victory at the hands of the mighty Clinton machine.
This assertion that US elections could be meddled with was loudly rejected, even scoffed at as an absurd – if not offensive – proposal. Obviously, Donald was just exhibiting "sour grapes" as a method of ego protection ahead of his sure defeat at the hands of Hillary.
Here's an excerpt from an AP News article from 2016:
A beleaguered Donald Trump sought to undermine the legitimacy of the U.S. presidential election on Saturday, pressing unsubstantiated claims the contest is rigged against him, vowing anew to jail Hillary Clinton if he's elected and throwing in a baseless insinuation his rival was on drugs in the last debate.
Not even the country's more than two centuries of peaceful transitions of political leadership were sacrosanct as Trump accused the media and the Clinton campaign of conspiring against him to undermine a free and fair election.
"The election is being rigged by corrupt media pushing completely false allegations and outright lies in an effort to elect her president," he said, referring to the several women who have come forward in recent days to say that Trump had groped or sexually assaulted them. He has denied the claims, calling the women liars.
Barack Obama addressed Trump's claims of a "rigged" election as well.
Then Trump won. Suddenly, US elections weren't so secure.
Since Election Day 2016, the integrity of Donald Trump's victory – and United States' elections as a whole – have been under near-constant scrutiny. He couldn't have won fairly; the Russians must have helped him cheat!
Russiagate stories blanketed media coverage of politics for almost four straight years, further reinforcing the idea that elections are rigged in American psyches. Cable news pundits salivated over one conspiracy theory after another.
Putin's troll farms must have influenced working-class white voters into opposing Hillary Clinton! Russia was responsible for her leaked emails published by Wikileaks (despite evidence of the most damning leaks being obtained from John Podesta falling for a rudimentary phishing scam).
Every week was a new development and more promises that "the walls were closing in" on the President, and soon he'd be impeached and arrested.
Democrats never accepted the results of the election.
Their more "influenceable" supporters have been searching for the boogeymen responsible for installing the wrong person in the White House ever since.
It's only natural that they're hypersensitive to the possibility of more foul play this time around. And honestly, Trump and company aren't helping matters.
The same themes are now dominating the 2020 election cycle. Biden has already suggested that Donald Trump will not leave office peacefully and will be removed from White House grounds by force. Hillary Clinton parroted those same sentiments this week:
"I don't want to scare people, but I want you to be prepared. I have every reason to believe that Trump is not going to go, you know, silently into the night if he loses. He's going to try to confuse us, he's going to try to bring all kinds of lawsuits, he's got his crony Attorney General (William) Barr ready to do whatever is necessary," the former Secretary of State said at The 19th Represents Summit.
In response to Joe Biden's comments to Trevor Noah about the incumbent stealing the election, the Trump campaign's director of communications, Tim Murtaugh, argued that the Democrats are projecting and using the "conspiracy theory" to prepare their base for a heated battle over the results.
"It was the Obama administration that tried to subvert an election by spying on the Trump campaign in 2016, and Biden himself was part of the effort to sabotage the incoming Trump administration because they couldn't live with President Trump's victory," Murtaugh said. "President Trump has been clear that he will accept the results of the 2020 election."
Both sides are probably right – and, well, equally wrong as well.
That's the issue with American politics: there are seldom any "good guys." All of the dirty tricks are being employed. Whoever finally wins will have successfully pulled some unethical, underhanded crap, and whoever loses will have some legitimate gripes – or they would, if not for their own election sins.
Either way, you can all-but-guarantee we're headed towards a brutal and lengthy showdown at what's already the most combustible time imaginable.

Mail-In Voting Fraud vs. The Destruction of the Postal Service
Getting back to the issue of when the winner of November's election will be made official…
At the heart of the matter lies the pandemic, which Democrats say has necessitated much higher rates of mail-in voting, lest people be forced to attend crowded polling stations where the virus can spread more efficiently.
Some states are suggesting a shift to universal mail-in voting. They'll send a mail-in ballot to every registered voter without requiring them to request one. In many places, ballots are expected to go out in early September.
President Trump has been adamant that Democrats want to flood communities with mail-in ballots for the purposes of vote harvesting – when third-party operators collect large quantities of ballots, mark the desired candidates, and deliver them to election officials.
He's also raised concerns that he'd win a second term on Election Day, only for a wave of absentee ballots to come flooding in weeks later, that would conveniently flip the outcome.
Trump isn't necessarily wrong to be wary of such strategies. At the same time, his reaction may be substantially more destructive for the nation than the problem itself.
US Postal Service Mayhem
To discourage mail-in voting, Republicans are allegedly dismantling the United States Postal Service. Demand for the agency's largest revenue source, first-class mail, has been steadily declining since 2001; the coronavirus outbreak rocked an already vulnerable USPS to its core.
The service has lost $69 billion over the past 11 fiscal years, including $8.8 billion in 2019. Its total unfunded liabilities and debt totaled $143 billion at the end of 2018 — double its annual revenue.
Part of the agency's struggle is tied to the 2006 Postal Accountability and Enhancement Act.
The law "absolutely slammed the USPS when it mandated it to pre-fund its retiree health benefits 75 years into the future with $5.5 billion annual payments for 10 years," said Philip Rubio, a history professor at North Carolina A&T State University and a former letter carrier.
The public service was in desperate need of financial assistance from the government before the sabotage began.
Detailed letters from Postal Service officials were recently delivered to 46 states (plus Washington DC) warning that it can't promise all of the ballots cast by mail will be delivered in time to be counted. The USPS is anticipating up to 10 times the usual volume of election mail. Even registered voters who follow all their state's rules to perfection are at risk of disenfranchisement.
Those letters were prepared by Thomas J. Marshall, executive vice president of the Postal Service, in July – before the President appointed Louis DeJoy – a prominent Trump campaign donor – to the role of postmaster general. Things have only escalated since DeJoy took over.
They're literally collecting drop boxes pic.twitter.com/9Uc5GDEacn

— Kamalas nephew (@Ant95four) August 13, 2020
Citing well-documented financial troubles, the new postmaster general has been enacting sweeping changes to the federal agency. Vice's Motherboard has reported the removal of mail sorting machines from USPS processing facilities across the country.
Vice Motherboard Excerpt:
The United States Postal Service is removing mail sorting machines from facilities around the country without any official explanation or reason given, Motherboard has learned through interviews with postal workers and union officials. In many cases, these are the same machines that would be tasked with sorting ballots, calling into question promises made by Postmaster General Louis DeJoy that the USPS has "ample capacity" to handle the predicted surge in mail-in ballots.
Motherboard identified 19 mail sorting machines from five processing facilities across the U.S. that either have already been removed or are scheduled to be in the near future. But the Postal Service operates hundreds of distribution facilities around the country, so it is not clear precisely how many machines are getting removed and for what purpose.
Even to local union officials, USPS has not announced any policy, explained why they are doing this, what will happen to the machines and the workers who use them. Nor has management provided a rationale for dismantling and removing the machines from the facility rather than merely not operating them when they're not needed.
Other cost-cutting measures that will delay delivery speeds are being implemented as well. Postmaster DeJoy's new plan eliminates overtime for postal workers, canceled late trips when distribution centers are running behind, and removing mailboxes in some areas.
Democrats are negotiating for the cash the Postal Service requires to run at full capacity – and higher, to handle the influx of mail-in voting – as part of the next stimulus package.
Donald Trump recently made matters significantly worse for himself by admitting that concerns over facilitating increases in mail-in voting are playing a role in Congress's inability to strike a deal on another stimulus bill.
"They need that money in order to make the Post Office work so it can take all of these millions and millions of ballots," Trump told Maria Bartiromo on Fox Business Thursday morning. "But if they don't get those two items, that means you can't have universal mail-in voting, because they're not equipped to have it," referring to the billions requested in emergency funding.
He echoed those sentiments in a White House press conference Wednesday, calling the expansion of mail-in voting "one of the greatest frauds in history."
The President might not be entirely wrong about that part.

Mail-in Voting
Read any liberal publication's reporting on the conflict over mail-in voting, and you will inevitably come across a line like this one: "Trump made the unfounded claim that mail-in voting would lead to massive voter fraud in the November election."
But, are concerns over voter fraud "unfounded?" As recently as 2016, Democrats didn't think so.
Here's an excerpt from the liberal publication Slate, from September 2016:
Voter fraud does happen—but it almost never occurs at the polls. Instead, as election law expert and occasional Slate contributor Rick Hasen has explained, voter fraud occurs through absentee ballots. The vast majority of voter fraud prosecutions touted by conservative groups like the Heritage Foundation involve absentee ballots that were illegally cast. And the only voting fraud schemes with the potential to actually swing elections involved mail-in ballots, not impersonation at the polls. (This makes sense: It's much easier to forge a signature, impersonate a voter, or buy a vote in the privacy of one's home than it is in a voting booth at the polls.)
What changed?
As has been the case with so many topics over the last four years, there's a knee-jerk compulsion to take the opposite of Donald Trump's view, no matter the subject or previous opinions.
Just the News researched mail-in voter fraud as well.
A review of court cases and recent indictments – including one this week in Philadelphia against a former congressman – finds there have been at least four dozen cases in criminal and civil court since the last presidential election in 2016 in which voter fraud has led to charges, convictions, lawsuits or plea deals.
The schemes have ranged from old fashion ballot box stuffing to absentee and mail-in ballot fraud.
The Census estimates 160M registered voters. The nationwide voter files report 200M registered voters. The different is likely 40M incorrect voter registrations. Sending ballots to all registered voters could cause 40M excess ballots to be mailed. Hence, the need for safeguards.

— Robert Barnes (@Barnes_Law) August 13, 2020
Real Clear Politics reported: "Between 2012 and 2018, 28.3 million mail-in ballots remain unaccounted for, according to data from the federal Election Assistance Commission. The missing votes amount to nearly one in five of all absentee ballots and ballots mailed to voters residing in states that do elections exclusively by mail."
That 20% rate of voter disenfranchisement is consistent with what happened in New Jersey's all-mail vote in May.
The state's May 12 election was conducted entirely by mail on Gov. Phil Murphy's order. Ballots were automatically sent to every registration. That makes Paterson an early test of the vote-by-mail model now being pushed in unison by the political left. The fact that it immediately went off the rails is a warning to the nation that we would be foolish to ignore.
Concerns began mounting before voting had even ended. Undeliverable ballots piled up in trash cans and apartment lobbies. Even though state law forbids anyone from collecting more than three ballots, roughly 800 ballots were found bundled together — 400 were stuffed into one mailbox, and 360 more were found in another in a completely different town. That evidence of illegal vote harvesting led officials to reject them all.
Another 1,214 votes were disqualified because the voters' signatures did not match official records, and 1,000 more because the "bearer" — the person who collected and delivered the vote — didn't properly report doing so. Voters reported never receiving ballots even though they are listed as having voted — in other words, someone else purportedly cast their vote.
Ultimately, nearly 20% of ballots cast on May 12 were invalidated. Paterson NAACP leader Rev. Kenneth Clayton summed it up best: "These kinds of acts make people not want to vote anymore."
How can anyone argue that Trump's warnings regarding the dangers of mail-in voting are unfounded?
They've been losing roughly 1/5 of all ballots for years! And that's before the volume of election mail increases ten-fold for a depleted and hamstrung US Postal Service.
Even if the USPS gets the required funding, there's little to suggest dramatically increasing the rate of mail-in voting will go smoothly.
Does that make Trump's purposeful dismantling of the Postal Service okay? Absolutely not – but two things can be right/wrong at the same time.

Betting with Political Chaos in Mind
| | |
| --- | --- |
| 2020 Presidential Election Winner | Betting Odds |
| Joe Biden | -160 |
| Donald Trump | +135 |
| Hillary Clinton | +5000 |
| Mike Pence | +8000 |
| Kanye West | +10000 |
| Michelle Obama | +10000 |
| Andrew Cuomo | +15000 |
Odds from Bovada (current as of 8/14).
As long as widespread mail-in voting occurs – and there are conflicts over how some states adopt more permissive vote-from-home policies versus others – the outcome of November's election will be contested.
If Joe Biden loses, it will be because President Trump crippled the US Postal Service. There will also be renewed accusations related to Russian interference.
If Donald Trump loses, ballot harvesting will be blamed. Republicans will point to four years of unprecedentedly negative media coverage for a president, pandemic panic, and late-arriving mail-in ballots flipping crucial swing states after Election Day as proof the game was rigged.
Political Betting Guides
Still, I think Donald Trump is the more likely party to benefit from all the chaos. Beyond whatever damage he's done to the Postal Service, mail-in voting is fundamentally flawed even without sabotage.
Polls show that Republicans are significantly more likely to vote in person than their Democratic counterparts. They've been less fearful of the pandemic from the start – for better or worse – and have fewer concerns about showing up to cast their ballots at a polling station.
Democrats are more rigid proponents of social distancing and have expressed a greater desire to vote by mail. They will also be encouraged to cast their ballots as early as possible to account for delays. DNC officials also want people to record their votes before the first presidential debate to avoid being affected by any Biden gaffes or signs of decline.
In that case, history has shown they're sacrificing roughly 20% of their votes – and that's before you scale for increased volume.
Naturally, this will lead to numerous lawsuits and challenges. I fully expect Donald Trump to be announced the winner on Election Night, only to ignite a several-month-long battle over including additional ballots that will be discovered not to have been counted.
Whether they'll be legitimate or harvested to push Biden over the top, we'll never know. Should the Democrats win the legal challenge, Republicans will explode in reaction to the perceived robbery. What happens after that is anyone's guess, but it probably won't be pretty.
In conclusion, I'm taking Donald Trump at +135, taking the inevitable electoral disaster we have ahead of us into account.
At the same time, I'm going into this bet fully expecting it to be 2021 before the results are made official, and I can receive my payout.
2020 Presidential Election