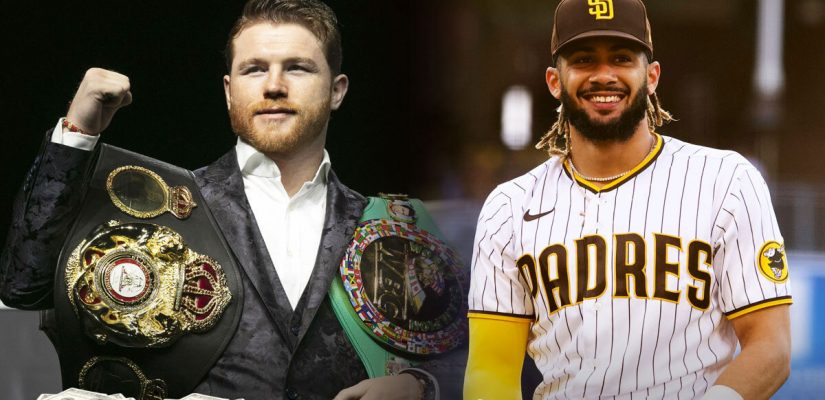 Let's start off with a list of the biggest sports contracts in history:
This post is all about listing some massive athletic contracts and deciding if the money spent was worth it or not.
I'll do that by looking at exactly how much these teams were paying these players and what value they added to the franchise.
You may be surprised to find out that some famously massive athletic contracts weren't worth anywhere near what they cost the club.
Longest Big Sports – Fernando Tatis, Jr. & the San Diego Padres
This one's ongoing. Tatis, Jr. electrified the sport of baseball in 2019 and 2020, in every major awards race from his rookie year. Before the 2021 season, he signed an obscene contract with the club that developed him in the US. His deal is worth $340 million across 14 years, from 2021 to 2035.
He's essentially signed up for a career with one club, an oddity in modern American sports.
His deal breaks down to about $150,000 per game, or an average of $24.2 million every year until he's 35. Is he worth the big investment? It's early to say "Yes" or "No," but let's look at some numbers.
First of all, his club is on an upward trend.
They were cellar dwellers in his rookie year, turning in a 42%-win percentage, even as he very nearly won Rookie of the Year and grew a loyal local fanbase. During the 2020 season, his Padres won a more respectable 61.7% of their games during the COVID-shortened year. This was their first winning year overall since 2010.
Obviously, you can't pin that trend to only one player, and developing and showcasing Tatis, Jr. wasn't the only big move they made. So, let's look at his stats for a financial breakdown of his deal.
Tatis' $24.2 million a year makes up 15.8% of the Padres' $153-million payroll. Does his offensive contribution exceed that figure? In 2020, his 62 runs via HR and RBI represented 15.2% of his team's production in those categories. Those numbers are tight enough that it's safe to call this a fair deal, for the time being. Comparing Tatis, Jr.'s 2020 figures to what he put out in 2021 is interesting – in 2021, his run contribution represented 16.5% of the team's total. That's 0.7% growth in just one year, against the same salary figure.
In that sense, so long as El Nino continues to grow and prosper for his team, his deal looks better and better. Consider also that, over the course of more than a decade, that $24.2-mn. per year figure will represent a smaller and smaller portion of the team's total payroll.
Highest Pay Per Game or Event – Boxer Canelo Alvarez and DAZN
Multiple world championship holder Canelo is not just the unanimous world's best active middleweight boxer, he's among the highest-paid athletes of all time.
This is especially true if you consider his pay from production company DAZN on a per-fight basis.
DAZN secured a deal with the fighter in 2018, offering him $365 million for exclusive rights across just 11 fights. That's just over $33.1 million every time the guy stepped into the ring, over a period of just five years, from 2018-2023.
The guy is 56-1, an almost unbelievable record for a modern fighter moving across multiple weight classes. Also, you have to consider that DAZN isn't into Canelo in the same way that pro baseball or basketball teams are with their players – a big NBA team needs big production and flashy numbers to justify a big contract. DAZN just needed to make more money off Canelo than they paid him.
So how did it go for DAZN? The contract was cancelled after just four fights. DAZN was suffering financially and attempted to offer Canelo good-faith payments toward a balance, blaming losses due to the global coronavirus pandemic.
Canelo sued, and the two groups parted ways.
Still, Canelo's deal for more than $33 million per match set a record for the biggest per-event sports contract in history.
Shortest Big Sports Contract – Kimi Räikkönen's 3-year Ferrari deal
The shorter a big deal, the better the deal is for the athlete, and generally the worse it is for the team or group paying for the deal.
It makes sense – I'd rather make $10 million over three years than $50 over seven years, and I'm pretty sure you would, too. Kimi Räikkönen, known in Formula One circles as "the Iceman," signed a deal with Ferrari for just three years between the 2007 and 2009 seasons.
That breaks down to about $3 million per race, or about $51 million a year. That's Steph Curry money, Kevin Durant money, Giannis money.
Räikkönen won the Formula One Drivers' title in 2007, and finished third in 2008, but finished out of the points in 2009. It's not clear what happened between Ferrari and Räikkönen at the end of his contract – there's some confusion over whether he refused an extension or if one was even offered. It seems Ferrari wasn't convinced of the value of the deal.
I'd like to point out that Ferrari hasn't had a Drivers' Champion since Räikkönen's departure and haven't claimed even a race since the 2019 Singapore Grand Prix. Maybe he was a better value than they thought.
Best-Value – Todd Helton's Hall of Fame Career for $97k per Game
This is a bargain in any language. Todd Helton is going to the Hall of Fame, it's almost a guarantee at this point, with his last ballot drawing 45% of votes, a benchmark seen as a point-of-no-return for eventual Hall placement.
Helton played all 17 years with the Rockies, the only Colorado MLB player to do so. He was a five-time All-Star, four-time Silver Slugger, and three-time winner of the Gold Glove Award. He has the most hits in club history (2,519), the most HRs in club history (369), and about a dozen other club records mostly in hitting and longevity.
Modern fans don't seem to know this, but Helton is almost unmatched in terms of pure hitting. He's the only player in league history to have 100 or more extra base hits in two consecutive seasons. Before you look, no, Gehrig didn't do it back-to-back.
Helton is the kind of guy who's easy to forget if you're a casual fan or don't root for the Rockies, but he's an all-time great.
He signed a 9-year extension with Colorado in 2003 worth $141.5 million. It's a big contract, and it changed Helton's life and will put his great grandkids through college. But, divided across the many games in nine MLB seasons, the Rockies got one of the sport's best hitters of all time for under $100,000 per game.
To put that amount in perspective:
Mike Trout's record-breaking contract is worth a little over $200k per game. Is Trout as meaningful to his club as Helton was to the Rockies? It's not clear yet – remember, Trout's contract has many years left. It looks like the two players are statistically similar. At this point in his career, Helton had slightly more hits than Trout has currently, though Trout has been a more consistent run producer.
Either way, Helton cost his club about half what Trout is costing the Angels. That's worth some consideration.
Worst-Value Big Sports Contract – Bobby Bonilla and the NY Mets
The hapless Mets really put their foot in it with this one. It's an infamous case, one that baseball fans even celebrate with a made-up holiday called Bobby Bonilla Day.
Every July, Bobby Bonilla cashes a check from the New York Mets for $1,193,248.20, paid out to him by a life insurance agent. Bonilla hasn't played in New York since Clinton's second term, but he'll continue to cash his $1.19 million check every year until 2035, when he'll be 72 years old.
This all shook out because of the way the Mets structured their deal to acquire Bonilla, who became the highest-paid National League player of all time with the $29 million contract.
So why is this such a bad value deal?
Bonilla wasn't great with the Mets. Yes, he played in two All-Star games, but over his three-and-a-half seasons with the team, he averaged .278, knocked in about 29 home runs per year, and added another 90 or so RBIs each season. Good numbers, but not "make you a millionaire every year until you're elderly" good.
He added about 105 runs to the team's total each year. That's just under 16% of the team's total runs scored through HRs and RBIs. His salary represented about 18% of the team's total payroll, so by the most technical and boring definition, he was just slightly overvalued.
I think the true story is deeper than a couple of percent difference between production and cost. Bonilla's Mets were the most expensive team in the league, with a $44-mn. payroll literally five times that of the team's smallest spending clubs.
But – the Mets missed the playoffs. The spending was for nothing. Whatever value Bonilla added to the team didn't translate to on-field success. A 72-90 record is unacceptable when teams that spend 20% of your payroll finish with a higher winning percentage.
The Bonilla Era never came to pass.
The truth is that most teams in 1992 wouldn't (and didn't) pay $8 million a year for 105 runs and a batting average well below .300. The Mets certainly shouldn't have, and they definitely shouldn't have set it up across such a ridiculous period of time.
Conclusion
Negotiating a pro sports contract is complicated. The two parties are at odds – the players want to play as little as possible for the most money, and the club wants to squeeze them for every run they can.
Sometimes, big contracts work out, and teams for dynasties around anchor pieces that cost them tens of millions per year. Other times, the deals aren't so good. It's interesting to compare the performance of a player to his salary – and not just for big contracts.
You can learn a lot about a sport by looking into the deals of your favorite players and considering them in terms of that player's contribution.