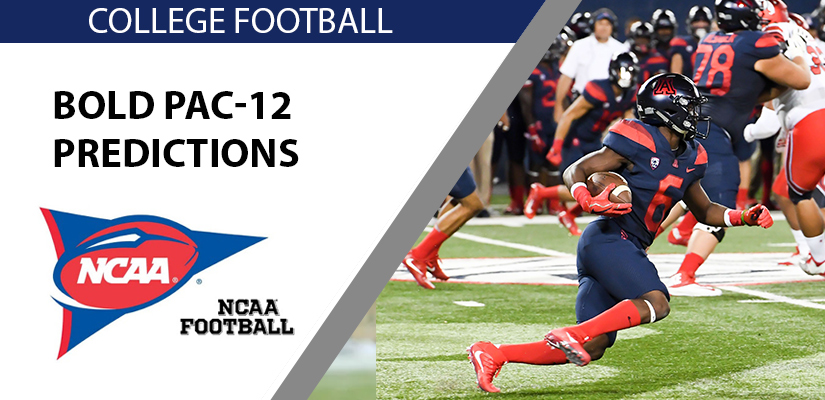 The PAC-12 may be considered the weakest power-five conference. But it's also a conference where anything can happen on any given week.
How about a quarterback running for 327 yards in one game? Or a team averaging 43 points suddenly scoring seven and losing against a team under .500? Or maybe another school beating Notre Dame out of conference but not being able to handle San Diego State.
That's the PAC for you, and there's something bold to predict every week that could potentially land. But today, I'll be looking at bold season-long outlooks for the conference.
They're just as bold as many of the outcomes above. Just a little more logical.
Arizona Finishes in the Top 10
Yes, my love for the Wildcats is at an all-time high.
I've discussed Arizona in-depth over the last couple weeks. But there's a lot that goes into deciding who will be ranked inside the top 10. It involves a lot more than merely discussing how good the Wildcats will be.
I see Arizona losing two PAC-12 contests, one to USC, and the other to Oregon or Utah. Going to UCLA and Washington State might test them, but I think their offense has too much firepower for both of those teams.
With an early-season win over Houston on the road, that should propel the Wildcats into the top-25 conversation. Houston did beat Arizona on the road by a field goal last season. But that was before the greatness of Khalil Tate had come off the bench.
Once they've disposed of BYU and Houston, as well as cupcake Southern Utah and PAC-12 weak-link Oregon State, USC comes to town. As much as I love Arizona, this game depends on how much JT Daniels has progressed for USC. The same goes for the Wildcats' defense.
It was an unreliable unit last year but had several inexperienced freshman and sophomores starting in it. It will be better this year, but how much is unknown.
Either way, Arizona will likely be back in the top 25 soon even with a loss to USC. I'll say going to Utah on a Friday night is their other loss since I like them winning a shootout against Oregon at home.
Since the Utah game is in the front-half of October, that would give the Wildcats five straight wins to finish off the regular season and ten total. That's more than enough to get them near the top-10. The only thing that's left to chance is the bowl game. But with USC and Washington getting bowl preferences over them, they'll probably end up in something like the San Diego County Credit Union Poinsettia Bowl. That should give them a good matchup.
It's hard to keep an 11-win power-five team out of the top 10.
USC Falls Out of the Top 25
Before the Trojans' fans start a riot, I'm not saying USC will necessarily finish the season out of the top 25.
But going 1-2 to start the season from where they're currently ranked (15th) would be enough to drop them from the rankings. They also have road contests at Arizona and Utah this year. They will both be tough matchups in different ways.
And USC has a lot to answer for after the way they played against Notre Dame last season. They get them on their turf this year. Besides that, there aren't many tests. There's no PAC-12 favorite Washington on the schedule or Oregon.
That's a good thing for a team coming into this season without last year's leaders at quarterback, running back, or receiver.
Those early-season tilts against Stanford and Texas may not be too kind to new starting QB JT Daniels.
Stanford took a step back on defense last year (76th overall). But with some better defensive line play, they should be a more complete unit. The linebackers will do their part in pressuring Daniels. While Stephen Carr will keep them honest running the ball, he's not Ronald Jones III (drafted by Tampa Bay). At least not yet.
Facing off against Texas will be better matchup-wise. But taking that trip to Texas the very week after playing a physical offensive front in Stanford could prove detrimental.
The Longhorns aren't the same team that pushed USC to the brink last year. They're far more matured and a hair more talented as well. They've got a lot of young pieces as well but are returning Sam Ehlinger at QB and their top two receivers.
It'd be a huge win if USC even won one of those games. They shouldn't be favored in either. But they're going with Daniels for the long-run anyway. Not just to win the first three weeks.
Justin Herbert Solidifies Himself as the No. 1 QB for the NFL Draft
Oregon's Herbert definitely isn't the most well-known quarterback in college football right now.
Khalil Tate, Will Grier, and even Tua Tagovailoa get more attention. Drew Lock's abilities are discussed more among draft-watchers. But he is probably groomed more for the draft than any other draft-eligible QB 2019 will have to offer.
He certainly has the platform at Oregon and the PAC-12 to gain plenty of attention from NFL teams. But his cannon of an arm and prototypical size might have just as much to do with it.
No quarterback in this class is anywhere close to becoming a finished product. There won't be any Andrew Luck's floating around. Grier might end up being a better option than most realize on the pro level. Lock might become more accurate and solidify himself as a top 10 pick.
But Herbert is likely more refined than those two and arguably has the most upside too. Lock can chuck the ball down the field with just as much zip, but Herbert's accuracy is ahead of his fellow quarterback.
The Oregon QB may need to be more conservative with the ball sometimes. He also has a tendency to follow his intended targets for too long and tip-off defenders. And he also needs to view the field more clearly when he's going through his progressions in the pocket.
But he can make all the NFL throws into tight windows. He's an athletic guy who can also step up in the face of pressure and deliver big-time throws. And whether he's in the pocket or on the run outside it, he's got pinpointing abilities with his tosses.
He only started seven games last year because of a fractured collarbone. Oregon was 6-1 with over 52 points-per-game over that slate. With a full season to show off his talents this year, Herbert should separate himself for next April.
If They Both Start, Dorian Thompson-Robinson Will Have A Better Season Than JT Daniels
This one could end up being voided by the end of the week.
Thompson-Robinson is in a three-way battle for the UCLA starting quarterback job. He'll have to fight off former Michigan starter Wilton Speight and redshirt sophomore Devon Modster for the role.
But if he does win out, he is set up with one of the great QB gurus to guide his progression.
That would be Chip Kelly, offensive extraordinaire and new head coach of the Bruins. He's had amazing success in the PAC-12 with Oregon and should eventually rise at least close to those levels of success in LA.
Daniels may have a lot of talent around him. But the ability to groom a quarterback in the way UCLA now can is hard to match. And that's even considering USC's track record with quarterbacks.
There's a fair amount of pressure on Daniels to succeed right away with a wide-open PAC-12 South. But UCLA is expected to be a middle-of-the-road squad, and that should help and not hurt Thompson-Robinson.
He is also a perfect fit for Kelly's scheme and will be allowed to show off his mobility for the Bruins. He'll have plenty of help at the running back position to lighten the load too. The offensive line will take a little time to mold together, and that may be one advantage Daniels has. But it's not a poor group, even if there's still some inexperience.
Thompson-Robinson has the ability to get outside the pocket when things break down anyway. He has plenty of elusiveness and has shown he can make plays on the run.
UCLA may not be as good as USC this year. But Thompson-Robinson statistically will be better, if he starts.
The Herm Edwards Experiment Will Turn Sour Really Quick
This may not be all that bold. But the fact this could be the coach's only year at Arizona State? Now that's bold.
But it's not hard to see the Sun Devils going through a season where they're out-prepared by their opponents nearly every week. And in that case, Edwards and the athletic department could agree he's better off talking about football.
His fire for the game is unmatched. So is his want to help cultivate young men. It could be something Arizona State needs this year, whether they win much or not. But the performance on the field will always be more important at a power-five school.
Early games against Michigan State and Washington will set the Sun Devils back early. Playing at San Diego State could easily be a loss too. If the Aztecs can pick off Stanford like they did last year, they can do the same here.
Oregon State and Colorado will give Edwards his best chances at victory this year. That and the UTSA game to begin the season. But Stanford, USC, Utah, Arizona, and Oregon will create issues for them in the latter half of the schedule.
This will not be a bowl team unless QB Manny Wilkins takes his already-game-breaking talent to another level. Only getting four wins is actually realistic with how tough their schedule is, ranked 7th-hardest in the country.
And Edwards could get overmatched early and often in these games by great minds like Kelly, Mark Dantonio (Michigan State), David Shaw (Stanford), and Chris Petersen (Washington).
Edwards has never been a head coach at this level. He was never that great at the NFL level either, although he was a solid player and a wonderful position coach. But running a whole program like this is a lot more work. And the recruiting isn't looking too swell up to this point.
I hope I'm wrong and the Sun Devils serve notice to the rest of their league in the coming years. But nothing points to that happening.
Khalil Tate Will Break the Quarterback and Arizona Single-Season Rushing Records
Defenses slowly started adjusting to Tate late last season. They held the star quarterback to 118 rushing yards over his last three games.
But Tate has had his own opportunities to correct himself against such defensive alignments. He'll be in A Kevin Sumlin offense that will make him more of a threat to pass as well. That will keep defenses honest in loading the box and should produce better numbers for Tate.
In only eight games and tiny cameos in two others, Tate had 1,411 yards rushing. But with 13 games, he could do far more damage. Enough to put him among the history books again. Tate also only plays one defense this year that was ranked better than 25th last season.
He has a better scheme to work in. He has a defense that even with slight improvements will put him and the offense on the field more. And he has his top pair of receivers and best running back returning.
The Arizona record for rushing yards is 1,929 by Ka'Deem Carey in 2012. The best mark for a QB was set by Northern Illinois' Jordan Lynch at 1,920.
It is a stretch to think Tate can eclipse those marks. But the possibilities are nearly endless for this dual-threat phenomenon. Averaging 150 yards on the ground a game isn't unheard of. He easily passed that mark in half the games he started last season. He got over 200 three times.
What most people underappreciate is the weapons around him. Having to deal with those opens new opportunities for him. The only thing I see stopping him from reaching the mark is injury or if he throws the ball too much.
Aside from that, if he can get 15 carries per-game, he could certainly surpass both records.