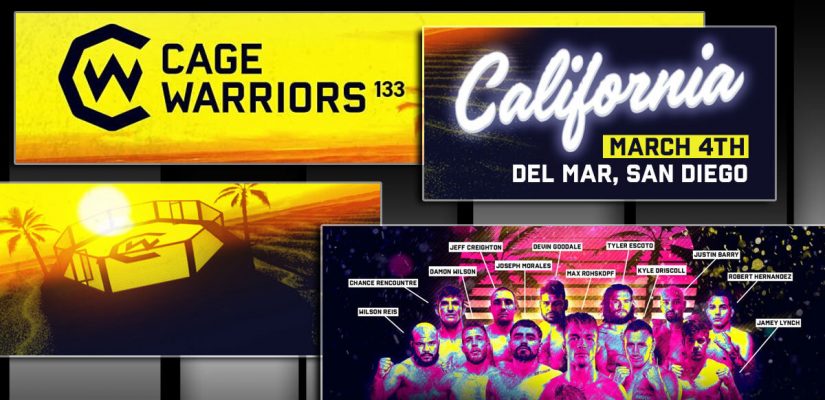 For our Cage Warriors 133 coverage, we've assembled the odds for all twelve bouts and broken down each fight pick with expert detail. We've included some fights as parlay picks, and others as narrow fights that you should bet with caution. 
There are no props for CW 133, and we've listed all fights in the order they're found on most sportsbooks, not in the order they'll appear on fight night. 
Cage Warriors 133 is on UFC Fight Pass March 4th, 2022. Make sure to place your bets before Friday evening, 8:00 PM ET. 
Cage Warriors 133 Main Event: Joshua Jones +275 vs Kyle Driscoll -350 
Jones is currently unranked, and comes in as an underdog against #14 in the USA, Kyle Driscoll. Driscoll hasn't lost since his switch to AKA, a team that's clearly moving the 28 year old  toward the highest levels of competition. 
Tale of the Tape for Jones vs Driscoll 
| | | |
| --- | --- | --- |
| Fighter | Joshua Jones | Kyle Driscoll  |
| Money Line | +275 | -350 |
| Age | 31 | 28 |
| Height | 5'8'' | 5'11'' |
| Reach/Stance | 66'' | 72'' |
| Record | 11-5 | 12-3 |
| Fighter Training Camp | Team Body Shop, Antonio McKee  | AKA  |
Driscoll is the younger, larger fighter. He's training at the more tested school, with American Kickboxing Academy being home to several world champions and some of the highest level grappling in the sport. 
We have on good authority that Driscoll was invited to AKA to help run the wrestling program for the growing pool of up and coming fighters. Wow, this guy must be a real sleeper. 
Jones is a submission centered fighter, the perfect test for Kyle to see if he's ready for the next level of competition. 
From DWCS to AKA
Driscoll was with a San Jose gym in 2019, New Generation MMA. After his decision win at DWCS, Driscoll made the move to AKA. I imagine the boring DWCS showing made it clear to him a change was needed. He won the fight, but AKA will bring him the skills to finish. It's been 18 months since his DWCS bout, all with AKA in preparation for an exciting return. 
Betting Odds History
Jones was the underdog at +290 in his January LFA bout. He was the favorite in his biggest Bellator appearance over Johnny Cisneros at -180. Driscoll has been the favorite in all four of his bouts with an odds history, including his DWCS appearance, ranging -120 to -385. 
Can Joshua Jones Win By Submission
Driscoll has one submission loss and three losses overall, while Jones has Three submission wins since 2017 over moderate level opponents. Many of these submissions are from top position, like face and neck cranks. 
This means that Jones will need to catch the guillotine off a takedown attempt, or takedown the wrestling coach from AKA with some consistency. Possible, but unlikely. 
Jones has a small chance of submission, with a puncher's chance to finish at a haymaker knockout, but I see few other paths to a Jones victory. I think his win is rarer than +275, and I couldn't bet on him for less than +500. 
Fight Tape Comparison for CW 133
Driscoll's last bout with Paiva demonstrated his ability to resist good boxing. It's clear that in past fights, Driscoll looked to develop his striking, despite a high wrestling pedigree. 
Driscoll's 2019 fight with Trujillo is a telling look at his wrestling skills put to work. 
A flurry of punches followed by a takedown inside thirty seconds put Trujillo on the fence for the remainder of the fight. 
Compare that win to Jone's loss to Arut Pogosjan in 2019. Jones is a good wrestler in his own right, but against a more physically imposing grappler, he falters. Jones was knocked out in the clench via elbows. I don't see the grappling with Driscoll going much better. 
Our betting pick is the Kyle Driscoll money line at -350, a bet I'll be willing to paraly on any ticket through the weekend. 
PLACE YOUR BETS NOW!
Cage Warriors 133 Main Card: Sidemar Honorio +240 vs Joseph Morales -300
Jonorio is coming off a 2019 loss to the 10-0 Umar Nurmagomedov. The 41 year old hopes to reignite a career against a Team Alpha Male rising star and former UFC fighter, Joseph Morales. 
Tale of the Tape for  Honorio vs Morale 
| | | |
| --- | --- | --- |
| Fighter | Sidemar 'Sideco' Honorio | Joseph 'Bopo' Morales |
| Money Line | +240 | -300 |
| Age | 41 | 27 |
| Height | 5'5''' | 5'6'' |
| Reach/Stance | 69'', Switch | 68'', Orthodox  |
| Record | 13-7 | 10-2 |
| Fighter Training Camp | Daddis MMA Academy  | Team Alpha Male |
The first thing to stand out is the fourteen year difference. Honorio went pro in 2006, reignited his career in 2012, and hasn't fought since he was 38. 
Morales is virtually the same size, and has lost two of his last three. These scuffs are not small bouts, losing to the UFC champion Deiveson Figueiredo and The Ultimate Fighter alum Eric Shelton. 
?Cage Warriors play-by-play commentator, Brad Wharton (@MMABrad48), takes an in-depth look at #CW133, which goes ahead on Friday night, in his latest feature! https://t.co/tynAKTXYqq pic.twitter.com/LpyHnfXmVx

— Cage Warriors (@CageWarriors) March 2, 2022
For a deeper look at this fight and other, Cage Warrior commentators do an in depth preview.
Alpha Male has some serious advantages over Daddis, but primarily just the massive number of UFC level fighters at Alpha Male, and it's new round of UFC level coaching talent, like 'Slavoclaus' and other notable fighters. 
Betting Odds History
Morales was the underdog against Mark Climaco at +110 in his last fight. He's been the favorite in three of his last six fights, from -127 to -275 over Kevin Wirth. 
Sidemar's only betting history is his unfortunate 2019 run in with Umar Nurmagomedov at +1200. 
Fight Tape for Honorio vs Morales
Morales first loss was a TKO to now champion Deiveson Figueiredo, but the first round of the fight shows some quality composure from the young man, who lost an early takedown, but mitigated nearly all of Figgy's round one strike attempts. 
Honorio's last win was over Sholinian for Bellator, 2018. His kicking was solid but it was clear that getting hit has a different effect on him since his younger days of fighting. From the video, it looks like he lost the fight, two rounds to one. 
His fight with Umar showed a classic Dagestani style win, complete with head kicks and plenty of ground control. While Honorio has a high level and dangerous guard, he was overpowered by Umar. 
Cage Warriors 133 Betting Pick
I think Honorio has a chance of winning this fight. However, Morales is younger,  still evolving as an athlete, and has the superior striking. Our betting pick is Joseph Morales at -300. This isn't a fight I'll be looking to parlay or bet the house on. 
PLACE YOUR BETS NOW!
Cage Warriors 133 Co-Main Event: Jeremiah Labiano +120 vs Wilson Reis -150
Former UFC regular Wilson Reis faces an unranked fighter from California who is just finding his way out of a four bout losing streak. 
Tale of the Tape for Labiano vs Reis 
| | | |
| --- | --- | --- |
| Fighter | Jeremiah 'Kid' Labiano  | Wilson Reis  |
| Money Line | +120 | -150 |
| Age | 35 | 37 |
| Height | 5'10'' | 5'4'' |
| Reach/Stance | 70'' | 65'', Orthodox  |
| Record | 13-8 | 24-12 |
| Fighter Training Camp | Crispim BJJ | Daddis MMA Academy  |
Labiano is the bigger, younger fighter. He's taken less losses in his career, and by Reis' age, I'm thinking more about the total amount of career damage a fighter has taken. In Reis' last two three losses, he's been knocked out twice, for a total of five career TKO losses. 
Labiano has been finished twice, both times to UFC level fighters like now UFC contracted Trevin Jones. 
Betting Odds History
Labiano was the underdog to Justin Smitley at +150, James Gallagher at +350 and Noad Lahat at +285. This is his fourth bout as the underdog. 
Reis has a betting history that spans back to 2008, but has been the underdog for five of his last six fights with the UFC, ranging from +130 to +800 in his most recent outing in December 2021. 
Fight Tape Comparison
Reis' later years have looked even more submission oriented. His last two wins have been all about the takedown, and all of his UFC wins are centered around winning top position and sinking the submission. 
Labiano is a submission fighter, and my biggest concern for him in this fight is his takedown defense. In his decision loss to Gallgher, he lost a clinch fight and opening takedown attempt from Gallagher. The same thing happened in the second round, despite Labiano clipping Gallgher and nearly finishing him late in the round. 
Reis looks insane, both in musculature and conditioning. He appears to have packed on a suspicious amount of shred for a 37 year old fighter. Meanwhile, Labiano's last weigh in as a featherweight was at 139 pounds, six pounds below the limit. I see a fight where Reis simply strong arms the submission fighter. Lapulis beat wilson because he's a gigantic featherweight, not a better wrestler. Our betting pick is the Wilson Reis money line at -150, offering the win to the better wrestler and more experienced fighter. 
PLACE YOUR BETS NOW! 
Cage Warriors 133 Prelim: Joshua Nakagawa +300 vs Devin Goodale -400
Goodale is a well rounded fighter with twelve years of BJJ experience and a 3-0 MMA record. Devin was knocked out in his amatuer career, but has lost no other fights. 
He faces Joshua Nakagawa, a fighter coming off his first career loss. Nakagawa doesn't have the experience of Goodale, and they appear to both crosstrain out of Alliance MMA, though Nakagawa seems to have a new home at National City Jiu Jitsu. 
Fight Tape for Nakagawa vs Goodale 
Nakagawa's last fight was a loss to Jamie Lynch, a fighter who seemed kickboxing focused, but still was able to win the occasional takedown. Nakagawa, despite more grappling expertise, could win no significant takedowns. 
Goodale has come out aggressive in all wins. His last win over Garcia was in 2019, and he was hit only once before demonstrating a submission victory after constant attack. While Nakagawa has the tools to fend Goodale off, he doesn't have the athleticism needed to manage the aggression. 
Our betting pick is Devin Goodale's money line at -400 for a $0.25 return per dollar wagered. 
PLACE YOUR BETS NOW!
Cage Warriors 133 Prelim: Albert Lee +135 vs James Lynch -165
Lync is a lightweight fighting out of the Gamebred Training Center, where he is one of only two professional fighters. He's coming off a loss to Richie Miranda, an undefeated grappling centered pro. 
Lee just won his first professional fight, but has lost two other amature bouts dating back to 2014. Fight tape is limited for both fighters, but we do know that Lee has been competing in grappling tournaments and winning since his switch to Brazilian Top Team in California. Our money is on the underdog, Albert Lee money line at +135. 
Cage Warriors 133 Prelim: Ethyn Ewing +115 vs Roberto Hernandez -145
Ethyn had a very successful undefeated amatuer MMA career then lost his first pro bout. He now faces Roberto Hernandez of Joe Stevenson's Cobra Kai. Hernandez has several submission and TKO wins, as does Ethyn. 
While Ethyn looks skilled, I believe in Stevenson as a coach. I also see Roberto as having a significant power advantage. Our betting pick is the Proberto Hernandez money line at -145. 
PLACE YOUR BETS NOW! 
Cage Warriors 133 Main Card: Luke Faultersack +170 vs Jose Mariscal -210 
Faultersack is the #60 featherweight in California, and he's going up against the #32 featherweight in the USA. Mariscal is on the cusp of bigger things, despite losing four of his last three fights. 
Tale of the Tape for Faultersack vs Mariscal 
| | | |
| --- | --- | --- |
| Fighter | Luke 'The LandShark' Faultersack | Jose 'Chepe' Mariscal  |
| Money Line | +170 | -210 |
| Age | 29 | 29 |
| Height | 5'9'' | 5'7'' |
| Reach/Stance | 71''  | NA |
| Record | 6-4 | 10-6-0, 1 NC |
| Fighter Training Camp | Alliance MMA  | Elevation Fight Team  |
Faultersack is far bigger than Mariscal. Both fighters are currently at quality teams, and both fighters are coming off losses. 
My main concern for a Mariscal win is the number of wars he's been in. He's been knocked out twice over his last three fights, and he's been part of rough bouts like his split decision win over Pat Sabitini. Still, Fautlersack is no knockout striker, and unless he can take a submission win, he's unlikely to see victory here. 
Betting Odds History
Mariscal is a LFA regular, but was the underdog in all three bouts ranging 2019 to 2020 at +135 to +145. This includes his split decision win over Sabatini. Faultersack is in a similar boat, with +440 at LFA 93 being his only odds on record, which was a loss to Elijah Johns. 
Cage Warriors Betting Pick
The Jose Mariscal money line at -210 is an easy pick for this bout. Faultersack can't strike. I'd love to see him take a muay thai camp to recreate his kickboxing. The issues he has striking can be remedied, but we are not seeing them improve over time. 
PLACE YOUR BETS NOW! 
Cage Warriors 133 Main Card: Ryan Fillingame +235 vs Damon Wilson -295 
Fillingame is on a two fight losing streak and has lost three of his last four fights. Wilson is an undefeated fighter, including in his two fight amatuer career. Wilson is out of Scorpion Fighting Systems, a rising MMA gym that has multiple UFC fighters coming to cross train at the elevation training center. 
Our betting pick is the Damon Wilson money line at -295. 
PLACE YOUR BETS NOW!
Cage Warriors 133 Opening Bout: Chuck Campbell -115 vs Elijah Harris -115
This light heavyweight fight pits Harris, a solid submission fighter, against the AKA fighter Campbell. 
Campbell is a striker, using AKA to develop his takedown defense. Harris will be looking for the takedown and submission finish, but I'll be excited to see what Campbell has done with his last three years of training. Campbell skipped his amatuer career and went straight to Bellaotor going 2-1 through 2018-2019. 
Now with six years of training under his belt, we'll see what the young man is capable of. 
Our betting pick is the Chuck Campbell money line at -115. 
PLACE YOUR BETS NOW! 
Cage Warriors 133 Prelim: Enrique Marte +240 vs Eimar Hernandez -300
LIttle information was available for either fighter. Hernandez is a heavy favorite. He comes out of Roufusport and is a direct protege of former champion Anthony Pettis. He has a higher finishing percentage and has fought better opponents than Marte. 
Our betting pick is Hernandez at -300, but be tentative and skip the parlay. 
PLACE YOUR BETS NOW!
Cage Warriors 133 Prelim: Blake Cooper +180 vs Soslan Margiev -220
Both fighters are making their professional debut after undefeated amatuer careers with multiple knockouts. I couldn't find good fight tape, so we have no real way of placing a betting pick. Skip this bout for now, but tune in because this should be an exciting fight for two new pros. 
Cage Warriors 133 Prelim: Ke'ali'l Kanekoa +250 vs Justin Barry -325 
Kanekoa has lost three of his last four bouts, excluding a recent boxing match where he was knocked out cold just two months ago. He faces Justin Barry, an undefeated professional with two crescent kick TKOs. It doesn't look good for Kanekoa, coming up against a ninja on a two fight winning streak, both in the last five months. 
Betting Odds History and Pick
Barry has been the favorite in all three of his bouts with an odds history, at -145 to -260 in his 2021 run. This is Kanekoa's first bout with betting odds. 
Our betting pick is the Justin Barry money line at -325. We're looking forward to another flashy knockout from a rising star. 
PLACE YOUR BETS NOW!