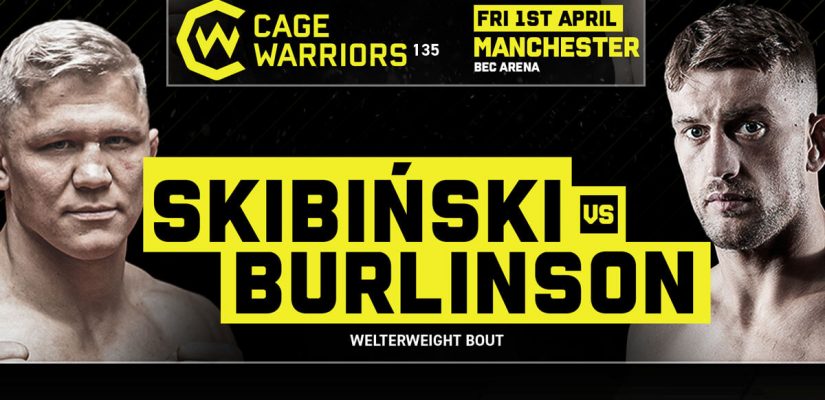 Another weekend of back to back shows is on the way from Cage Warriors starting with CW 135. We're bringing you all eleven fights, including betting predictions, odds and an expert MMA breakdown to back up your bet. This show has six undefeated fighters and many familiar faces to Cage Warrior fans. Place your bets by Friday, April 1st, 2022 at 12:00 AM ET. You can watch the fights on UFC Fight Pass. 
Cage Warriors 135 Predictions
Our top betting picks include a short MMA breakdown for each fight. If you trust our judgment, we've listed our top picks! If you'd like to see the stats and compare them with your own analysis, scroll for fight stats, camp review and more!
Parlay bet:
Milad Ahady at-170
Main Event bet:
Justin Burlinson at -155
Possible Parlay bet:
James Sheehan at -220
Each of the 11 fights at Cage Warriors 135 has odds and predictions below the tale of the tape. For more MMA betting tips for new bettors, consult the MMA betting guide. 
PLACE YOUR BETS NOW! 
Cage Warriors 135 Prediction and Odds for Skibinski vs Burlinson
| | | |
| --- | --- | --- |
| Fighter | Daniel Skibiński | Justin Burlinson  |
| Money Line  | +125 | -155 |
| Age | 31 | 24 |
| Height | 5'11'' | 6'1'' |
| Reach | 71'' | 74'' |
| Record | 18-6 | 6-1 |
| Submissions/TKO  | 2/6 | 4/2 |
| Fighter Training Camp | Ankios MMA Poznan, Sanford MMA  | Four Corner Combat Gym, The Dungeon MMA,  |
| Losses via sub/TKO | 1/2 | 0/1 |
Both fighters are coming off high-profile losses. Burlinson was on the Contender Series losing to Yohan Lainesse via a beautiful knockout in 2021. Skibinski fought for UAE Warriors and was also knocked out in the first round to a 12-1 Tahir Abdulieav as the favorite at -220. 
Daniel Skibinksi's Record
Skibiński has defeated notable fighters in his last seven wins, each having fourteen fights or more, many of them finishers in their own right. He defeated the UFC's Pawel Pawlak and ruined a six fight winning streak for Acoidan Duque as a -188 favorite. Daniel Skibiński has never been the underdog in his betting history. His loss to Abdulieav was sudden, and puts Daniel's chin in question. He was stunned from a short shot off a single leg attempt, a small uppercut that set him on his back that was the first strike landed in the round. 
Justin Burlinson's Record
Burlinson knocked out 9-1 David Bear before his DWCS loss, but he's faced a majority low level fighters for BAMMA and Bellator England.
None of the fighters he's faced have over twelve fights, including two of his six wins having only one win. He fought Josh Plant for BAMMA, 1-0 at the time. He caught Plant early and finished the submission in three minutes. A brown belt in BJJ, Justin will take the submission whenever presented, but focuses on ground striking. Those BJJ attempts cost him versus Lainesse, after a submission scramble led to a striking finish from his challenger. This knockout was from a lack of talented opposition, Burlinson simply failed to respect his power- something he hadn't needed to do before in his career.
Burlinson is truly in the beginning of his career, while Daniel is flying toward the higher levels. 
Should Fighter Camp Affect my Bet?
Skibinski has spent a few weeks of this camp at the prestigious Sanford MMA in Las Vegas. His home gym Ankos has five full time coaches, and is home to several fighters in top promotions, including Makmud Muradov. Four Corner Combat is a new home base for Burlinson. They've been a cross training gym for a number of high level athletes, but aren't the home base for anyone in a top promotion. Skibinski has the betting advantage here. 
Fight Prediction for CW 135 Main Event
Skibinski needs the takedown to win. The majority of his wins over his massive winning streak were submission or ground striking oriented, and Burlinson is the more powerful striker and his submission work should keep most of Skibinski's damage at bay. Expect Burlinson to take notes from Skibinski's loss and catch him during their takedown exchanges. 
Our betting pick is Justin Burlinson at -155. 
PLACE YOUR BETS NOW!
Cage Warriors 135 Prediction and Odds for Walls vs Gittins
| | | |
| --- | --- | --- |
| Fighter | Edward Walls | Liam 'Nightmare' Gittins  |
| Money Line  | +144 | -185 |
| Height | 5'10'' | 5'6'' |
| Reach | 74'' | NA  |
| Record | 10-7 | 7-4 |
| Submissions/TKO  | 1/5 | 2/4 |
| Fighter Training Camp | Team Lapeenranta | Next Gen Liverpool, Team Elite Southport |
| Losses via Sub/TKO | 2/0 | 0/2 |
Walls lost his last two fights,  both via decision in 2021. He has a history of losing close decisions, ranging back to his 2017 loss to Artur Aliev, a Brave FC title contender. Gittins is a clear favorite, operating out of a stronger team, but has also lost four of his last six fights. 
I imagine the oddsmakers see Walls based on his submission losses, and Gttins based on his finishing percentage. 6 of Gittins 7 wins were via knockout or submission, but Walls struggles against people with good cardio, not strong finishers. 
Odds History for Gittins vs Walls
Walls has been the underdog in four of his last five appearances ranging from +100 to +185. He defeated Andrey Hohlov at -335 but is yet to upset an opponent. Gittins was the underdog in his upset win over Sonmez at +155. He was the favorite in his losses to Bouland and Fanny at -205 and -135. Walls is due for an upset, and his losses haven't been as damaging and dramatic as Gittins' KO losses. 
Cage Warriors 135 Betting Prediction
Walls has better kickboxing and a superior reach advantage. He comes in four inches taller and has defeated strikers like Paata Robakidze, a 28-16 veteran. Gittins has the stronger record overall, and has faced tougher competition, but I see a bad style match up for the rising bantamweight. Our betting pick is Edward Walls at +140. 
PLACE YOUR BETS NOW!
Cage Warriors 135 Prediction and Odds for Pasquali vs McBain
| | | |
| --- | --- | --- |
| Fighter | Federico Pasquali | Paull 'Locomotive' McBain |
| Money Line  | +215 | -275 |
| Age | 28 | 33 |
| Height | 5'10'' | 6'0'' |
| Record | 6-0 | 7-2 |
| Submissions/TKO  | 2/2 | 1/4 |
| Fighter Training Camp | MatSide JJ LIvorno  | ACC Spartans  |
| Losses via Sub/TKO | 0/0 | 2/0 |
The majority of Pasquali's fights have been for Italian MMA promotions. The regional circuits don't produce top fighters. Even Venator FC, Italy's top promotion didn't give Pasquali an opponent with more than three fights. McBain is a big step up in competition. 
Still, Mcbain's work on the cage warrior stage has been moderate against fighters with quality records. His last wins were over 11-8 and 10-4 fighters, -270 or better. 
Fight Tape for CW 135 Pasquali vs McBain
McBain's 2018 fight against Steve Aimable shows off his range. McBain's 6'0'' frame at featherweight allows him to play the outside with ease, begging fighters to step into range to put him against the cage. He's using high level MMA striking techniques, like tying up both hands to land elbow and spinning back kicks of failed clinch attempts. Still, his accuracy leaves plenty to be desired, and Aimable nearly gets the decision. 
Federico fought Luca Marzoni in his most recent cage appearance. Marzioni proves to have little takedown defense and ends up in the bottom position inside the first minute. Pasquali's striking isn't flashy, but he's able to land often. I give the striking edge to McBain in a big way, so if his takedown defense is moderate, he should take the win.
 
Paull was submitted twice over his last three fights. These men weren't slouches. Aiden Lee submitted the UFC's Ludwig Klein. To improve his takedown defense, McBain is cross training with Aberdeen MMA and 4 Corner, a school that seems to be attracting everyone in London. 
CW135 Prediction, Pasquali vs McBain
Pasquali needs to reassess his striking to win at the higher levels. McBain's ground game is improving, though his lanky body is struggling to wrestle well against stockier fighters, but he's bringing in plenty of fresh looks to improve his grappling. 
Our betting pick is Paull McBain at -275.
Cage Warriors 135 Prediction and Odds for Michalak vs Sheehan
| | | |
| --- | --- | --- |
| Fighter | Karol Michalak  | James Sheehan |
| Money Line  | +180 | -220 |
| Height | 6'2'' | NA |
| Record | 3-1, 1 NC | 3-2 |
| Submissions/TKO  | 1/2 | 2/0 |
| Fighter Training Camp | Team HoneyBadgers | Team Ryano MMA  |
Sheehan is coming off two wins, most recently a split decision win over underdog Omiel Brown at -170. Karol has done well against local level fighters, most recently the debuting Furtado. This is Michalak's first bout with betting odds. 
Should Fighter Camp Affect my Bet?
Team Ryano has UFC level fighters like Neil Seery and Paul Redmond. Though they've struggled at the highest levels, they're still one of the top Irish MMA schools, second only to SBG. 
HoneyBadgers is home to  former CW champion Agy Sardari. But the gym has produced few other high quality fighters. Ryano has a much larger pool of fighters to train with, and an overall stronger pedigree of fighting experience. 
Cage Warriors 135 Betting Pick 
Fight tape for Sheehan includes debuting pro Kyran Sturrock. Sturrock was a finisher in his amateur career amassing four finishes in quick succession. Sheehan won the fight by simply holding Sturrock against the cage, getting a submission two rounds in for a dominant performance over a promising amateur. 
In Karol's last fight with Furtado, he fought a similar bout, weighing on Furtado and dominating the grappling. It was apparent that Furtado's wrestling was elementary and Karol's wasn't much better. I see another pressure centered shutout from Sheehan.
Our CW 135 prediction is James Sheehan at -220.
Cage Warriors 135 Prediction and Odds for Shelley vs Hooper 
| | | |
| --- | --- | --- |
| Fighter | Adam Shelley | Steven Hooper  |
| Money Line  | -190 | +145 |
| Age | NA | 31 |
| Height | NA | 5'11'' |
| Record | 1-1 | 5-4 |
| Submissions/TKO  | 0/0 | 0/4 |
| Fighter Training Camp | Team KF Martial Arts | SBG Manchester |
Shelley is the favorite despite few fights and little information on the fighter. Presumably, oddsmakers and bettors believe his fight performances and Hooper's near losing record will offer Adam a win. 
Hooper's last loss to the undefeated Mike Figlak is no shame, and he's taken a year off to train and reassess since then. He trains at SBG Manchester, a much better school than Team FK. Hooper is a new brown belt in BJJ and recently won a local tournament. He's cross training with multiple SBG facilities and looks sharp. 
Betting Odds History and Prediction
Hooper was a +450 against Figlak, but this is Shelley's first time with betting odds of any kind, so oddsmakers are still getting a bead on him. 
Shelley is riding off his Tae Kwon Do world title, but even as an amateur he lost to decent grapplers. I see no evidence of his improvements in grappling. If Hooper is wise enough to score the takedown, he can get the submission here. 
Our betting pick is Steven Hooper at +145. TKD doesn't translate well to the cage without high level wrestling defense, something Shelley has shown he doesn't have. A lanky frame will only get you so far against high level BJJ. 
PLACE YOUR BETS NOW!
Cage Warriors 135 Prediction and Odds for Guillon vs Byfield 
| | | |
| --- | --- | --- |
| Fighter | Hugo Guillon | Matthew Byfield |
| Money Line  | +425 | -650 |
| Age | Na | 29 |
| Height | 6'4'' | 6'0'' |
| Record | 1-0 | 3-1 |
| Submissions/TKO  | 0/1 | 1/2 |
| Fighter Training Camp | NA | Team Renegade |
Byfield is coming off his first career loss, but he's remained the favorite due to his amateur history and 100% finish rating among wins. Guillon has had only one bout, no amateur fights, and is going up against a real handful in Byfield. This is only a half truth. I found an old video of Hugo fighting in small amateur French MMA circuits, but these bouts are deemed unofficial. 
Fight Tape for Guillon vs Byfield
Guillon is a massive 205, and will tower over Byfield. However, his striking is lackluster. He was knocked down in the opening minute of his first pro fight and his BJJ doesn't expand beyond holding a fighter until the referee blesses him with a stand up from inactivity. One thing you can say is that he hits hard and has a killer instinct, which can take you a long way at the early levels of the game. 
I'm mostly interested in Matty's weaknesses.
He faced Lewis Tams six months ago, winning via an easy arm triangle. If Guillon's game hasn't improved, we'll see a similar fight.  His loss to Paulin Begal was all about calculated aggression, something I haven't seen from Guillon in his one bout. 
Our CW 135 prediction is Matthew Byfield at -650. I wouldn't parlay this favorite, if only because of Hugo's size and unpredictability. Byfield still makes mistakes like leaving his hands low and getting clipped for an upset knockout is a real possibility. 
PLACE YOUR BETS NOW!
Cage Warriors 135 Prediction and Odds for Oryakhail vs Loughran
| | | |
| --- | --- | --- |
| Fighter | Bakhtyaar Oryakhail | Caolan Loughran |
| Money Line  | -115 | -115 |
| Record | 1-0 | 4-0 |
| Submissions/TKO  | 1/0 | 2/1 |
| Fighter Training Camp | Counter Combat  | Team Kaobon Liverpool |
Both fighters have extensive amateur records, including a series of TKO finishes from Oryakhail over locals at Night of the Gladiators in England. Loughran is the stockier, more physical bantamweight, while Oryahkhail has a lankier physique and more submission wins across his whole career. 
Loughlans' last fight with Abbas-Zade ended via decision.
Zade had no fights prior to this one, and Loughran brought a very strange hands down style. Zade did a good job the first few rounds, and Loughlan took the third with grappling.
About to shake up the @CageWarriors Bantamweight division ?? pic.twitter.com/OgP0anGF3k

— Caolan Loughran (@DonCaolan135) March 26, 2022
Loughran's stance is square, and his defensive striking isn't where I want it to be.
Bakhtyaar comes out fast and I think we'll see superior striking from him in this upcoming bout, specifically in terms of accuracy. His triangle choke finish was protested by his opponent, and to me it didn't look completed.
Still, our betting pick is Bakhtyaar Oryakhail at -115 for more aggressive striking and better defensive tactics. 
PLACE YOUR BETS NOW!
 Cage Warriors 135 Prediction and Odds for Sanchez vs Wilson
| | | |
| --- | --- | --- |
| Fighter | Ander Sanchez | Connor Wilson |
| Money Line  | +145 | -190 |
| Age | 26 | 24 |
| Height | 5'7'' | 5'6'' |
| Record | 10-1 amateur (Debut) | 2-1 |
| Submissions/TKO  | NA | 2/0 |
| Fighter Training Camp | La Vega MMA | Next Generation MMA Liverpool  |
Sanchez is coming out of the WMMAA and Spanish Regional circuits. He hasn't fought since his first loss back in 2018. Sanchez fought primarily against local debuting amateurs in his first ten wins, and his loss to Dubkov was a split decision, clearly causing him to evaluate his skill and take time off. 
Wilson is out of Next Generation MMA and his only loss as a pro was via submission.
In fact, all of the losses in his professional and amateur career are via submission. It's clear that if Sanchez brings a decent ground game to the table he can bet Wilson. Still, Wilson has knockout power and a better gym for improving his long term grappling ability. We're going with the favorite, Connor Wilson at -190. 
PLACE YOUR BETS NOW! 
Cage Warriors 135 Prediction and Odds for Ruggeri vs Trueman 
| | | |
| --- | --- | --- |
| Fighter | Gluseppe Ruggeri  | Dean Trueman  |
| Money Line  | +135 | -175 |
| Age | 22 | NA |
| Record | 7-0 | 10-7 |
| Submissions/TKO  | 2/2 | 1/4 |
| Fighter Training Camp | Aurora MMA  | Hardy Wallhead MMA |
The up and coming Ruggeri faces the toughest test of his short pro career against Dean Trueman. The oddsmakers have little faith in the Italian MMA circuit, as Ruggeri has faced only  Italians with varied records, ranging from debuting fighters to the recent 9-4 Miceli. 
Trueman is on a three fight losing streak that includes Mads Burnell and George Hardwick.
These fighters are head and shoulders over Ruggeri, but they also smashed Trueman in spectacular fashion. Ruggeri has no betting odds history, but Trueman was the underdog in two of his last three losses. He lost as the favorite to Charriere at -170, but was the underdog in all other losses. 
Fight Tape for Ruggeri vs Trueman
Recent footage of Ruggeri is difficult to find. He looks green, but athletic in his 2019 appearances and his wrestling is head and shoulders above the local competition. He spends the majority of the fight inside submissions. His recent win was found off a head kick and flurry of punches, so his striking must have improved dramatically in two years with Aurora, one of only three MMA schools in Italy to produce UFC talent. 
Trueman's recent string of losses have been close. His first round with Hardwick was tough to judge, but this is Trueman's first fight at featherweight in a long time, and we don't know how the cut will affect his physicality. What I struggle with is Trueman's lack of head movement. Hardwick ran Trueman over, he didn't out technique him. 
I think Ruggeri can get the win off aggression alone.
? Don't expect Dean Trueman or Giuseppe Ruggeri to take a back-step when they throw down on tomorrow night's #CW135 main card – LIVE on @UFCFightPass pic.twitter.com/cjC17zx1VB

— Cage Warriors (@CageWarriors) March 31, 2022
With the frustration of a losing streak, cutting weight to face an undefeated forward moving fighter isn't the right step.
Our betting pick is the undefeated underdog, Gluseppe Ruggeri at +135. 
PLACE YOUR BETS NOW!
Cage Warriors 135 Prediction and Odds for Hepworth vs Brown
| | | |
| --- | --- | --- |
| Fighter | Dan Hepworth | Omiel Brown  |
| Money Line  | +150 | -180 |
| Record | 0-1 | 2-1 |
| Submissions/TKO  | (Amateur 1/2) | 2/0 |
| Fighter Training Camp | Hardy Wallhead MMA | Team Renegade BJJ |
Brown is coming off his first career loss, a split decision. He was 1-3 as an amateur, but started fighting back in 2015 way before his time at Team Renegade BJJ. He went pro in 2021, six years after his amateur debut, and he's a changed fighter.
Hepworth had the opposite path.
He was an undefeated amateur, scoring four stoppages in a 6-0 run from 2016 to 2018. His 2019 pro debut was spoiled by Mush Aslani, another Team Renegade fighter currently at 3-3 as a pro. 
Omiel looks dangerous, even in his pro debut. His striking doesn't seem to knock people out, but he's connecting which is more than you can say for many first timers. Hepworth was outgrappled by Aslani at every turn. As a teammate of Brown, I'm sure Aslani would tell him not to take the fight if he thought Hepworth could defend the grappling.
Our betting pick is Omiel Brown at -180. He's a fighter that knows he'll be able to out grapple Hepworth at every turn. 
PLACE YOUR BETS NOW!
Cage Warriors 135 Prediction and Odds for Ahady vs Sheldon 
| | | |
| --- | --- | --- |
| Fighter | Milad Ahady | Antonio Sheldon |
| Money Line | -170 | +130 |
| Record | 3-1 | 5-2 |
| Submissions/TKO  | 1/0 | 1/3 |
| Fighter Training Camp | Team Fish Tank  | Full Contact Performance Centre |
Ahady comes from a massive amateur career spanning back to 2014. He's struggled getting the finish as a pro, but it's been two years since his last bout and he's sure to have some new skills. The Fish tank has been home to multiple CW champions and KSW contenders. 
Sheldon is on a three fight winning streak, including a 2019 win over 6-1 Tom Madandla.
Fight tape shows Ahady outclassing the grappling and striking of Sheldon, even two years ago. Since then Ahady started to crosstrain with SBG, get a few fight sponsorships, and win some grappling tournaments. This is one of my top bets of the night, Milad Ahady at-170 is my parlay pick for the evening. 
PLACE YOUR BETS NOW!
Cage Warriors Odds and Predictions Wrap Up
For MMA coverage through the weekend, including Cage Warriors 136, search MMA in the TheSportsGeek's blog section. If you're looking to parlay top predictions, it's good to look at multiple cards for our top picks. Ahady is one example of a fighter that many may overlook, but with the return of Chris Duncan, CW 136 will be just as stacked and exciting as Friday April 1st, 2022's card!