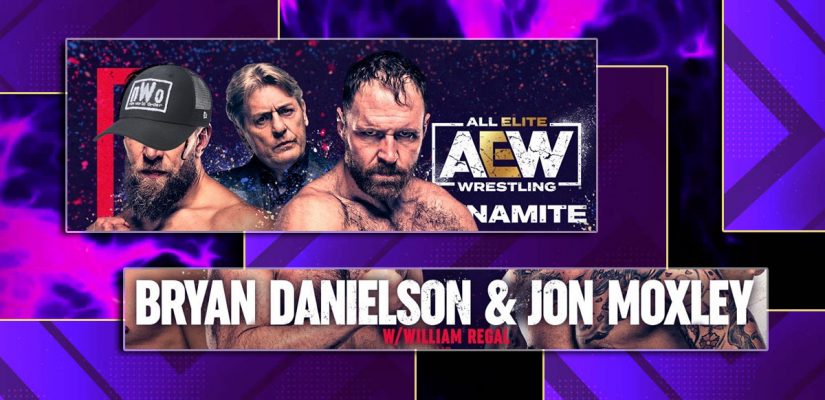 Something fascinating is unfolding in All Elite Wrestling – a storyline built around the birth of a new faction that harkens back to the glory days of WCW and professional wrestling's legendary Monday Night Wars.
The angle is centered around three blockbuster free-agent signings for Tony Khan's young promotion, all of whom defected from Vince McMahon's WWE: Jon Moxley, Bryan Danielson, and the mentor who's bringing them together, William Regal.
Pro Wrestling Betting Online
Handicapping professional wrestling is unique because most of the time, you'll only wager on pay-per-view matches, not the weekly shows or storylines. However, since professional wrestling outcomes are predetermined, you must pay close attention to all those events without betting odds to make accurate predictions for the PPVs.
Right now, none of the top pro wrestling betting sites are offering odds on whether Bryan Danielson, Jon Moxley, and William Regal will create the modern predecessor to the NWO. Nevertheless, these performers and this faction will dominate the top of AEW cards for the foreseeable future. They're about to go on a legendary run in the tag team division.
Start tracking the group's evolution now, and there's no telling how all this crazy hypothesizing will pay off later. Be patient; there will be many opportunities to win money betting on professional wrestling.
If the story lives up to the early hype, this collection of professional wrestling's hardest-hitting veteran superstars (along with some of AEW's most promising understudies) has the potential to be this generation's New World Order (nWo).
That said, it's still too soon to tell – and those are massive shoes to fill. The original NWO formed around Scott Hall, Kevin Nash, and Hulk Hogan is arguably the most influential faction in pro wrestling history.
It will take a series of brilliant booking decisions, in coordination with a few more high-level talent acquisitions, to fully bring the vision home.
"This Generation's nWo"
Before we explore the various directions Tony Khan and Co. may take this angle, let's define what "this generation's nWo" means for this discussion. Wrestling in 2022 is a much different industry than in the mid-90s.
Fans didn't know what to think when Scott Hall and Kevin Nash first appeared at WCW Bash at the Beach. Calling themselves the "Outsiders," it seemed as if unsanctioned former WWF stars had legitimately invaded Eric Bishoff's promotion. They used their real names – no gimmicks – and repeatedly emerged from the crowd to interrupt matches and assault WCW officials.
Audiences weren't as "smart" to the business, and talent was still highly protective of kayfabe.
Today, online media outlets pay as much, if not more, attention to behind-the-scenes dealings than on-screen action. They report on wrestlers' contract statuses. The public knows when performers' deals expire, the companies with which they're negotiating, and the exact date upon which they're contractually allowed to debut in another promotion.
The nWo exploded onto the scene as a disruptive force, ushering in a more adult-oriented era of wrestling that blurred the lines between what was real and what wasn't. It would be nearly impossible for a modern faction to project that same sense of chaos.
Different Wrestling Environments
The establishment of this generation's nWo won't be as revolutionary or game-changing as the original. However, Moxley, Danielson, and Regal's new faction could become every bit as influential.
If they're presented as a dominant force that upsets the balance of power in AEW, this trio – and any like-minded mercenaries they collect along the way — can recapture that nWo vibe without all the wonder concerning their status with the company.
Of course, creating a stable as influential and popular as the nWo requires a lot more than big names and top-tier wrestling.
Factions come and go; precious few are lucky enough to catch lightning in a bottle and transcend wrestling, extending their presence into the broader pop culture arena.
The nWo blew up because every facet of the group's presentation was perfect.
The name. The logo. The hand gestures. The slogan. The vignettes. The arrogant and carefree strut to the ring, like a gang flaunting strength in numbers. The nWo was pro wrestling's counterculture movement – a rejection of the childish, almost cartoony, WWF product.
AEW's exciting new trio has a long way to become this generation's nWo.
Right now, they're a two-superstar tag team, brought together by a shared mentor / legendary manager, on a mission to unleash unprecedented levels of in-ring violence onto the AEW roster.
It's a promising foundation. Over the next few weeks/months, we'll see if Danielson, Regal, Moxley, and Tony Khan can complete the vision.
Building the Foundation
This fledgling faction is fascinating because it wasn't part of Tony Khan's plans initially. It started with Bryan Danielson subtly antagonizing Jon Moxley and showing up ringside during his matches. Eventually, Danielson confronted Jon, but not to challenge him to a fight as he'd done with previous opponents.
Instead, he proposed they join forces. Tony Khan hadn't bargained for AEW fans' enthusiastic support for such a partnership. Online wrestling communities were abuzz with fantasy booking ideas, and prospective allies Bryan and Jon could recruit to their cause.
Ultimately, the two former WWE superstars would face each other at AEW Revolution as intended. Moxley was receptive to teaming up but insisted they fight and bleed together first.
The following video reviews everything that transpired leading up to their match:

Their brutal, hard-hitting contest ended when Moxley caught Bryan in a flash pin, scoring an upset over a furious opponent who was far from beaten physically. Unwilling to accept defeat, Danielson confronted Jon, and the two resumed brawling after the bell.
That's when things got interesting.
The post-match scrap continued until AEW's newest signee came marching down the ramp to break it up.
William Regal slapped both men in the face and made them shake hands, signaling the formation of a new team – potentially the most compelling new wrestling faction in recent memory.
An important figure for both of these men, @RealKingRegal is here at #AEWRevolution! pic.twitter.com/mhjAfPn2Hp

— All Elite Wrestling (@AEW) March 7, 2022
It's official! @RealKingRegal is ALL ELITE! #AEWRevolution

— Tony Khan (@TonyKhan) March 7, 2022
It's still unclear how far Tony Khan is willing to take this new supergroup.
They could remain a trio and focus on Moxley and Danielson becoming Tag Team Champions, eventually building an angle around their respective relationships with William Regal. One will feel disrespected by their mutual mentor, leading to a split. That would be the most disappointing outcome.

Fortunately, last week's AEW Dynamite showed things heading in the direction Bryan Danielson laid out in his initial offer to Moxley. Before Revolution, The American Dragon shared a vision consisting of him and Jon taking young prospects under their wings and molding the future of AEW.
On Wednesday, Wheeler Yuta was seemingly the first to audition for the group. Like Jon and Bryan before him, Yuta found himself on the receiving end of a cracking William Regal slap. However, he hasn't been accepted into the crew yet.

Still, it's clear there are plans to keep growing the stable. That's an encouraging sign for the faction's future.
We can assume they'll recruit two or three young wrestlers.
Wheeler will eventually be accepted, which is why he was involved in last week's segment.
Daniel Garcia is the most obvious fit stylistically and personality-wise. He's a pure technical wrestler with a mean streak. The perfect blend of Moxley and Danielson. Except he joined the Chris Jericho Appreciation Society last week – a new faction celebrating "sports entertainment" over "professional wrestling." It might be a while before Garcia jumps ship.
Lee Moriarty is another young wrestler with a super high ceiling. He's already had singles matches against Bryan Danielson and CM Punk — all the veterans are very high on Moriarty. Last month, Danielson singled out the 27-year-old as someone who needs to learn violence to reach his potential. Lee has a William Regal slap with his name on it for the very near future.
However, for this new faction to become as influential as a modern-day nWo, they'll need more than the three founding members and a collection of young students.
They need another established star or two, a surprise free-agent signee who debuts as the team's newest member, and an overarching thread or theme that holds them all together.
Who Else Might Join?
AEW Revolution serves as the promotion's season finale. Last year's feuds are settled, and the promotional landscape is reshuffled, setting up the next batch of storylines.
Two major factions — the Inner Circle and the Pinnacle — broke up, the Chris Jericho Appreciation Society was born, FTR fired Tully Blanchard and seemingly turned babyface, and CM Punk got revenge on MJF thanks to Wardlow's long awaited face turn.
Additionally, Hangman Adam Page is distancing himself from the Dark Order and appears to be reconciling with the Young Bucks.
There's also a theme emerging across multiple storylines.
I'm talking about "sports entertainment" versus "professional wrestling."
AEW is having fun with the topic and booking angles around the dispute. Still, on a larger scale, those labels represent the primary philosophical difference behind how AEW and WWE run their respective businesses.
Vince McMahon wants sports entertainers for his roster. Tony Khan is a lifelong fan of professional wrestling.

Chris Jericho's hilarious new heel character will represent Vince's perspective. Last week, he cut a fantastic promo about being a "sports entertainer" on AEW Dynamite. Members of the newly formed Jericho Appreciation Society followed suit.
If Jericho and company are representing sports entertainment, you can bet they'll be feuding with proponents of pro wrestling. I suspect it'll be William Regal's emerging faction. In fact, there are signs that "tough, old-school, technical wrestling" will be the banner under which the group comes together.
I think Tony Khan is building a professional wrestling dream team of former indie superstars and Ring of Honor Hall of Famers.
Here are the performers I predict will join Regal's team over the next few months:
CM Punk
Arguably AEW's most crucial free-agent signing to date, Punk is now at a crossroads. He's wrestled most of the young upstarts on the roster, including beating Darby Allen in his debut match. He's also won feuds against Eddie Kingston and MJF.
Now that his program with MJF is over, the Best in the World needs a new angle.
The 43-year-old ROH Hall of Famer could challenge for the title, but both Hangman and Punk are currently babyfaces. Page is also still feuding with Adam Cole.
There are also reports that Brooks will be filming season two of the Starz series Heels — so he may have limited availability for a stretch. If so, it makes sense for Tony to book him in an angle where Punk can participate when he's able but won't entirely fall apart when he's gone. A feud between star-studded factions fits the bill.
Finally, CM Punk and Bryan Danielson have discussed forming a tag team together for years. In September, the Chicago native discussed tagging with Bryan on AEW Unrestricted.
"Selfishly, I want to tag with Bryan Danielson," Punk said, responding to a question about who he'd like to partner with to challenge for the AEW Tag Team Titles.

"I don't know if anybody has ever spoken about this before but before I left Ring of Honor for WWE, it was 'what's next for CM Punk?' after winning the title and all that stuff. There was a thing we were kicking around with maybe me and the American Dragon tagging up and just, black boots, black trunks, and just kind of like a [Nick] Bockwinkel, [Ray] Stevens for a new era. Of course, we were like, 'that sounds like something we could really sink our teeth into.' I still think there is potential to do that."
Doesn't this new faction with Regal at the helm sound like the perfect opportunity for CM Punk and Bryan Danielson to realize their tag team dreams?
Cesaro / Claudio Castignoli
Cesaro let his WWE contract expire last month without signing, making the Swiss Superman a free agent. He can sign with any promotion and immediately appear without any restrictions. If he wants to wrestle in AEW, Tony Khan will make it happen.
Claudio is one of the most talented, physically gifted, professional wrestlers alive and has been severely underutilized by WWE.
I can think of no better way to bring Castagnoli to AEW than introducing him as Regal's muscle. He fits the "pro wrestler" mold, brings an air of legitimacy to his matches, and came up through the same independent circuit as AEW's other top performers. Claudio's presence alongside Moxley and Danielson would instantly make the faction feel more imposing and dominant. He'd also be a tremendous mentor for the young wrestlers.
Big free agent debuts make stables feel special.
He didn't sign with AEW, appear on television, and eventually join the group; "he wanted to join our cause in the ongoing battle with JAS [or whatever rival stable]!"
Samoa Joe
Samoa Joe is another Ring of Honor Hall of Famer that would make an ideal addition to a hard-hitting, violent faction built on the tenets of professional wrestling.
He has extensive histories with everyone involved and would be an imposing figure to add to the mix. Injuries have plagued Joe in recent years, but his presence and mic skills alone would elevate the group.
When I think of a next-generation nWo, I picture a crowd of intimidating trained killers standing in the ring, cutting promos and making threats.
Having someone like Samoa Joe in the mix adds so much legitimacy to the faction, even if he doesn't wrestle so often.