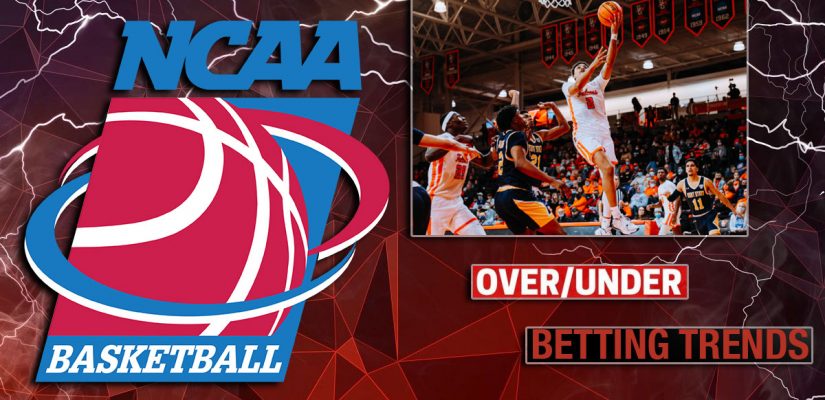 Bowling Green is the nation's best OVER cover
No. 1 Auburn's efficiency on both offense and defense offers a litany of opportunities in both the OVER and UNDER
Watch opposition averages as a determinant when looking at the O/U
OVER/UNDER
1) Bowling Green (16-4-0) – 80% Cover Rate

The Falcons dropped a pair of losses this week to Kent State and Central Michigan and they saw their 11-game streak of covering the OVER end on Tuesday night in a 78-74 loss to the Chippewas where the two teams did not cover 157.5 points. The last time that the Falcons failed to cover the OVER was a 73-72 loss to Oakland with the number posted at 149.
The numbers that make the Falcons a solid pick on the over as they average 82.6 points pregame (7th/CBB) and they give up 78.6 per game (342nd/CBB).
2) Northern Colorado (13-4-1) – 76.5%

The Bears play in the high octane Big Sky Conference and they're pressed to score the ball on a nightly basis. Their points numbers are similar to Bowling Green in that they put up 77.6 points per game (46th/CBB) and give up 77.5 (338th/CBB). The Bears are 12-1-1 vs. in covering the OVER in their last 14 games.
They have lost three in a row where they have given up 90 points per game on average in those three with two of those losses coming to Portland State.
3) Princeton (13-4-0) – 76.5%

The Tigers are the 19th best three-point shooting team in the nation as they bag 38.5 percent of their triples while averaging 80.6 points per outing (16th/CBB). Princeton also gives up 70.9 points (231st/CBB). The Tigers have covered 10 of their last 12 OVERs and had a 10-game winning streak come to a close last Saturday in an 80-74 loss to Yale.
The Tigers have five players averaging double figures in conference play, led by Tosan Evbuomwan, who posts 16.8 points and Jaelin Llewellyn, who scores 16.0 points per game and makes 42.3 percent of his three-point shots. Princeton's opponents make 41.6 percent of their triples, as the defense therein is last in the Ivy League.
OVER/UNDER Covers After a Win – (Ranked by Total of OVERs)
1) Weber State – (13-4-0)

The Wildcats are another high-flyer in the Big Sky as they lead the league at 11-1 which is accented with an 8-game winning streak going into Saturday's game vs. second-place Montana State. Weber State has covered five of its last seven OVERs and the Wildcats have covered the OVER in six of their last seven games after a win.
Which speaks to offensive consistency as it underlines the idea that they are a good bet. The Wildcats average 78.9 points per game (28th/CBB) and they get the ball inside the paint where they average 57 percent (16th/CBB) and they get to the line 22.5 times per game (9th/CBB) where they make 16.9 free throws (7th/CBB). The idea that this team gets easy shots in it's offense and is aggressive in getting to the free throw line makes them an even better play on the OVER.
2) Auburn (13-7-0)

No. 1 Auburn has streaked to a 21-1 record as the Tigers have covered the OVER in three of their last four and seven of their last nine. Auburn is one of the nation's premier defensive teams, so the seven UNDERs after wins are the direct result of the Tigers' opponents averaging only 51 points per game in those seven outings.
Wooden Award candidate Jabari Smith leads four Tigers in double figures with 15.9 points per game as he also is second in rebounding at 6.7 points per game. With Walker Kessler in the middle (11.2 ppg, 7.6 rpg) and playing inside of a system that takes advantage of his offensive efficiency's which is 29th in the nation, and his 4.2 blocked shots per game, the Tigers have a high curve in production both ends of the floor. Auburn is ninth in college basketball in offensive efficiency and 11th in defensive efficiency, per KenPom.com.
3) Wake Forest (11-6-0)

There are a plethora of 11-win teams on the cover of the OVER, so Wake Forest and its efficient offense look like the best pick among those. Coach Steve Forbes' Demon Deacons are way ahead of schedule in his second season as they have posted an 18-5 ledger to date and are in the ACC race that has turned into a log jam atop the ACC.
Wake is 7-2 SU in its last nine games and the Demon Deacons have covered the OVER in five straight games after a 91-75 win over Pitt on Wednesday. The Demon Deacons have four consecutive covers on the OVER after wins as they had a drought on those which reached back to an 82-79 win over Charlotte where the two teams blew away the 139 on Dec. 17. This came after a 77-70 win over VMI. Alondes Williams is the ACC's leading scorer (19.3 ppg) and leading assist man (5.3 apg) as he is an excellent candidate for ACC Player of the Year.
OVER/UNDER Covers After a Loss – (Ranked by totals of OVERS)
1) Omaha (13-5-0)

Obviously, these teams are going to have a high volume of losses. The Mavericks are 4-19 and in eighth place in the 10-teams Summit League. Covering the OVER after a loss is a likely scenario as Omaha gives up 82.7 points per game (346th/CBB). The Mavericks are 1-7 SU in their last eight games and have covered the OVER on four of the last six occasions.
2) Oregon State (11-2-1)

Coach Wayne Tinkle and the Beavers came to within one game of the Final Four last season as they made a magnificent run to the Pac-12 title and garnered three wins in the NCAA Tournament. It's been a tough season as OSU had monumental losses in productive personnel and has had to rebuild more probably than first expected.
Defense has been a tough chore for the Beavers who give up 80.3 points per game, last in the Pac-12. Oregon State has covered the OVER in eight straight games and four out of five after the last five losses.
3) Jackson State (10-5-1)

The Tigers have a four-game losing streak where they have covered the OVER in the first three, going into tomorrow's game against Mississippi Valley State. At 4-16, the Jackson State Tigers had a previous six-game losing streak where they wound up 3-3 on the O/U after those losses.
The point here is that this may not be the best team to bet on in this scenario as Jackson State averages only 58.6 points per game (353rd/CBB) while shooting just 38.2 percent from the floor (354th/CBB).
OVER/UNDER Covers as a Home Team
1) Santa Clara (11-4-0)

The Broncos have won two in a row and four out of five at home and are 12-3 SU in the Leavey Center where they continue to enjoy one of the best home-court advantages in the nation. The WCC has gotten much tougher in the middle of the league so playing at home becomes a bigger determinant as Herb Sendek's team has shown.
As it has helped them tie for third in the league at this point. Santa Clara had covered the OVER on five out of six occasions before placing UNDERs in the last two wins over Pacific and Loyola Marymount. The Broncos have covered the OVER in five of their last seven home dates.
Sendek has an older team that averages 79 points per game (2nd/WCC) in league play and it is led by Jalen Williams (18.1 ppg, 3.5 rpg) and Keyshawn Justice (14.3 ppg, 7.6 rpg). Defensively, the Broncos can help with OVERs as well as they have given up 76.9 points (8th/WCC) with one key being that they allow 64.4 field goal attempts (9th/WCC), which of course means more scoring opportunities.
2) Iowa (10-2-1)

The Hawkeyes have lost three of their last four as they are now 4-6 in the Big Ten and 14-7 overall. They likely will get an NCAA Tournament bid thanks to being able to protect their home court in Carver-Hawkeye Arena. They have covered seven OVERs in their last nine games.
Iowa is hot right now in hitting those OVERs at home as the Hawkeyes have gone past the number in five games in a row. Normally a good three-point team, the Hawkeyes have struggled from there as they are last in Big Ten play at 30.8 percent. The athleticism of Keegan Murray, who averages 22.3 points and shoots 55 percent from the field, opens up games though and has allowed them to average 74.8 points (3rd/B10) and take 19.5 three-point attempts (3rd/B10) inside of the league.
3) Loyola Chicago (9-1-0)

The Ramblers are tied with Drake for first in the Missouri Valley and defending the home court is what has put them in a good position as they are 10-1 on the floor of the 4,500-seat Gentile Arena. The Ramblers have covered the OVER in five of their last six home games and have been OVER in 13 of 21 games.
You have to watch the defense of this team which allows its opponents only 63.1 points (2nd/MVC) in league play. It also allows only 6.9 threes (3rd/MVC) and 42.1 percent from the field (3rd/MVC). Offensively, Lucas Williamson is the Ramblers' leading scorer at 13.7 points as Loyola is going to rely on that defense which is head-scratching when you see the 13 OVERs.
O/U as the Away Team – (Based on Number of OVERs)
This is a category that will be filled with mostly mid-majors because they play so many more road games and on the courts of the teams in the Top 10 conferences in the nation.
1) VMI (10-2-0)

The Keydets have covered the OVER in six of their last seven games and are headed for their first upper-level finish in the Southern Conference in several seasons. VMI has also covered five of the six away games in SoCon play with the OVER as the lone UNDER was a 79-64 loss at Furman where the number was posted at 153.
This team leads the league in averaging 78.9 points while giving 77.7 (8th/SoCon). VMI also leads in the Southern with a 40.9 three-point percentage as Jake Stephens shoots 44.7 percent from distance and Kamdyn Curfman makes 41.1 percent from afar.
2) Sacred Heart (10-3-0)

The Pioneers have covered the OVER in three of their last four games and they are 4-1-1 in their last six. SHU has lost four in a row as three of those are on the road and the Pioneers have hit the OVER in all three of those roadies. In addition, Sacred Heart is 5-1-0 with the OVER in their last six games which dates back to a 79-69 win at Columbia on Dec. 13.
The Pioneers give up 77.5 points per game in Northeast Conference play which is last in the league and SHU has a high number of field goal attempts allowed, 64.3 per game (9th/NEC). Offensively, they can score the ball with 72 points per game (4th/NEC) and their 8.6 threes per game lead the league.
3) Chattanooga (9-4-0)

There is a logjam in teams with nine wins, but let's stay in the Southern Conference where Chattanooga and Furman look like they are going to battle it out for the regular-season winner. Samford stopped the Mocs' five-game win streak on Wednesday night. Although Chattanooga is solid with the OVERS in this category.
Four of the Mocs' last seven games have gone UNDER the number. On the road in the conference, UTC has covered four out of six and the Mocs' last five road games in the non-conference were all OVER the total. Malachi Smith (20.8 ppg, 6.5 rpg) can stoke the win total and the OVERs as he is certainly the potential Player of the Year in the Southern Conference. This team is built on the defensive end and the opponents inside the league average 66.5 points (2nd/SoCon) while they average 42.6 percent (2nd).