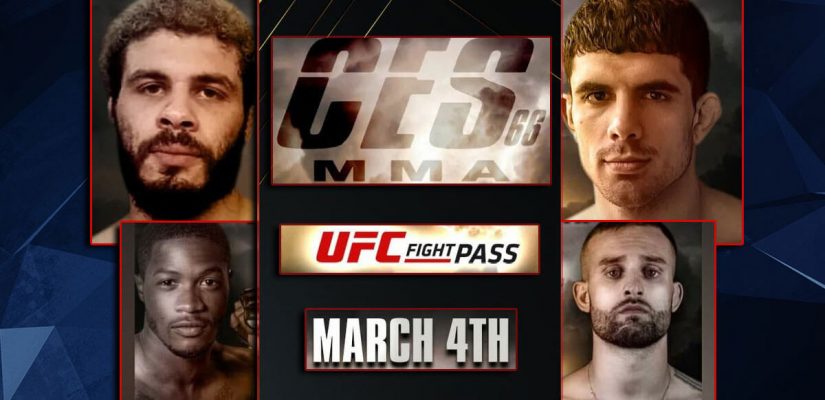 CES 66 is a fight card with seven high profile MMA bouts, and we've gathered the stats to build our top betting pick for each fight. You'll see a quick breakdown of the fight, our top pick, and a link to our favorite betting sites. 
CES 66 takes place on March 4th, 2022 at 7:00PM ET, so place your bets now! 
CES 66 Main Card Fights And Betting Picks
Starting with the main event, we're working our way down to the first fight of the night, including two title fights, and four undefeated fighters. 
No bout has prop betting odds for the evening, so the fighters money line is the only bet to consider. 
Diego Silva Vs Andre Soukhamthath
Our headliner is a Bantamweight title fight for the vacant CES belt. Soukhamthath is coming off a loss at XFC, just two fights after being released from the UFC. Andre was 2-5 in the UFC, with each loss coming by decision, including to Sean O'Malley and other heavy handed fighters. 
Silva is a submission fighter whose recent step up in competition hasn't been serving him. Since 2017, he's gone 4-5 over middle of the road opponents. 
Expect Silva's only win condition to be a submission or takedown and control strategy. 
Tale of the Tape for Silva vs Soukhamthath
| | | |
| --- | --- | --- |
| Fighter | Diego Silva | Andre 'The Asian Sensation' Soukhamthath |
| Money Line | +165 | -205 |
| Age | 28 | 33 |
| Height | 5'6'' | 5'9'' |
| Record | 13-5 | 14-9 |
| Submissions/TKO  | 6/2 | 3/8 |
| Losses via Sub/TKO | 1/2 | 0/0 |
| Fighter Training Camp | Fusion X  | American Top Team, Combat Club  |
Andre is the favorite and much larger fighter. They have similar finishing rates, though Andre leans more toward TKO stoppages including several flying knee wins. 
Silva's two TKO losses don't bode well for him. Unless Silva has made major changes to his striking, he will lose a stand-up battle over Soukhamthath. 
Fight Tape for Silva  
Silva's recent loss to Jay Perrin is a good example of his striking and wrestling. Diego lost an early exchange, and then immediately found the takedown. Still one of the main issues for BJJ based fighters, he failed to do any damage with his takedown, landing no significant ground strikes. 
Perrin goes on to win the second round and score a takedown after rocking him with an elbow. Silva nearly finishes a submission, but this isn't a grappling match, and his near misses give Perrin the fight, who was the only fighter to do any real damage. You can watch the fight for yourself here. If you're confused about MMA scoring, go over our MMA guide to help open your eyes on it. 
Soukhamthath's Style and UFC Bouts, and Betting Pick 
Soukhamthath bested XFC champion Faria in a split decision two years ago, then lost to former UFC fighter Jose Quinonez. Many fighters take Soukhamthath to decision, but as we've seen from Silva's style, he'll need control to win a decision, where Soukhamthath isn't afraid to chip away and do damage for the win as he did against Jonathan Martinez in 2018. 
Our CES 66 betting pick is the Andre Soukhamthath money line at -205, for a former UFC fighter against a submission-only rising gatekeeper. 
PLACE YOUR BETS NOW!
Billy Goff vs Gary Balletto Jr
Balletto is on a tear, including two professional boxing wins. He's the type of fighter to take a loss then fix his weaknesses. He faces Goff, a young fighter on a three fight winning streak that includes two knockouts of undefeated fighters. 
This bout is for the vacant welterweight CES title belt. It's a five, five minute round fight. 
The welterweight strap is ON THE LINE TOMORROW!#CES66 pic.twitter.com/m1XOYiycat

— UFC FIGHT PASS (@UFCFightPass) March 3, 2022
Tale of the Tape for Goff vs Balletto Jr. 
| | | |
| --- | --- | --- |
| Fighter | Billy Goff | Gary Balletto Jr.  |
| Money Line | -150 | +120 |
| Age | 23 | 27 |
| Height | 5'10'' | 5'10'' |
| Record | 5-2 | 7-2 |
| Submissions/TKO  | 0/3 | 5/2 |
| Losses via Sub/TKO | 0/1 | 0/1 |
| Fighter Training Camp | Dexter MMA  | TriForce MMA |
Goff is the younger fighter with all other aspects similar. Gary has a far better finishing percentage at 100% among wins. Both MMA teams are up and coming, and no one has a specific training edge. Goff has the better wrestling, but Balletto has superior boxing. 
Fight Tape for Billy Goff
Goff's recent decision win over Sean Lally of Sityodtong Kickboxing is a good example of his striking defense and grappling. Lally has knockout power and lands early and often. Goff won a takedown in the first round, but did minimal damage with it. Goff wins the fight with superior conditioning, taking mount in the second round, but unable to finish. 
Goff has some weaknesses in his striking, and I see a sprawl and box strategy for Balletto leading to an easy win. 
Goff's last loss was to Pico, a fighter who could resist the early takedown and landed a first round TKO with a cut off a right hand. 
Fight Tape and Betting Pick for Gary Balletto Jr
Balletto has good wrestling but questionable conditioning. He's not as well muscled as Goff, but has defeated strong welterweights like Dahlen Wilson. 
Gary has a 50% TKO rate in professional boxing as well. He's no slouch in any area. I see Goff as an obvious favorite, but I think Gary will take home the win. Goff doesn't have the boxing pedigree or submission experience of Balletto, who trained closely with Joe Lauzon over his last few camps. Expect Gary to attempt to drag the fight into deep waters against Goff. 
Our betting pick is for the Gary Balletto Jr. money line at +120.
PLACE YOUR BETS NOW!
Vladimir Kazbekov vs Joey Gomes
This bout marks the return of Joey Gomes, who was cut from the UFC in 2016 and hasn't fought in six years. All six of his wins came by way of knockout. He's the favorite over Vladimir, a fighter who's gone 2-2 over his last four, losing twice by TKO. 
If Gomes is even a shadow of his former self, he'll knock out Kazbekov. 
Tale of the Tape for Kazbekov vs Gomes
| | | |
| --- | --- | --- |
| Fighter | Vladimir Kazbekov | Joey 'KO King' Gomes |
| Money Line | +150 | -180 |
| Age | 29 | 35 |
| Height | 5'7'' | 5'10'' |
| Record | 6-4 | 6-2 |
| Submissions/TKO  | 1/1 | 0/6 |
| Losses via Sub/TKO | 1/2 | 0/1 |
| Fighter Training Camp | Modern Vision MMA  | Team Quest |
Gomes is taller and likely carries a significant reach advantage. He has less overall losses and far more finishes. Both camps are high quality, but Team Quest is a tried and proven camp producing multiple UFC contenders, while Modern Vision is still developing its place in the MMA world. 
Gomes Recent Training Footage
Gomes has two kids and a full time job, but his recent training footage looks spot on. He's in shape, and a lean featherweight. I was worried we'd see a very different competitor from the 29 year old Gomes, but he looks better than ever. 
Fight Tape Comparison for Kazbekov vs Gomes
In his last fight versus Eric Wilson, Kazbekov fought on short notice. Still, the 7-9 Eric Wilson outboxed Kazbekov early. Vlad's power equalized the stand up, so Wilson won the clinch. This was a good bout, a competitive bout. 
Gomes has only been finished by Rob Font, who's still a high level UFC fighter. Kazbekov will need to bring a whole new kind of striking to the table to take out Gomes.
Our betting pick is Joey Gomes' money line at -180. He's in an entirely different realm of fighter than Vladimir, and six years of added experience will only open up that gap. 
PLACE YOUR BETS NOW!
Eduardo Rodrigues vs Tyrime Da Silva 
Two newly professional featherweights meet, with the undefeated Da Silva taking on the 1-1 submission fighter Rodrigues. 
Tale of the Tape for Rodrigues vs Da Silva
| | | |
| --- | --- | --- |
| Fighter | Eduardo Rodrigues | Tyrime Da Silva |
| Money Line | +250 | -310  |
| Record | 1-1 | 1-0 |
| Submissions/TKO  | 1/0 | 0/1 |
| Losses via Sub/TKO | 0/1 | 0/0 |
| Fighter Training Camp | X-Team | Tri-Force MMA |
Silva comes in the favorite over the submission fighter. Silva's amatuer career had three submission wins, so he's clearly a grappler with knockout power. 
Rodrigues has no amatuer record and lost his only fight outside of Brazil. With both teams equal and no fight tape available, our betting pick is the Tyrime Da Silva money line at -310. Bet lightly and don't parlay this strong favorite with any other bouts. 
PLACE YOUR BETS NOW!
Bobby Casale vs Dion Rubio 
Rubio is a quality BJJ competitor who's only loss was as an amatuer in 2019. Bobby Casale is a 3-3 fighter out of Sanford MMA, though he trains primarily in Long Island at Long Island MMA, and goes to Sanford when he can. 
Tale of the Tape for Casale vs Rubio 
| | | |
| --- | --- | --- |
| Fighter | Bobby Casale | Dion Rubio |
| Money Line | +240 | -300 |
| Record | Debut (3-3 amatuer)  | 1-0 (5-1 amatuer record) |
| Submissions/TKO  | 0/2 | 1/0 (3/0 amatuer)  |
| Losses via Sub/TKO | 0/0 | 0/0 |
| Fighter Training Camp | Long Island, Sanford MMA | Tri-Force MMA |
Rubio clearly wants the decision. He's finished two pro grappling matches and one fight in 2021 via submission, and has competed in multiple other pro submission matches. 
Casale has never lost via decision, but is yet to face a submission fighter of this caliber. 
In fact, Casale is yet to beat any fighters with a winning record. 
Casale would have the training advantage at Sanford, but for this camp it doesn't appear he was there for more than the week leading up to the fight. 
Fight Tape for Casale vs Rubio
Casale's last fight versus Gjetja was his last amatuer fight, taking place in late 2019. He was open to the submission again and again, despite being in top position. On the feet, Casale was losing the standup to a fighter with no knockout wins or notable kickboxing experience. 
Dion's first pro fight with Ladeira was last year for Cage Titans. The first difference you'll see is Rubio's athleticism. He's far more physical than Casale. Casale won't survive on the feet with Dion, and won't win the takedown. 
Our betting pick is the Dion Rubio money line at -300, a $0.33 per dollar wagered return on a clear winner. Of any bout on the card, this is the one I'm most comfortable with using in a parlay ticket. 
PLACE YOUR BETS NOW!
Christopher Piriz vs Connor Matthews 
Matthews is an undefeated professional taking on Piriz, a 7-7 fighter who's mostly lost via decision. Piriz is better than hsi record lets on, and thinks Matthews needs to be ready to go the distance. 
Tale of the Tape for Piriz vs Matthews 
| | | |
| --- | --- | --- |
| Fighter | Christopher Piriz  | Connor Matthews |
| Money Line | +240 | -300 |
| Age | 33 | 29 |
| Height | 5'8'' | 5'8'' |
| Reach | NA | 71'' |
| Record | 7-7 | 4-0 |
| Submissions/TKO  | 1/4 | 3/1 |
| Losses via Sub/TKO | 0/1 | 0/0 |
| Fighter Training Camp | Team Alpha Male  | Lauzon MMA, varied  |
So Matthews is primarily a submission fighter and Piriz has never been submitted. This is a recipe for a decision. Piriz has good conditioning for going the distance and wrestled in college. I see Matthews struggling with the takedown and having a clinch war with Piriz.
Fight Tape for Piriz vs Matthews
Piriz last loss was in 2019 to Jim Fitzpatrick. Jim is an undefeated wrestler on a serious winning streak. Piriz won the takedown and controlled the whole fight, but was robbed by hometown judges. There was very little action. 
Matthews last win was a choke over the 15-97 Jay Ellis. We'll look back to the fight with Joshua Marer. He dispatched Marer with ease. 
My only concern with Connor Matthews betting pick is the lack of testing. I'm going to bet the Matthews money line at -300, but tentatively. Bet lightly, this could be an upset decision. 
PLACE YOUR BETS NOW!
Dajuan Robinson vs Travis Demko 
Our opening fight of the evening is a featherweight bout with a 0-5 fighter back for more. 
Tale of the Tape for Robinson vs Demko
| | | |
| --- | --- | --- |
| Fighter | Dajuan Robinson | Travis Demko  |
| Money Line | +400 | -600 |
| Record | 0-5 | 1-0 |
| Submissions/TKO  | 0/0 | 0/1 |
| Losses via Sub/TKO | 0/3 | 0/0 |
| Fighter Training Camp | NA | Lauzon MMA  |
Without getting too deep into the details, I think we have a clear betting pick in Demko. Robinson was knocked out last year, 2019, and 2018. He needs to take a break, and his only chance is swinging for the fences. 
Demko should have another KO on his record, and we're betting his money line at -600, a good fight to parlay with the Don Rubio win. 
PLACE YOUR BETS NOW! 
CES 66 Betting Picks Wrap Up
CES is great at assembling exciting fights out of up and coming fighters. Many of these fights are purposefully one sided so that one fighter will get a finish. It makes it so that we don't see prop bets, but it also makes it more obvious to bet on favorites over underdogs.