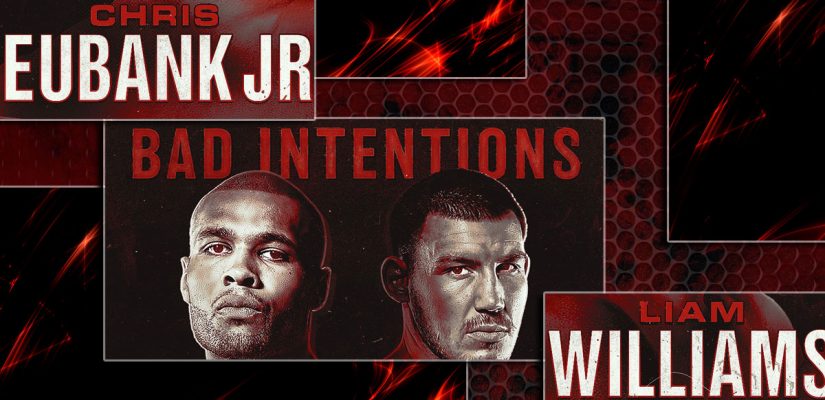 On Saturday, February 5th, Chris Eubank Jr. (31-2, 23KOs) will take on Liam Williams (23-3-1, 18KOs) in an all-British grudge match from the Motorpoint Arena in Cardiff, Whales.
This bout was originally set to take place on December 11th, 2021, but Williams suffered a shoulder injury that pushed the fight back roughly six weeks to January 29th, 2022. However, the British Boxing Board of Control decided to cancel all events in January which then pushed this contest back to February 5th. Both men are looking to start the year off with a victory, impose their will on the other, score a win in a grudge match, and hopefully move on to a world title fight.
Let's examine the sweet science of these Eubanks vs Williams prop bets and make a prediction as to who will win this fight.
"A BOTTLE JOB… TURNCOAT" ?

If their meeting on The Gloves Are Off is anything to go by then Eubank Jr vs Williams on the 5th February is going to be FIERY! ?

? @boxxer | @WassermanBoxing pic.twitter.com/zNkd7Bmwnv

— Sky Sports Boxing (@SkySportsBoxing) January 22, 2022
Eubanks Jr. vs Williams Preview
| | | |
| --- | --- | --- |
| Fighter | Chris Eubank Jr. | Liam Williams |
| Age | 32 | 29 |
| Height | 5'11" | 5'10" |
| Reach | 72.5" | — |
| Total Fights | 33 | 27 |
| Record | 31-2 | 23-3-1 |
| Knockouts | 23 | 18 |
Chris Eubank Jr. Recent Fights and Betting Odds
Since losing a world title fight against George Groves in February 2018, Eubank has won five in a row. Following the Groves loss, Eubank picked up an easy win in August 2018 via 3rd round RTD against JJ McDonagh in a "get right" fight.
Eubank fought twice in 2019 where he beat James DeGale via unanimous decision to win the IBO super middleweight title, which isn't really anything to brag about. He followed that up with a 2nd round TKO win over Matvey Korobov to close out the year.
Chris didn't compete in 2020 but did get two fights in 2021. The first came in May 2021, where he beat Marcus Morrison via unanimous decision. The second came when he scored a 5th round RTD against Wanik Awdijan in October 2021.
Eubank was the betting favorite in all five of those fights, just like he is with this bout against Williams. Chris can be found listed with odds from -280 to -325. In his last fight, Eubank was a massive favorite, with odds ranging from -4000 to -10000.
As for this weekend's battle, Eubank Jr. made the following comments:
I'm no stranger to going into the lion's den. I've been booed into arenas many times before. It doesn't affect me. If anything, it makes me fight harder, if the crowd is against me. Not to say that I'm hoping they are. I hope that I receive a warm welcome. But either way, I'm going to go in there and get the job done."
23 of Eubank's 31 pro wins have come via knockout which is a 74% knockout rate in his victories. He's never been stopped in his career.
Liam Williams Recent Fights and Betting Odds
In 2017, Williams suffered the first two losses of his pro career with both coming against Liam Smith. The first bout took place in April 2017 and he lost via RTD in the 9th round due to suffering a double laceration over his right eye.
Once healed, these two rematched in November 2017 and it didn't disappoint. Unfortunately, Williams lost the rematch via majority decision.
Following those losses, Liam put together a six fight winning streak. All six of those wins came via TKO/KO and they all took place in the UK. Williams also picked up the British middleweight title. Four of those six wins came in the 5th round or less.
Liam last stepped in the ring nearly 10 months ago when he took on Demetrius Andrade for the WBO middleweight title. The Welshman came up short and lost via unanimous decision including being knocked down once early in the bout.
Yet, none of those fights had the buildup that this weekend's clash does. Williams had some harsh comments about his upcoming opponent:
"You're the most fake person I know, nothing is real about you. Your fake beard, your fake hairline, your fake teeth. Nothing is real about you. So shut your mouth. I respect your ability but I don't respect you. I don't like this man, I just think he is a total clown. He is just running off the Eubank name and if I am being totally honest I think he is an embarrassment to the Eubank name. He's not half the fighter his dad was. He is more interested in being a celebrity more than a real fighter, if you ask me."
For the second straight fight, Williams comes in as the underdog. Liam is a +215 to +265 underdog against Eubank, which are slightly higher than when he fought Andrade where he was a +185 to +255 underdog.
18 of his 23 pro wins have come via knockout which is a 78% knockout rate in his wins.
? THIS is where LEGENDS ARE MADE ?

It's fight week and Cardiff is READY for BATTLE ????????

? Chris Eubank Jr vs Liam Williams
? 5 February | Live on Sky Sports
? @Boxxer | @WassermanBoxing pic.twitter.com/DrEq6YCf1B

— Sky Sports Boxing (@SkySportsBoxing) January 31, 2022
The Best Eubank Jr. vs William Prop Bets
After scouring the best boxing betting sites, here's a breakdown of the best prop bets available for this fight:
Over/Under 10.5 rounds
The Over/Under for this fight is set at 10.5 rounds with the Over favored at -165 odds. For Williams, he's gone past this mark just three times in his 27 pro bouts including his fight against Andrade last year. Eubank has gone past this mark five times in 33 pro bouts including two of his last six bouts.
I like for this contest to go Over 10.5 rounds despite the trends pointing towards the Under.
When these two men have faced top notch competition, the bouts tend to go into the championship rounds and beyond.
Will Fight go the distance?
Eubank has gone the distance in 10 of his 33 pro fights including three of his last six bouts. Williams has gone the distance in eight of his 27 pro fights including his last contest.
Piggybacking off the previous prop bet, I like for this fight to go Over 10.5 rounds and the full distance.
This is a grudge match where both men want to knockout the other. Instead, we're going to see a gutsy performance from both that will force this matchup to go the full 12 rounds.
Boxing Bet:
Yes, this Fight Will Go the Distance!
Method of Victory
Eubank via TKO/KO/DQ:
+130
Eubank via Decision:
+155
Williams via TKO/KO/DQ:
+700
Williams via Decision:
+450
Combined, these two men have had 42 of their 60 pro bouts end inside the distance and they've combined to score 41 KOs. With that in mind, I still like this contest to go the distance.
Smith's one KO loss was an RTD due to cuts over his eye against Liam Smith five years ago. He's never truly been stopped. Eubank has also never been stopped as both of his losses were via decision.
Based on the previous two prop bets, we can rule out the two betting options for finishes inside the distance. Instead, we'll focus on the three wagers that go the full distance.
A Draw is in play here as Williams does have one in his career. Both men are durable and have never been truly stopped which means we should see a full 12 round affair. And, we all know how crazy the scoring can be in pro boxing.
As for the winner, I am leaning towards Eubank in this grudge match. I believe he's the better pure boxer of the two. Eubank Jr. will outbox and outpoint Williams throughout the 12 round contest and come away with the unanimous decision victory with scores around 115-113.
I also wouldn't be surprised if it ends up as a split decision.
Betting on Rounds
Eubank wins in rounds 1-3:
+1400
Eubank wins in rounds 4-6:
+650
Eubank wins in rounds 7-9:
+500
Eubank wins in rounds 10-12:
+650
Williams wins in rounds 1-3:
+5000
Williams wins in rounds 4-6:
+2500
Williams wins in rounds 7-9:
+180
Williams wins in rounds 10-12:
+2500
For those who want to risk some money on a stoppage/finish inside the distance, I think there really is only two round betting options to wager on and both are the 10-12 round mark.
If someone is to fall in this fight, it will be in the 11th or 12th round after fatigue and punishment have set in. With that in mind, place a small flier on Eubank to win in rounds 10-12.
Boxing Bet:
Eubank Wins in Rounds 10-12!
What's Next For the Winner?
From the prop bets above, I've clearly chosen Chris Eubank Jr. to win this all-Brit grudge match. Once he wins this bout, I expect Eubank's name to be in the conversation for a world title shot. He certainly has set a goal to become world champ this year:
"This fight will happen with Liam Williams and after that, I will be fighting for a world title. I achieve my goals when I say I will. Chris Eubank Jr. to be world champion by the end of 2022."
Eubank is ranked #1 in the WBA, #3 in WBC, and #5 in the WBO.
He would be a worthy contender for the winner of Golovkin vs Murata if they still fight this year.
A shot at Charlo or Andrade also makes a lot of sense as well. Speaking of Demetrius, he just beat Williams last year. So, a convincing win by Eubank could entice Andrade to a big showdown in the summer.
Look for Eubank to enter the title scene after a win on Saturday.