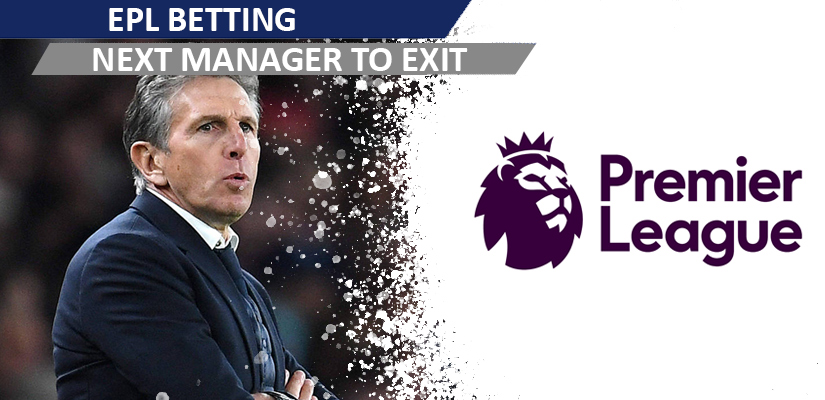 With the pressure to win that clubs provide and managers constantly looking for ways to move up the ladder, we're in a time where it's rare to see a coach stay with a team for too long. The English Premier League is no exception to that.
We've already seen Manchester United sack their manager Jose Mourinho just recently, and we're consistently hearing rumors about Leicester City's Claude Puel and Chelsea's Maurizio Sarri being ousted. And here's the thing: They're all top ten teams.
With that being said, nobody is safe in the EPL — no matter how good or bad the team is doing. And then you have situations where Tottenham Hotspur's Mauricio Pochettino could be leaving his post for a more elite job.
Chaos, chaos. Beautiful chaos.
THE ODDS FAVORITE TO NEXT LEAVE HIS POST
CLAUDE PUEL, Leicester City (+100)
Most of the experts agree that Claude Puel is getting an unfair shake by Leicester City. I concur, but I also see where the Foxes are coming from.
Puel took over the job back in October 2017 replacing Craig Shakespeare, and led Leicester City to a top ten finish in the EPL — improvement from the No. 12 mark that the Foxes were in at the end of the 2016-17 season. He also led Leicester City to two cup quarter-finals.
But here are the problems, and why Puel is on the hot seat after a crisis meeting between him and Leicester City: Despite the progression last season, there hasn't been much this year. On the 2018-19 EPL Table, Leicester is sitting in the exact same spot at No. 9 with a 7-4-7 record. And it's been bad: The Foxes have only won two of their last 10 EPL matches, and individual performances have taken a hit as a result as well.
Also, Puel has proven himself to not be able to hold on to elite talent — Leicester City lost star midfielder Riyad Mahrez to Manchester City. Puel is going to need to make a big move to get some of the heat off of him, as well as to help out with the winning that the Foxes desperately want.
He's also being accused of the same thing he did during his days at Southampton, and that's not build any relationships within the club — both with players and coaching staff. Things are so crazy, one sourceeven claimed that Puel has "lost nearly everybody", and his atmosphere at Leicester is "flat". Allegedly, Puel has even been ignoring his players when they've attempted to try to change his methods — they also aren't happy with how he's dealt with past incidents as well. (Andy King and Adrien Silva)
Then you have the debacle in last week's Carabao Cup quarter-final loss, where Puel would decide to field a considerably weak team against powerhouse Manchester City — even resting star Jamie Vardy. This created havoc with the club and their supporters. And it's obviously a very fair criticism: Why are you resting your players, including your star, against Manchester City in a quarter-final? Terrible move.
And it gets worse with Vardy: He's at six goals for the season, and Vardy admitted that he thinks it should be more. (Deservingly so, he had 20 last season) He owed the lack of goals to the fault of Puel, whose tactical approach is not getting the best out of his play, according to Vardy.
When asked about whether or not Puel's possession-based style is good for his game, Vardy didn't hold back: "Does it? No, but is that down to me to adapt to it? Yes. And obviously the only way I'm going to do that and keep progressing is working hard on the training field."
Vardy had additional comments: "It does get a bit frustrating, but we are transitioning into a different style of play. I think we've just got to keep working hard on it and eventually it will get us going forward that bit quicker because, when we get into attacking positions, eventually the ball will get picked out for some of my runs."
There is a little glimmer of hope for Puel, however, despite the massive amount of negativity surrounding his job: The 1-0 upset over No. 4 Chelsea in Matchweek 18. Leicester City made it clear to Puel that the matches against Chelsea and Manchester City would be telling of his future — he got the first big win out of the way. If Puel can pull another big upset over defending champion Manchester City, he'll surely buy himself more time.
Puel also had some interesting comments after the Chelsea game.
"I have nothing to justify," Puel said. "I am the manager of my team and try always to do my best to get the right balance to protect some players, get the best out of other players, and put a team on the pitch with the ability to win the game. We lost on penalties against City, but we had a good feeling about our performance."
As far as him losing control of the dressing room?
"I have no comment about this. I made my work. It's not all the time easy. It's important to analyze the games not just to look at the ranking in the table," said Puel. "If we analyze it since the beginning of the season, we've had fantastic games and performances sometimes without consistency, but always we kept the quality a fantastic mentality."
Today's game against Manchester City will tell you where to place the bet, but I'd go ahead and gamble that he's going to be canned before the odds become less-profitable (if that's even possible) — don't bet against a City squad looking to rebound from a major upset. That loss most likely will get Puel sacked, especially with how ruthless Foxes' ownership is — but you never know if the Chelsea win will give him some time, which makes this bet even more interesting.
If Puel is forced out, the rumor is that Celtic manager Brendan Rodgers will be Leicester City's target to replace him.
WHO ALSO COULD BOUNCE
NEIL WARNOCK, Cardiff City (+1000)
Despite sitting at the No. 17 position on the EPL Table and at threat of being relegated, Neil Warnock isn't at risk of being sacked. Rather, this would be a move that Warnock would decide to make as far as leaving Cardiff City — and he's already threatened to do so.
And that's for the exact same reason of why he isn't being fired: Cardiff City is broke. They have the lowest wage bill in the EPL.
"We need more players, we do, but it is difficult," commented a frustrated Warnock. "I can only do what I can do really."
God bless, Warnock. You can understand the frustration. He was able to line up Nantes striker Emiliano Sala after a deal was made by Cardiff City. Now he's at risk of losing Sala due to terms of the deal being changed.
"It's not going well. Every time we go for somebody, things change. It's difficult," Warnock told BBC Radio Wales.
Warnock elaborated further.
"I can put names forward, but getting them over the line is not as simple as that really. We're looking as best as we can at where we can get players in," said an irritated Warnock. "At the moment, it looks very much like the loan market for us."
Something he blasted as scandalous.
Warnock is adored by the Cardiff City fan base, this due to making the club consistently competitive despite such a low budget to work with. Therefore, him leaving courtesy of a firing is out of the question. The only way that he would leave is if it's his own decision.
With that being said, I wouldn't take this bet. He's too loved by Cardiff City, and eventually I see them pulling some strings to appease Warnock to get him to stay. Especially after the recent threats.
DAVID WAGNER, Huddersfield Town (+800)
Though there's not any news of Huddersfield Town's David Wagner in danger of being sacked, you have to consider that he has somewhat of a threat level currently being 2-4-12 sitting 19th on the English Premier League Table.
You also have to think that's the case with the current five-match losing streak that Huddersfield is on. The most recent loss was a really bad one as well, getting smoked 3-1 by another relegation battler, No. 16 Southampton (3-6-9).
The numbers have also been dismal for the Terriers this season. In goal difference, they're in the red — sitting with a -20 placing 17th in the EPL. In 18 matchweeks, they've only scored 11 goals — not an offense that's winning many games ranking dead-last in the Premier League.
Ball movement has also been terrible, Huddersfield has only managed to pile up seven assists — another depressing dead-last ranking. And the defense, you guessed it, that's been horrible as well — 31 goals conceded to rank 16th in the EPL.
No mainstream sacking rumors about Wagner as of yet, but I'd keep an eye on this situation if the Terriers keep losing. Go ahead and take the gamble with Huddersfield Town continuously declining this season — especially with the +1200 odds.
A nice payday could come from the right investment with this gamble competing against bets such as Claude Puel and Neil Warnock.
RAFA BENITEZ, Newcastle United (+1200)
When your manager says it would be a "miracle" to avoid relegation even if he was given transfer money (which might not happen anyways), you know your club has problems. That's exactly what happened with Rafa Benitez. That's right, Benitez straight up told fans that they shouldn't expect a good finish this season.
"For me, it is almost clear and if we can be better than three teams, it will be another miracle," said Benitez. "It was a miracle last year. People were thinking, 'Oh, you finished 10th…', but with a couple fewer wins, we could have been in the bottom five, so it was a miracle.
"If we do the same this year with teams spending even more money than last year, it will be a miracle," finished Benitez.
But there's a twist to this story that involves more than just winning and losing — a twist that could either expedite a Benitez sacking, or buy him some time. And I'm talking about the potential sale of Newcastle United.
Owner Mike Ashley wants to sell the club, but hasn't received any "acceptable" offers — he wants a total of £300million. Former Manchester United and Chelsea chief executive Peter Kenyon is in talks to buy the club, but has only made a £200million offer.
Now here's where it gets fascinating involving Benitez's job: Courtesy of Sky Sports reporter Keith Downie, new ownership could get Benitez forced out of the door.
"Peter Kenyon might have his own man lined up. Obviously Newcastle fans won't like that, but he's out of contract at the end of the season," Downie said.
According to Downie, Ashley also wants to make the sale happen before the start of the new transfer window — which is in January. We could be looking at a scenario where Benitez could be out of a job within a few weeks, if the sale even happens at this point anymore — the numbers aren't lining up in negotiations.
"It's my understanding talks are still taking place despite the fact that Peter Kenyon and his US-based consortium are in pole position," said Downie. "That's the party Ashley was almost appealing to in his interview with Sky News a couple of weeks ago."
Downie continued about the numbers of the deal.
"We know Mike Ashley is looking for upwards of £300million for Newcastle," said Downie. "Of course this time last year he was looking at around £330m so he has brought his price down slightly, but it's my understanding they are still far apart."
A possible saving grace for Benitez, and here's another one: The longer negotiations go on, the more likely Benitez is to receive a one-year deal — meaning a one-year extension to try to keep his job under new ownership.
"Talks are underway and there is a chance of this happening of him signing a one-year deal," reported Downie. "I'd be surprised if he signed a long-term deal, but I wouldn't be surprised if he signed a short-term deal while the takeover is going on."
Definitely the most interesting situation in the current odds-favorites, and well worth the gamble considering all of the circumstances. The two potential 'get out of jail' cards for Benitez makes it incredibly entertaining as well. I'd take the bet just based off of that, and the odds look good as well for a payday if he does get canned next month — which is still a strong possibility.
REST OF THE PACK
SEAN DYCHE, Burnley (+1400)
CLAUDIO RANIERI, Fulham (+1600)
NUNO ESPIRITO SANTO, Wolverhampton Wanderers (+2000)
ROY HODGSON, Crystal Palace (+2500)
JAVI GRACIA, Watford (+2500)
CHRIS HUGHTON, Brighton & Hove Albion (+2500)
MARCO SILVA, Everton (+2500)
NO MANAGER TO LEAVE (+3300)
MANUEL PELLEGRINI, West Ham United (+3300)

RALPH HASENHUTTL, Southampton (+4000)
EDDIE HOWE, AFC Bournemouth (+6600)
MAURICIO POCHETTINO, Tottenham Hotspur (+8000)
UNAI EMERY, Arsenal (+10000)
MAURIZIO SARRI, Chelsea (+10000)
JURGEN KLOPP, Liverpool (+15000)
PEP GUARDIOLA, Manchester City (+25000)
POWELL'S PREDICTION TO NEXT LEAVE POST