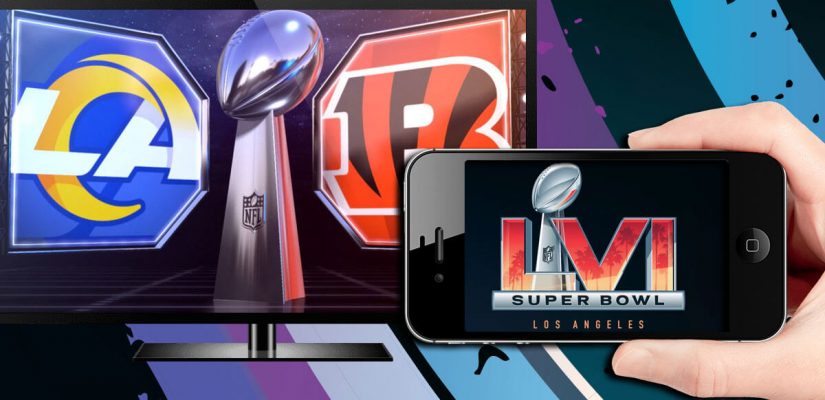 The Los Angeles Rams will take on the Cincinnati Bengals on Sunday night from SoFi Stadium in Inglewood, California in Super Bowl 56. It's a game that no one saw coming but now everyone wants to watch. We've got you covered with this Super Bowl 56 streaming guide to let you know where and when to watch all the action.
No live television event in the United States reaches as many viewers each year as the Super Bowl.
Even with a somewhat unlikely matchup this year pitting LA and Cincy, expect a ton of people to be watching once again. The Rams will be playing at home in a massive television market, and the Bengals are a fascinating story.
Super Bowl LVI awaits… #SBLVI pic.twitter.com/1RPYDtXcGh

— NFL (@NFL) February 7, 2022
As a bettor, you're going to want to know how and where to watch all the action. After all, you'll want to watch closely to see how all of your real money wagers are doing. And if you're making live bets on the game, you'll definitely want to be watching every single snap live so that you're up to date and can make timely wagers when the value is right.
You might be in a location where you can watch the game live, but that's not always a possibility. But there's also the chance that you might need to stream the game on some sort of portable device, or even onto a television. There are several options for that, and you should know all the specifics on them so you can make an informed decision.
Read on and you'll find out all you need to know about how to stream the Super Bowl. We'll explain which options are free and which you might require you to pay up. And we'll also talk about the importance of getting a solid streaming option so that you can make live bets at top online sportsbooks during the action.
Live Broadcast of the 2022 Super Bowl
The NFL tends to award its rights to the Super Bowl game each year based on a kind of rotation system. In that way, nobody gets too tired of seeing the same faces and hearing the same voices every single year. And this year the spinning wheel lands on NBC, which, interestingly enough, is also in the midst of broadcasting the Winter Olympics.
If you wanted to do so, you can watch Olympics coverage before and after the Super Bowl 56 festivities. Those festivities take place pretty much all day long, as many diehards will be tuned into the action from the first commentary all the way until the last bit of confetti falls on the winners. Here is the NBC live broadcast schedule for Sunday:
Noon Eastern Time: Road to the Super Bowl – This is kind of a pre-pregame show that talks about the two teams and how they made it to where they are. And considering how these teams were such long shots to get to this point, there should be a lot to talk about.
2 PM Eastern Time: Super Bowl LVI Pregame Show – This is the official pregame, with NBC's cast of thousands from its "Football Night in America" shows popping up throughout the four hours. You'll not only get a lot of football analysis, but there will also be entertainment aspects to the show as well.
6:30 PM Eastern Time: Super Bowl LVI: Keep in mind that the Super Bowl kickoff will take place at around this time. In actuality, the transition from pregame to main broadcast will begin at around 6 PM, giving time for last-minute activities like the player introductions, the National Anthem and the coin flip.
In terms of the main broadcast, it will NBC's top team taking you through the game. Al Michaels will take play-by-play with his longtime partner Cris Collinsworth, who once played for the Bengals, on color commentator.
You'll also hear from sideline reporters Michelle Tafoya (in what will apparently be her last game with NBC) and Kathryn Tappen, while former official Terry McAulay will be along for rules interpretations and replay commentary.
On top of all that, many people will be tuning in to watch the commercials and, of course, the halftime show. The halftime show this year features the best of the best in rap and R&B, with Dr. Dre, Eminem, Kendrick Lamar, Mary J. Blige and Snoop Dogg. Many real money bettors will be watching closely to see if their prop bets come in on the performances come in for them.
Streaming Choices for Super Bowl 56
As we mentioned, we expect that a lot of people will be looking to stream Super Bowl 56. They might do so because they don't have the option of watching the action from the main broadcast. And some others might be "cord-cutters" who prefer to stream (or might have to if they can't be parked in front of a television.)
Here are the three main options that you will allow you to stream Super Bowl 56, all of which are obviously affiliated with NBC:
NBCSports.com: This is a website devoted to NBC's sports programming. You can access it via an internet browser.
NBC Sports App: This app can be found at all the major app stores. You can use that to watch the game on any portable device that you have.
Peacock: Every major television network seems to have an app these days which serves as a home for the best broadcast shows as well as streaming originals. Peacock also is NBC's streaming partner for the Winter Olympics. It can be downloaded on most streaming devices, such as Amazon Fire, Roku and Apple TV.
What you might not realize is that the two apps of the bunch (NBC Sports and Peacock) aren't really free to you. In the case of the NBC Sports App, you can only stream from it if you have some sort of subscription to a satellite or cable provider. If you do, you can enter your user information from your provider account and that will give you access to this app.
You need a separate subscription to watch. Even though Peacock does have a free tier, the Super Bowl will not be a part of that. If you want to stream Super Bowl 56, you have to pay for a premium package from Peacock, which will cost you $4.99 a month.
There is really no way around this. In the past, you might have been able to use a free preview of the pay tier of Peacock to watch the game, and then you could cancel before you started getting charged. But Peacock, perhaps sensing that the Super Bowl and the Olympics would give people ideas to do jus that, has eradicated that promotion.
Other Possibilities for a Super Bowl Live Stream
If you want to venture outside the NBC family to stream the game, there a few possibilities for you.
These streaming options are limited, however, to just portable devices. In other words, you couldn't take these paths and then watch the Super Bowl 56 on a big screen.
But if you don't mind the smaller screen, you can try the following options:
You might find some features from these options that make them more palatable to you than the others we mentioned. In reality, we don't expect too many viewers to go one of these two routes. But you should know about them anyway just in case you need them in a pinch.
Using Your Super Bowl Stream for Live Bets
One of the reasons that sports bettors are so fanatical about having their viewing options lined up for Super Bowl 56 is that they might want to bet on the action as it happens. Live betting, which is a relatively new phenomenon in the world of online sports gambling, allows you to wager during the game.
To those who used to hustle to get their wagers in at the very last moment before kickoff, this development must seem like a strange and wonderful thing.
As you watch the game, keep an eye on your favorite sports betting sites or app and see what kind of live bets and odds are being offered to you.
You might see something that stands out to you as something that will give you the edge for a winning wager. If you're not streaming the game, you really shouldn't be live betting.
What kind of bets might you able to make while the game is happening? Here are a few of them:
Win/moneyline bets: Right not the Rams are the favorite, but that could certainly change if the Bengals get off to a fast start. Keep an eye to see how this line moves with each score.
Point spread: The Rams are favored by four at the moment. Can they live with the pressure of being the favorite, or will the Bengals change the spread quickly with early points?
Over/under: The pre-game over/under is at 48 ½. Don't overreact if you don't see a lot of points early, as oddsmakers might try to fool you by lowering the line early on in the game. Remember that more scoring tends to happen late in games.
Props: The prop bets you'll get during the Super Bowl action will be practically limitless. Top sports gambling sites will be proactive in creating new odds based on the statistics in the early going. Specialty props like those in place for the halftime show could be changing on the fly as well once the performance begins.
What to Watch for on your Stream to Help Your Super Bowl Live Betting
Now that you know what kind of live wagers you can make at top gambling sites, you should be on the lookout for certain "tells" from the two teams to help you with your live bets. Zero in on these key factors as you watch your stream. They should give you a clue about how the game is progressing, so that you maybe you can beat the oddsmakers to the punch and find good value.
Burrow in the Pocket
If there is a main advantage that the Rams seem to have in this game over the Bengals, it is the pass rush. In Aaron Donald, Leonard Floyd and Von Miller, the Rams have three elite pass rushers. They can be problematic for even the best offensive lines.
Cincinnati has had trouble protecting their star quarterback Joe Burrow all season long, as they were second-worst in the league in allowing sacks per dropback. They survived a ton of sacks against Tennessee and were nearly wrecked by Chris Jones and the Chiefs pass rush that is below average. How will they hold up against LA?
Look to see early on if Burrow is able to set and throw in situations where they must pass. If they can, it could be a good sign that Cincy is scheming it up well to keep Burrow clean. But asking this O-line to protect one-on-one against the Rams rushers could be a recipe for disaster.
Cooper on the Loose
No team in the NFL has been able to slow down Cooper Kupp this year, let alone slow him down. In an incredible feat, he lead the league in receptions, receiving yards, and receiving touchdowns. This with every defensive coordinator going into each game designing to try and keep him in check, obviously to no avail.
It's doubtful that Kupp will be contained for the entirety of the game. But the Bengals have to come up with ways to try to keep him from tearing him early. We would guess that their standout safeties, Vonn Bell and Jessie Bates, will be heavily involved. As far as your live bets, both in terms of the game at large and Kupp's props, watch to see if the Bengals are keeping him to short gains.
If Kupp is consistently getting big yardage after the catch, he is in for a monster game and the Bengals are in trouble. But if his early production is limited to dink and dunk-type passes, Cincy could succeed where so many other teams have failed.
The Running Game Battle
Let's face it: Both of these teams will throw the football for their bread and butter. When you have quarterbacks like Joe Burrow (for the Bengals) and Matthew Stafford (for the Rams) and receivers like Cooper Kupp, Odell Beckham Jr., Ja'Marr Chase and Tee Higgins, you can't blame them. And maybe it will be the type of game where neither team will really do much in the run.
But if one of the teams comes out and shows some pop in the running game, it could make a huge difference. Joe Mixon had a career year for the Bengals and is coming off 88 rushing yards against the Chiefs. The Rams haven't done a lot running the ball in the playoffs, but have a pair of capable guys in the backfield in Cam Akers and Sony Michel.
Akers is the real wild card here, as he has a little bit more time to round into shape now after his surprise return from injury. Look to see if either of these teams are having success running the ball when defenses know it's coming. And check on how Akers looks early, as he could be a good barometer for the Super Bowl as a whole.
Conclusion
Now that you have this Super Bowl 56 streaming guide, there's no reason for you to miss a second of the action. Make sure to check beforehand if your preferred streaming options are available to you. And good luck on your Super Bowl bets, live and otherwise, no matter where and how you're watching the game.