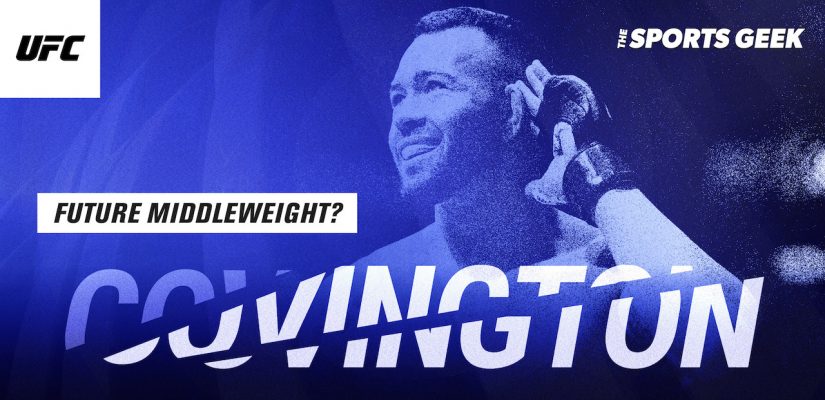 Colby Covington, the de facto second best welterweight in the world, is currently flirting with the idea of moving up in weight and challenging the venerable Israel Adesanya. Nothing is yet set in stone (nor has anything been confirmed), but we, for one, love the idea.
Changing weight classes is the absolute best (and fastest) way for a fighter to secure a "clean slate." It's astonishing, really. All of a sudden, you find yourself in uncharted territory, and all your previous failures don't have as much weight — they've been robbed of their strength and importance.
Suddenly a new kind of narrative springs into existence, one imbued with ample hype and momentum.
That's what Covington is trying to do here and, well, it's easy to understand why. The fact that he shared the Octagon with Kamaru Usman for a whopping fifty minutes means he's not going to get another title shot any time soon. And the fact that he was immensely competitive in no way changes the fact.
He tried his hardest — twice — and has found no concrete success. As a result, there's no more mystery or intrigue. None whatsoever This, in turn, means that a potential third fight would be exceedingly hard (if not impossible) to market — and the UFC brass knows it, too.
So what options does Colby Covington have, other than "lapping" everyone ranked below him and hoping that, in time, he'll get another shot at the "Nigerian Nightmare?"
As it turns out, Colby already has something in mind, and it's as hype as it gets!
Covington vs. Adesanya | Talk About a Hype Match-Up
Colby challenging for the welterweight throne feels inevitable. He's simply too good; no one really wants to see it, though. Exciting and talented though he is, a third clash with Usman simply doesn't get our blood pumping — nor does it make us want to whip out our wallets and pay the "price of admission."
Still, he is the number one contender, and he is the second-best welterweight on the planet. So what if he were to take his "golden ticket" (as Chael Sonnen would say) and cash it out in a different division? Is that even possible? It's an interesting idea, no doubt, and it's never really been tested — for wholly obvious reasons.
You don't just fight a million times in one division and then — once you're near the very finish line — switch weight classes. Unless, of course, you happen to stuck at that position for whatever reason. Then it might as well be the right course of action.
Colby hasn't exactly been given carte blanche, but the few options he does have are mighty alluring.
A fight with Israel Adesanya would sell like crazy for a myriad of different reasons: Covington would arguably pose a much bigger threat compared to all other middleweight contenders. Plus, his ability to trash talk and generate interest is rivaled only by the Sonnens and McGregors of the world.
Can he cross the line? Absolutely, but it does result in higher pay-per-view numbers. That much is a fact (a verifiable one, too). Now, we don't justify or condone his behavior, but if his main goal is to sell and create buzz — even at the risk of creating lifelong enemies — then we'd have to give him his due; he's been wildly successful in that regard.
Adesanya "Needs" Covington
Every great champion needs a great challenger. A Frazier to an Ali. A Sonnen to a Silva. A Cormier to a Jones. You get the point. Adesanya still hasn't met his "match" or, rather, his "dance partner." Whittaker is an exceptional challenger, but he is a somewhat boring match-up.
MARKETING COMES FIRST… FOR BETTER OR WORSE
In today's day and age, the ability to trade blows isn't nearly as important as that of presenting oneself and generating interest. Those who can do both are MMA's biggest and most venerable superstars.
Israel is on that path, too, but he needs an antipode, a "villain," if you will. Adesanya can sell on his own, but just imagine how hype a fight with Covington would be, a truly talented competitor and a great "salesman," to boot!
And the more Adesanya wins, the less he can sell — that's why he "needs" someone like Covington.
Covington vs. Adesanya — A Most Fascinating Match-Up
There's no clear number one contender over at middleweight. Cannonier's next in line but, frankly, it's hard for us to imagine a world in which he ends up doing any damage to Israel and his throne.
The gap between them is simply too big.
Then you have Sean Strickland and Alex Pereira, both of whom will enter the Octagon this July in a fight that'll determine who gets the next shot at the "Stylebender." It's an interesting match-up, no doubt, but it's also a few months away and, depending on how it pans out, it might not be as interesting then as it is right now.
One could argue, however, that Colby's better than all three. His striking is immaculate and his wrestling credentials are astounding, too. And don't even get us started on his cardio. Colby's performance in a five-round fight is a thing of beauty — and it also defies all logic and reason. How in the world he's capable of maintaining such a pace is beyond our comprehension.
Covington is, therefore, a very real threat to Adesanya. And everyone knows it, too. The sitting champion would have a sizable height and reach advantage, but that holds true for most of his fights anyway.
Does Israel Adesanya "need" Colby Covington? ?

? https://t.co/k9GEISwDby pic.twitter.com/YjkndOu8A7

— MMAFighting.com (@MMAFighting) March 14, 2022
Colby's about the same size as Robert Whittaker, so it's not like he's of an inadequate frame to compete at middleweight. Far from it, in fact. Whether he'd stand a chance against the "Stylebender" is a completely different topic, one that we don't intend to tackle until his move up in weight is made official.
WE HAVE TO PUT SOME RESPECT ON HIS NAME
What gives us the right to limit Covington to only the welterweight division? He's undeniably one of the best fighters on the planet, so if he wants to move up and challenge a future hall of famer — after trading blows with a man some folks consider the GOAT — then who are we to say no?
Kamaru Usman is one of the best and most frightening mixed martial artists who have ever taken flesh. He's the number one pound-for-pound fighter in the UFC (and, by proxy, the world of MMA). And Colby, as disliked and polarizing as he is, nearly beat the guy — twice.
That has to be worth something. So if he wants to switch weight-classes and test his mettle against the best striker in the UFC, we ought to be wholly supportive — if not even advocate for it to happen.
MMA FUTURES BETTING | ISRAEL ADESANYA vs. COLBY COVINGTON ODDS: