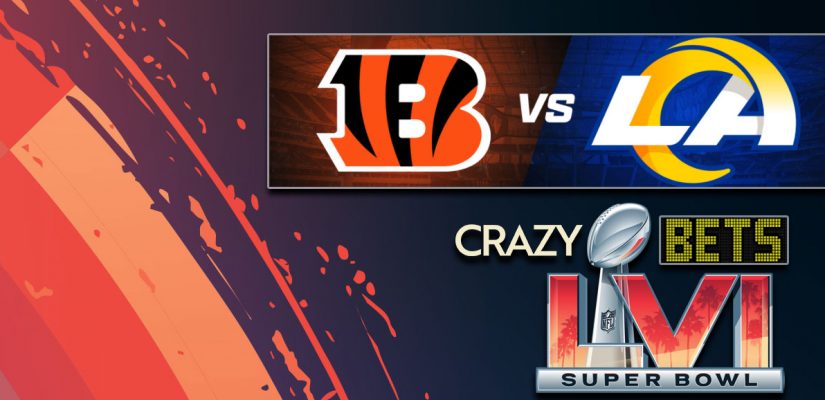 My favorite aspect of the Super Bowl is the crazy Super Bowl bets on the board at online betting sites. I might not bet all of them, and if I do, it's on the light side for less than a unit.
However, checking them out and following along is the fun part. It is a great conversation starter at a Super Bowl party. You'll probably get a better reception amongst your gambling friends.
Yes, there might be people who think you have a gambling problem for betting on whether Snoop Dogg will light up during the Halftime Show.
TheSportsGeek has compiled a
list of the safest online sportsbooks
for wagering on Super Bowl 56. Ensure that your deposit is safe with the best online betting sites available. It is important to know that your winnings will be there after you win.
But if you look at this as crazy Super Bowl bets as recreational bets for fun, it can make your Super Bowl betting experience all the more enjoyable. If you have inside information or find a leak, congratulations, you have a free winner.
For instance, it has been revealed there are expected to be five different types of jets for the Super Bowl 56 flyover. The Over-Under for this prop bet is five planes and still on the board at Bovada.
You won't be able to empty your saving account on a crazy Super Bowl bet even if you want. The sportsbooks put considerable limits on these bets to prevent this from happening on inside information or leaks.
As I said, though, crazy Super Bowl bets are meant to be for fun. Betting limits aren't going to hurt most people on some Super Bowl prop bets. If you lose, it shouldn't hurt your bankroll.
Head below for our best crazy Super Bowl bets for Super Bowl 56 on February 13, 2022.
What Teams Jersey Will Drake Wear At The Homecoming Event During Super Bowl Weekend?
Drake will have to wear either a Cincinnati Bengals or Los Angeles Rams jersey at the homecoming event. If he doesn't wear any jersey, this would be a push. It specifically mentions a jersey, which brings in a gray area if Drake wears a team's gear and not necessarily a jersey.
He has been seen wearing the jersey of several different teams over the years. We know that Drake is a Raptors' fan, but otherwise, he will go with the flow and do whatever is appropriate for the situation.
Odell Beckham Jr. says the Drake's "Certified Lover Boy" is dropping on January 1st, 2021 ? pic.twitter.com/Vsv4iLdxFt

— Daily Loud (@DailyLoud) December 9, 2020
Shooting airballs in warmups with the Kentucky basketball team is what I remember the most from Drake. We've seen him support other teams over the years as well.
Why would Drake wear a Bengals jersey with the game in Los Angeles? He is more likely to be friends with players on the Rams than Bengals. The Bengals' players skew younger than the Rams.
We've seen Drake handing out with Odell Beckham in the past, so he does have at least one connection to the team. Drake may not have a jersey on at all, but it's going to be the Rams if he does.
Drake Jersey Crazy Super Bowl Bet
How Many Times Will Roger Goodell Be Shown?
Why do we have to see Roger Goodell twice during the broadcast and then during the Vince Lombardi Trophy presentation? Of course, Goodell will be around for the pre-game festivities as well.
Seeing Goodell once during the game is a lock. However, I don't see the reason for panning to him twice in his luxury box during the game. Does NBC believe we have to see Goodell during the game?
During Super Bowl week, NFL commish Roger Goodell has his annual State of the League address. It will be interesting to watch the media handle Flores' lawsuit/and the Rooney Rule when they question him.

— Gregory Hampton Lee Jr (@nabjprez2011) February 2, 2022
Note that this bet only includes from kickoff to the final whistle. In other words, he has to be shown in his suite or seat during the game. Pre-game and the final celebrations after the game do not count.
Once, yeah, but twice might be pushing it. NBC isn't going to push the current NFL controversies during the game, which would put Goodell back on camera. There appears to be value on the UNDER 1.5 on this fun Super Bowl prop bet.
Roger Goodell Crazy Super Bowl Bet
Will A Player Propose To His Girlfriend On The Field After The Game?
If you are friends with a player on the Rams or Bengals that is looking to propose, this could be an easy-ish winner. I say easy-ish because your friend will have to be on the winning side.
The losing team is not going to see a player propose. This isn't a glitch in the Madden video game.
Only a player from the winning team will get down on one knee. Greg Jones of the New York Giants in 2012 is the last on record after beating the Patriots.
Super Bowl XLVI Flashback – '07 Alumnus Greg Jones proposes after a 21-17 victory over New England. #LetsGoBigMoe pic.twitter.com/CNzlpz4jxM

— Moeller Crusaders (@LetsGoBigMoe) February 8, 2016
Marriages in the US are dropping year after year. As of last year, only six per 1,000 people were tying the knot. Since the start of the 21st Century, eight per 1,000 people have been getting married.
The divorce rate among NFL players is 60-80%. The marriage rate is currently the lowest since being tracked 120 years ago. I can see fewer young players seeking marriage as a..uh, business decision.
On top of a proposal, it will have to come on the field after Super Bowl 56. There isn't much value at -650, but I can't see a player proposing at SoFi Stadium.
Marriage Proposal Crazy Super Bowl Bet
How Many Times Will The Chains Be Used For Measurement?
The average number of times the chains are brought out to measure a potential first down is once or twice. It is no surprise that the Over-Under on this prop bet is listed at 1.5 times.
With that in mind, this is one of those casino-style bets. It will be completely random, so try not to read into it too much. There will have to be at least two close calls at the first down marker for the chain gang to be called on.
In a game this important, you have to believe that the officials will want to be right before proceeding. I will take a random prediction that we'll see the measurement chains at least twice in Super Bowl 56.
I will back the better price. I'm not laying -120 on a bet that looks like a 50-50 proposition.
Measurement Chains Crazy Super Bowl Bet
Will Any Player Be Ejected For Throwing A Punch Or Fighting?
This crazy Super Bowl prop bet is pretty simple. If a player is sent to the locker room for fighting, a big fat ticket at +800 will come back a winner. It is very rare for teams to fight during the Super Bowl, but it is not unheard of.
In the Super Bowl in 2015, after the Patriots' goalline stand and Malcolm Butler interception, a brawl erupted with fists before the game ended.
Seahawks-Patriots brawl in final seconds of Super Bowl XLIX (Video) http://t.co/ipHfPm6NCk pic.twitter.com/1u5S5K1k3C

— masslivenews (@masslivenews) February 2, 2015
Bruce Irvin threw a haymaker at Rob Gronkowski, setting off a brawl between the Patriots and Seahawks. Irvin was ultimately ejected from the game, with the +800 a winner if it happened this year.
I'm not interested in laying -2000 on any bet, so the NO by principle alone is not considered. Let's ride with the Yes for a hefty +800 and hope emotions are flying high at SoFi Stadium for Super Bowl 56.
Fight and Ejection Crazy Super Bowl Bet
What Will Happen To The Price Of Bitcoin During The Super Bowl?
Price of Bitcoin Goes Up
-125
Price of Bitcoin Goes Down
-105
Bitcoin and cryptocurrencies have been a wild ride over the past few months. Bitcoin is down to around the $40,000 USD mark after an all-time high of $68,680 in November.
However, it has been increasing value over the past week. This has no bearing on this bet for the Super Bowl, though. All that matters is the price at kickoff and the price at the final whistle.
Bitcoin surges 8.82% to $40,611 https://t.co/xIvWSAbf22 pic.twitter.com/FUdKZYFJqF

— Reuters (@Reuters) February 4, 2022
The price at the beginning of Super Bowl Sunday and the end of the day has no bearing on the wager. The 3-4 hour window on Sunday evening is the only timeframe that counts here.
With such a short window for the price to move, this looks more like a 50-50 bet. Even if Bitcoin is trending up on Super Bowl Sunday, it could tick down during that timeframe.
Laying -125 on a bet like this lacks value. Bovada knows they'll see money on the price going up regardless of this being a coin flip bet so that they can shade the juice in that direction.
I'm bullish on cryptocurrency long-term, but the better bet will be the best price for this one.
Price of Bitcoin During Super Bowl Crazy Super Bowl Bet