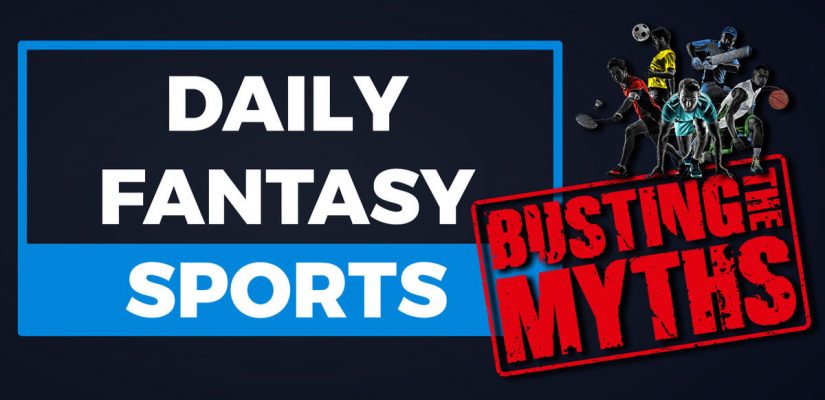 Daily fantasy sports (DFS) have burst onto the scene in recent years. Companies like DraftKings and FanDuel have transformed the sports landscape in terms of both gambling and fantasy sports, which has traditionally been a season-long game.
Each operates a sportsbook as well as being a fantasy platform.
If you've been competing in a fantasy league with your friends you might know how fantasy sports functions, but DFS is an entirely different game that requires a different strategy. In this article, I'll lay out the most common daily fantasy myths that need to be debunked.
1. It's Too Hard to Win
I won't say that daily fantasy sports contests are easy to win.
But if you're a beginner, the good news is that there are contests specifically for you.
Now, it should be noted that you can only enter these "beginner" contests for a limited period of time—or rather a limited number of contests—but the platforms (both FanDuel and DraftKings) do a nice job and getting new players familiar with the DFS process.
When you first start out, you'll only be playing against other new players if you choose. This means nobody has an unfair advantage, and a level playing field means also means no excuses!
If you're unfamiliar with how the payout structures work, it varies from contest to contest.
But typically, it will follow the same formula of choosing a contest that will require a buy-in based on how hard it is to win (meaning how many players may enter), then finishing in a certain percentile and collecting the assigned payout from that percentile range.
You can win your money back and then some if you finish in the top 50%, top 30%, top 10%, etc., and payouts increase significantly as you get closer to the top of the leaderboard.
If you're still concerned that you're going to have a hard time getting any money out of daily fantasy, remember that they provide new players with some pretty nice bonuses upon signing up and entering your first contest. That means you aren't really even going to be risking your own hard-earned cash. If you lose, nothing hurt (but you should be able to win at least a couple times).
The bottom line is that DFS platforms know that new players might need a little help getting acquainted with how the games work and make it easy to learn without much risk. If you take the time to learn the strategies that create successful teams, you might be looking at some bigger paydays down the road.
2. It's Complicated
I'll be honest, when I first started playing DFS, I did it somewhat by accident. I downloaded FanDuel thinking their sportsbook side of the business was legal in the state I was visiting at the time, and it wasn't.
However, I got interested in the DFS games they were promoting at the time and figured I might as well at least take advantage of the free play money and give it a try.
I had always been hesitant to sign up for a DFS site because it looked complicated on TV with the salary cap considerations and such. No, I'm not usually a huge "numbers guy" so the fewer formulas I had to manage, the better.
It couldn't have been easier.
If you're hesitant to try out DFS because you're intimidated by having to play GM, rest assured that it takes about all of five minutes to completely understand what's going on. I'm not necessarily saying that you'll be winning in no time, but you'll almost certainly understand what you're doing.
The only semi-complicated (and it's really not) part of DFS is making sure you check the game's scoring system.
If you're playing an NBA contest, some will place a higher emphasis on things like points and assists (or sometimes even something more specific like three-point shots), while other games will have a defensive focus, meaning there's extra weight on stats like blocks and rebounds.
When it comes to NFL contests, there are a number of options as well. Just make sure you're checking the scoring criteria before you draft your team to avoid making a mistake that you could have easily prevented.
3. It's Going to Ruin My Enjoyment of Full Season Fantasy Sports
I know that it's hard to think about sitting down on an NFL Sunday to watch games and realizing that your daily fantasy roster and the roster you have in the league with your friends are in direct conflict with each other. You're rooting interests are all over the place and you're left frustrated at the whole situation.
I can't sit here and tell you that the scenario I described above will never happen to you; in fact, I can almost guarantee that it will.
With that being said, that shouldn't discourage you from giving DFS a try because, as much as we don't want to believe it's true, who we draft (and thus, root for) has no impact on what happens during the game.
If you're playing against Julio Jones in your friends' fantasy league, but you have him on your team in DFS, you're in a lose-lose situation…or is it a win-win? I mean, if he's going to have 120 yards and two touchdowns it's better to at least get something out of it, right?
At the end of the day, if you're able to have some degree of success with daily fantasy, you might be lucky enough to cover your buy-in for the leagues you're in throughout the course of the whole season.
For that reason, I have to mention a crucial piece of advice:
Don't let your "full season" fantasy roster impact the way you draft your DFS roster. Trying to get them to line up is not only a futile endeavor, but it's not going to give you the best chance to win.
Those who play fantasy sports to make money have a truly great opportunity to capitalize with DFS. Don't miss out because you're too concerned about the rooting conflicts of interest; they just don't really matter that much.
4. It's More Luck Than Skill
The ongoing debate that has been taking place since the dawn of fantasy sports is, "Are fantasy sports about luck or skill?" If you ask the players who win on a regular basis, they'll tell you it is, in fact, skill.
They're usually on the "luck" side of things. This actually makes perfect sense and explains why the former group wins and the latter group loses. It might take all of 10 minutes to submit your daily fantasy roster into a cost.
But if you're just guessing, you aren't going to have sustained success. DFS players who have been able to make money put in a respectable amount of time and effort into doing the research before making their picks.
No, there's no magic formula for drafting the best team, but there is one that almost never works: just winging it. An entire industry is dedicated to covering fantasy sports and daily fantasy sports, which means you have an endless supply of resources and "experts" to consult before drafting your team.
You can win every now and then just by getting lucky. But if you want a sustainable strategy you're going to need to put in the time just like with anything else. It might sound like "work," but at the end of the day, you're getting to step inside the mind of an NFL GM. And is there really any other type of work that sounds more fun than that?
Conclusion
If you're looking for a new way to get some skin in the game, daily fantasy is something that most sports fans fall in love with quickly. Though there's a bit of a learning curve, after entering just a few contests, you'll start to learn what wins and what doesn't.
The best part? That season-ending injury to your star-wide receiver won't hurt you next week.
Some traditional fantasy sports purists might not embrace daily fantasy, but it's only growing in popularity. If you're looking for a quicker way to draft, compete, and win, DFS contests are the perfect option that's worth at least trying out. You might be surprised how quickly you get hooked.