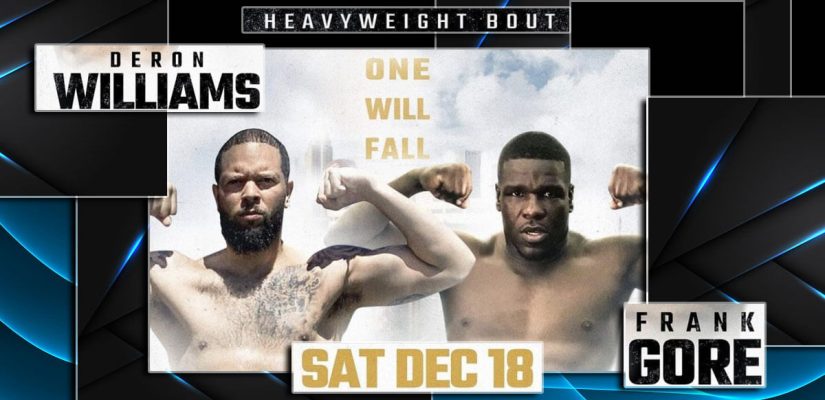 Mike Greenberg said it best: "Could anything be more random than Frank Gore fighting Deron Williams?"
As strange as it feels to agree with the ESPN lifer and all-around hack, he's right.
The bout being billed as NBA vs NFL is one of the weirdest, most out-of-the-blue pairings in combat sports history. But we're living in the Paul brother's era of celebrity boxing, and "random" — but intriguing – is the name of the game!
American Odds
Matchup

Odds

Deron Williams

-165

Frank Gore

+135
On Saturday, December 18, 16-year NFL veteran running back Frank Gore and three-time NBA All-Star Deron Williams face-off in a four-round heavyweight bout on the undercard of Jake Paul vs. Tommy Fury. The card will be held at Amalie Arena in Tampa, Florida, and will air on Showtime PPV.
Deron Williams is the –165 Favorite
"Combat sports have been a part of my life since my youngest days. Before I was a basketball player, I was a wrestler," said the retired NBA star. "Since 2015, I have had the privilege of owning an MMA gym, and through that I have trained in various martial arts to stay active. Over the last year, I've been waiting for the right opportunity to translate my training into a professional debut. I'm making that happen on December 18 against Frank, one of the physically strongest NFL players in history."

Williams being favored comes down to two primary factors:
He's 6'3 with a 6'6 wingspan.
Deron co-owns Fortis MMA; a luxury mixed martial arts training facility in Dallas, Texas.
While Gore has been active in the NFL, the former NBA star has been investing his time and money into martial arts training for the last few years. Williams was also a state champion wrestler in high school.
Altogether, the three-time NBA All-Star and two-time Olympic gold medalist will have the edge in combat sports experience on fight night.
Here you'll see a professional UFC fighter who trains at Fortis MMA discussing Deron Williams' skills in the cage:

We'll discuss how well those skills will translate to boxing a bit further down the page.
Frank Gore Looking Sharp in Training
"I'm excited to be fighting on this card and can't wait to show the world what I've been working on," said Gore. "Boxing has me excited, and on December 18 expect fireworks!"
When researching this matchup, my biggest surprise was learning about Frank Gore's long training history in boxing gyms.
I was able to find footage from some of Gore's workouts leading up to fight night. The NFL's ultimate iron man looks comfortable in the ring and crisp hitting the pads.
Of course, these videos shot before the press are designed to show boxers in the most favorable light possible.


What's more interesting is what Gore's peers have to say about the bout and Frank's experience throwing hands.
On the Pat McAfee Show, Maurice Jones-Drew said that the NFL's third-leading rusher had been boxing since approximately 2009. (They also recount tales of his ridiculous toughness playing a position that destroys most men's bodies in a fraction of the time Gore was a top-tier NFL running back – apparently, he played with no thigh pads!)

However, in an interview on the same program, the 16-year NFL vet pushed the date even further, claiming he's been boxing since 2005.

I was able to find footage of the five-time Pro Bowler training boxing to stay fit in the NFL offseason throughout the years:



Those videos are from 2012, 2014, and 2017 respectively, which substantiates the claim that he's been at the pugilistic arts for quite some time.
Of course, it's easy to get caught up in Frank Gore's impressive NFL career, experience in the boxing gym, and favorable training footage.
The public does this before every celebrity boxing match, especially those involving professional athletes.
Gore faces two massive problems on Saturday night:
He's only 5'9, meeting someone six inches taller with a significant reach advantage.

It's only a 4-round bout, significantly limiting the amount of time he'll have to wear down the bigger fighter and gradually work his way inside.

A shorter pro with excellent technique– think a young Mike Tyson – could close the gap against a rangier opponent and land devastating hooks in close, but that's a much taller task (pun intended) for an amateur making his boxing debut.
Betting on Deron Williams vs. Frank Gore
Professional athletes from other sports are always a wild card when they lace up their gloves. Often, we expect their immense physical prowess to transfer into the ring only to be reminded that boxing requires a wholly different kind of fitness and stamina – not to mention mental toughness.
There's nothing quite like standing across from another person and attempting to punch each other in the face. Nothing played with a ball can compare.
Athletes in Celebrity Boxing
We've already seen guys like Nate Robinson and Chad Johnson hit the mat in their boxing debuts. Although, in fairness, Ochocinco performed considerably better than the tiny hooper.
It's also worth mentioning that both former pro athletes fought opponents who were trained as boxers – even if Logan Paul is relatively new to the sport.
At least with Deron Williams and Frank Gore, both opponents are coming to the sport with the same levels of inexperience.
It can't be overstated how critical factors like proper footwork, punching technique/efficiency, and comfort staying in the pocket while dodging or defending shots are in boxing.
Nobody has a marked advantage in those areas, giving this bout a more competitive, "anything can happen" feel.
Still, I keep coming back to the length of the bout.
Four rounds are not enough time for most amateur fighters to land a clean knockout blow.
Hobby pugilists usually tire themselves out, overreacting to each exchange and winging wild haymakers desperately probing for the feel of contact on the end of their gloves.
This results in flurries of inefficient punches swatting at the arms and shoulders and hips and back — and really anywhere besides where shots are scored and have the potential to do harm.
Deron Williams
In one corner, we have a retired basketball player with a ridiculous height and reach advantage and years spent training in his own MMA gym.
At the same time, nobody would ever say Deron Williams' NBA career was remarkable for his toughness.
Ingredients for a Long Career
Read about any NBA legend with career longevity, and they'll talk about the amount of work it took to keep their body healthy and durable and how they changed their game as they aged to rely on efficiency and technique to make up for their waning explosiveness. Every season requires more dedication to the grind.
Deron's career arc tells you everything you need to know about him as a competitor.
He had a brilliant start in Utah while still young and fresh, when his natural talent and quickness made him one of the top young point guards in the league. He was a blue-chip rookie who made the jump to become a stellar player in his second year.
Over the next three years, he was one of the best young point guards in the league. People would debate who was better: Williams or Chris Paul (seems almost comical now).
However, Deron's run as a superstar was very brief. By his sixth season in the NBA, his personality and lack of leadership began to outweigh his talent, leading to beloved, long-time Jazz coach Jerry Sloan quitting abruptly during the season. Utah responded by trading Williams to the Nets.
Over the next few seasons, Deron got out of shape, and his skill saw a steep drop-off. He went from a three-time all-star to a forgettable, injury-plagued malcontent in record time.
By the time he was 28, Deron Williams was thoroughly washed up.
There wasn't much mental or physical toughness on display. Yet, boxing is the ultimate test of an athlete's strength of will and focus.
We also can't forget that Williams hasn't been training straight boxing at Fortis MMA.
Even the story I shared earlier, of UFC fighter Ryan Spann singing Deron's praises for besting him in training, refers to a grappling session. The retired NBAer won't have his state champion high school wrestling skills to lean on Saturday.
Which begs the question: How much of Deron Williams' training since starting training at Fortis MMA was straight boxing?
Anything involving kicks or takedowns will do him no good.
---
Frank Gore
Then there's Frank Gore, who will be the much shorter, stockier man.
Unlike Williams, who has been out of the NBA since 2017 and has spent the last several years dedicated to MMA as the co-owner of a gym, Gore was a starting NFL running back as recently as last season. And he spent much of this year staying in shape in case a team needed his services.
All the boxing footage we have of Frank came at brief intervals in-between NFL seasons. He never trained for any extended amount of time consecutively.
Nevertheless, everything Gore's done throughout his decade-plus at the top of his profession suggests that he's physically and mentally built for combat sports.
One could argue that Frank Gore was the polar opposite of Deron Williams during his playing days.
The former Miami Hurricane tore his ACL twice in college – missing his entire sophomore season and only appearing in five games as a junior.
Concerns over his knees hurt Gore's draft stock, resulting in him falling to the San Fransisco 49ers in the third round.
Over the next 16 years, the running back was one of the most consistent players in the NFL. He's never played in fewer than ten games – competing in all 16 regular season games nine times, 15 games twice, and 14 games three times.
Frank Gore is one of the most respected teammates in football history.
He amassed 16,000 rushing yards, good for third on the all-time list, behind only Emmitt Smith and Walter Peyton. The Miami alum also went to 5 Pro Bowls and holds the NFL record for most seasons with 1,200 yards from scrimmage (12).
Unlike Deron Williams, Gore didn't hit his peak until his eighth year as a pro – in a position where most athletes don't last four!
Which brings me to my pick…
I'm Taking Gore +135
He may be the shorter competitor, but everything about these men's pasts tells me that only one has the mind of a fighter.
Deron Williams lasted for about as long as his natural talents did.
As soon as expectations grew and his body began to suffer the effects of wear and tear, the once-great point guard folded.
He got out of shape and went from Chris Paul's closest rival to a below-average role player in a few years flat.
Out of these two former pro athletes, one has been out of their respective league far longer than the other. Frank Gore was the New York Jets leading rusher last season!
You might say: "But their playing career have no bearing on their ability to box!"
You're right, but we're dealing with two amateurs.
We have two metrics to go off here:
Deron Williams has the height and reach advantages. Still, I don't think he has the courage or boxing experience to utilize them.
It's not easy to hold a fighter off with your jab; lots of footwork is involved, and the opponent must fear your straight right.
Frank Gore has proven that he's a once-in-a-generation athlete. Above all, he's as mentally tough as they get and willing to keep wading through the hits to deliver his own.
Predictions
I think the NFL legend spends the entire bout stalking Williams and landing hooks to the body, with the occasional shot upstairs when the basketball player is cornered.
There won't be a knockout, but Gore will win the fight.
If It's judged under those goofy celebrity boxing rules where the fight is called an automatic draw for going the distance, the bet is cancelled as "no action," so you have nothing to lose!