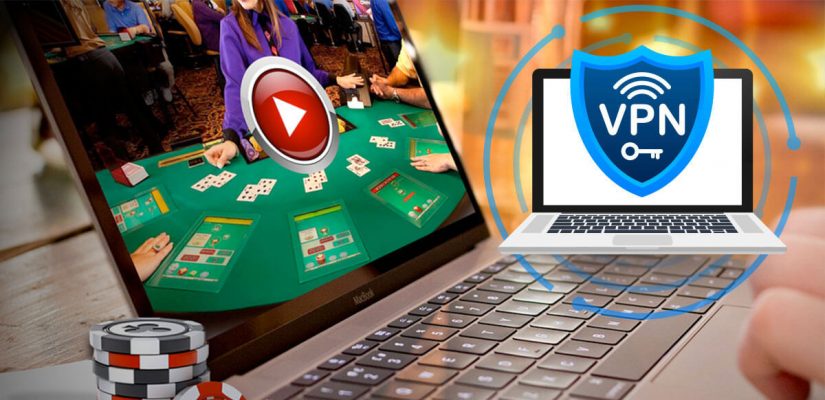 Virtual private networks (VPNs) have become popular among online gamblers who want anonymity. They're also useful for playing at online casinos that aren't otherwise available to you.
Is that online gambling sites aren't exactly thrilled with VPNs. If they restrict a certain state or country, they want it to stay that way. These casinos don't want you getting around their restrictions with a VPN.
All things considered, do online casinos even let you use VPNs anymore? You can find out below while reading more on virtual private networks and why casinos don't like them.
What Does a Virtual Private Network Do?
A VPN works on two fronts. First, it encrypts your data as it travels through an internet service provider and to websites. As a result, you don't have to worry about online casinos or any other sites collecting your data for unknown purposes.
Virtual private networks also hide your IP address. You can even reroute your address to a different location. This way, you appear to be based in another state, country, or territory.
In an age when many websites secure data, you'll appreciate the benefits that a virtual private network offers. Furthermore, you'll enjoy specific benefits when playing at internet casinos.
You can play at online casinos that are normally unavailable. You might live in the UK, for example, and want to play at a French online casino.
In this case, you can reroute your location to Paris or another French city. But there might be a problem if you're located where a casino isn't available and you use a VPN to get around this restriction. You still have to be able to move money around, which a VPN won't always take care of.
VPNs also offer more potential bonus opportunities. Some online casino bonuses are only available one time, especially lucrative welcome deals.
With a VPN, you might be able to pursue such bonuses multiple times. You can create different accounts to continue going after the same deal. From the casino's viewpoint, this situation merely looks like multiple players are going for the bonus.
Most Online Casinos Ban VPN Usage
As you can imagine, online casinos aren't thrilled about virtual private networks. They don't like people circumventing their terms and conditions through a VPN.
The majority of online gambling sites hold licensing in at least one jurisdiction.
They must uphold the standards of whatever jurisdiction(s) they're based in.
Most mobile casinos restrict players who are using a virtual private network. They don't want to take the chance of these VPN gamblers violating their terms and conditions.
Speaking of which, you can visit a gaming site's conditions page to see their stance on VPNs.
Many casino sites mention something about this issue among their terms.
While on the page, you can also check out how a casino handles bonuses, software malfunctions, country restrictions, and more. You should especially be focused on their VPN stance, though, if you're wanting to use one.
Why Do Online Casinos Have a Problem With VPNs?
Online casinos dislike virtual private networks for multiple reasons. Below, you can see the main aspects that they hate about VPNs.
Restricted Players Can Use Their Sites
Again, online casinos restrict players from certain states and countries as part of their given licensing agreements. Spanish gambling sites, for example, aren't supposed to accept players outside of Spain.
Mobile casinos sometimes restrict states and countries even if their licensing arrangements don't call for it. For example, Costa Rica-based casinos often ban any American states with regulated online gaming.
With that said, online casinos don't want restricted players on their sites. They hate the fact that VPNs can serve as a workaround for gamblers.
Potential Legal Troubles
Online gambling sites normally operate without any major legal issues regarding other states, nations, or territories. However, problems do occasionally arise in his area.
The most famous incident happened to online poker sites in 2011. Dubbed "Black Friday," the US Attorney's Office for the Southern District of New York, with the help of the US Department of Justice, took action against PokerStars, Full Tilt Poker, and the Cereus Network.
These sites were deemed to be accepting illegal gambling payouts from American citizens.
Only PokerStars ended up surviving this mess.
Online casinos would like to avoid any similar incidents. Left unchecked, VPNs have the potential to get them into legal hot water with one or more governments.
Higher Potential for Bonus Abuse
Many online casino bonuses are only available to players as one-time deals. The situation is especially common with welcome bonuses, which are usually worth hundreds or even thousands of dollars.
Casino software can easily detect when somebody has already tried for a certain bonus. It naturally prevents them from qualifying for the same deal again. With a virtual private network, though, gamblers can go for the same bonus multiple times. They just need to create additional accounts to do so.
Players can then benefit from a casino's most lucrative bonuses over and over. The gambling sites, meanwhile, stand to lose more money to these players.
Some Mobile Casinos Still Let You Use a VPN
You can see why online casinos aren't keen on gamblers using VPNs. Surprisingly, though, certain gaming sites don't mind when players use these services. They willingly permit players on virtual private networks. These casinos are typically of the offshore variety.
While most offshore casinos hold licensing in countries like Costa Rica or Antigua, they serve jurisdictions where they're not licensed. Therefore, they don't have strict requirements to adhere to. These gambling sites are willing to serve VPN using players from all over the world.
Of course, the same offshore casinos risk giving up more bonus money to customers. They might instate tougher terms and conditions, though, to ensure that they don't get taken advantage of too badly.
Is It Worth Choosing Specific Casinos That Allow VPNs?
If you're aiming specifically for a VPN-friendly casino, then you'll be cutting down your choices. As mentioned earlier, most gaming sites don't accept players on virtual private networks.
Nevertheless, you might seek specific advantages that a VPN can provide.
You may want to play at a casino that's typically unavailable to you and/or pursue more bonus opportunities.
Virtual private networks can definitely be worthwhile under these circumstances. You may consider using one in order to enjoy the special advantages.
Of course, you'll need to pay for any decent VPN. An annual subscription is the cheapest way to use a virtual private network on a permanent basis. Provided you're looking at a VPN for the long term, then you might opt for an annual subscription. The latter lowers the monthly cost.
Whether or not a VPN will be useful to you all depends upon your specific situation.
Do you have enough extra money to pay for a service?

Will the proposed advantages of a VPN truly improve your gaming experience?
These are the types of questions you want to ask yourself before entering credit card details into a VPN site.
Of course, you can also try a virtual private network for one month and see if it's worthwhile. This way, you won't waste much money if a VPN ultimately doesn't help you out.
Conclusion
The majority of mobile casinos don't let you use a virtual private network. They identify IP addresses of popular VPNs and ban them ahead of time.
However, some gambling sites still do let you gamble through a VPN. There are usually offshore casinos that aren't under as strict of licensing requirements.
Provided you really want to play at an online casino that doesn't permit VPNs, you can find advanced services. These virtual private networks can fool online casinos into permitting the associated users.
This route is risky, though, when considering that you could be banned if the casino does eventually identify the VPN. Worse yet, your funds might be confiscated depending upon the gaming site.
That said, you have plenty to think about regarding if it's worth using a VPN. Just note, though, that it's still possible to gamble with a virtual private network.