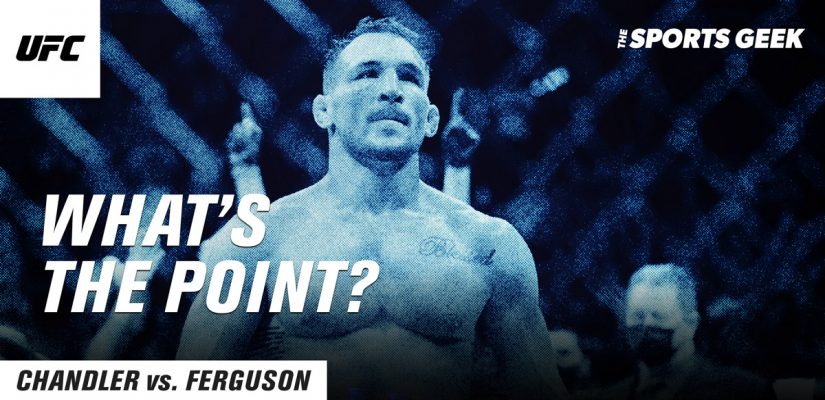 Michael Chandler and Tony Ferguson will enter the Octagon and trade heavy blows on May 7th. But why, though? What exactly is the point of this particular fight? The odds are clearly favoring the former Bellator champion and, well, it's easy to understand why.
This, at its core, is a very big mismatch. And, naturally, the numbers reflect it as well: -155 for Chandler. We think that's a bit too conservative, but it does speak volumes nonetheless.
On the one side, we have a guy who's clearly a Top 3 competitor, only marginally worse than the likes of Charles Oliveira and Justin Gaethje. On the other, a declining legend who's taken so much damage in his last few fights it'd be much wiser for him to call it quits.
One of them is on the up-and-up, the other way past his prime (and relevancy). So what's the point of matching them up? It is obviously a clash that'll generate ample attention, but it doesn't benefit anyone in particular. It feels like Ferguson — instead of being given a "tune up" fight (or two) — is being fed to a top-tier contender, one that will almost surely emerge victorious (by way of sheer unbridled violence).
And, well, neither fighter stands to gain much. A win over Ferguson won't make Chandler any more relevant than he already is. Tony, on the other hand, has been on the receiving end of so many beatdowns that we really cannot imagine a world in which he ends up getting his hand raised.
So why take the fight? Ego? Pride? An unyielding belief in his own skills — a belief that is wholly out of touch with reality?
A Legend Past His Prime
Too often do we see fighters overstay their welcome. Tony's almost forty years old; he's by no means a spring chicken. And while he's still a top fighter (and a future Hall of Famer, no less), we really don't see a reason why he should keep facing the toughest and most capable lightweights on the face of the earth.
The last time he won was all the way back in mid-2019, so it's really been a while, and even that win doesn't really mean much seeing how it came at the expense of a dwindling Donald Cerrone. His last three losses, however, have been as lopsided as it gets. They've also been painful to watch, too.
He was out of his element — overpowered and overwhelmed. And he took far too much damage. The fans love him (hardly a surprise), but they're not going to be there to help him out and cheer him on when he's old and broken, eating his meals through a straw — the only possible outcome should he keep fighting in his well patented and wholly reckless way.
He was taken down and dominated by both Oliveira and Dariush, and they both made it look easy. What hope, then, does he have against as decorated a wrestler as Michael Chandler? And don't even get us started on his striking game — the man has dynamite in his hands!
This fight can only end one way: with Tony being separated from consciousness or, perhaps even worse, still standing but battered and bruised beyond measure. Either way, he stands too much to lose.
The fans will revel in the spectacle, no doubt, but there must come a point where fighter health and safety take precedence over mindless entertainment and sheer violence.
A Bit of Unnecessary Carnage | Chandler vs. Ferguson Odds
The only possible explanation as to why this fight ever got put together is to keep Chandler busy while Oliveira and Gaethje duke it out. He is, quite frankly, next in line, and a win here — especially if dominant — will push him towards title contention.
There's also Islam Makhachev, but he still needs to go through Beneil Dariush sometime later this year. Should he win that contest (and, odds are, he almost certainly will) he'd also present a mighty exciting option for "Du Bronx."
You also have Dustin Poirier and Rafael Dos Anjos waiting in the wings. Whom they'll get paired up with still remains to be seen, but they, too, could throw their hats into the proverbial ring. Poirier is obviously the furthest from a title shot (what with him losing to Oliveira a mere three months ago), but he's by no means irrelevant or unworthy of being mentioned.
There's also a possibility of Charles losing to Justin Gaethje; that result would no doubt turn everyone's predictions and expectations upside down. There are many "killers" in the lightweight division, and they all want a shot at the throne.
Michael Chandler isn't necessarily the best option out there, but his only two losses in the UFC came at the hands of the sitting champion and the guy who's about to challenge him. That's… pretty darn good, all things considered. He doesn't need more than just a win or two to get back into the conversation.
The fact that he went to war with Gaethje mere months ago certainly helps his case — it was the best fight of 2021 and, frankly, both men came away as winners, each in their own right. For him, fighting Ferguson is an "easy" night out.
So to answer the opening question: does Chandler vs. Ferguson make sense? Not in the slightest. A win for the former isn't going to result in anything worthy of mentioning; a win for the latter, on the other hand, seems unattainable.
Why, then, have these two been matched up is beyond our comprehension.
UFC 274 Betting: Chandler vs. Ferguson Odds