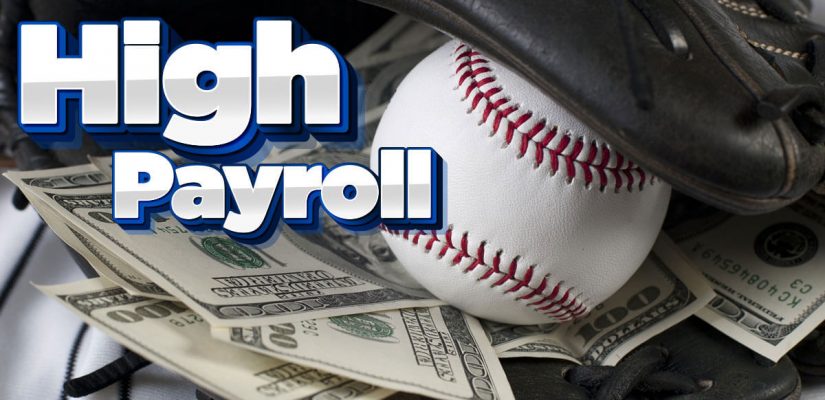 Major League Baseball is anything but a level playing field. The league's smallest-market teams are spending a fraction of the whales – and occasionally having some success spending less.
However, during the 2021 season, there did seem to be a correlation between big spending and regular-season performance. In fact, there's a correlation between payroll and regular-season winning percentage in most baseball seasons.
Is this always the case? Do the teams that spend the most money have the most success? What about player salaries – is there a connection between how much a player earns and how well he performs?
The Effect of Baseball Payroll on Regular Season Success
Of the ten biggest-spending clubs in 2021, seven made the playoffs, including the Dodgers and their massive $271 million payroll. The five teams that spent the most on player salaries – the Dodgers, Yankees, Astros, Mets, and Phillies – averaged a 57% winning percentage. The five teams that spent the least – the Rays, Marlins, Pirates, Indians, and Orioles – averaged a 44% winning percentage, losing 13% more games than the teams at the top of the payroll hierarchy.
Interestingly, two playoff teams:
The Rays and the Brewers – spent significantly less than their playoff-bound brethren. Tampa Bay's made a name for themselves as a budget club, spending under $71 million for the 2021 season, or about 25% of what the league's heavy hitters are dropping. Milwaukee came in just under $100 million, and though they were blown out by eventual World Series champion Atlanta in the first round, the team's 58.6% winning percentage against a salary of less than $100 mil is impressive, to say the least.
We know that, historically, the baseball teams that spend the most have the most success. Without a hard salary cap, the league's famous parity is a distant memory. All you have to do is look at the winningest baseball teams over the past twenty years and compare that to a list of the biggest spenders.
Going back 20 years, the Yankees are by far the biggest spenders, and it isn't even close. It shouldn't surprise you to learn that NYY has also won more games over that period than any other club, technically avoiding a single "rebuilding year" (defined as a season of 70 or fewer wins) over the past two decades.
Consider the opposite of the Yankees, at least in terms of spending – the Pittsburgh Pirates. Going back twenty years, the Pirates have spent less than just about any other baseball squad, 28th out of 30 overall, and (surprise, surprise) they've also got the league's 28th-lowest winning percentage over that time.
In Major League Baseball, too often, spending does equal success.
It's worth pointing out that World Series champions aren't always the biggest spenders. A correlation seems to exist between spending and postseason appearances, not necessarily championships won. The 2021 champion Atlanta Braves had just the 11th-highest payroll. Their 54.7% winning percentage is the lowest by a World Series champion since the 2006 Cardinals won it all with a 51.6% rate.
This happens all the time in baseball.
Once October ball begins, all the advantages of payroll seem to melt away. The 2019 champs, the Washington Nationals, had just the 7th-highest payroll. The Astros' first World Series in 2017 came after spending less than the league average – just $127 million in salaries compared to the Dodgers' $188.
MLB bettors should be cautious about predicting baseball outcomes based too heavily on payroll alone, but understand there's a correlation, particularly during the regular season.
Does Player Salary Correlate with Success?
I found some interesting research that investigated salary-performance correlation across three tiers of player salaries.
From the perspective of the researchers, you can break baseball players up into three categories, low-range (up to $1 million), mid-range (between $1 million and $10 million), and high-range ($10 million a year or more). Once you pick players apart into these categories, it becomes clear what stats teams are identifying as valuable.
For example, the team found a huge correlation between mid-range players and overall runs created. Teams weren't looking to incentivize home runs until the high-range players, and in general, the lowest-tiered players had the lowest offensive stats.
Teams want to pay players who create runs, and the best players tend to do that as efficiently as possible. In the case of baseball, the most efficient scoring method is a homerun; that's why the league's highest-paid players and the league's biggest HR hitters tend to form a common pool.
What about individual player salaries?

If we take the average MLB player salary and the mean batting average, we could get a sense of how much a hitter is worth, point for dollar. Going back five years, the mean batting average is .257, and the average player salary is $4.17 million. That's about $16,200 per point of batting average so that a .300 hitter would be worth about $4.8 million, and a .200 hitter would be worth about $3.2 million.
It doesn't quite work out that way. Trea Turner led the league in 2021 with an average of .328, implying a value of $5.32 million a year. Trea's making $13 million next year. What could account for the difference? His 28 home runs – remember how valuable those efficient run-scoring trips around the bags are, and how the league's best-paid players tend to dominate that stat. Turner knocked in about 1/5th of the National's dingers, proving his value to the team moving forward.
Baseball MVP Winner Salaries
Baseball salaries tend to trail performance. There are lots of reasons for this; chief among them, the rigid structure of baseball salaries, which depend heavily on service time.
Players don't get to go into salary arbitration for something like double the average career length, meaning the majority of MLB players will never have any say in how much they make.
League minimums are a big deal in MLB, a sport where owners seem to compete in terms of who can spend the least money on players.
Here's a look at the last three MVP winners in MLB for both leagues, and their respective rank in terms of player salary:
2021 – Shohei Ohtani (209th-highest salary) & Bryce Harper (19th-highest salary)
2020 – Jose Abreu (99th-highest salary) & Freddie Freeman (27th-highest salary)
2019 – Mike Trout (54th-highest salary) & Cody Bellinger (642nd-highest salary)
It's worth pointing out that no top-15 player in terms of salary is listed, and the average salary rank for all six of these MVPs is 175th.
In a sport where every win-above-replacement is worth around $8 million, it's strange to see the players recognized as the league's best ranking so low in terms of their pay scale. Another part of the problem with baseball player salaries – MLB players contribute to wins in ways that are difficult to track even with advanced statistics. Even a four-factor look at a player's offensive production is limited.
If you look at player value based solely on a player's RBIs, HRs, hits, and batting average, you're leaving out too much of the overall picture.
Big Free Agent Contracts – Are They Worth It?
Much ado is made each year of the baseball free-agent market. Each year, it seems like we get a new massive multi-year contract setting a new record for the biggest ever.
How have these huge free agent signings performed?
The four biggest free-agent contracts in MLB history are still too fresh to evaluate. Instead, let's look at three other massive free-agent signings and evaluate them based on how those players performed.
A-Rod – Worth $527 Million?
Alex Rodriguez is responsible for two of the largest free-agent signings ever – first, a $252 million deal with the Texas Rangers between 2001 and 2010, then a 10-year $275 million deal with the Yankees from 2008-2017. A-Rod's first deal drew him away from the Mariners at the tender age of 25, and though he only played for the Rangers for three years, he was well worth the cash.
He averaged 52 HRs and 132 RBIs while with Texas, basically leading the American League in batting all three years. His OPS was a ridiculous 1.011 between 2001 and 2003, and he won an MVP award in his last year with the Rangers.
A-Rod would win two more MVP titles as a Yankee, along with one World Series title – success in any other market but New York. Fans have long blamed A-Rod's postseason troubles for the team's failure to rebuild a dynasty in the A-Rod era.
This one's a split decision – worth it in Texas, maybe not so much as a Yankee.
Is Albert Pujols the $240 Million Man?
The 11 years preceding Pujols' $240 million 10-year extension were among the best runs in baseball history. He won Rookie of the Year, three MVP awards, two World Series rings, and a couple of batting championships along the way.
Then, that the Angels signed the 32-year old Pujols to a $240 million deal, even if he was already past his prime when he signed on the dotted line.
His time with the Angels has been more about cementing his legacy than team success. Throughout that 10-year deal with Los Angeles, Pujols notched 1,180 hits, 222 HRs, as well as his 3,000th overall hit. The Angels didn't get Pujols' best years, but he certainly kept things interesting and helped put butts in the seats.
Conclusion
Without a fixed salary cap, money will always have an outsize influence on baseball.
The beauty of the game however:
Means that teams with small budgets and a lot of pluck can shock the sports world. See the 2017 Houston Astros or the 2007 St. Louis Cardinals for examples of the little guy doing big things on the diamond.
While money influences baseball a bit more than other sports, you can easily over-emphasize the value of spending in your handicapping or your analysis of the sports. Don't stick too close to team salaries when considering future success but remember that there's a direct connection between spending and performance in the regular season.