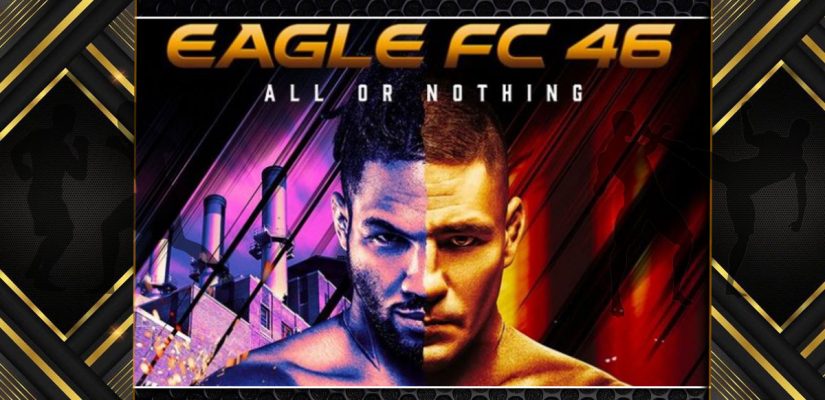 This Friday, March 11th 2022, you can bet with confidence using our betting picks for the Eagle FC 46 full card preview. Click the green buttons to place your bets by 6:00 PM ET Friday to get in on Khabib's biggest card yet!
Eagle FC 46 Main Event: Diego Sanchez vs Kevin Lee 
We covered the main event in detail in our main event betting pick. Kevin Lee is still in his prime facing an aging Diego Sanchez on Covid-19 hospitalization recovery. 
| | |
| --- | --- |
| Fighter | Money Line Odds |
| Diego Sanchez  | +850 |
| Kevin Lee  | -1500 |
Kevin Lee is the superior striker and athlete. There is some small chance of a Diego Sanchez submission win, and his training camp reflects that strategy. I have 70% confidence in a Kevin Lee win and will bet accordingly. His reach advantage, his desired weight class, and his current camp environment seems perfect for a win.
Meanwhile, Diego was hospitalized in November. His training camp seems unguided, training at multiple gyms with no head coaches named until the past week, with Goat Shed fighters cornering him. There's alot going against a Diego win. 
Bet Lee at -1500 for a $0.07 return per dollar wagered. 
PLACE YOUR BETS NOW!
Eagle FC 46 Main Card Betting Picks
Now for the main card, consisting of four fights with top talent from fight camps all around the world. 
Co Main Event: Hamilton vs Kuniev
| | |
| --- | --- |
| Fighter | Money Line Odds |
| Anthony Hamilton | +400 |
| Rizvan Kuniev | -550 |
This heavyweight EFC title fight is five rounds for the vacant title. Kuniev recently won his first EFC fight by TKO in 2020 then went on to finish an Edivan Santos in the DWCS last September. Hamilton is an ex UFC fighter that went 4-7 for the promotion, losing his last four in 2016-17. He was on a three fight winning streak that led to his loss by knockout from Vladimir Dayneko. This is EFC's clear ploy for having a Dagestani fighter as their heavyweight champion. Hamilton is good, but past his prime, at 41 years old. Bet Kuniev for a fighter that's sure to bring home the belt in his ninth straight win and fourth straight knockout finish. 
? Rizvan Kuniev vs @AHamilton_MMA are set to fight for the Heavyweight title#EagleFC46: Lee vs. Sanchez | March 11 at 6P ET on @EagleOnFLX | Sign up to watch LIVE and FREE at https://t.co/QslxaipV9R pic.twitter.com/eSsbXhl9mH

— Eagle FC (@EagleFightClub) March 10, 2022
Bandejas vs Borg
| | |
| --- | --- |
| Fighter | Money Line Odds |
| Ricky Bandejas  | +450 |
| Ray Borg  | -700 |
Borg has gone 2-0 since leaving the UFC, making more money for fighting opponents half the skill of his UFC counterparts. We called last win over cut UFC fighter Cody Gibson at EFC 44. Now he faces Bandejas, a 15-6 fighter who lost three of his last five, including two submission losses. Bandejas can strike, but his grappling isn't at the top level. Expect Borg to do what he does best and grapple him into position for a grueling decision win. This is a fight I'm willing to parlay with the co main event at near 90% confidence. The Borg money line pays out at $0.14 on the dollar. 
PLACE YOUR BETS NOW!
Juusola vs Ferreira
| | |
| --- | --- |
| Fighter | Money Line Odds |
| Zach Juusola  | +475 |
| Handesson Ferreira | -650 |
Ferreira struggled in the PFL, going 3-2 for the promotion. Since dropping down in competition, he's defeated three opponents in dominant fashion. He faces Juusola, a fighter from Xtreme Couture that lost his last fight via TKO, but boasts several TKO and Submission wins. Still, Juusola has lost five of his last six MMA fights, and his fight type shows that Ferriera is a far more physically imposing fighter. Our betting pick is Ferreira at -650 for a $0.15 return per dollar wager. 
PLACE YOUR BETS NOW!
Kasanganay vs Magomedaliev
| | |
| --- | --- |
| Fighter | Money Line Odds |
| Impa Kasanganay | +160 |
| Raimond Magomedaliev  | -200 |
9-2 Impa faces the 9-1 Raimond in a Welterweight battle. This is the closest fight on the main card. Raimond's only loss was to the then undefeated James Nakashima, a wrestler who became the LFA champ before breaking into ONE FC. In classic Dagestani style, Raimond has a mixture of knockouts and submission finishes. 
Impa went 2-2 in the UFC before his contract was up for negotiation. Unfortunate for Impa, he's best known for his spinning kick loss to Buckley, but his wins inside the UFC were quality fights. He's getting no easy treatment in his move to EFC. After reviewing tape, I don't think Impa has the boxing to keep up with Raimond, who's 6'1'' frame will be tough to get inside on for Impa's submission heavy game. 
Our betting pick is Magomedaliev at -200 at $0.50 per dollar wagered. Bet lightly, I think this one could go either way. 
PLACE YOUR BETS NOW!
Eagle FC 46 Prelim Card Betting Picks
Eagle opens with an eight fight prelim card, including a few very one sided bouts. 
Horcher vs Aliev
| | |
| --- | --- |
| Fighter | Money Line Odds |
| Darrell Horcher  | +300 |
| Akhmed Aliev | -400 |
Aliev trains out of the Eagles MMA Academy, and something tells me he'll get a tip of the hat on any judges decisions. He lost three of his PFL bouts including decisions to Chris Wade, A submission and knockout loss. 
He faces Darrell Horcher, a fighter with knockout power that struggled in the UFC. he lost to Khabib in his UFC debut in 2016, and went 1-3 for the promotion. Since then he's gone 1-1, knocking out 6-3 Vadim Ogar. Horcher is a fighter who started strong but has faltered and slowed way down since his UFC experience. I see an Aliev win at -400, a $0.25 return per dollar wager. Watch and see if you can predict his spinning heel kick, it's nasty.
PLACE YOUR BETS NOW!
Burrell vs Alskerov
| | |
| --- | --- |
| Fighter | Money Line Odds |
| Nah-Shon Burrell | +175 |
| Ikram Aliskerov | -215 |
11-1 Aliskerov faces 19-11 Burrell. Aleskerov's only loss is to Khamzat Chimaev, one of his many undefeated victims on the way to the UFC. Aliskerov has a clean split, 4 subs and 4 TKO finishes across twelve wins. Burrell is from Renzo Gracie Philly, and he's training alongside UFC fighters on a daily basis. He went on a four-fight skid fighting for ACB and CES, fighters that are similar to Aliskerov in style; that Eastern European grappling. Burrell is doing well in CFFC, but at much lower levels of competition. 
Our Eagle FC 46 betting pick is Aliskerov at -215 in what may be the best value bet on the card. He's paying out $0.47 per dollar wagered and his only defeat is arguably the best welterweight in the world. 
PLACE YOUR BETS NOW!
Khasanov vs Rivera
| | |
| --- | --- |
| Fighter | Money Line Odds |
| Firdavs Khasanov | +155 |
| Irwin Rivera | -185 |
This bantamweight prelim features ex UFC fighter Rivera, who's only UFC losses were Chikadze and Ewell. Rivera had multiple career losses for Combate and Titan FC but his exciting finisher style was perfect for the UFC. Khasanov has lost three fights in a row, including Shawn Bunch and Rodrigo Praia, a mid level ACA fighter. 
Khasanov is only 27 and is still maturing as a fighter. I'm calling my first upset of the night. Our pick is Khasanov, who's taken little career damage and seems to improve with each fight. Expect Irwin to look faded from his UFC experience. 
PLACE YOUR BETS NOW!
Mantello vs Colgan
| | |
| --- | --- |
| Fighter | Money Line Odds |
| Dylan Mantello | +405 |
| Archie Colgan | -555 |
Colgan is an undefeated fighter and wrestling national champion. He trains out of Easton MMA, an up and coming MMA camp. Mantello is a knockout artist coming off his first loss to 5-5 John Ramirez. Ramirez is a grappling focused fighter, leading me to believe that Mantello will struggle with Colgan. Fight tape shows Ramirez was a moderate grappler, and Colgan will smash Mantello. Everyone has a puncher's chance, but our bet is Colgan at -555. 
PLACE YOUR BETS NOW!
Pena vs Markes
| | |
| --- | --- |
| Fighter | Money Line Odds |
| Reggie Pena | +200 |
| Ronny Markes | -250 |
Pena has won five of his last six fights, all finishes by knockout or submission. He faces Markes, an Xtreme Couture fighter that struggled in Bellator scoring back to back losses. I see Markes repeatedly getting nervous, falling short in bigger challenges. Our betting pick is Reggie Pena at +200 for a double your money underdog. 
PLACE YOUR BETS NOW! 
Webb vs Ray
| | |
| --- | --- |
| Fighter | Money Line Odds |
| Thomas Webb | +475 |
| Tyler Ray | -650 |
Ray is a strong favorite for a reason. Web is a 38 year old with losses to most of his moderate competition. Ray is a Sanford MMA grappling machine with multiple submission wins over skilled fighters. Ray didn't even move to Sanford until after his Bellator debut. 
Our betting pick is Tyler Ray at -650, a small payout for an easy choice. 
PLACE YOUR BETS NOW!
Muduev vs Uruguai
| | |
| --- | --- |
| Fighter | Money Line Odds |
| Sitik Muduev | +155 |
| Caio Uruguai | -185 |
Uruguai is another Sanford MMA fighter but has struggled, losing three of his last four fights. Muduev has lost two of his last three after a four fight winning streak that defined his career. Still WLF WARS doesn't have the greatest track record for producing champions. We're going with Uruguai at -185, a slight favorite for a $0.54 return. 
PLACE YOUR BETS NOW!
Walo vs Newman
| | |
| --- | --- |
| Fighter | Money Line Odds |
| Manny Walo  | -140 |
| Ryder Newman | +110 |
The opening bout shows Renzo Gracie's Walo against TUF fighter Newman. Newman has struggled finding his place at high level MMA, losing in TUF 28's first round. His amatuer career showed a 6-1 record until losing to the dangerous Josh Quinlan. 
This is a tough fight to call, but after seeing fight tape, our betting pick is Many Walo, an older fighter with a few more years of athleticism in him. 
PLACE YOUR BETS NOW!